30 Creative Recipes to Help You Eat More Vegetables
I'm hearing right and left that people WANT to eat more veggies right now. This is something I hear all the time – an ongoing problem for most of us – but it's become especially important this spring when we've all been in quarantine and limiting our visits to the store. I've got clients messaging me to ask if tomatoes are safe and anti-inflammatory or if they should be avoided and if it's ok to eat the same veggie over and over instead of mixing it up. I get a lot of questions about whether frozen or canned counts towards veggie intake (YES!) and how to incorporate them. All these great questions led me to reach out to my dietitian colleagues and ask them to contribute their best recipes with veggies that either last a long time (cruciferous or root veggies, often), or feature canned, jarred or frozen vegetables. Now I've got 30 Creative Recipes to Help You Eat More Vegetables that you can use now and long into the future.
I have tips embedded throughout the recipes below so you can choose whatever way you want to incorporate veggies this week: soups and stews, main dishes, salads and sides, veggie breakfast and snacks, and even veggie-based beverages! If you want some specific information about exactly which veggies to buy that will keep fresh the longest, I was in an interview with MSN.com this week sharing my tips here.
I really love all the great advice my colleagues have. Valeria Mallett, RD, LD, CSCES has some tips to share with me on how she works with her patients: "I recommend my patients with diabetes make half of their plate non-starchy vegetables. In reality, this recommendation is for everyone. Vegetables nourish our body and our gut microbiome. Eating a variety of plants is fundamental to disease management and prevention. Besides the health benefits, vegetables are delicious. I advise my patients to be mindful to include vegetables in each meal — whether they are raw or cooked. Even at breakfast? Yes. Adding a few handfuls of dark leafy greens to morning scrambled eggs will deliver a mountain of nutrients to support a variety of body functions, including your immune system, blood sugar, and cholesterol. Vegetables are rich in fiber, which promotes the feeling of fullness: better insulin sensitivity and improved blood cholesterol. Some studies have associated diets rich in vegetables to decrease the risk of type 2 diabetes and cardiovascular disease as well as cancer prevention." She adds in that during COVID-19, her favorite inexpensive, versatile, and nutritious option for veggies is cabbage because it's a cruciferous, sulfur-rich vegetable that brings nutrition with a small price tag. Cabbage salad is her family's favorite: shredded with salt, balsamic vinegar, and olive oil. I've got several cabbage recipes below so make sure to check those out.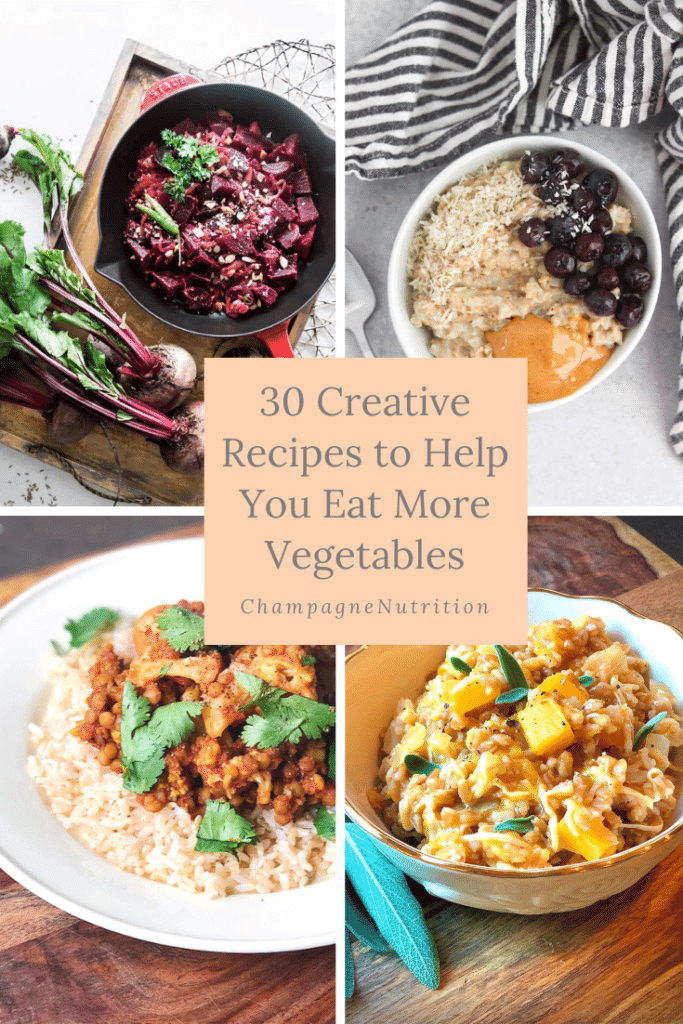 30 Creative Recipes to Help You Eat More Vegetables
Soups and Stews
Instant Pot White Bean and Spinach Soup by Lisa Andrews, MEd, RD, LD, Owner Sound Bites Nutrition, LLC explains why she uses frozen veggies. "I love the versatility of frozen spinach. We use it as a side dish with a dash of garlic, olive oil and salt or add it to leftovers like pasta to increase serving size for a family of four. I also love using it in soup!"
Slow Cooker Vegetarian Chili by Megan Byrd at The Oregon Dietitian
Celery Root and Parsnip Soup by Maria Adams, MS, MPH, RDN at Hasala Nutrition. I'm loving this recipe and she's got tips on root veggies: 'I've been loading up on root veggies, which tend to have a longer shelf life. With a variety of roots on hand dinner never gets boring, and we rotate between delicious options such as sweet potato fries, mashed potatoes, sliced carrots sticks, roasted beets, and celery root and parsnip soup.'
Red Lentil Stew with Root Vegetables by Sharon Palmer, the Plant-powered Dietitian, explains how she's cooking these days, "I've been using lentils a lot, which are quick cooking, along with root veggies when I run low on produce."
Taco Soup by Kathy Levin RD, CDE, DipACLM at Nutritiously Simple gets creative with her recipes. "This soup is an easy way to get in a variety of vegetables in one pot. It's so easy to make and is a fan favorite at any gathering. Drain and rinse the canned veggies. Look for "organic" or low sodium versions when buying your veggies canned. You can always enhance the taste with different herbs, spices, and seasonings."
Main Dishes
Enchilada Casserole with Frozen Spinach and a Can of Bean Chili by Liz Weiss, MS, RDN at Liz's Healthy Table (check out her podcast!) really utilizes those frozen and canned veggies. She tells me: I've been turning to frozen vegetables more than usual in an effort to stretch my produce supply to last a week or more. For a simple side dish, I combine frozen petite peas and corn kernels in a bowl, drizzle with EVOO, sprinkle with kosher salt and heat in the microwave. For snacks, I use frozen berries, pineapple, and mango in fruit smoothies. And for dinner (and leftovers for lunch the next day), I recently created this recipe for Enchilada Casserole with Frozen Spinach and a Can of Bean Chili. It's super easy and comes together quickly thanks to that frozen spinach. (I have a few bags in my freezer right now!)
Instant Pot Lentil Cauliflower Curry by Ginger at Champagne Nutrition is the easiest way to quickly make a large batch of healthy, veggie-based food that will last you the week. Bonus: get that Instant Pot out and USE it!
Vegan Shepherds Pie by Shahzadi Uzma Devje made this family-friendly and satisfying Vegan Shepherd's Pie recipe with an Indian twist. It's loaded with flavour-packed green lentils simmered in a tomato sauce infused with traditional South Asian spices, and topped with velvety mashed potatoes. She gives a heads up, it's so Desi~licious that you'll want more than one helping!
Cauliflower Fried Rice by Ginger at Champagne Nutrition features frozen or fresh cauliflower which lasts in the refrigerator for a very long time. Add protein of your choice but a simple baked tofu is my personal favorite.
Sheen Pan Miso Ginger Tempeh by Kelly Jones at Kelly Jones Nutrition has meal prep tips for you. This sheet pan meal comes together with frozen green beans, long-lasting sweet potatoes and tempeh, and a sauce made of shelf stable ingredients. It's balanced, delicious and clean up is easy! Double the recipe so you have leftovers.
Farro Risotto with Butternut Squash and Sage by Ginger at Champagne Nutrition uses squash which is a vegetable that keeps for a long time in a cool, dark place.
Salads and Sides
Beetroot Salad by Shahzadi Uzma Devje explains that this healthy Beetroot Salad Recipe, aka Poriyal, in South Indian cuisine, may look fancy – but it's simple to pull off. Done in 35 minutes, and perfectly balanced with cumin, onion, fresh ginger and lemon. Garnished with crunchy sliced almonds to create a stunning presentation, that tastes as good as it looks – SO DELICIOUS and piquant! Why not shake up your lunch and dinner routine, by enjoying this as an alt to typical grains; like bread, rice and pasta.
Vegan Spiced Baked Beans by Ginger at Champagne Nutrition Salads uses a very obvious pantry essential: canned tomato! Maximize your plant-based proteins in a delicious way, using lots of simple herbs and spices, too.
Easy Roasted Spiced Cauliflower by Chef Vahista Bharucha Ussery, MS, MBA, RDN has some great tips on how to use this veggie. 'This is my favorite way to eat cauliflower! Crispy on the outside, just the right amount of spice, and tender on the inside, this side dish should be why the cauliflower craze exists! Cauliflower is a hearty veggie that keeps in the fridge for a long time, provides filling fiber, and has many beneficial phytonutrients. This recipe is super easy to mix up for a quick and healthy side.'
Roasted Frozen Broccoli 5 ways! by Lizzie Streit, MS, RDN, LD of Its a Veg World After All
Brussels Sprouts with Grape Honey Glaze by Amy Gorin tells me that she made this easy veggie recipe with frozen Brussels sprouts. She suggests keeping a bag of the vegetable in her freezer at all times so she can easily whip this up!
Simple Roasted Root Veggies by Maria Adams, MS, MPH, RDN at Hasala Nutrition
Baked Crispy Artichoke Hearts with Greek Yogurt Aioli by Lizzie Streit, MS, RDN, LD of Its a Veg World After All
Celeriac and Apple Salad with Vanilla Honey Dressing by Ginger at Champagne Nutrition features an unusual root veggie: celeriac and also includes apples which can be stored for a long time as well. Check out the celeriac soup in the earlier section for more ideas on how to use this hearty vegetable.
The Best Roasted Frozen Brussels Sprouts by Lizzie Streit, MS, RDN, LD of Its a Veg World After All offers her tips for reducing trips to the store but keeping veggie intake high. 'As the trips to the store become less frequent, we've been purchasing more frozen and canned veggies and experimenting with different seasonings and methods of cooking. For example, if you don't love the texture of steamed frozen veggies, roasting them is also an option. When we do purchase fresh veggies, we use what we need right away and then pickle the rest.'
Healthy Pumpkin Pasta for Toddlers by Kacie Barnes, MCN, RDN of Mama Knows Best has amazing tips for canned pumpkin. "It doesn't have to be pumpkin spice season to make a pumpkin packed recipe! I love baking with canned pumpkin, but right now I'm especially obsessed with this protein packed, plant based pumpkin pasta recipe! I created it with my toddler in mind (since she will eat anything with noodles) and it's a great way to sneak in a serving of veggies.'
How to Make Cancer Fighting, Heart Healthy Brussels Sprouts by dietitian Judy Barbe, author of Your 6-Week Guide to LiveBest
Vegan Red Cabbage and Carrot Slaw by Sarah Koszyk, MA, RDN is a side-dish using veggies that store for a long time. She explains: 'Cabbage can last about 4-5 weeks in the refrigerator and carrots can last about 3-5 weeks in the fridge. This Vegan Red Cabbage and Carrot Slaw is delicious to make and easy to keep so you don't have to run to the store for a week.'
Veggie Breakfast and Snacks
Sweet Potato Nachos by dietitian Judy Barbe, author of Your 6-Week Guide to LiveBest, look SO GOOD. She tells how she's maximizing veggies: 'These are seriously simple Sweet Potato Nachos loaded with black beans, corn, and avocado. No chips required!'
Quick Pickled Radishes with Sherry Vinegar by Lizzie Streit, MS, RDN, LD of Its a Veg World After All
Cauliflower Oatmeal by Colleen Christensen at Colleen Christensen Nutrition takes the cake for creativity! Her tip? 'Adding rices cauliflower to oatmeal is a fool-proof way to eat more veggies! You can't taste it, plus you can add in some fruit, nut butter, or even a scoop of protein or cocoa powder to add more flavor!'
Beverage Bonus
Ginger Turmeric Carrot Mimosas by Ginger at Champagne Nutrition keeps your brunch cocktail a little healthier. Add in anti-inflammatory fresh herbs mixed with real carrot juice for that gorgeous flavor and earthy taste.
Healthy Smoothies by Melissa Nieves, LND, RD, MPH Fad Free Nutrition Blog tells me: I find that smoothies are excellent vehicle for adding more high nutrient foods to our diet. This is especially helpful for those of us who aren't getting enough foods like fruits and vegetables daily. Maybe because of food preparation constraints or simply because we just don't like how they taste. For example, blending spinach into berries and some Greek yogurt can be a more favorable option for people who can't bear to eat it in a traditional vegetable form. They're still getting all the needed nutrients, but in a tastier package. How's that for a win-win?
Gin Ginger Beet Cocktail with Thyme by Ginger at Champagne Nutrition uses fresh beets to create a vibrant color in this delicious cocktail. Now THAT'S using your veggies!
I really hope you've enjoyed this round-up of 30 Creative Recipes to Help You Eat More Vegetables to support your health without having to pop out to the store more than once every week or two. There are so many options and you can feel free to utilize frozen, jarred, and canned varieties as well. Let me know if you have any favorites to add to this list.
Ginger Hultin,MS, RD, CSO
An award-winning, nationally recognized nutrition expert and media spokesperson.
Thanks for visiting! If you're like me: obsessed with eating, wine, going out and traveling, you're in the right place. Champagne Nutrition® LLC is a Registered Dietitian-run concierge virtual practice helping clients look and feel better. On this blog, you'll find cocktails, mocktails, and plant-based recipes that are easy to make quickly at home and pack for leftovers on your adventures.