6 Tips for a Stress-Free Holiday
Any holiday can be stressful…the preparation, the expectations, the busy schedule. But the winter holidays in particular, from Halloween through New Years can be particularly challenging. Sweets and alcohol abound. You're traveling and/or have visitors. Workouts get pushed to the wayside and you feel like your schedule isn't your own. It's the end of your fiscal year on top of it all. And everyone wants you to "bring something" to the party. I've got you. This is my specialty! I always tell my clients that I'm not out to take your stress away but rather help reframe it and make a plan to survive it. So I'm here to chat about my top 6 tips for a stress-free holiday. Or maybe just….less stress. You've got this. Let's chat.
6 Tips for a Stress-Free Holiday
1. Don't Procrastinate
There is no stress like the moment when you know you're not prepared. Scrambling to get ready for a party you're hosting or throwing appetizers together last minute on the way to an event only adds to the stress of the season. Buying gifts for people under pressure just isn't as enjoyable as savoring the experience. I suggest calendar management for the whole season – October through November – syncing with your family so that you're aligned and have clear division of tasks.
Meal planning really deserves a place in the holiday season and it becomes even more important when you're very busy! Utilize your tools including meal delivery, online grocery shopping and delivery services as needed. Make meals ahead. My peanut butter and jelly granola, eggplant lasagna, and vegetarian chickpea stew are examples of breakfast, lunch and dinner that can be made ahead and served all week long. Plan out your meals each week, write it down, grocery shop and get family members or roommates involved in helping prep.
If you need a delicious party beverage to serve or contribute, you really need a giant batch of this Turmeric Tea Vodka Cooler. Trust me! Or you could no-bake these delicious chocolate vegan cookies.
2. Communicate
Want to host at your house? Don't want to host this year? Need a day off without interruption? Avoiding alcohol this season? Feeling like you need some extra support this month? Speak up! I see so many people suffering in silence, wishing that people knew how to help. But unless you express what you need, it will be hard for others to know what you need.
For some reason, guilt and shame abound over the winter holidays so it's time to break that cycle and speak up, being clear about what you need and how you're going to find happiness this season. If you're disappointed, let someone know! If you want more support from your partner, tell them and ask for help making a plan. If you have a vision for the way you want your holiday to look, speak up. I'm a direct communicator in life and always with my clients. Good communication is the key to happiness.
3. Moderate alcohol intake
The guidelines are clear my friends, one drink per day for women and two for men is what's safest and that doesn't change during the holidays. I firmly believe that alcohol is awesome and can fit into most people's lifestyle if they want it to, but there are some nuances here. Holiday parties on the weekends, holiday parties at work, Thanksgiving wine, and Hanukkah cocktails quickly add up to more drinks than the recommendations. But over-imbibing has consequences. Many of my clients notice weight gain with too much alcohol. It can interrupt sleep and even negatively influence your mood. Don't wait until the New Year to cut back – you CAN have balance even during the holiday season but it will require awareness and commitment.
If you need some healthy cocktail or mocktail ideas for New Year's, check out this nutritionist roundup! If you love podcasts, I'm breaking down all things alcohol here on Sound Bites. And I'm on CNN here talking about why alcohol can give you the munchies.
4. Break Tradition
Tired of serving the same thing year after year? Me too! Last time I hosted Thanksgiving at my house in Seattle, I thought of all the things that I don't enjoy about the holiday and I changed them. I don't like having "dinner" at 2pm…I wanted it at 7pm. I wanted a longer, more social experience so I started with cocktails and appetizers as an opener to the meal so people could socialize more. I believe in trying new foods so I made several new dishes from scratch and focused on lighter, more veggie-packed twists on classics.
Don't be afraid to change it up this holiday. What do YOU want? What would make it fun for you now? You don't have to do what you've always done. Here are some of my personal favorite holiday recipes that challenge tradition a bit:
Jalapeno-spiced cranberry sauce, vegan potatoes au gratin, vegan corn chowder, peanut butter pumpkin spice smoothie, vegan thumbprint cookies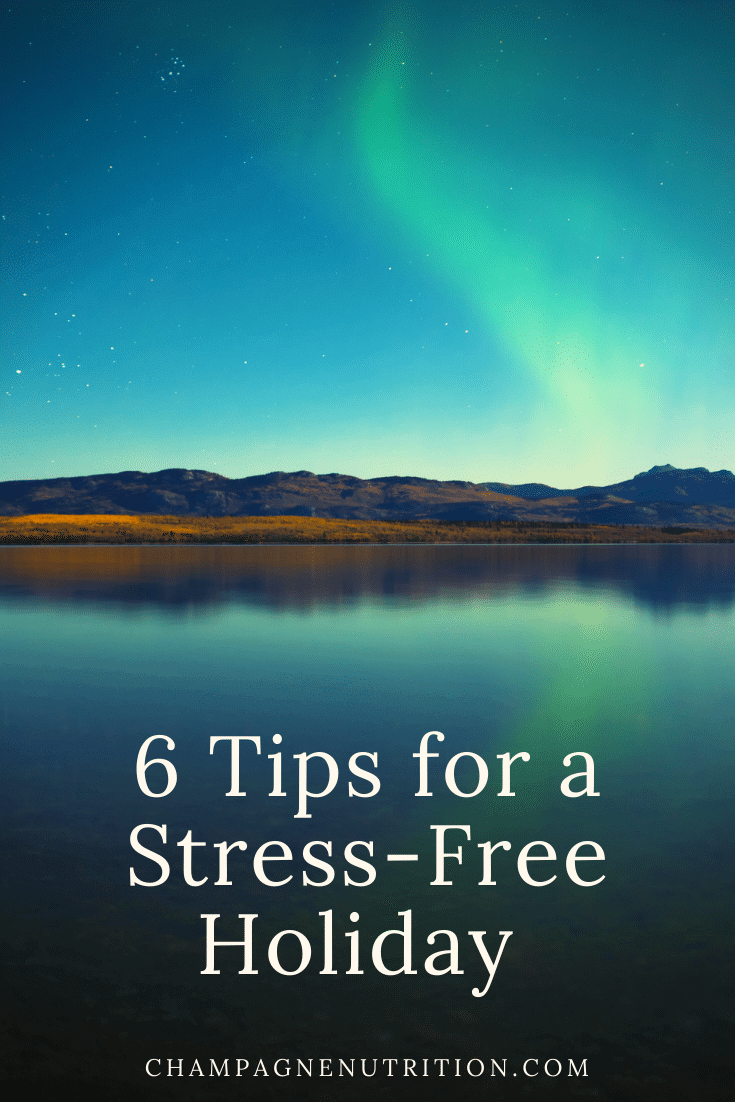 5. Moderate Sugar Intake
Starting with Halloween, sugar intake is at an all time high from October through the New Year. Enjoy your holiday treats but still stay within the guidelines of 6 tsp/100 calories/25 grams per day added sugar for women and 9 tsp/150 calories/37.5 grams per day added sugar for men. Being aware of this goal can really help you choose wisely when making recipes or reading labels this season.
The main problem I see with excessive added sugar is that it spikes your blood sugar, causes insulin to pump out which causes blood sugar to drop, leaving you craving sugar again. The body loves sugar because it's a burst of quick energy. Instead of living on this roller coaster, I encourage my clients to choose slower-burning options like whole fruits and veggies, beans, and whole grains. And I do suggest lowering added-sugar intake. If you moderate your sugar intake now, you'll be feeling much better than if you didn't come Jan 1.
I spent an entire month chatting about carbs so make sure to review that piece
here on the blog. 
6. Prioritize Your Needs
It's hard to make sure that you're getting enough sleep or fitting in workouts when there is so much going on during the holiday season. But I'd say among the most important of my 6 Tips for a Stress-Free Holiday is this last one: prioritize your needs.
I was supposed to go to a meeting at 7am today. I got home last the night before from teaching and when my alarm went off at 6am, I decided it was in my own best interest to sleep another hour instead of going to the early morning event. No regrets.
I schedule all my workouts in each month. Then I work the rest of my calendar around them. This prioritizes my need to make fitness happen daily, no matter what. If you've ever worked with me, you'll know that I believe in a really high level of activity for health. I spent a month talking all about
physical activity and nutrition here on the blog
so pop over there if you need some inspiration.
Making meal prepping, sleeping, medical appointments or self-care traditions like massage, facials, or meditation, and working out priorities even during your busiest times really puts you first. And remember, you need to put your metaphorical face-mask on before helping others per the flight-crew instructions.
…
There
are
ways to enjoy a stress-free holiday season. Aside from my 6 Tips for a Stress-Free Holiday here on the blog, I'm sharing articles about lessening stress all month long on my
Facebook
, on my
Twitter,
and of course, on
Champagne Nutrition
so I hope you'll get the chance to stop by and join me in part of the conversation.
 If you want more updates from me at Champagne Nutrition that include my monthly themes (stress-free holidays is up next!), make sure to
join my non-spammy mailing list.
Ginger Hultin,MS, RD, CSO
An award-winning, nationally recognized nutrition expert and media spokesperson.
Thanks for visiting! If you're like me: obsessed with eating, wine, going out and traveling, you're in the right place. Champagne Nutrition® LLC is a Registered Dietitian-run concierge virtual practice helping clients look and feel better. On this blog, you'll find cocktails, mocktails, and plant-based recipes that are easy to make quickly at home and pack for leftovers on your adventures.