I have a confession….I think I have a muffin addiction. Blueberry especially is my favorite but muffins – especially the ones you get at a store or bakery – are fat and sugar bombs. If you start your day with a giant muffin, it's kind of like eating a cake in the morning and you may be on a blood sugar roller-coaster all day long. Making your own at home gives you more control over the ingredients so you can lighten them up and add nutritious goodies like fruit and nuts which boosts nutrients and fiber. These Honey-Nut Yogurt Muffins re inspired by a desire to batch cook a healthier breakfast with a little boost of protein in addition to all the flavor.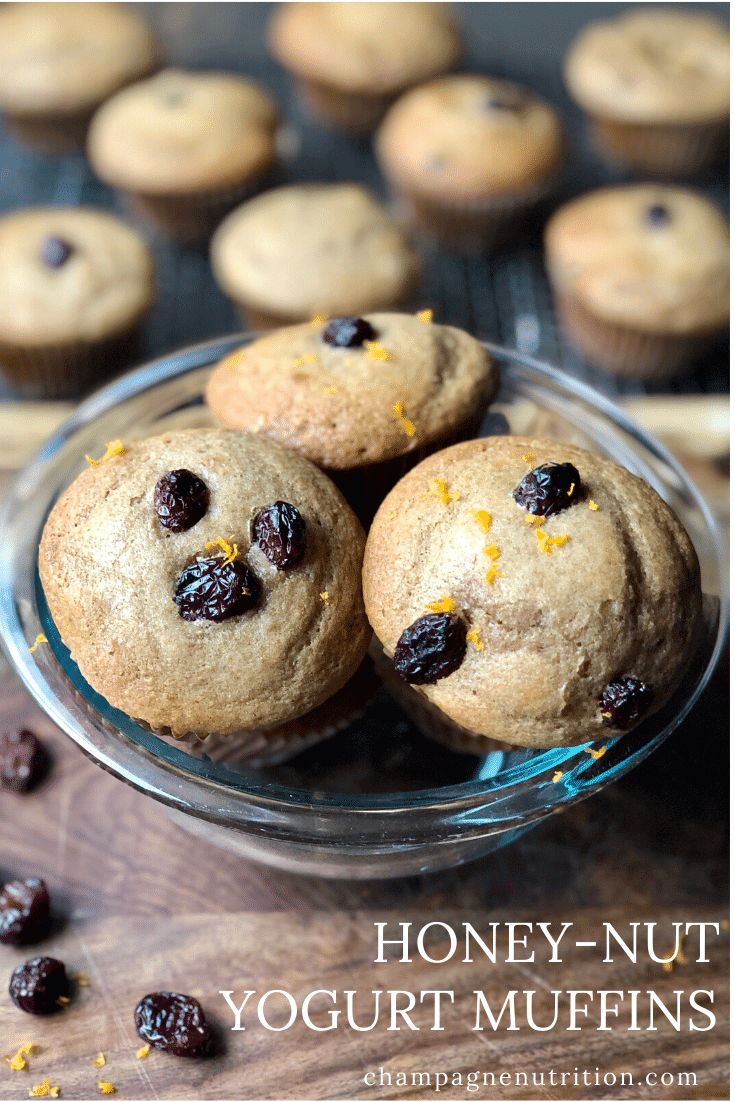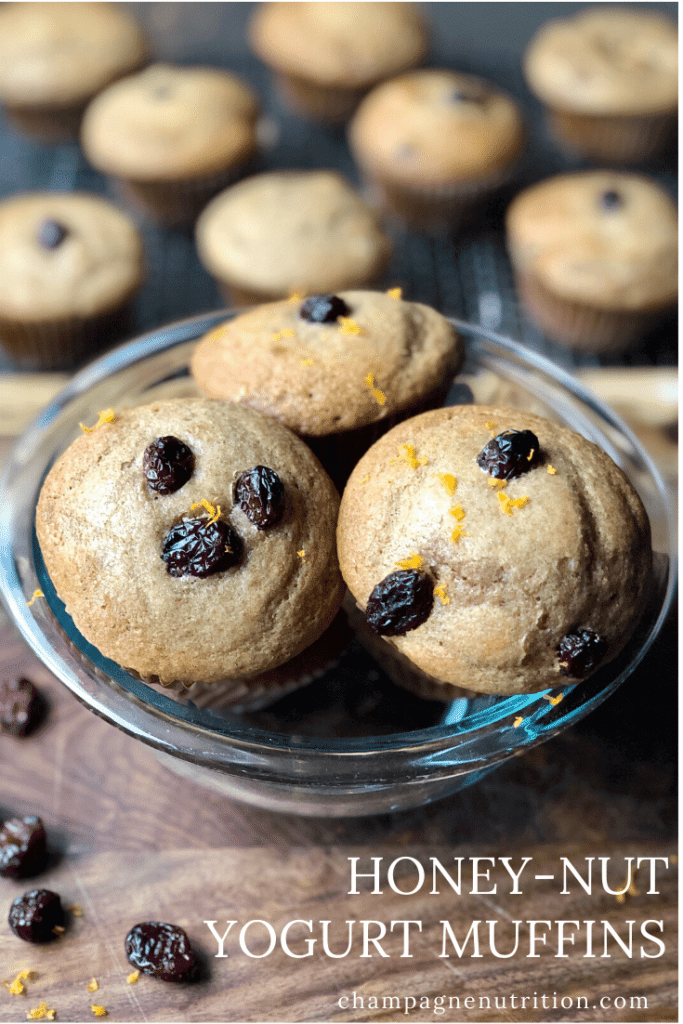 Why Muffins?
These Honey-Nut Yogurt Muffins are healthier than the average muffin and also Mediterranean-inspired, featuring ingredients like apricots and pistachios. I use as little sweetener and oil as possible while still maintaining their muffin-ness. Pumpkin spice and pure vanilla extract offer familiar fall flavors and a delicious aroma as they bake. I hope you enjoy these Autumn Honey-Nut Yogurt Muffins anytime you need a grab-and-go breakfast or snack.
Like I mentioned above, muffins differ in nutrition greatly. They're meant to be a little single-serve so if it's gigantic, it's probably more like 2-4 servings instead. Check for a lot of added sugar and oil as well. You want to make sure that you're getting some good stuff as well. Fiber comes from any nuts or fruit that you add and also from the whole wheat flour. Remember that if you bake with whole wheat, you'll naturally have a more dense product. To me, this is just a little taste adjustment. It's like getting used to brown rice. Blend some into your white rice to start and then as you get used to it, you can transition over completely. When baking, you do want to stick with a 50/50 mix so you do get that soft texture you're looking for.
I chose to make these with yogurt for added flavor, protein and moisture content. I choose a low-sugar, high protein yogurt like Siggis (my favorite) that is so versatile and perfectly portioned to put into a recipe like this one. Keep in mind that the egg, the yogurt and the honey all make this non-vegan friendly though its' very suitable for vegetarians as long as they include dairy in the diet.
Speaking of dairy, you'll need some milk for this recipe. Feel free to use dairy, or unsweetened almond, oat or soy. Soy is actually my preference because it has some really healthful and unique antioxidants in it and it's high in protein as well.
The fun thing about this recipe is that, while it's written with certain spices, nuts and fruit, that you can absolutely adapt it. Try raisins or cranberries instead. You'll see in the pictures that I actually decorated mine with some dried cranberries. I love using something unexpected like pistachios but you could definitely use almonds or walnuts instead as well. Mix up those spices to be more or less bold, depending on your taste. This is all about making adaptations that fit your unique needs.
Making Honey-Nut Yogurt Muffins
This is the easy part! I'm all about multi-tasking in the kitchen so I believe we should whip something up quickly and pop it in the oven while we focus our attention on other things. Hands-off cooking makes the whole process more fun.
I strongly suggest investing in some silicone muffin liners. I've been spraying muffin tins and using paper liners for so long that when I finally bought some colorful silicone ones, I'll never go back. No extra oil or mess needed! Get the oven preheated and line those tins with whatever you've got.
Blend together those dry ingredients and then separately, the wet. You'll fold the 'wet' (yogurt) mixture into the dry to create a thick batter and then you'll just gently fold in your nuts and fruit. Again, feel free to adjust the portions to suit your needs. I actually love muffins that have a lot of that extra texture so I mix in a little extra if I've got it. Make sure not to fill your tins too high because then you'll get muffins with gigantic tops. I like a moderate size so start by filling them all about 1/2 way and then top them off (I often use either a ladle or spatula) until they're about 3/4. Bake them, cool them and serve them all week.
Need other yummy breakfast or snack ideas? Check out these super simple recipes I've got up on the blog: Gluten-Free Pumpkin Chocolate Chip Muffins, Coconut Cherry Energy Oat Balls, Cran-Almond Energy Bars, Healthy Oatmeal Raisin Energy Bites.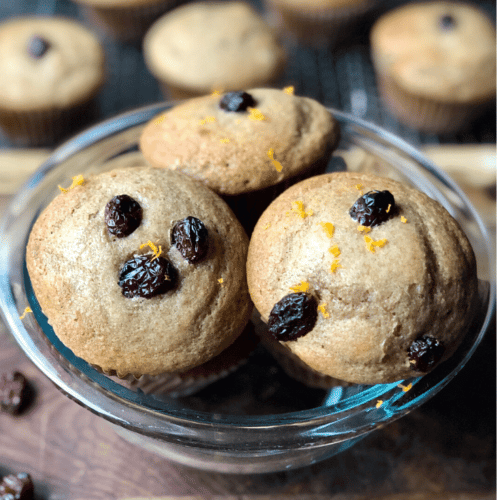 Honey-Nut Yogurt Muffins
Healthy little muffins that are perfect for a breakfast or snack any time of year
Print
Pin
Rate
Ingredients
1

cup

whole wheat flour

1

cup

all-purpose flour

1/2

cup

brown sugar

1

Tablespoon

baking powder

1

teaspoon

baking soda

1/2

teaspoon

salt

1

teaspoon

ground cinnamon

1

teaspoon

ground ginger

1/4

teaspoon

ground nutmeg

1/8

teaspoon

ground allspice

1/8

teaspoon

ground cloves

1

5.3 oz

container Siggi's vanilla yogurt

1/2

cup

milk of your choice

try soy, almond, or oat

1

teaspoon

pure vanilla extract

2

large eggs at room temperature

1/4

cup

honey

1/2

cup

canola or grapeseed oil

1

cup

chopped dried apricots

3/4

cup

salted shelled pistachios

roughly chopped
Instructions
Preheat oven to 375 degrees F. Line a 12-cup muffin tin with paper liners or spray lightly with oil; set aside. In a large bowl, whisk flours, brown sugar, baking powder, baking soda, salt and pumpkin spice; set aside. In a medium bowl whisk together the yogurt, milk, vanilla, eggs, honey, and oil. Gently fold the yogurt mixture into the flour mixture until combined. Fold in the apricots and pistachios.

Divide the batter evenly among the prepared muffin tins, filling each cup ¾ full. Bake for 16-18 minutes or until lightly browned on top and springy to the touch. Allow the muffins to cool for 5 minutes in the pan before carefully transferring to a cooling rack to cool completely.
Ginger Hultin,MS, RD, CSO
An award-winning, nationally recognized nutrition expert and media spokesperson.
Thanks for visiting! If you're like me: obsessed with eating, wine, going out and traveling, you're in the right place. Champagne Nutrition® LLC is a Registered Dietitian-run concierge virtual practice helping clients look and feel better. On this blog, you'll find cocktails, mocktails, and plant-based recipes that are easy to make quickly at home and pack for leftovers on your adventures.