If you need a healthy, whole-food based breakfast that's nutrient rich and delicious, you've got to try these Banana Ginger Oats. Full of complex carbohydrates for sustained energy, this recipe has another benefit: digestion support. A healthy GI has been linked to a stronger immune system so as we head into cold and flu season, be sure to feed the billions of bacteria living in your gut that may be helping you out in more ways that you even realize. Plus, oats and ginger are both packed with so many health benefits that adding them together into this dish is the perfect combination.
Everyone is interested in the gut microbiome these days. Perhaps it's because there are more bacteria living in your colon than you have human cells in your body (what are they all doing?!). Or perhaps there is research in animal models that suggests a link between gut bacteria and weight, mood, inflammation and other systems. With so much to learn about the gut, there are a few things we know for certain. Gut bacteria make vitamins for us! They make biotin, B12 and vitamin K. Another thing we know is that in order for these bacteria to flourish, they need food and they prefer fiber-rich foods that ferment in the colon. My dietitian friend Mary Purdy wrote a really fun book about the benefits of the microbiome that I've been sharing with a lot of my clients. It includes high fiber recipes like this one as well as some ideas for more natural cleaning products. Love it!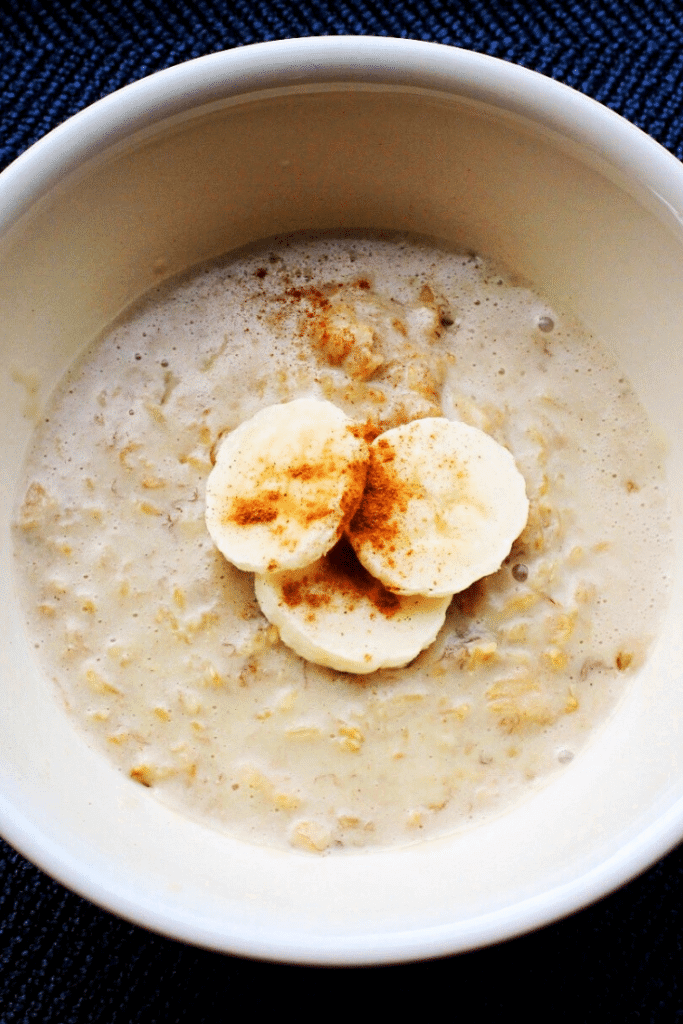 Oatmeal Health Benefits
Oats provide slow-burning, sustainable energy and are a whole-grain food, which is the best way to enjoy grains. Being whole-grain means that all parts of the grain, like the bran or the germ, are present and haven't been removed during the milling process. Oats are packed with so many nutrients, such as complex carbohydrates and fiber, to help provide long-lasting energy and aid in digestive health. 
One powerful fiber that oats are rich in is beta-glucan, a soluble fiber. Beta-glucan can provide the body with so many amazing health benefits, such as lowering LDL and total cholesterol levels, reducing blood sugar, and increased growth of good bacteria in guts. There's also some evidence that this compound can increase the immune system, making your fight against bacteria and viruses stronger, which is so beneficial as we hit cold and flu season!
Even in this season of COVID and the awareness of other viruses, I believe there's not enough attention being paid to the importance of healthy eating and boosting the body's natural defenses against viruses. Of course you need to socially distance, wear a mask, and wash your hands as well as avoid high-risk places like restaurants and gyms but there's a lot that you can do through food as well to both reduce your risk of the comorbidities that we see showing up with worse outcomes from this virus (diabetes, high blood pressure and heart diesase) but also to support the microbiome and give your body lots of vitamins and minerals.
Oats also contain so many essential vitamins and minerals, such as manganese, phosphorus, iron, folate, and many more. Additionally, they are rich in antioxidants, specifically avenanthramides, which help reduce inflammation and lower blood pressure levels by lowering LDL cholesterol levels. Plus, oats are gluten-free, making them much more nutritious and beneficial for a wider group of people.
What I love most about oats and oatmeal is how versatile they are! You can add them to so many different recipes, like cookies or pie crumbles, and they are also amazing just on their own. Creating fun, new oatmeal combinations is so fun and I love switching it up from oatmeal energy bite to overnight oats to these Banana Ginger Oats. 
Why Ginger?
Ginger is such a wonderful spice to add to these Banana Ginger Oats! Ginger can help aid in digestion and help to reduce nausea. One of the earliest medicinal uses of ginger was to help relieve seasickness, and now it is seen to help aid in numerous forms of nausea. More commonly today, ginger is used to help relieve nausea and vomiting after surgery and for cancer patients undergoing chemotherapy, along with reducing morning sickness in pregnant women. Ginger also has anti-inflammatory properties which can help reduce muscle pain and soreness, osteoarthritis, and reduced blood sugar and blood cholesterol levels. With all these numerous health benefits, it's no wonder why ginger is such an essential spice to add into so many different dishes. 
Making the Banana Ginger Oats
The Oats
I love using rolled oats to make my oatmeal, whether it's hot oats or overnight oats, because they soak up the liquid you use so easily. Plus, the result is a thick, creamy oatmeal that is so delicious! However, if you prefer to use steel-cut oats, feel free to use them for this recipe! Just keep in mind that the final result may not have the ideal consistency that oatmeal made with rolled oats will have. For the liquid, I prefer using unsweetened vanilla almond milk for a little extra protein! However, any type of milk, dairy or non-dairy, will work for making these Banana Ginger Oats. 
The Bananas
The key to making these oats so thick and creamy is adding the bananas into the milk and oats while they are boiling over the stove! The bananas add a touch of natural sweetness to these oats while also combining all the ingredients together. I also love to garnish the finished oats with some bananas slices.
The spices
While ginger is the star spice for these Banana Ginger Oats, I always love to toss in some additional spices or garnishes to add some extra flavors to the dish. My favorites to add are cinnamon and vanilla extra because the cinnamon provides additional health benefits and the vanilla extract adds some more natural sweetness without being too overpowering!
If you're looking for even more oat recipes, be sure to check out my Easiest Blueberry Coconut Oatmeal Bake and my Healthy Oatmeal Raisin Energy Bites. What's your favorite way to enjoy oats?
Ingredients
1

small/medium ripe banana

1/2

cup whole rolled oats

1

cup milk of your choice

try soy milk for protein and antioxidants

1/4

teaspoon cinnamon

1/2

teaspoon freshly grated ginger

1/2

teaspoon pure vanilla extract
Instructions
Break the banana into pieces and place in a small pot with oats and milk. Bring to a simmer and cook until the milk is absorbed and the oats are thickening. Reduce to low heat and as you stir, mash the bananas up until they're well combined. Add cinnamon, ginger and vanilla and cook until oatmeal is thick. Serve hot and garnish with coconut or chopped nuts.
Ginger Hultin,MS, RD, CSO
An award-winning, nationally recognized nutrition expert and media spokesperson.
Thanks for visiting! If you're like me: obsessed with eating, wine, going out and traveling, you're in the right place. Champagne Nutrition® LLC is a Registered Dietitian-run concierge virtual practice helping clients look and feel better. On this blog, you'll find cocktails, mocktails, and plant-based recipes that are easy to make quickly at home and pack for leftovers on your adventures.