Calming Smoothie for Runners
When it comes to working out, recovery is important. Recovery doesn't just mean taking a break; it includes a variety of support including stretching, sleeping, hydrating and refueling with healthy food. This where anti-inflammatory foods are your friend; they can help speed up the recovery process and reduce inflammation and soreness in your body. Intense exercise creates oxidative damage in the body – a normal process that you have support for if you treat yourself correctly. An easy vehicle for recovery foods includes my Calming Smoothie for Runners.
I'm so into all things anti-inflammatory right now… so much in fact that, aside from this blog post, I also wrote an entire book about it! Here's a link for the Anti-inflammatory Diet Meal Prep book if you need more support in this area.
Why a Calming Smoothie for Runners?
Calming anti-inflammatory foods packed with vitamins, minerals and antioxidants can be ingested after workouts. Your body has worked hard for you and it needs to be replenished. Activity – breathing, metabolizing, thinking and just generating energy actually creates cellular damage. You can help mop it up by giving your body the antioxidants it needs. Antioxidants in fruits, veggies and different herbs and spices actually help quench free radicals which can cause cellular damage in the body. These are certainly compounds that calm and cool irritation.Include nutrient-rich sources including berries, green vegetables, nuts/seeds, beans/legumes, whole grains and spices such as turmeric and cinnamon. These foods provide support for the body by restoring cellular health and quenching free radicals.
The word 'irritation' is exactly how I describe inflammation in the body. If you cut your hand, it's red and hot and painful. That's inflammation you can see. You know when your muscles get really sore? Or when you know you've pushed it too hard in a workout? That's created inflammation inside the body. The way I know I've gone too hard is that I get really physically exhausted. Generally I have a ton of energy but if I go super hard on a workout, I know I need to rest and refuel.
You can balance your nutrients with carbohydrates and protein. Fat is hard to digest so including fat-rich foods before a workout can be challenging. Carbs keep your muscles working so think about adding in ingredients like the ones in this smoothie – banana and berries really help support and fuel the body in an inflammatory way that also provides energy and vitamins your body needs. You definitely want some protein in there, especially if you're trying to build muscle or maintain your muscle mass. Personally, I'm no runner but I'm super into lifting weights. I need to make sure to fuel my body with protein from the foods I eat to protect the muscles that are working hard for me, moving a lot of weight. Greek or non-dairy yogurt (try soy for a good replacement) is really important here. Alternatively, you could do some chia seeds or hemp seeds or even a scoop or two of protein powder. Pea is my favorite and I like whey, too. It's up to you what kind you like the best.
When you're active, be sure to hydrate. Plain water can sometimes get boring – though it's incredibly important and cannot be skipped. Instead, you can help hydrate your body with other fluids like the liquid in this smoothie. You can also add in some extra water just to make sure you're meeting your needs. Dietitians can really help you understand exactly what you'll need for your unique workouts so make sure to contact me or one of my friends around the country so you can stay hydrated and energized during these workouts.
My favorite thing about this calming smoothie for runners is all the spices! Add cinnamon, freshly ground ginger and turmeric for a complexity of flavor unique to this beverage. When you get finished with an intense workout, nothing is more nourishing and calming that a cold, frothy fruit smoothie.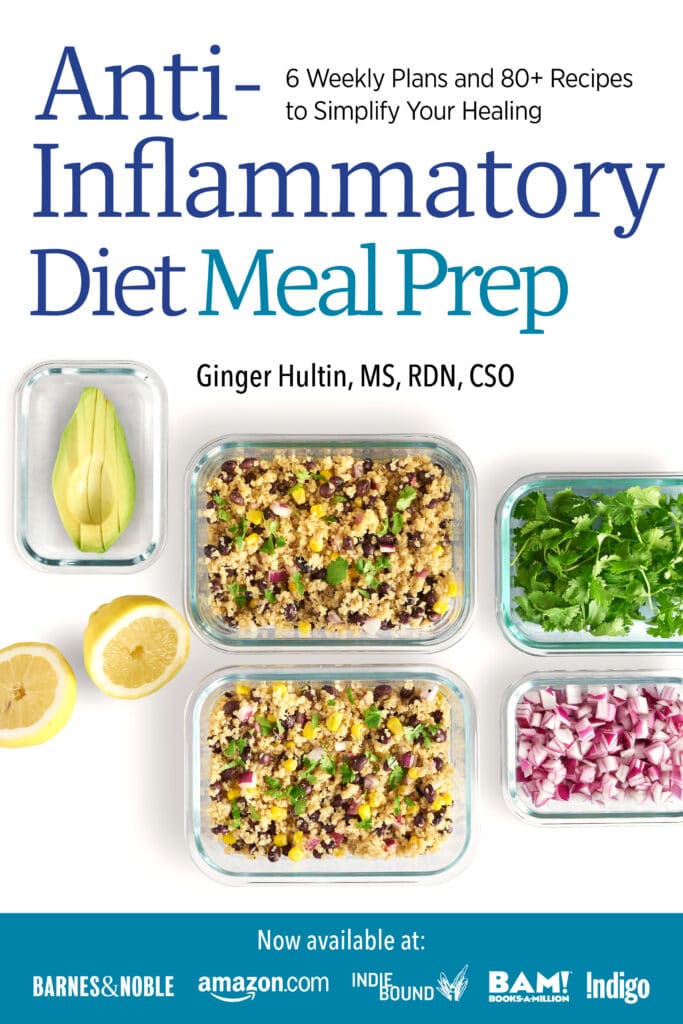 Making the Calming Smoothie for Runners
This part is simple! You literally blend and go. The most important thing here is the frozen banana. What I do at home is I buy a bunch of bananas and I let them get pretty ripe on the counter. I lay out plastic wrap in pieces then I peel the bananas and set them individually on the plastic and wrap them up. I stick them in the freezer and depending on their size, I can grab a whole one or easily rip one in half to use in a smoothie. Alternatively, I love using them in oats. This recipe is a perfect example of how to use frozen bananas.
All my recipes are versatile. You can absolutely make them what you want them to be. The greens are important but you could easily use kale or arugula instead. You could use parsley instead, as well. A little goes a long way so just use 1/2 cup or less to freshen up the smoothie. The ground turmeric and ginger are really important as well. These are the key anti-inflammatory spices but hey, you can absolutely adjust if you want less or more of these flavors. Like I mentioned earlier, add in chia, flax or hemp seeds for more protein and healthy, anti-inflammatory omega-3 fatty acids. There's nothing more energizing than that.
Need More Smoothie Recipes?
I've got tons for you! My Peanut Butter Pumpkin Spice smoothie and my Vegan Pumpkin Spice Smoothie are different but you can make them both any time of the year. Don't be fooled! Canned pumpkin is the bomb and it's full of antioxidant vitamin A. This Wild Blueberry Matcha smoothie has that green tea caffeine punch that actually enhances workouts so this one is also so anti-inflammatory (and delicious). Finally, I have the perfect green smoothie for you that actually tastes really good (and not 'green'). And if you want something really unique, try my Melon Vanilla smoothie! You won't be disappointed.
Ingredients
1/4

cup

blueberries

1/2

ripe banana

1/2

cup

fresh baby spinach

1/4

cup

plain Greek yogurt

(non-dairy is fine (too!))

1

teaspoon

ground turmeric

1/4

teaspoon

ground cinnamon

1/4

teaspoon

ground ginger
Instructions
Place all ingredients in a blender and blend until smooth. Add more water (regular or unsweetened coconut) if needed for consistency. Enjoy!
Notes
Fresh or frozen berries or banana are ok!
Ginger Hultin,MS, RD, CSO
An award-winning, nationally recognized nutrition expert and media spokesperson.
Thanks for visiting! If you're like me: obsessed with eating, wine, going out and traveling, you're in the right place. Champagne Nutrition® LLC is a Registered Dietitian-run concierge virtual practice helping clients look and feel better. On this blog, you'll find cocktails, mocktails, and plant-based recipes that are easy to make quickly at home and pack for leftovers on your adventures.