Carrot Ginger Turmeric Mimosa
Mimosas are the perfect addition to brunch, holidays, and parties but there's so many ways to spice it up and add in new flavors to this classic concoction. A traditional mimosa has just champagne or sparkling wine and a splash of oj. Some people get creative with adding in pineapple juice or cranberry but I took this one to the next level with some healthful and refreshing ingredients in this Carrot Ginger Turmeric Mimosa.
I worked as a bartender for a long time before I became a dietitian and I've personally made and served thousands of mimosas. Sometimes on game day, we'd make "manmosas" which is a mimosa in a pint glass over ice. There are so many different ways to make this simple drink. The history of mimosas likely began at the Ritz Hotel in Paris in 1925 where a bartender, Frank Meier invented the mimosa, using equal parts sparkling wine and juice. Perfect! Thanks Frank.
The thing is, I'm looking for a more interesting spin on classic drinks suited for a dietitian's crew. Fruit is wonderful and we should eat fruit every day but the truth is that the guidelines recommend we eat more servings of veggies than we should of fruit. This includes veggies of all colors so make sure in addition to the orange carrots, squash or bell peppers, you're getting some servings of purple, white, green and yellow, too. I used carrot juice in this recipe but believe me, I'm not actually juicing my own carrots. If you are, that's great, but I bought mine at a natural food store for ease and because I'm absolutely on the go this week.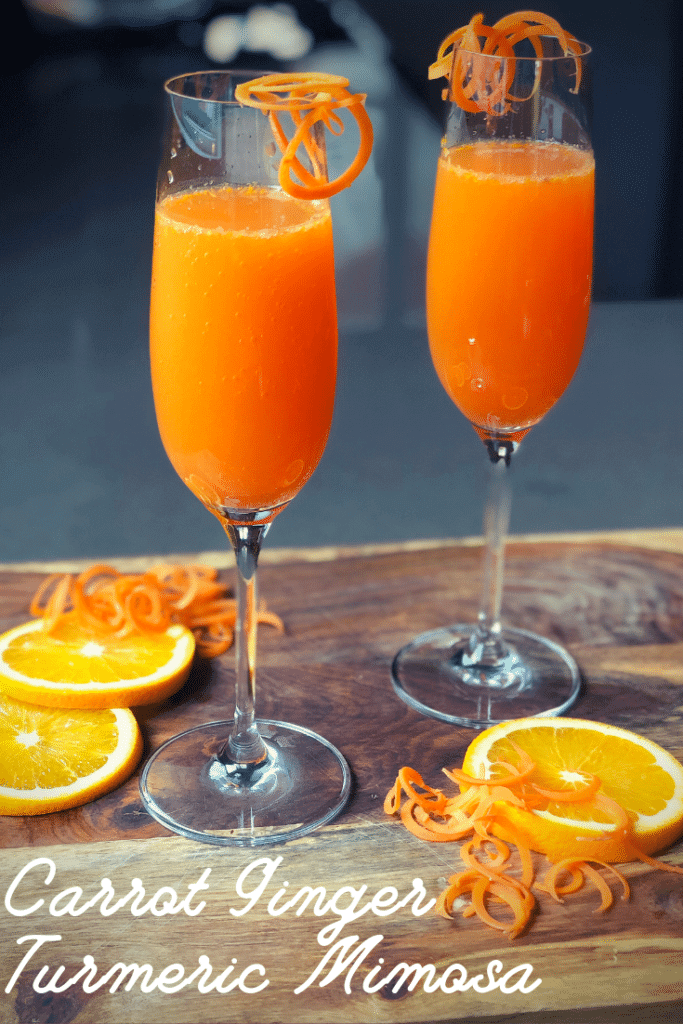 Carrot mimosa recipes do exist, especially for Easter and spring brunches but I was imagining a more savory, complex flavor that also suits a meal like Thanksgiving or other fall activities. I added calming turmeric – also a wonderful color and ginger which pairs well with carrot and adds a bright flavor. Mimosas can be sweet, sweet, sweet so I wanted this Carrot Ginger Turmeric Mimosa to be more interesting. There's a little honey in there because carrot juice is so mild and it makes the flavors pop a bit more.
The nice thing about a cocktail like this one is that it could easily be made into a mocktail for people who don't want an alcoholic beverage, for pregnant women or even for kids! Think beyond breakfast if you are serving cocktails as thisCarrot Ginger Turmeric Mimosa is refreshing and light as a pre-dinner treat or even as a post-event finisher. Mimosas aren't just for breakfast and in fact, I don't really enjoy drinking early in the day as it makes me feel tired and sluggish the rest of the day. Everyone is different and there's nothing wrong with an indulgence at breakfast or brunch but you need to listen to your body and know what's best for you. Drinking should add to your life, not subtract from it. If you ever have any questions about striking that balance, make sure to contact me!
If you need other recipes ideas like this one, I'm all about the healthy beverages so check out my Gin Ginger Beet Cocktail with Thyme, Sparkling Plum Basil Cocktail, or Strawberry Basil Kombucha Cocktail.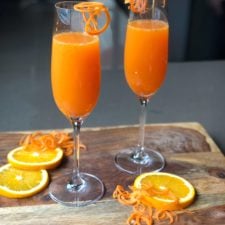 Carrot Ginger Turmeric Mimosa
Turmeric, ginger, and carrot for a vitamin and antioxidant boosting mimosa.
Print
Pin
Rate
Ingredients
1 1/2

ounces

freshly pressed carrot juice

1 1/2

ounces

fresh orange juice

1/2

teaspoon

honey

melted

1/4

teaspoon

fresh ginger

grated

1/4

teaspoon

fresh turmeric

grated

8

ounces

champagne or sparkling wine

chilled

orange and/or carrot for garnish
Instructions
Combine the carrot juice, orange juice, honey, ginger, and turmeric in a 2-cup liquid measuring cup. Pour 4 ounces of champagne in each glass. Pour juice mixture over champagne, divided evenly between glasses. Garnish with orange and carrot to serve.
Ginger Hultin,MS, RD, CSO
An award-winning, nationally recognized nutrition expert and media spokesperson.
Thanks for visiting! If you're like me: obsessed with eating, wine, going out and traveling, you're in the right place. Champagne Nutrition® LLC is a Registered Dietitian-run concierge virtual practice helping clients look and feel better. On this blog, you'll find cocktails, mocktails, and plant-based recipes that are easy to make quickly at home and pack for leftovers on your adventures.