Coconut Chickpea Stuffed Sweet Potatoes
If you're a sweet potato lover looking for a simple, healthy and vibrant plant based meal, this one is IT. While looking at a variety of plant based recipes I noticed that there was one thing missing over and over – the protein! So, I added chickpeas as the plant protein star of these Coconut Chickpea Stuffed Sweet Potatoes.
Along with the other plant based ingredients, this dish is simply stuffed with nutrition and flavor. Sweet potatoes bring fiber, vitamin A, vitamin C and B vitamins. They're flavorful, nutritious and versatile. Kale sautéed in coconut and lime is just delicious and a nice way to enjoy this dark leafy green. Top it with protein and fiber packed chickpeas and you've got a nutritionally dense meal that everyone will love. 
Packed With Healthy Ingredients
Coconut
Coconut can be such a misunderstood food. There are some fun health benefits to it – and some negatives – but overall it's an awesome ingredient to have on hand in your kitchen. Versatile and delicious, I cook with coconut products pretty often. There are so many ways that coconut can be used for cooking. In honor of all things coconut, I made these Coconut Chickpea Stuffed Sweet Potatoes with coconut oil, coconut milk and coconut flakes. 
Chickpeas
The magic ingredient in my Coconut Chickpea Stuffed Sweet Potatoes is definitely the chickpeas. I almost always use canned because it's so much faster. Just drain them, roast them and use them. They're so hands-off and a quick, easy protein source you can use in many ways – even just as a snack.
As I mentioned above, they are a fantastic source of protein and fiber. I love plant based protein sources for this exact reason. Fiber is so important for your gut health because it helps to push food through your system. It can also help to lower cholesterol in the body and even help to regulate blood sugars. Animal sources of protein are devoid of fiber which is why I try to use plant based sources whenever I can. 
Sweet potatoes
Sweet potatoes are one of my favorite sources of complex carbohydrates. They are high in micronutrients including vitamin A and beta carotene. The bright orange color is due to the beta carotene which acts as a powerful antioxidant in your body. This means that sweet potatoes can support healthy vision and a healthy immune system. MY Coconut Chickpea Stuffed Sweet Potatoes uses orange sweet potatoes but you can try it with any variety of sweet potato you like. Choosing different colors of sweet potatoes such as purple or white will provide different antioxidants which come with their own list of additional health benefits. 
While some people may skip the skin on their potatoes this is actually one of the healthiest parts of the root vegetable. The skin is high in vitamins and minerals and a good source of fiber as well. Just make sure to clean your potatoes well with a brush and some water before cooking and they are completely safe to eat. 
Kale
Everyone knows that kale is a super healthy vegetable. It's had its moment in the spotlight and that is not without good reason. Kale provides a plethora of vitamins, minerals, antioxidants and fiber, which we know are all important for a healthy body. 
I've added kale to these Coconut Chickpea Stuffed Sweet Potatoes for flavor, color and all of those added nutrients. Some of the most notable are vitamin K, vitamin C, iron and calcium. Kale is beneficial to anyone but can be especially helpful for diabetes, heart disease, cancer and bone health.  
Making The Chickpea Stuffed Sweet Potatoes
Baking The Sweet Potatoes
Preparing the sweet potatoes is the most time consuming part of this recipe. I recommend doing this step while you are working on another task such as prepping the filling, cleaning the kitchen or during a weekly meal prep. You can keep the cooked potatoes in the refrigerator and heat them up when you are ready to eat them. 
The amount of time your sweet potatoes need in the oven will depend on their size. If they are larger and thicker they may need some more time. If your potatoes need more time to cook in the middle but the skin is done cooking, you can cover them with a piece of aluminum foil to prevent burning. 
Prepping The Kale
In this recipe I am using tuscan kale also known as dino or lacinato kale. This variety has long green leaves with a scaly bumpy texture rather than the curly leaves of traditional kale. You can feel free to use whatever variety of kale you prefer. Some options are curly, red or baby kale. 
Remember that with any variety of kale you use you will want to remove the stems. The stem is tough and fibrous and is not pleasant to chew or digest. First, wash your kale leaves well under cold water. If you are using organic kale it is not uncommon for dirt or unwanted guests to be tucked away within the curly leaves. Then, just tear the leaves away from the stem or cut it out carefully with a knife before chopping. 
Presentation
I will warn you that it's kind of hard to make these look beautiful. Scooping out the insides while maintaining the shell intact requires gentle attention. This one turned out better than another one I made because the sides of the skin ripped and it wasn't as pretty. But it was still delicious. I took this one on a flight! Non-stinky, balanced, nutritious and flavorful, this is exactly the type of meal that will take you across the country and keep you feeling full and energized.
I hope you enjoy this Chickpea Stuffed Sweet Potatoes recipe, when you make it be sure to let me know how it turns out. If you need some more simple plant-based recipes that are perfect for meal prep, try my No Noodle Vegetarian Eggplant Lasagna with Quinoa and Spinach, Simple Vegan Enchilada Casserole or my super simple Healthy Vegetarian Sheet Pan Nachos!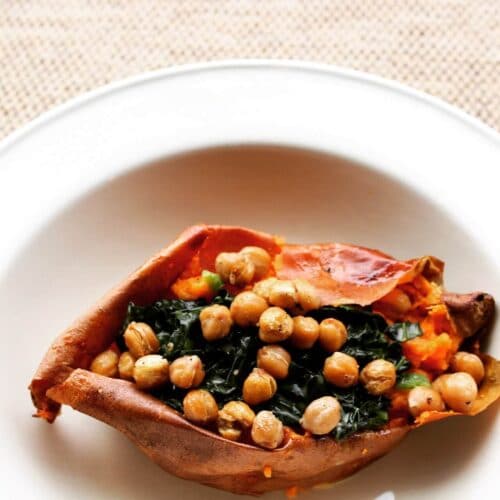 Coconut Chickpea Stuffed Sweet Potatoes
If you're a sweet potato lover looking for a simple, healthy and vibrant plant based meal, this one is IT; sweet, savory, and packed full of protein, this is a full meal in 1 dish.
Print
Pin
Rate
Ingredients
2

medium sweet potatoes

2

Tablespoons

olive oil

divided

1 15-

ounce

can chickpeas, drained and rinsed

1/2

teaspoon

sea salt

divided

1/2

teaspoon

freshly ground black pepper

divided

1/2

teaspoon

freshly ground ginger root

1

teaspoon

coconut oil

1

bunch

dino/Tuscan kale stems removed, leaves chopped coarsely

1

small jalapeno pepper - seeded and diced (use serrano if less heat is desired )

1 15-

ounce

can coconut milk

feel free to use "light" if desired

1

medium

lime; juiced

1/2

teaspoon

curry powder

1/3

cup

fresh grapefruit juice

2

Tablespoons

unsalted vegan non-dairy butter

feel free to use dairy if desired

3/4

cup

unsweetened coconut flakes

lightly toasted if desired
Instructions
Preheat oven to 400°F. Rub potatoes with 1 Tablespoon olive oil; pierce liberally with a fork then bake for 1 hour or until tender. Set aside to cool. Split potatoes in half lengthwise gently.

Place chickpeas on a baking sheet; pat dry with paper towels. Add 1 Tablespoon olive oil and toss. Sprinkle with 1/4 teaspoon salt, 1/4 teaspoon pepper, and ground ginger. Bake with sweet potatoes for the final 30 minutes, stirring every 10 minutes.

Heat coconut oil in a skillet over medium-high. Add kale and jalapeno, stirring often, until kale is slightly wilted and soft (about 3 minutes). Add in coconut milk then bring to a boil. Reduce to low and cook for 5-6 minutes until kale is very tender. Remove from heat, stir in lime juice, and curry powder.

Cut sweet potatoes in half-lengthwise then scoop soft flesh into a large bowl. Mash the sweet potato, grapefruit juice, vegan butter and remaining salt and pepper. Spoon mixture back into potato skins then top with kale mixture and garnish with toasted coconut.
Ginger Hultin,MS, RD, CSO
An award-winning, nationally recognized nutrition expert and media spokesperson.
Thanks for visiting! If you're like me: obsessed with eating, wine, going out and traveling, you're in the right place. Champagne Nutrition® LLC is a Registered Dietitian-run concierge virtual practice helping clients look and feel better. On this blog, you'll find cocktails, mocktails, and plant-based recipes that are easy to make quickly at home and pack for leftovers on your adventures.