Chocolate Cake with Pumpkin and Whip
I saw a chocolate cake made in an actual pumpkin featured in a Food Network magazine and I knew I had to make it. I became obsessed, gathering all the ingredients, analyzing the recipe and anxiously awaiting pumpkins to arrive in the stores. Once they finally did, in early October, I bought two small sugar pumpkins and departed on my journey to make a gorgeous chocolate cake inside a pumpkin, just like in the magazine. Just like any good 'Pinterest fail', mine didn't look quite like the glossy page picture but it did taste amazing and I was proud of it. Using their great recipe as a baseline, I made my own dietitian-approved changes to create Chocolate Cake with Pumpkin and Whip so that you can make it this season, too.
Is Chocolate Cake with Pumpkin and Whip for October and Halloween only? It would absolutely be fun for a Halloween treat for kids and adults alike but honestly, pumpkin season runs all the way through Thanksgiving and into December as well so as long as you can find a fresh sugar pumpkin, you can make this super fun recipe.
It's important that you use a sugar pumpkin which is different than a carving pumpkin. We went to a big farm here in the Pacific Northwest, Carpinito Brothers, to get our carving pumpkins and a few for eating as well. Pumpkins that you can use in the kitchen are smaller (much smaller than our gigantic jack-o-lantern pumpkins!), sweeter tasting, and less stringy and fibrous. You can still cook the seeds – of both pumpkins – so make sure to check that recipe out over on the blog for a simple salt, pepper, and cayenne pepper option. And if you love pumpkin as much as I do, I use a lot of canned pumpkin (which is much more simple for cooking). I've got pumpkin parfaits, pumpkin muffins and pumpkin waffles for you.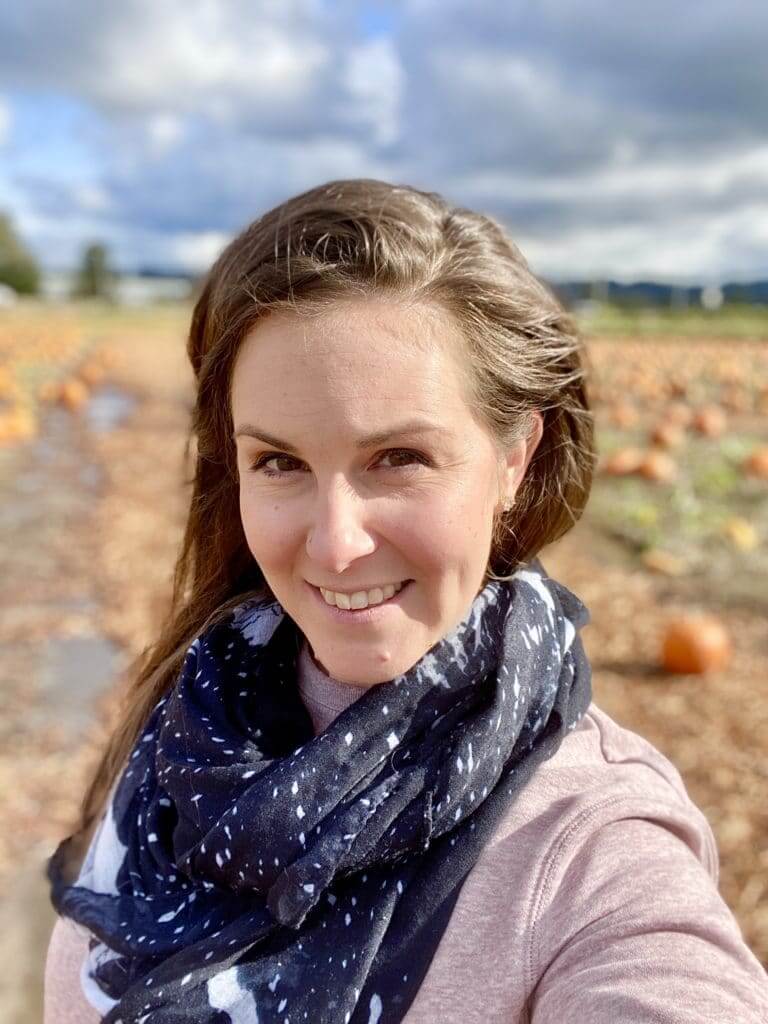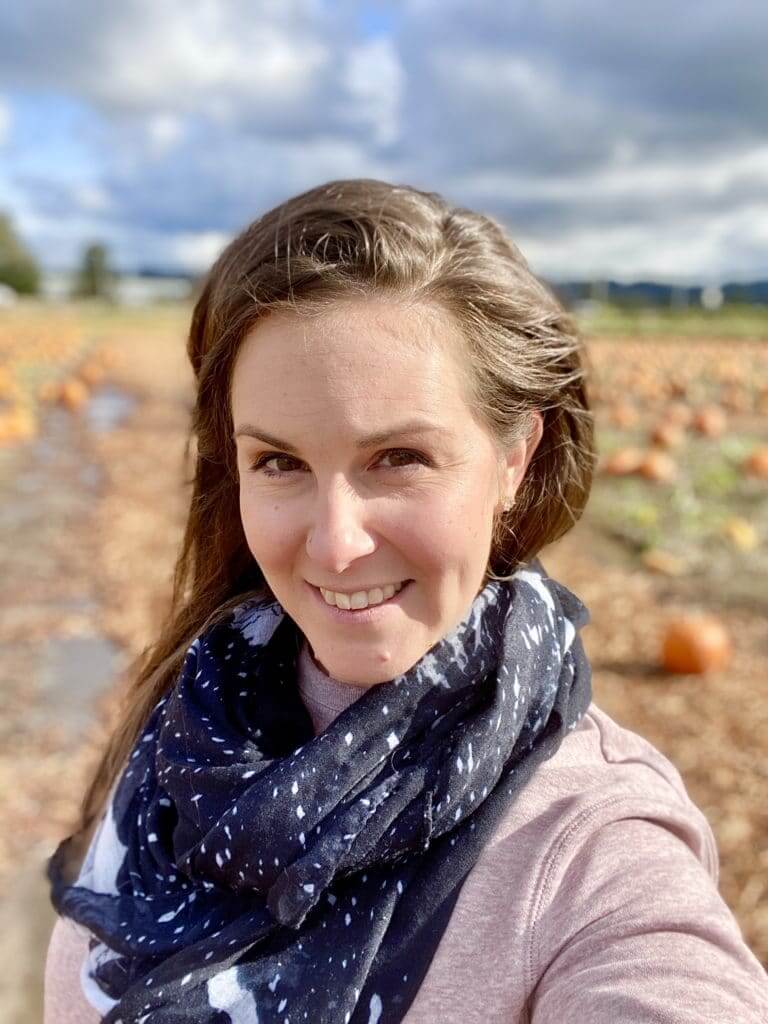 Autumn in Seattle
It's gorgeous here in Seattle in the fall. September is often one of our best months with the weather still warm, the days long but we start to get more rain and cooler nights. Taking walks, enjoying wine outside, watching the leaves change color, going to the beach, and checking out a pumpkin patch are all some of the best things to do if you're here in the fall.
Making Chocolate Cake with Pumpkin and Whip
Carve the Pumpkin
I started off by carving the pumpkin which was very fun because it was so early in October so it really kicked off my autumn. Because sugar pumpkins are so small – and you need a pretty small pumpkin (about 3-4 pounds) for this recipe, it only took about 5 minutes. I set the seeds aside to wash and roast.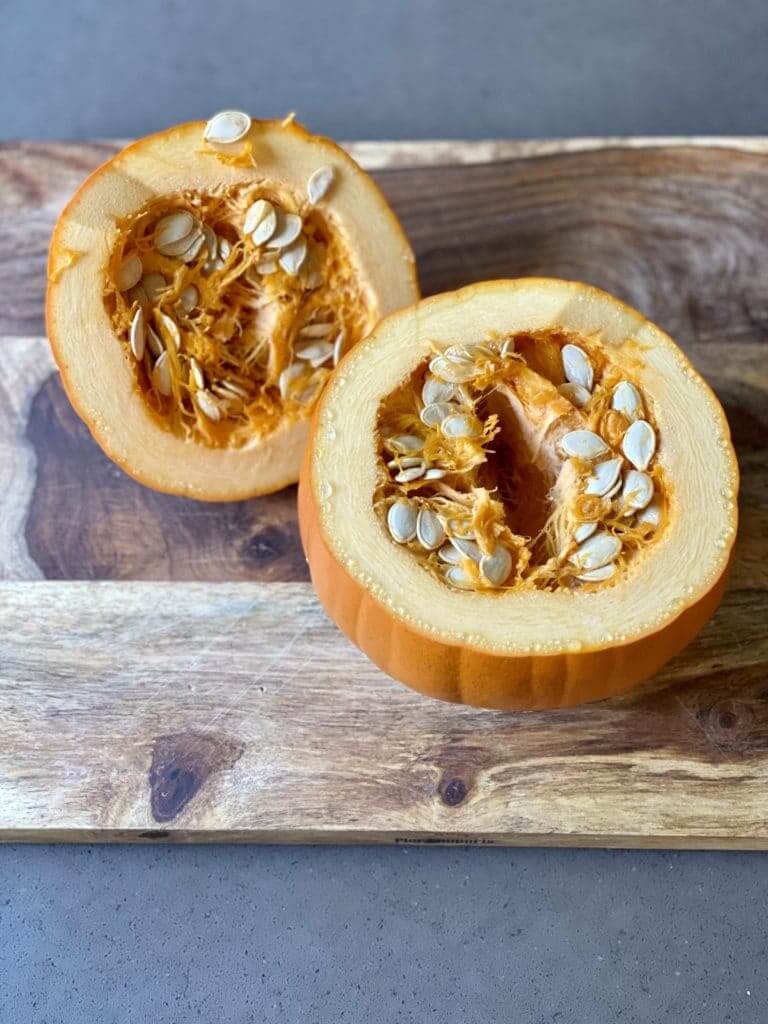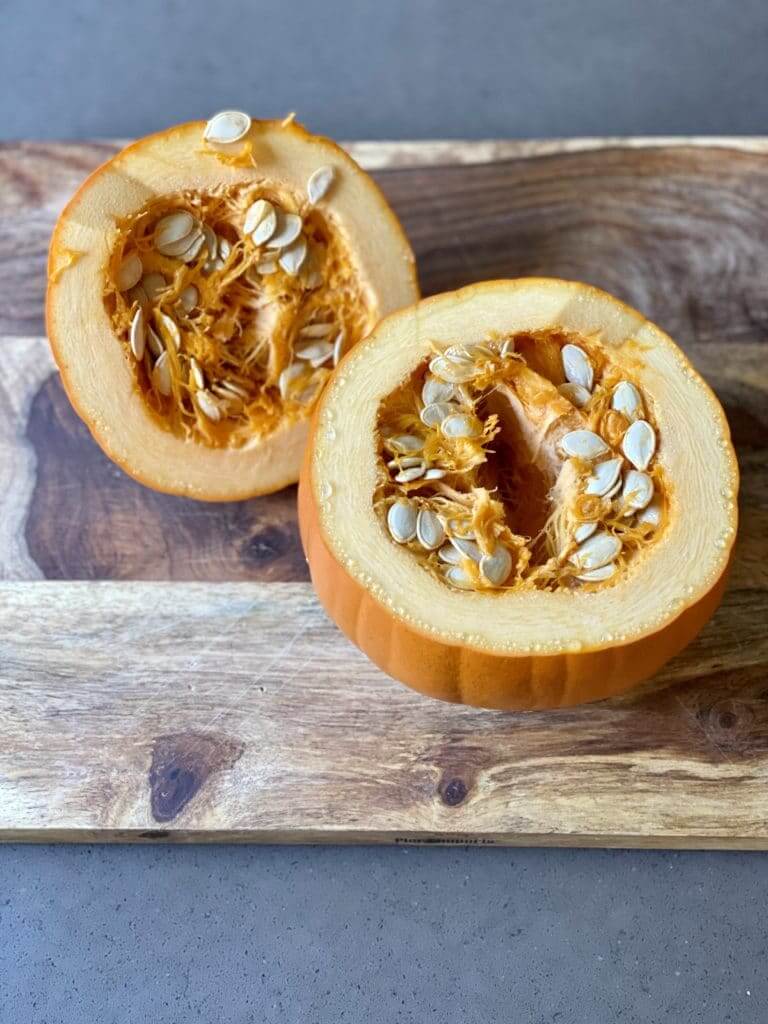 Make the Cake
Next up, I preheat the oven, got my baking sheet ready to go and set off making the cake. This recipe is really simple actually. You simply whisk the dry ingredients in a bowl and then get the butter, brown sugar and water heating in a saucepan. I always cut the sugar back in every recipe so that worked well for me in this one, too.
Once you simmer those delicious ingredients together, then you add the chocolate bar. Once it's melted I set it aside to cool so that when I added the egg, it wouldn't get cooked immediately with the heat. After about 3 minutes, I whisked in the eggs, vanilla and scotch but I have a word about the alcohol. I don't care much for scotch and so I thought about eliminating it. I ended up using a scotch-bourbon mix and it was so delicious in the final product so I definitely suggest cooking with it. Because of all the heat, there won't be residual alcohol in the recipe.
Finally, you'll whisk in the dry ingredients and pour the cake directly into the pumpkin. Mine came up close to the top opening but the original instructions were for it to only get filled 3/4 of the way. You bake the cake for a long time and that's partially to let the pumpkin get soft. Bake it at 350 degrees F for an hour then lower the heat to 300 degrees and bake it for another 50 minutes. The good news is that our house will smell delicious but the bad news is that you need to be there for a long time while it's cooking.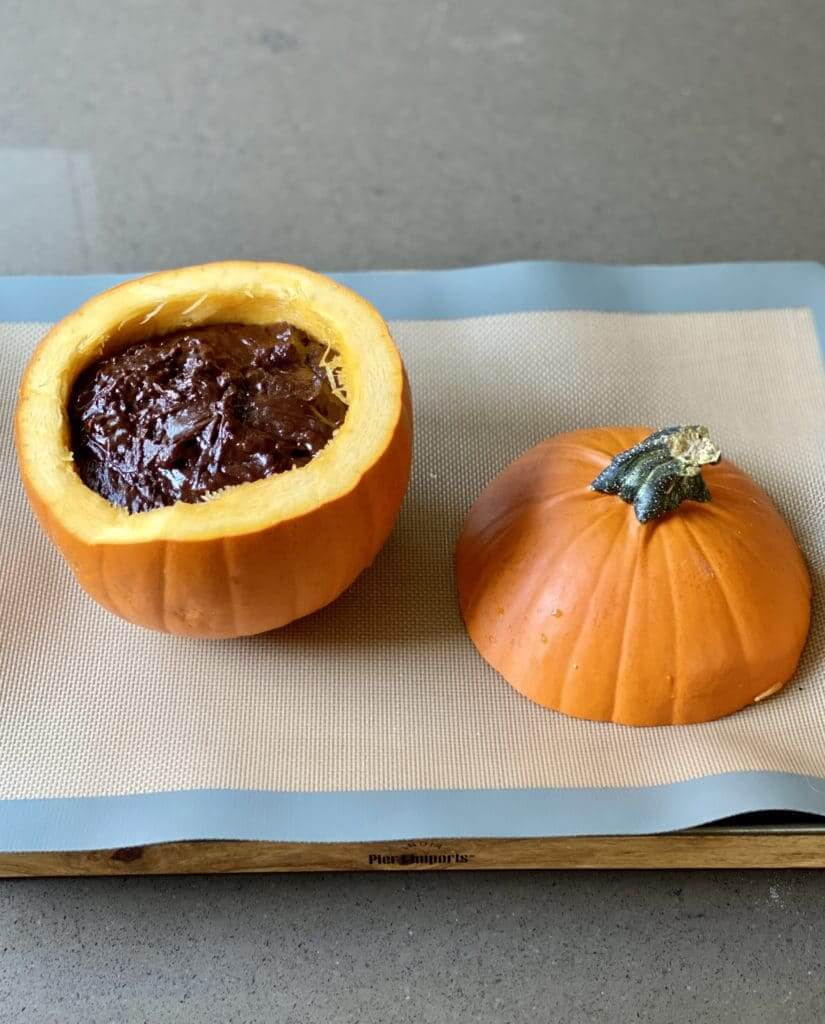 Because I poured my pumpkin so full of cake, the top of my cake popped out when it was baking but honestly, more cake is better for me so I was happy with it. It looked a little funny and not as sleek as the magazine but isn't that always the case?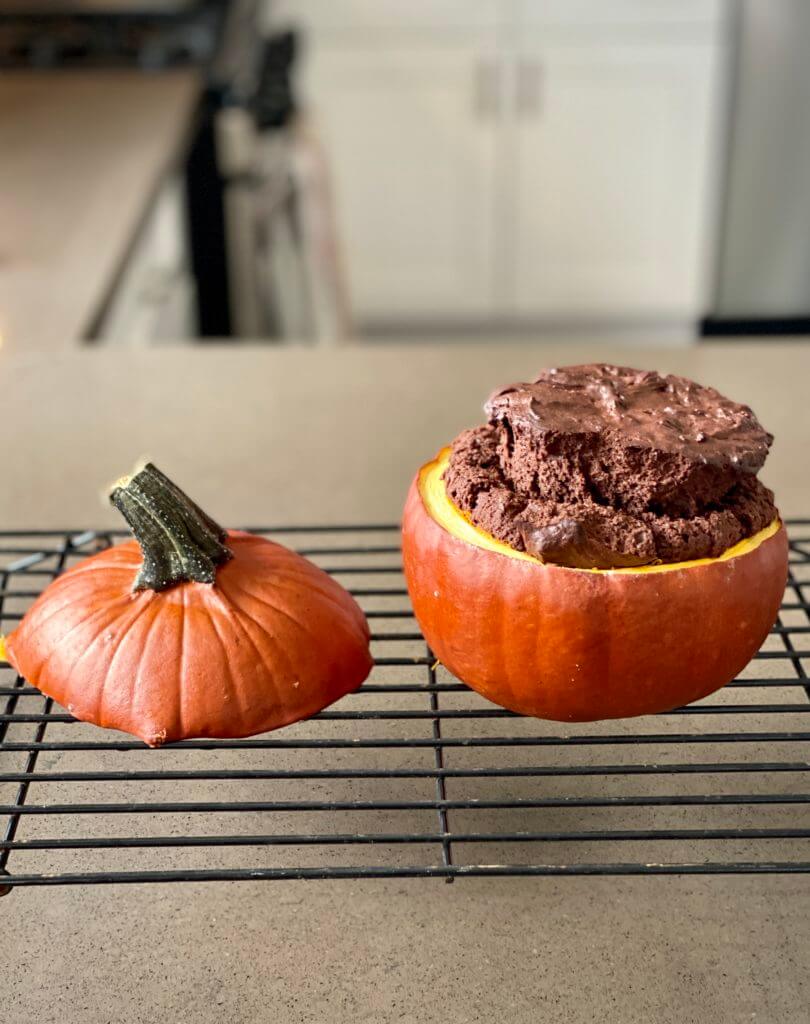 Making Scotch-Infused Whip
The Food Network recipe has a really, really amazing butterscotch sauce recipe that's made from butter, sugar, cream, pumpkin pie spice, vanilla and more scotch or bourbon. It's incredible and i highly recommend it. However, I found myself wanting something a bit more airy and like a whipped cream so you can simply pop the ingredients for this part in your mixer, whip it up and serve it fresh.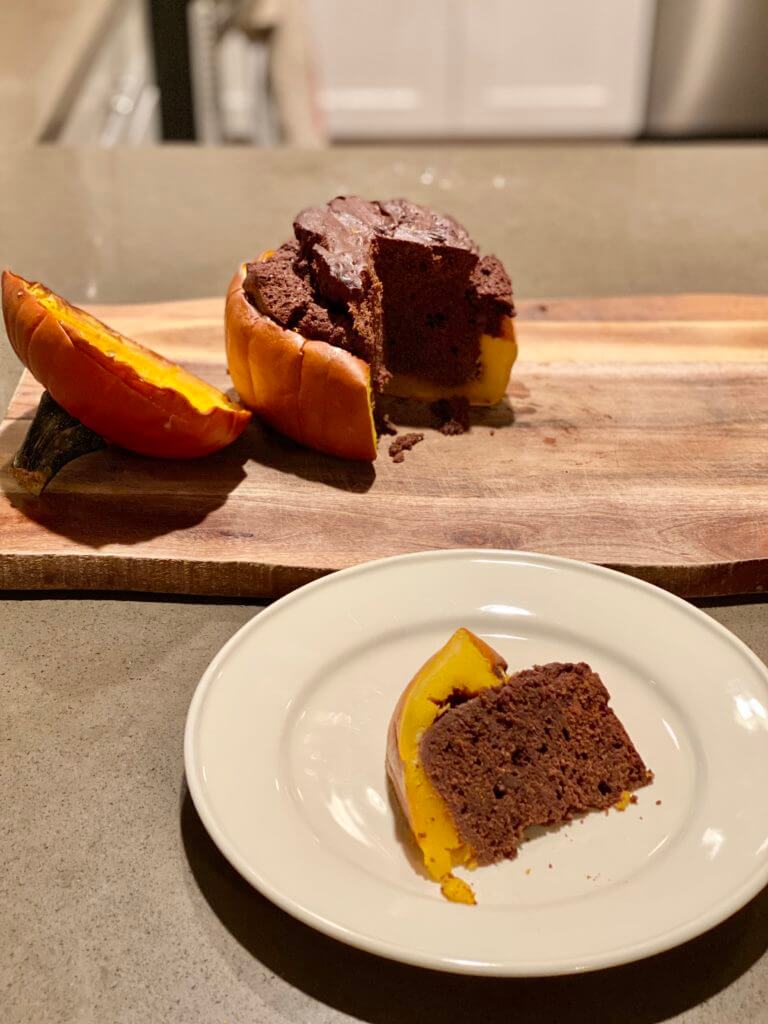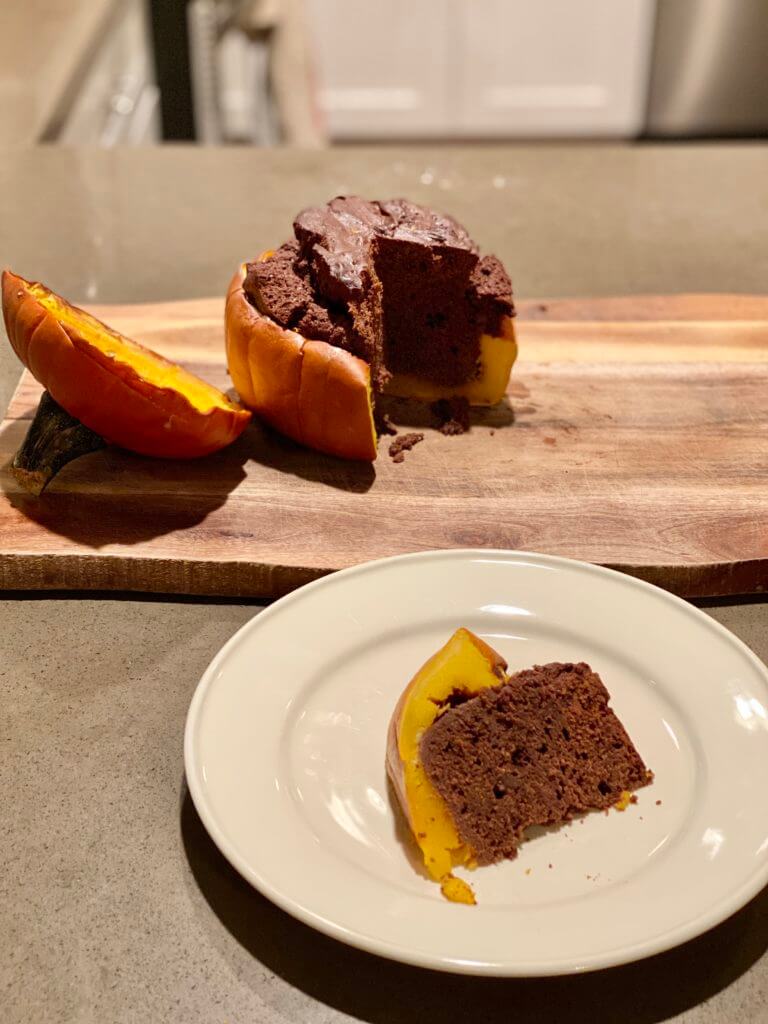 Final note
Sometimes my wonderful readers message me asking for calories and macros. While they are in my book, Anti-Inflammatory Diet Meal Prep, they're not on my blog for a number of reasons. This is a decadent, high fat and added sugar recipe for sure. I don't usually post recipes with a lot of butter and sugar in them but this one just really spoke to me. Remember, all foods can fit in to a balanced diet and when I was enjoying this pumpkin cake, I savored every bite with no guilt whatsoever. I hope you will, too!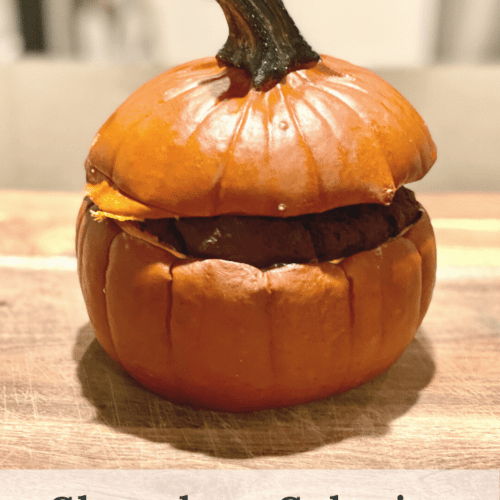 Chocolate Cake with Pumpkin and Whip
A decadent cake baked right inside a pumpkin with a decadent topping
Print
Pin
Rate
Ingredients
1

3-4 pound

sugar pumpkin

1

cup

all-purpose flour

2

tablespoons

cocoa powder

1/2

teaspoon

salt

1/2

teaspoon

baking powder

3/4

cup

unsalted butter

cut into pieces

1/2

cup

brown sugar

1/4

cup

water

3

ounces

semisweet chocolate

chopped

2

eggs

beaten

1

teaspoon

vanilla extract

1

tablespoon

scotch or bourbon
Scotch Whipped Topping
1

cup

heavy whipping cream

2

tablespoons

scotch or bourbon

1

tablespoon

sugar

1/2

teaspoon

pumpkin spice
Instructions
Carve the pumpkin on a clean, dry surface by removing the top, slicing off any pith or seeds then using a large spoon to scoop all the fibrous strings and seeds out of the inside. Consider rinsing and roasting the seeds.

Preheat the oven to 350 degrees and line a baking pan with a silicone liner or parchment paper.

In a small mixing bowl, combine the flour, cocoa powder, salt and baking powder.

In a saucepan, combine the butter, brown sugar, and water and bring it to a simmer over medium high heat until the butter has dissolved, about 2 minutes. Add the chocolate and use a whisk to combine it into the mixture as it melts. Remove the pan from the heat and set it aside to cool for 2-3 minutes.

Add the eggs, vanilla and alcohol to the pan and whisk it in to combine. Then whisk in the dry ingredients until the batter has formed.

Pour the batter into the prepared pumpkin base, leaving the top set aside on the baking sheet, not on top of the pumpkin. Bake the sheet for an hour until the cake starts rising out of the top. Then reduce the heat to 300 degrees and bake it for another 50-60 minutes until the cake is done in the middle, tested when you insert a wooden toothpick. Let the cake cool for about an hour or two before slicing it with a sharp knife.
Scotch Whipped Topping
Before serving the pumpkin, make the whipped cream in a mixing bowl by combining the cream, alcohol, sugar and spices and whipping aggressively for about 5 minutes until soft peaks form.
Ginger Hultin,MS, RD, CSO
An award-winning, nationally recognized nutrition expert and media spokesperson.
Thanks for visiting! If you're like me: obsessed with eating, wine, going out and traveling, you're in the right place. Champagne Nutrition® LLC is a Registered Dietitian-run concierge virtual practice helping clients look and feel better. On this blog, you'll find cocktails, mocktails, and plant-based recipes that are easy to make quickly at home and pack for leftovers on your adventures.