Easy and Delicious Cocktail and Mocktail Recipes for New Year's Eve
Need some beverage ideas for your New Year party? These cocktails and mocktails from leading dietitian nutritionists is actually helpful any time of year but especially as you head towards entertaining…again…post winter holidays that have been going on for months now. I'm excited for New Year's eve but I'm even more excited to get back to some normalcy the next day. How are you feeling about all this partying?
When I asked my friends for their favorite Easy and Delicious Cocktail and Mocktail Recipes for New Year's Eve, these colleagues came straight to the rescue. Dietitians have this reputation for being the food police but believe me, we love celebrating with delicious foods and cocktails as much as you do. People sometimes think that dietitians don't drink…or don't eat pizza or other normal foods. Dietitians become nutritionists because we love food so much. If you ever want to have an amazing dinner, definitely join your dietitian friends. And you may just find some cocktails there, too. We also love a culinary challenge and so when we do write recipes, there are often some healthier spins on them that help lighten them up.
Benefits of dietitian recipes
I learned about the difference between dietitian recipes and other recipes when I went to a big food blogger conference a couple years ago. The food bloggers were so lovely and so passionate about food. But, you know, they're FOOD bloggers and so I found that they really enjoyed creating decadent recipes that were super, super tasty. That often means a lot of added butter/oil, sugar and salt. Of course this type of cooking is ok but as dietitians, we often work with people who have some medical or health goals. Folks want to lower blood pressure, balance blood sugars or lose/maintain weight. That's one benefit of looking at dietitian recipes – that's what I always search for – because I know they'll be tasty AND healthy. Dietitians are very sensitive to dietary needs because we're experts in food allergies and can accommodate gluten-free, dairy-free, nut allergies, low FODMAP, and more so you'll be sure to always be healthy and safe.
20+ Easy and Delicious Cocktail and Mocktail Recipes for New Year's Eve
So it is with this collection of amazing drink recipes. A clear theme among this round-up is holiday flavors like rosemary, cinnamon, pomegranate and cranberries. Spritzers abound because so many traditional cocktails are loaded with sugar. At a time of year that so many people struggle, a lightened up cocktail or mocktail can be a refreshing break from all the heavier foods.
I find myself needing to steer clear from these ultra sugary beverages this season. There are so many pies, candy, and desserts around that if I'm drinking sugar in addition to eating it, I'll feel really tired and also have more or a hangover, even if I don't drink much. I'd say that generally I like to stick to lighter beers and red wine (or champagne!!!) but I'll often celebrate with a cocktail or two if I'm at a special holiday part. And with NYE coming right up, I'll probably bring one of the recipes below because they're so gorgeous, healthy and delicious.
I made a LOT of holiday drink recipes this year and I experimented with some lightened up options. I made vegan eggnog – no worries about unpasteurized or raw eggs and with much less saturated fat – that you can add brandy to (or not). I created apple cider spritzers to cut back on the alcohol a bit and create a simple cocktail that you can enjoy but hardly even feel tipsy. I also created carrot mimosas that you could enjoy at a brunch or lunch party – they're light, healthy and a gorgeous color.
Finally, I encourage you to consider making bit batches of cocktails this holiday season, making punches. It's SO much easier than pouring one drink at a time and it really lightens up your duties as host. I created an apple cider bourbon punch that I served at Thanksgiving and a Cran Pom Punch that would be so perfect for the New Year (and also as we head into spring actually).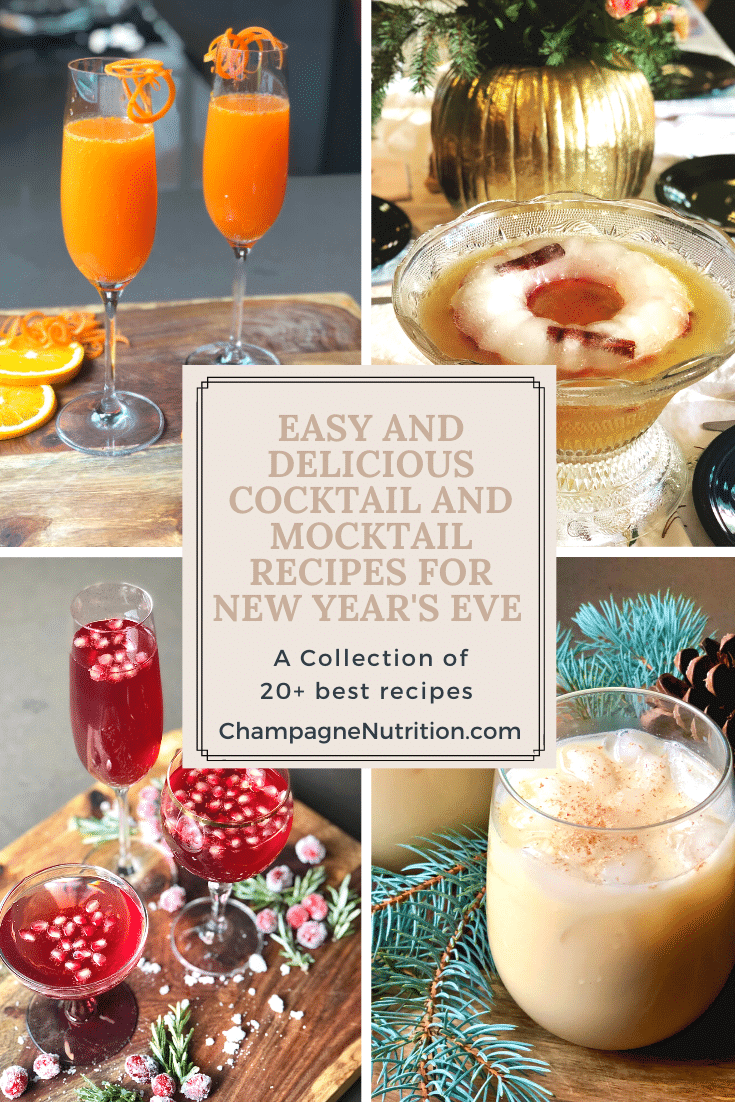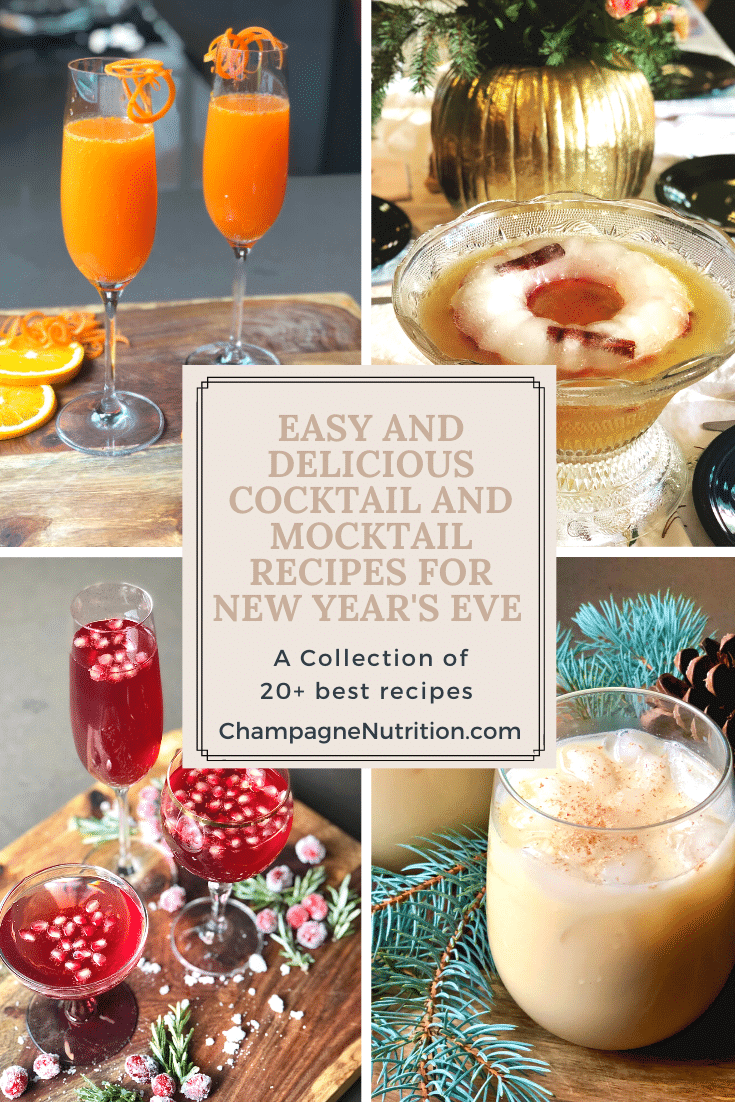 Happy New Year from me and all my dietitian blogger friends to you and your friends as we celebrate another fresh start. Enjoy this Easy and Delicious Cocktail and Mocktail Recipes for New Year's Eve and make sure to check out these talented food bloggers and recipe developers – there are certainly people to follow in the new year.
Cocktails for New Years Eve
Pomegranate Ginger Sangria by Dietitian Debbie Dishes 
Winter Blackberry Gin and Jam Cocktail by Lively Table 
Frozen Pineapple Mojito by Nutritionist Reviews
Spiced Grapefruit Gin and Tonic by Lively Table
Pomegranate French 75 by Jessica Levinson
Cucumber Herb Champagne Sparkler by Sharon Palmer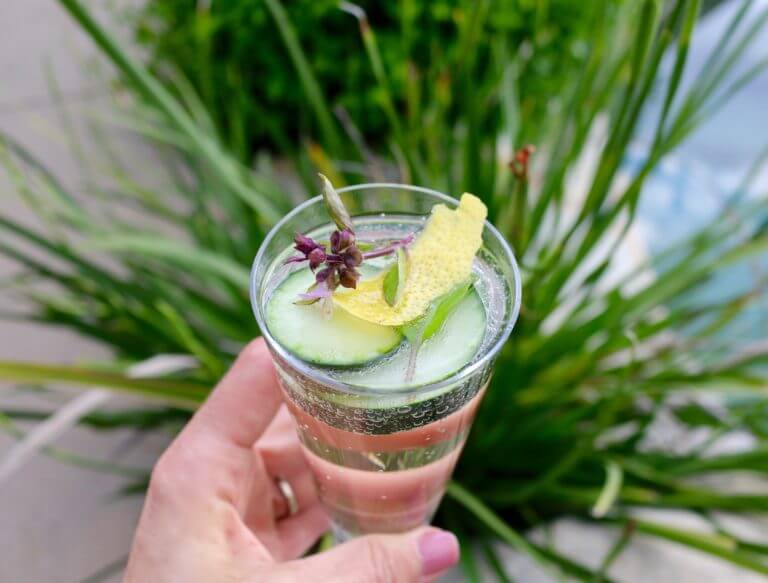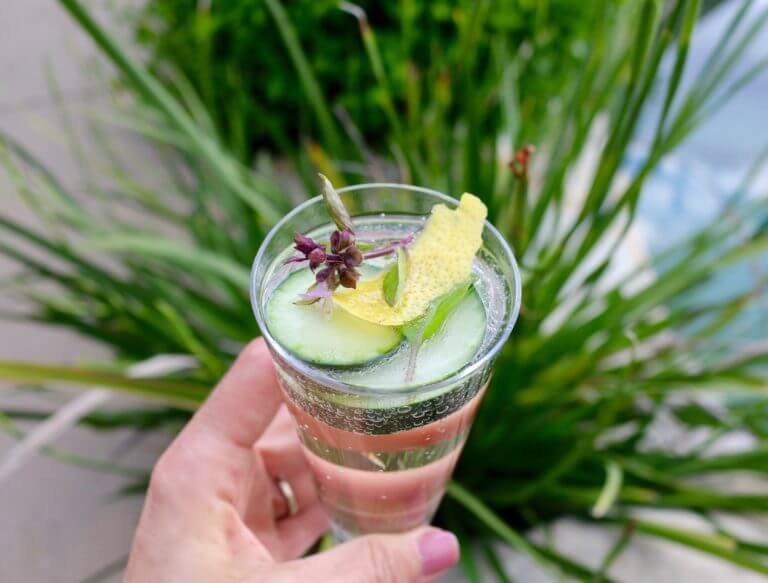 Matcha Green Tea Mojito by Sinful Nutrition
3 New Year's Eve Cocktails by Nutrition Staring You 
Spiced Apple Cider Bourbon Punch by ChampagneNutrition 
White Christmas Sangria by Erin Palinsky-Wade 
Gin Ginger Beet Cocktail with Thyme by ChampagneNutrition 
Orange Cranberry Sauce Mojito Recipe by Erin Palinsky-Wade
Westwood Wahine Tiki Inspired Cocktail by Tasty Balance Nutrition
Simple Eggnog Cocktail by ChamagneNutrition
Mocktails for New Years Eve
Ginger Pomegranate Sparkler Mocktail by Tasty Balance Nutrition 
Cranberry Spritzer Cocktail (alcohol free version, too) by Create Kids Club 
Tropical Lipton Green Tea Virgin Sangria by Amy Gorin
Cranberry Ginger Lime Fizz by Flourish Heights
Turmeric Golden Milk Tea by Champagne Nutrition 
What a fun collection of expert drinks! I was so delighted when all my friends shot me over these recipes. I included some of my own most popular here as well for your drink recipe inspiration. Whether you choose to indulge this holiday season and new year is up to you. If you don't drink alcohol, make sure to still feel special and participate by indulging in a delicious mocktail. And if you're looking for a break in the new year, make sure to follow along with me as I celebrate with a "dry January" challenge. We may all need a break by then.
Happy New Year!
Ginger Hultin,MS, RD, CSO
An award-winning, nationally recognized nutrition expert and media spokesperson.
Thanks for visiting! If you're like me: obsessed with eating, wine, going out and traveling, you're in the right place. Champagne Nutrition® LLC is a Registered Dietitian-run concierge virtual practice helping clients look and feel better. On this blog, you'll find cocktails, mocktails, and plant-based recipes that are easy to make quickly at home and pack for leftovers on your adventures.