Coconut Oat Chocolate Chip Cookies
Cookies are the best – the BEST and I've been using a new technique to keep them delicious but make them juts a tad more nutritious and also, make sure that they last more than one night in my house. I want to share it with you today along with my Coconut Oat Chocolate Chip Cookies recipe! I'm breaking down the simple recipe below, all the different steps and considerations for you as you swap in and out ingredients to really make them your own (OR keep them exactly as they are). These create really cute little homemade, rustic-looking cookies that you can enjoy on your own, take to a party or send as a gift for a birthday or holiday.
I actually write about cookies pretty often. Champagne Nutrition definitely has a focus on keeping the foods you love IN the diet but also meeting your health goals and so you'll see me cutting back on saturated fat and sugar in my recipes while boosting up fiber, vitamins, minerals and antioxidants. Does that mean everything you eat needs to be 'healthy'? Nope. All foods can fit into a balanced diet. But I'm a registered dietitian so I definitely have an interest in how to optimize the nutrients that make us feel energetic and really good in all my recipes. It's a fun challenge, too! If you like this approach, be sure to check out my vegan thumbprint cookies and my no-bake chocolate haystacks.
Baking is an important part of the holidays and for celebrations year-round. You can buy your own but so often, these packaged cookies come along with shelf-stable fats and oils and a lot of added sugar. When you make your own, you can really optimize the natural flavors and textures in your favorite foods. For cookies, I love using vanilla extract, cinnamon, cardamom, oats, coconut, and different types of flours. No, they won't last long on a shelf but they're much better for your body and you'll take pride in knowing that you chose exactly what went into them. That's empowerment!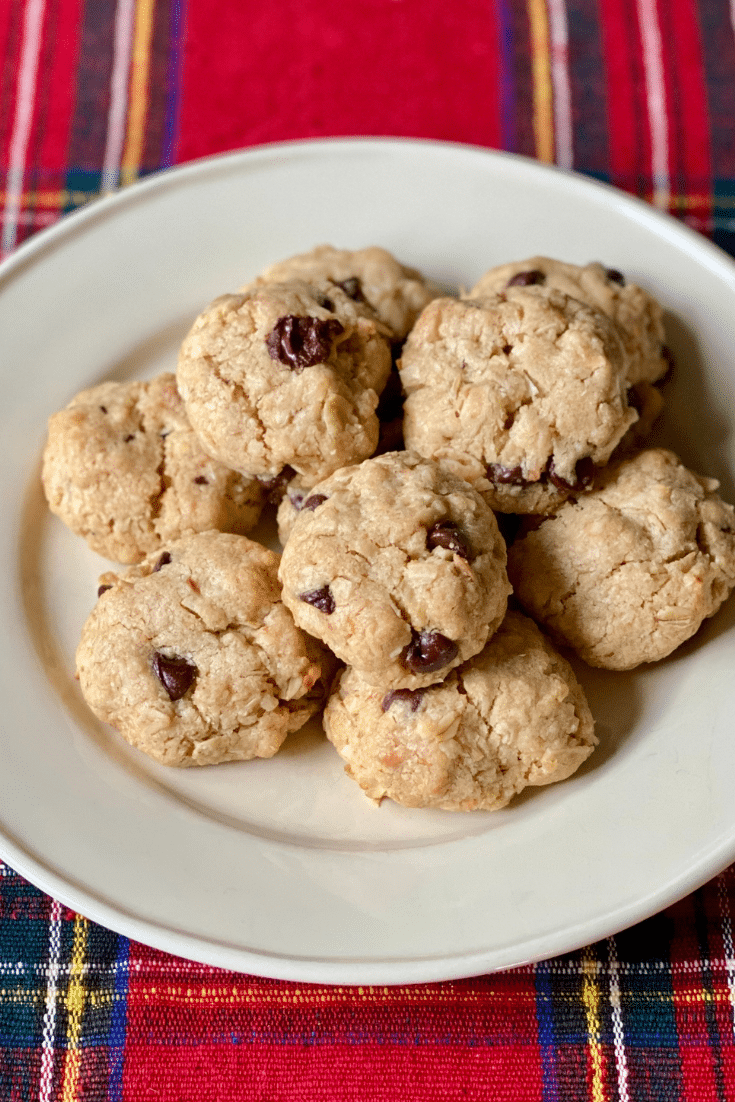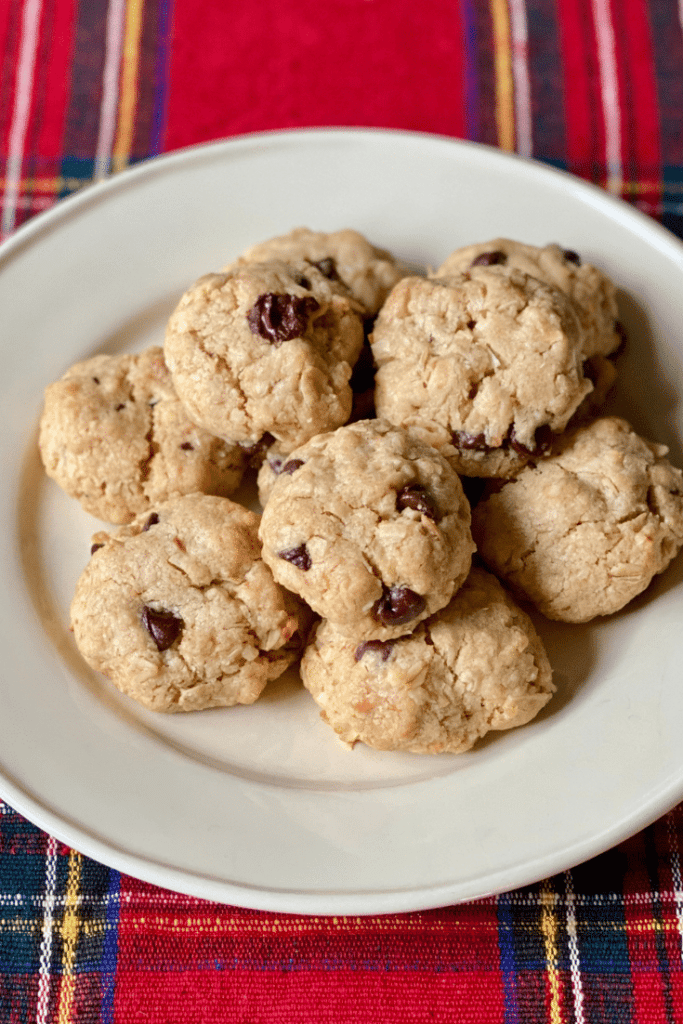 Making the Coconut Oat Chocolate Chip Cookies
Making Coconut Sugar
You'll be blending some of the coconut and the sugar together first and that creates this really beautiful, delightfully fragrant sugar mixture as your base. Other recipes call for coconut flavoring but you really don't need it when you use a blender or food processor to really open up and incorporate the shredded coconut flakes. Be sure to read the labels carefully for "unsweetened" because the sugar-coated variety will add too much sweetness to this recipe and you may need to cut back on the sugar.
Blending Flavors
Once you have your coconut sugar base, you'll continue on with the recipe like you do for other cookies; cream the sugar mixture and butter (and the brown sugar, too). You can absolutely use vegan butter; it's a really good non-dairy substitute. Once that's super creamy and delicious, then you can just add in the salt and baking soda and oats. Oats are so packed with fiber and nutrition; I LOVE baking with them. I have a lot of oat recipes up on the blog so make sure to check out my famous banana ginger oats and my blueberry oat bake, too. One thing I love about oats is that they not only help lower cholesterol levels (LDL/bad) in the blood, but they also feed your good gut bacteria and they also contain special compounds that help stoke the immune system.
Putting it all Together and Cookie "Meal Prep"
Once you have your base, you just blend in the flour and chocolate chips and you're ready to bake those cookies! Before you pop them all on the baking sheet, I wanted to share one of my favorite new techniques for "meal prepping" cookies. Put however many you want onto the baking sheet and bake them and then, while they're in the oven, take a storage container and roll the rest of your cookies into balls and place them in layers in the container. Just set them lightly next to each other and then pop them, covered in the freezer. You can use them over the period of the next 1-3 months on an evening when you just feel like a cookie (or two) after dinner or as a snack. Simply open the container, gently remove however many cookies you want to make and bake them at the normal 350 in a preheated oven. No need to thaw or defrost -you can just increase the baking time by about 3-5 minutes. This is how I'm keeping homemade cookies on hand all the time now. It's been really fun and much better than having a huge batch just sitting around when I don't necessarily want them all.
Let me know if you make these Coconut Oat Chocolate Chip Cookies in the comments!
Ingredients
1 1/2

cups

unsweetened, shredded coconut flakes

divided

1/3

cup

sugar

1 1/3

cup

unsalted dairy or non-dairy butter at room temperature

1/4

cup

brown sugar

1/2

teaspoon

salt

1/2

teaspoon

baking soda

1/2

cup

rolled oats

1

cup

all-purpose flour

1/2

cup

semisweet vegan or non-vegan chocolate chips
Instructions
Preheat the oven to 350 degrees F. Line 2 large baking sheets with silicone liners or parchment paper. Using a blender or food processor, combine 1/2 cup of coconut with the sugar and pulse it until they're combined, about 30 seconds.

In the bowl of a mixer, blend the butter with the coconut sugar you just created and the brown sugar. Once that's creamy, add the salt, baking soda, and oats and stir to combine. Add the flour and the remaining shredded coconut then add the chocolate chips at the end. The dough will be slightly crumbly.

With your hands, shape the dough into 2-inch balls and place them on the baking sheets, evenly spaced. Bake them for 15-18 minutes, until they've puffed up and are slightly brown on top. Transfer them to a cooling rack then enjoy!
Ginger Hultin,MS, RD, CSO
An award-winning, nationally recognized nutrition expert and media spokesperson.
Thanks for visiting! If you're like me: obsessed with eating, wine, going out and traveling, you're in the right place. Champagne Nutrition® LLC is a Registered Dietitian-run concierge virtual practice helping clients look and feel better. On this blog, you'll find cocktails, mocktails, and plant-based recipes that are easy to make quickly at home and pack for leftovers on your adventures.