Cranberry Almond Vanilla Granola
Homemade granola is one of my favorite things to make. It is so easy to put together  and is a perfect breakfast or snack. When you purchase granola in the store, it certainly lacks in freshness and you never know how much sugar or oil they may have added to make it taste good. When you cook at home, you control all factors. In fact, granola does not even need a lot of oil – just enough for it to stick together (along with the sweetener) and you can adjust the sugar to be pretty light when adding in other flavors like coconut and vanilla. Plus, you can toss in any ingredients you like into the granola when you make it at home! My Cranberry Almond Vanilla Granola is my favorite to have on-hand for a quick and easy breakfast or snack. 
The Benefits of Oats in Granola
Oats have slow-burning, renewable energy and are whole grains, which is the best way to eat grains. Being whole-grain means that during the milling process, all parts of the grain, including the bran or the germ, are present and have not been extracted. Oats are filled with so many nutrients to help provide long-lasting nutrition and help with digestive health, such as complex carbohydrates and fiber.
Beta-glucan, a soluble fiber, is one potent fiber that oats are abundant in. Beta-glucan can offer so many tremendous health benefits to the body, such as reducing the amount of LDL and total cholesterol, reducing blood sugar, and increasing the development of healthy bacteria in the gut. There is also some evidence that the immune system can be strengthened by this compound, making the fight against bacteria and viruses stronger, which is beneficial as the cold and flu season approaches!
Oats also contain so many essential vitamins and minerals including manganese, phosphorus, iron, folate, and many more. In addition, they are rich in antioxidants, specifically avenanthramides, which by lowering LDL cholesterol levels, help reduce inflammation and lower blood pressure levels. Plus, oats are gluten-free, making them even more useful and nutritious for a larger community of individuals.
One thing that makes oats so amazing is how versatile they are! You can include oats in so many different recipes. You can make classic oatmeal, add oats into the crumble on an apple crisp, simple oatmeal energy bites, or easy, no-bake vegan chocolate cookies. It is so fun to create new combinations to enjoy oats. This Cranberry Almond Vanilla Granola is so simple to make and a great way to add oats to your daily routine!
Why Chia Seeds?
Chia seeds are such an amazing superfood! I love adding chia seeds to anything I am able to because they are super nutrient-rich. They are packed with fiber (10 grams of fiber in one ounce!), plant-based protein, and they are a plant-based source of anti-inflammatory omega-3 fatty acids, which may help lower one's risk of heart disease. They are loaded with antioxidant properties, which help reduce inflammation and reduce the presence of free radicals in the body, and have numerous health benefits. The fiber content helps maintain a healthy digestive system while the protein content helps make them more filling and increase fullness. 
Chia seeds also contain many vitamins and minerals such as niacin, thiamin, calcium, manganese, magnesium, and many more. They are also super beneficial for bone heart, they help reduce blood sugar levels, and also help reduce chronic inflammation. Chia seeds provide so many nutrients and health benefits this Cranberry Almond Vanilla Granola and many other recipes that they cannot be left out!

Making the Cranberry Almond Vanilla Granola
The Dry Ingredients
To start, I like to combine all of the dry ingredients into one bowl. For this recipe, I like to use rolled oats because they can easily soak in all of the wet ingredients that we will add in later. For this granola, I also added some coconut flakes to provide some natural sweetness and a bit of a crunch. Coconut flakes are also a great source of healthy fat and numerous minerals, so they are a perfect addition to this granola. 
I also added some slivered almonds to the dry mix. Almonds are an amazing source of monounsaturated fat and antioxidants. They provide this granola recipe with a good amount of healthy fat to keep you satiated throughout the whole day. 
The Wet Ingredients
In a separate bowl, I combine all the wet ingredients together. Having the right amount of liquid ingredients when making granola is essential because they help stick the granola together and provide those classical granola clumps. For this Cranberry Almond Vanilla Granola, I used both honey and olive oil to help combine all the ingredients. The honey provided some nice, natural sweetness and when baked in the oven, the sugars in the honey caramelize and help all the ingredients stick together. The olive oil not only provides the granola with some healthy fat but it also helps keep the granola stick together and prevent the granola from just being a dry pile of oats. 
Putting it all together
Before I even begin, I like to preheat my oven to 325 degrees. Then, I mix all of my dry ingredients into one bowl and whisk all of my wet ingredients together into another bowl. Next, I pour the wet ingredients into the dry mixture and stir to combine. I then mix in the dried cranberries and spread the final mixture onto a parchment paper lined baking sheet. I bake the granola mixture in the oven for 30 minutes and stir the mixture a couple of times throughout the baking process. It is important to stir at least once to ensure even baking and prevent from burning the edges; however, frequent stirring could lead to less clumps of granola once it is done baking. 
What's your favorite way to enjoy granola? Let me know in the comments below!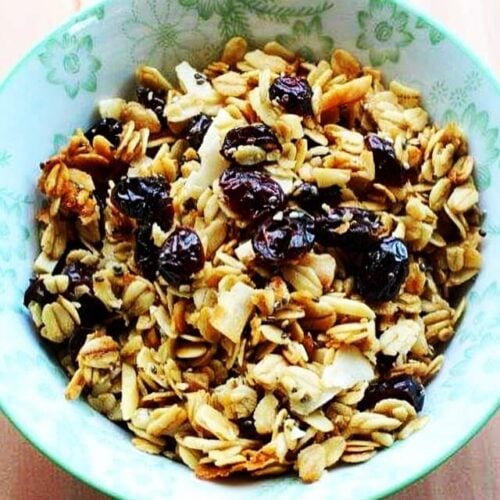 Ingredients
3

cups

whole rolled oats

1/2

cup

unsweetened coconut flakes

1/2

cup

slivered raw almonds

2

Tablespoons

chia seeds

1/4

teaspoon

salt

1/2

cup

honey or maple syrup

1/3

cup

olive oil

1

teaspoon

vanilla extract

3/4

cup

dried cranberries

(try to get a variety sweetened with apple juice)
Instructions
Preheat oven to 325 degrees. In a large mixing bowl, combine all dry ingredients through salt. In a separate small bowl, whisk honey, olive oil and vanilla. Pour wet mixture over dry and stir well to combine. Mix in dried cranberries then spread mixture on a large parchment lined baking sheet.

Bake in oven for 30 minutes, stirring occasionally to ensure the granola cooks evenly (watch the corners because they tend to get brown)
Ginger Hultin,MS, RD, CSO
An award-winning, nationally recognized nutrition expert and media spokesperson.
Thanks for visiting! If you're like me: obsessed with eating, wine, going out and traveling, you're in the right place. Champagne Nutrition® LLC is a Registered Dietitian-run concierge virtual practice helping clients look and feel better. On this blog, you'll find cocktails, mocktails, and plant-based recipes that are easy to make quickly at home and pack for leftovers on your adventures.