You know what a creamsicle is…those orange and vanilla ice creams that you ate as a kid? The combination is a classic and there's a lot you can do with those flavors in beverages, popsicles, ice cream, sherbet and yogurt, and in jello and pudding. In my pre-dietitian life, I was a bartender at a very busy bar and we'd sell a lot of creamsicle shots. A lot. This was a 2-hour wait, line out the door kind of place and I think that the creamsicle flavor just matched that morning/brunch vibe really well. People would order 8 or 10 creamsicles for the whole table and so we'd make big shakers' full. This Creamsicle Cocktail is a cocktail for a reason – no shots needed any longer – but it's loosely based off of that extremely popular beverage that I've made so many of in my life. It reminds me of people celebrating together, big groups of happy friends, and bustling restaurants.
If you look up recipes for creamsicle cocktail, you'll get a wide range of interpretations. Many are ultra sugary, based on orange soda or with a variety of syrups and flavorings. I wanted a lighter, more natural flavor that used on-hand ingredients. It's something you could whip up at your house like I did on the day I made this recipe. It's perfect for any time of year if you want a lightly sweet, familiar-flavored drink. You could serve it over the rocks like I did here. You could absolutely make shots if that's your thing or you could serve it up, in a martini glass.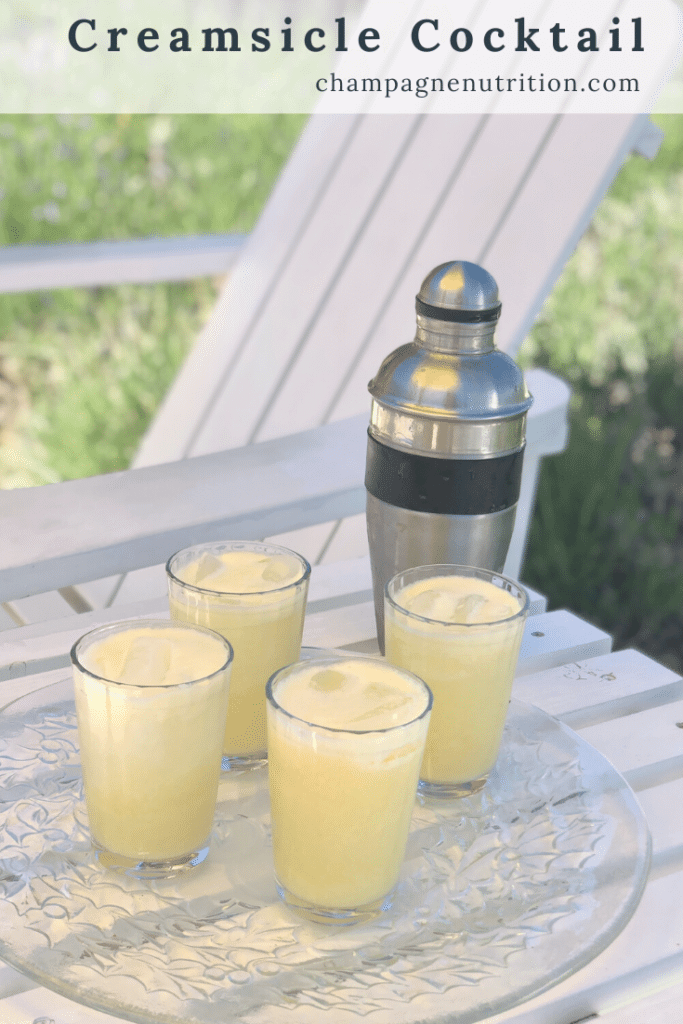 Making a Healthier Cocktail
If you follow my recipes, you know that I really dislike syrupy, artificially flavored cocktails. One of my more popular posts is my Healthier Margarita where I show everyone how to make a margarita without that mix that you buy at the store. I definitely use juices and sometimes I'll use some agave, honey or maple syrup. Don't get me wrong; those foods are absolutely "sugar", too. I like to use them because they are more natural and you can just use a very small amount to boost the flavor which you do need sometimes in cocktails. Luckily in this Creamsicle Cocktail, I can get it sweet enough completely naturally, just using orange juice.
When you're making drinks at home – or ordering out – get creative with how you can make healthier cocktails. Use natural flavors like muddled fruit or natural juices instead of artificially colored and flavored ingredients. You just don't need those products and often they're really, really high in added sugar, creating a cocktail where the sweet flavor overpowers other flavors.
When I make a cocktail, I want to taste the alcohol I'm using. And I want to taste the flavors that are balancing it out. A well-crafted drink will have that complexity and balance. Many people don't think about that when they're making something like a Creamsicle Cocktail because it's a fruity, light little beverage. However, even these kinds of drinks deserve to be balanced with the right flavors. A bonus on this one? They're gorgeous and the color is cheerful and lovely. They're easy to make and fun to drink!
Making the Creamsicle Cocktail
The Vodka
These drinks are very easy to make if you've got some simple ingredients on hand. The base of this one is a classic – whipped cream vodka. I know that may sound strange but it's actually an awesome product that you can make a lot of creative drinks with. It blends surprisingly well into a variety of beverages. If you're not into that (and I get it), simply use vanilla vodka which is very popular and easy to get. It's also very versatile and quite flavorful.
The Juice
I used simple, boxed orange juice but you've got options. You can use pulp or non-pulp. I do recommend one with pulp because it will add to the natural flavors and textures of the drink. If you're a person who needs more calcium (and most of us do), you can get a fortified juice with calcium and vitamin D that supports bone health even when it's in a cocktail! If you wanted to, you could juice your own oranges and that would be so delicious. I do not recommend using orange soda or orange juice drink that's not founded in real oranges.
The Creamer
I knew that to get the creaminess this cocktail needed, that I'd use some sort of cream. I ended up using little plain coffee creamers because I had them on-hand. There are many variations here. You could use a boxed dairy or non-dairy creamer. You could use regular milk or cream or you could use any variety of non-dairy milk. I suggest using soy or oat because they're higher in fat and will be more naturally creamy. Lots of recipes call for actual whipped cream but you really don't need that.
The Soda
An orange or tangerine La Croix or other soda water is the perfect topping. It adds some volume and complexity of flavor as well as a bit of fizziness. You could absolutely use a plain soda or a flavor like coconut but make sure that you use the non-sweetened ones. If you used a soda that has regular or artificial sweetener, the drink will be too sweet.
The Shaker
I have a shaker that I used to make this Creamsicle Cocktail recipe but sometimes I'm at a house where I don't have an official shaker. It's no problem! You can use a water bottle with a top on it and it works just fine.
The Glasses
It does depend on what size of glass you have. You may need more ice in the cup to help fill it up or a little more soda than a tablespoon. As always, feel fee to edit this and make it your own based on your preferences and what you've got on hand at home. Enjoy!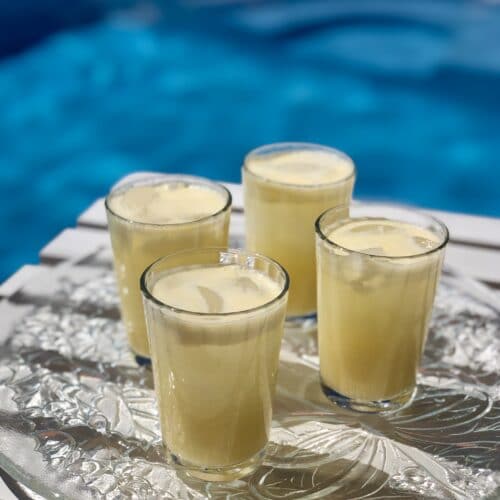 Creamsicle Cocktail
A cheerful, familiar flavor made into a cocktail with a kick
Print
Pin
Rate
Ingredients
4

cups

ice cubes

6

ounces

whipped cream vodka

15

ounces

orange juice

1

ounce

creamer

4

tablespoons

tangerine or orange soda water
Instructions
Fill a shaker with 2 cups of ice. Add the vodka, orange juice and creamer then put the top on securely and shake hard for 30 seconds. Set the glasses out and fill them with 1/2 cup of ice each. Then pour the shaker liquid equally between the glasses. Top each one with a tablespoon of soda water and serve immediately.
Ginger Hultin,MS, RD, CSO
An award-winning, nationally recognized nutrition expert and media spokesperson.
Thanks for visiting! If you're like me: obsessed with eating, wine, going out and traveling, you're in the right place. Champagne Nutrition® LLC is a Registered Dietitian-run concierge virtual practice helping clients look and feel better. On this blog, you'll find cocktails, mocktails, and plant-based recipes that are easy to make quickly at home and pack for leftovers on your adventures.