Easy Tomato Basil Pasta With Bean Pasta
If you love the sound of a high protein, vegetarian dinner that requires minimal prep and is ready in under 30 minutes – this one's for you! I'm whipping up a vegan protein pasta that's bean or lentil pasta-based, topped with savory fresh tomatoes and basil. If you're plant-based and in need of a higher protein pasta, this one's for you. 
Pasta dishes are one of my all time favorite ways to get a healthy dinner on the table, fast. Pasta is so versatile, comforting, shelf stable and it cooks up in just a matter of minutes. Add in some veggies, herbs, olive oil and a salad on the side, and you have a beautiful, satisfying, whole meal. In this Easy Tomato Basil Sauce With Bean Pasta I combine a protein packed red lentil pasta with fresh and simple ingredients for a crowd pleasing and plant based dish that is perfect for a last minute dinner. 
What is Vegan Protein Pasta?
I'm talking bean or lentil-based vegan protein pasta here. When I say bean pasta, I am referring to pasta that has been made using a legume flour such as lentils, chickpeas or any other bean, there are so many options. This differs from traditional pasta that is made with wheat flour. The reason for this switch is to increase the nutritional value of the pantry staple. Bean flour provides more protein, fiber and micronutrients than white or semolina flour. 
I want to be clear though that regular pasta is not "bad". Sometimes, traditional wheat pasta is the only thing that will do the trick for a certain recipe or craving! However, choosing a pasta that is made from legumes or whole grains as opposed to white flour is an easy way to get that extra boost of protein and fiber, especially when you're throwing together a quick weeknight meal. It all depends on your personal goals and preferences for that particular meal. I'm all about getting more bang for my buck with my ingredients, so bean pasta is the perfect fit for this Easy Tomato Basil Sauce. 

Why Are Protein and Fiber Important (for Vegans and All)? 
As you can already tell, the star of this Vegan Protein Pasta with Tomato and Basil is the red lentil flour pasta. This is because it is nutritionally dense and makes for a super simple balanced meal. This is ultimately due to its perfect combination of both protein and fiber. 
Protein
When eating a plant based diet, it is extra important to make sure you know where your protein is coming from. It can be easy to forget this macronutrient when planning a plant based meal. Luckily, there are tons of plant based options to choose from, including pasta! Protein helps you build muscle, heal from injuries, keeps you full and satisfied and even benefits your immune system. 
Fiber
Fiber is a nutrient superstar in my book. It is abundant in plant based proteins, which is one big reason why I prefer them over animal sources. Fiber benefits so many aspects of your health and I recommend a more fibrous diet to everyone. Some of it's many benefits are blood sugar control, improved bowel health, lower cholesterol and reduced risk of certain cancers. It is recommended that women and men under 50 years old get 25g and 38g per day, respectively. If you're still new to the fiber game make sure to start slow and work your way up to the full recommendation to avoid any GI upset. 
Pasta Comparisons
As I mentioned above, I'm a fan of alternative pastas – quinoa, corn, brown rice, you name it and I'll try it. Switching up your pasta source is a fun and simple way to add variety to your diet as well as providing different nutrients in your meals. This time around I gave red lentil rotini, a one ingredient pasta, a try and I LOVED the outcome. 
Here's a little nutrient break down of some of my favorite types of pasta:
| | | |
| --- | --- | --- |
| Flour Type | Protein | Fiber |
| Semolina | 8-9g | 3-4g |
| Whole Wheat | 7-8g | 6g |
| Lentil | 21g | 11g |
| Brown Rice | 4-5g | 2g |
You can see that the type of flour used makes a BIG impact on the macronutrients of your pasta. If the pasta itself will be the main source of protein like it is in this Easy Tomato Basil Sauce With Bean Pasta, it's best to choose a pasta that packs a protein punch. However, if you are going to be adding a protein source to your meal you may want to try something different, it's totally up to you. There are so many different kinds out there, give them a try and find your favorite.
Making the Vegan Protein Pasta with Tomato and Basil 
The Sauce
You guys know that I prefer to use fresh, seasonal and local produce whenever possible to increase the flavor and nutrition of my meals. There's nothing quite like a ripe summer tomato to make a delicious and fresh sauce. However, I know that isn't always possible depending on the time of year, availability and access. So, you can totally use canned diced tomatoes in place of the cherry tomatoes. Just use about 1 ½ 16 oz cans.
I'm including the option of adding parmesan cheese to this recipe. If you do dairy, it's a great way to add a subtle salty and nutty taste to the sauce. If you want this meal to be completely vegan, just leave the parmesan out, it's delicious either way!
The Pasta
I am using rotini pasta in this recipe because the shape helps the pasta to hold onto this lighter sauce. It will not affect the flavor or nutrition of the recipe if you would like to use a different pasta shape, so feel free to use your favorite. I have also decided to use red lentil pasta for this particular recipe. However, it is up to you to use pasta that fits your preferences. There are a variety of bean pasta brands that you can use in this recipe. Some recommendations are Tolerant, Banza, and Modern Table.
Putting it Together
What makes this meal so simple is that you can boil your water and cook your pasta while the sauce is being prepared. This is a huge time and effort saver. This leftover dinner would also make a great lunch the next day. You can reheat it or even just eat it cold. I've written it to include Parmesan cheese if you want it (definitively not vegan!) but of course, you can just leave that off and sprinkle your vegan protein pasta with nutritional yeast instead. Be sure to get a variety fortified with B-vitamins for added benefit. 
I hope that you find this Vegan Protein Pasta with Tomato and Basil to be satisfying to eat and simple to make, enjoy!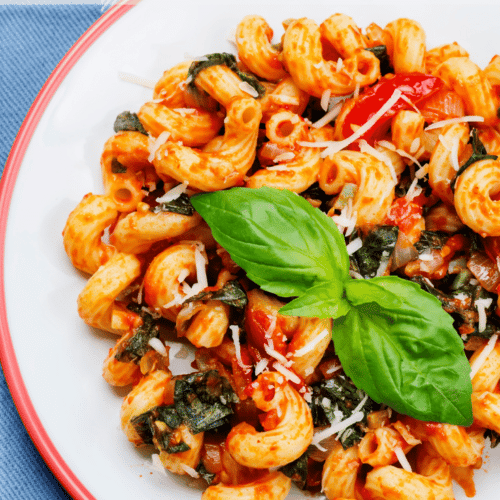 Vegan Protein Pasta with Tomato and Basil
This is a one-pot dish that your whole family will love and once you try bean or lentil pasta, you'll never go back to plain.
Print
Pin
Rate
Ingredients
1 1/2

cups

quartered cherry tomatoes

1

tablespoon

minced shallot

2

cloves

minced garlic

1

tablespoon

freshly squeezed lemon juice

5

Tablespoons

extra-virgin olive oil

6

leaves

fresh basil, rolled and chopped

1/4

teaspoon

salt

1/2

teaspoon

freshly ground pepper

1

8 oz box

Tolerant Red Lentil Rotini

4

tablespoons

grated Parmesan

or nutritional yeast for a vegan option
Instructions
Combine the tomatoes, shallot, garlic, lemon juice, olive oil, basil, salt and pepper in a small bowl and set aside so flavors can blend.

Bring a gallon of water to a boil in a large pot.

Add the pasta and cook for 8-10 minutes or according to the package.

Drain the pasta and add it back into the pot.

If using Parmesan, add it to the warm pasta and gently mix to coat the pasta. If not, sprinkle your nutritional yeast in at this step.

In a skillet, saute the tomato mixture over medium heat for 3-4 minutes until the tomatoes soften.

Pour the heated tomato sauce over the warm pasta and mix gently to combine.
Ginger Hultin,MS, RD, CSO
An award-winning, nationally recognized nutrition expert and media spokesperson.
Thanks for visiting! If you're like me: obsessed with eating, wine, going out and traveling, you're in the right place. Champagne Nutrition® LLC is a Registered Dietitian-run concierge virtual practice helping clients look and feel better. On this blog, you'll find cocktails, mocktails, and plant-based recipes that are easy to make quickly at home and pack for leftovers on your adventures.