Easy Vegetarian Cauliflower Fried Rice
Are you on the cauliflower rice bandwagon? I'd never made cauliflower rice though everyone has been talking about it. It's keto and Paleo-friendly. They say it's delicious. I just didn't take the time to explore it but when I had a little time on my hands this week I made it once with frozen rice and once with a whole head of cauliflower and I'd love to share what I found out with you in this Easy Vegetarian Cauliflower Fried Rice. It is definitely a staple in our house from now on.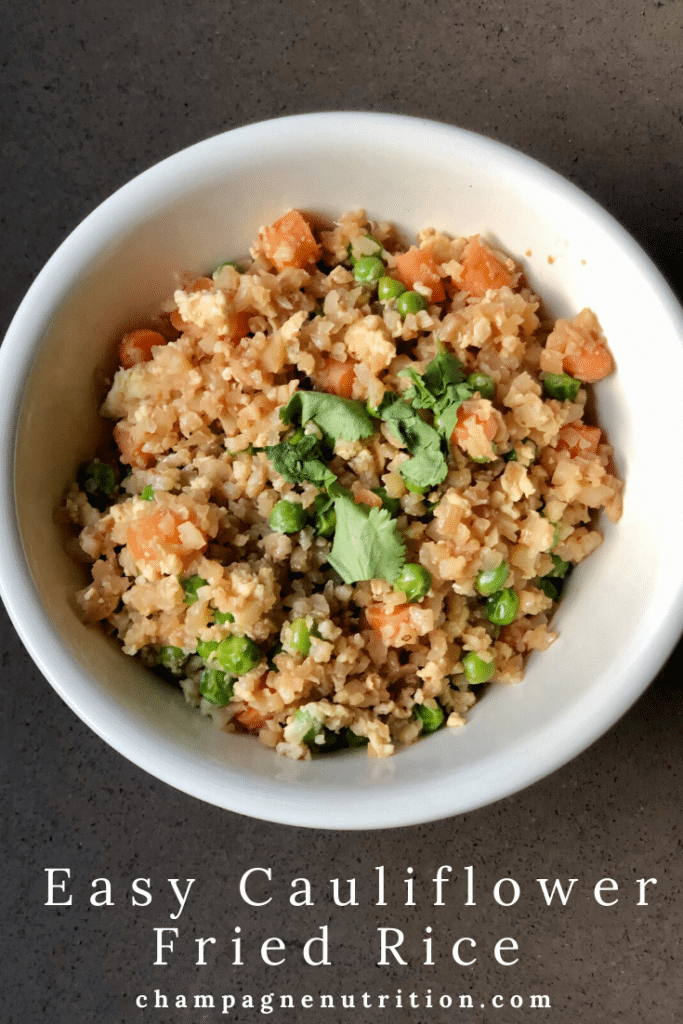 Exploring Cauliflower Rice
I just really didn't believe that cauliflower could actually taste like rice. Other people told me that it would and I kept putting it off until I felt like I wanted a challenge. Honestly, it wasn't much of a challenge because this recipe is super simple and really amazing. Some people I know mix cauliflower with white or brown rice half and half and honestly if you did that, based on my experience, I'm sure you wouldn't even know.
Some recipes talk about how cauliflower fried rice doesn't make good leftovers but I totally disagree with that. I didn't find it to 'cauliflowery' at all and I enjoyed it for about 4 days. The best thing about this recipe is that you can whip up a regular portion or even a double batch, pack it and then grab it and go all week long. You can spice it up by adding in protein such as tempeh or tofu, a fried egg, some chicken or shrimp or any other veggies you enjoy. It's a very versatile recipe that you'll make again and again, I just know it.
Making Easy Vegetarian Cauliflower Fried Rice
I want to walk you through this one step by step so that this turns out perfectly for you. The biggest question is if you should use fresh cauliflower and grate it or if you should buy it already shredded, frozen. I'm really into buying frozen rice because regular rice takes a really long time to prepare so I can use for quicker recipes. Cauliflower isn't really that way; it's super easy to prepare fresh so I think it just depends on your accessibility and preferences. Buying a whole cauliflower is more environmentally friendly, especially if you could get it without the plastic wrap on it. The frozen variety is less messy. I'll be honest; shredding a whole cauliflower can spray little pieces everywhere. Whichever you choose, it's a win-win.
Once you've ripped open your package or you've shredded your cauliflower (I highly suggest putting it in a large glass baking dish or even a big skillet as you shred it to catch stray pieces), make your sauce. Whisk the tamari, honey (or agave if you're vegan), and vinegar in a small bowl and just set it aside. You can prep your eggs, too. I originally did this recipe with 1 egg but I just really felt it needed 2. If you're vegan, it's also great with no eggs. If you love eggs, you could even try 3!
Get the coconut oil hot and then add in the onion and carrots because they need to cook the longest. Toss the garlic and ginger in, too. There's really no limit to those super healthy spices so if you want more, feel free. They'll probably stick to the bottom a bit so make sure to add in a little bit of water to deglaze the pan. Once they're cooked, add in the shredded cauliflower, peas, and cabbage and cook them just until it's all hot and the cauliflower really looks like rice.
Once it's cooked, make a well in the middle, heat the coconut oil, then scramble in those eggs. Make sure you are scraping the bottom of the pan continuously so they don't get too done. Once they look scrambled but soft, mix in the whole thing so the egg gets incorporated. It's so GOOD. After that, you're just going to mix in that sauce and you're done. Of course, like always, feel free to get creative with more or less spices or flavorings. Garnish it with hot sauce, chopped peanuts or even some basil.
Make sure to balance this dish with some protein and you've got tons of options, vegan, vegetarian or omnivorous. If you need some ideas about how to cook tofu, you need this recipe: Simple Baked Tofu. If you need a couple other recipe ideas that are simple and healthy as well as low-carb, like this Easy Vegetarian Cauliflower Fried Rice then check out my Sheet Pan Tofu and Veggies or my famous Zoodles.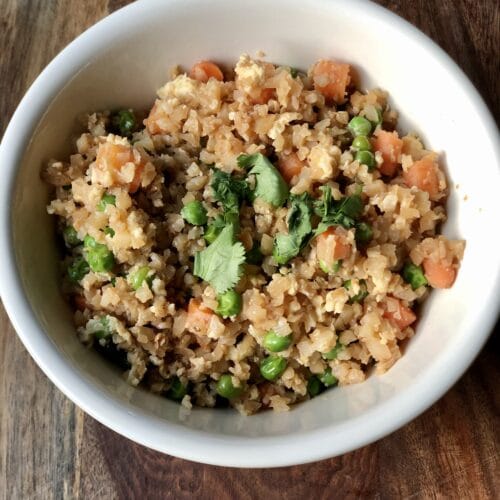 Easy Vegetarian Cauliflower Fried Rice
This low-carb recipe is simple, delicious and makes incredible leftovers!
Print
Pin
Rate
Ingredients
1

cauliflower

2

tablespoons

coconut oil

divided

3

tablespoons

tamari sauce

1/2

teaspoon

honey

1

teaspoon

rice vinegar

1

carrot

sliced into small rounds

2

garlic cloves

minced

1

tablespoon

fresh ginger root

chopped

1

cup

frozen peas

1/4

green cabbage

chopped

1

tablespoon

sesame oil

2

eggs

beaten

2

green onions

1

teaspoon

crushed red pepper flakes
Instructions
Cut the cauliflower in half (or quarters if it's really big), remove the stem and core then shred it using the largest side of a grater so that it crumbles into what resembles grains of rice. If you're using a frozen, bagged variety, open the bag and set it aside. Whisk the honey, tamari and rice vinegar together in a bowl then set it aside.

Heat 1 tablespoon of coconut oil in a large skillet over medium heat. Add the carrots, garlic, ginger and cook, stirring often, for 3-4 minutes until the carrot has softened slightly and the garlic is fragrant. If the mixture is sticking, add water, 1 teaspoon at a time so the carrots can keep cooking. Add the cauliflower, peas, cabbage, and sesame oil to the pan; stir fry quickly to cook the cauliflower to a soft texture that begins to crisp, about 4-7 more minutes.

Make a well in the middle, turn the heat down, and add the rest of the coconut oil, heating it for 30 seconds, then the eggs. Stir gently them continuously until the eggs are fully cooked and scrambled; about 2-3 minutes. Stir in the tamari, honey, vinegar mixture and coat the cauliflower rice by stirring it well. When the dish is finished cooking, garnish it with green onions and crushed red pepper flakes or any other herbs you prefer.
Ginger Hultin,MS, RD, CSO
An award-winning, nationally recognized nutrition expert and media spokesperson.
Thanks for visiting! If you're like me: obsessed with eating, wine, going out and traveling, you're in the right place. Champagne Nutrition® LLC is a Registered Dietitian-run concierge virtual practice helping clients look and feel better. On this blog, you'll find cocktails, mocktails, and plant-based recipes that are easy to make quickly at home and pack for leftovers on your adventures.