Gluten-Free Chocolate Gingerbread Cupcakes
These Gluten-Free Chocolate Gingerbread Cupcakes are my favorite dessert on my whole blog. The day we made them, we taste tested them and they totally blew us away with their delicious flavor, texture and the gorgeous edible topping that creates such a special, beautiful display. I took these to a party the next day and people couldn't get enough of them. These cupcakes are absolutely perfect for the holiday season or really any time of year because they offer such a unique flavor profile. They're simply delicious.
When I was planning this recipe, out, I realized that I don't have enough specifically gluten-free recipes on my blog. Of course, many are naturally gluten-free like my No Bake Vegan Chocolate Haystack Cookie Bites or my Fresh Lemon Honey Tapioca Pudding. There are so many options for gluten-free but I also have some flour-containing recipes that would need to be adapted to cut out the gluten. That's really no problem with so many amazing gluten-free flours available today. The one I used for this recipe is the Bob's Red Mill gluten-free flour blend. It works perfectly every time.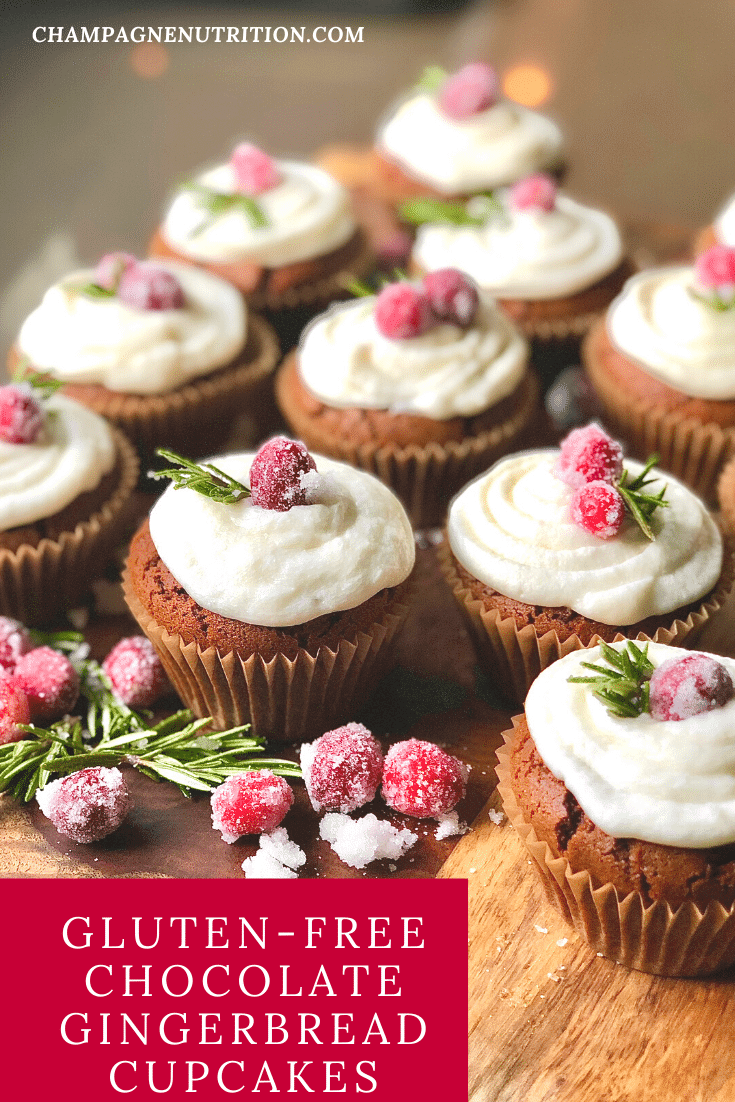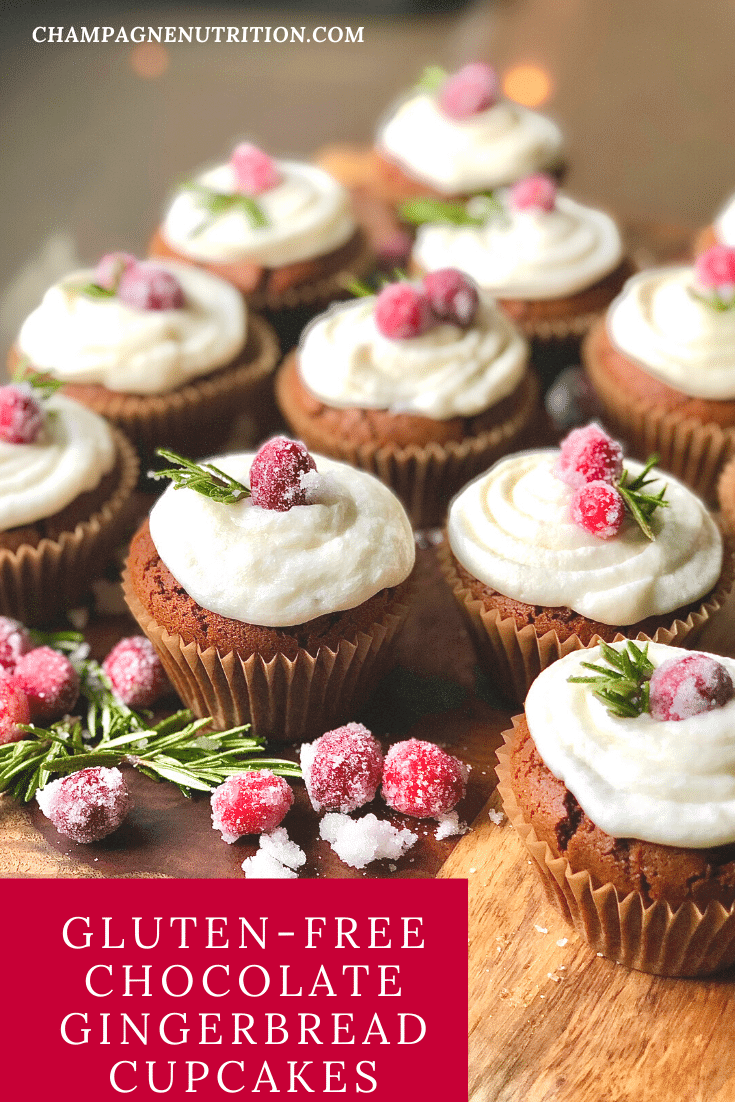 Being a dietitian, I work with a lot of people who are either gluten-free or want (or need) to go gluten-free. That can be daunting! The first thing we start discussing is what exactly gluten IS. So many people associate gluten with carbs but that's not it at all. For example, rice, corn, quinoa and oats don't contain gluten. Rather it's a specific protein in wheat so that's why gluten-free eliminates products made with flour like bread and baked goods. Keep in mind that grains like spelt, farro, durum, and bulgur all contain gluten.
Gluten-Free Chocolate Gingerbread Cupcakes
When I was making this recipe, I was thinking about keeping it super simple. If you are making these around the holidays, and if you're like me, you need to keep it simple. I recently wrote a post about my top tips for a stress-free (or reduced stress) holiday and not getting in too deep with recipes is certainly part of that.
The Cranberries
I want to tell you that the cranberry toppers are optional…but they're not. They absolutely blew us away – they are so delicious and add so much to the final product. The festive cranberry toppers are simple, but you'll need a little extra for preparation.
If you needed to make it even more simple and you're in a time crunch, you could also add pomegranate, raspberries, or some other type of fruit for a pop of color instead.
If you do decide to make the cranberries, I recommend starting with this step and then making the cupcakes since the cranberries have to set for a few hours. It actually wasn't that bad. Just bring the water and sugar to a simmer in a small pot and pour it over your cranberries the let it sit for an hour. This is perfect timing to whip up that batter. After 60 minutes, drain them and then roll them in sugar and allow to set for another hour on parchment paper. They look like they were picked straight from a winter wonderland they are absolutely so gorgeous. The sugar turns into this fluffy snow-white crust and it's just incredible.
Cupcakes
For the cupcakes, make sure to preheat your oven so you can pop them in the oven and get the smell of gingerbread and chocolate through your house ASAP. Then mix your flour, cocoa powder, allspice, cloves, salt, and baking soda together. Whisk together molasses, sugar, vegetable oil, egg and vanilla in a large bowl. Keeping your dry and wet ingredients separate until you are ready to put your cupcakes in the oven is actually a pretty important step and it has to do with food science. Baking soda helps the cupcakes to rise and when it is mixed with liquid it starts this process (but we don't want the process to happen all out of the oven).
I just love how many different spices and flavors are in this recipe. Once they're done, you can't tell all of them apart, but rather you just have this delicious, decadent treat that is so unique yet familiar at the same time. The chocolate, to me, is the secret weapon here and I think that I love chocolate gingerbread way more than regular gingerbread. And I love regular gingerbread.
Frosting the Gluten-Free Chocolate Gingerbread Cupcakes
The cupcakes are so flavorful and the cranberries are so unique in this recipe that I wanted to keep the frosting super simple. Vanilla is already in the cupcakes so it was such a natural fit for a simple butter-cream frosting. A friend was asking about a gluten-free, dairy free recipe and that would be absolutely no problem. The dairy-free/vegan butters are really wonderful replacements to feel free to just replace that for regular butter and you won't be able to tell the difference.
This frosting is just butter and sugar with a little vanilla. It turns out a crisp white color with a mild flavor that complements the whole recipe. It looks like the icing that you use on gingerbread houses to create snow…but it tastes a lot better. It's best if you put the frosting bowl into the refrigerator to set a little while you're cooling the cupcakes. If they're too warm, it also will melt the butter and your frosting won't set up quite right.
Once you're ready to go, you can definitely use a fancy frosting bag and tip…or you can use what I used! A plastic bag with the tip of it cut out. Either way, just frost in a circular motion. You can frost the entire top of the cupcake or you can leave a little bit of the brown peeking through on the sides for a more rustic feel.
The best part of this whole recipe is decorating. I love to alternate with one cranberry and then two. We also dipped some fresh rosemary in the sugar and used that as well. It's just so lovely and festive…and edible. The recipe turned out so well – please let me know if you try it!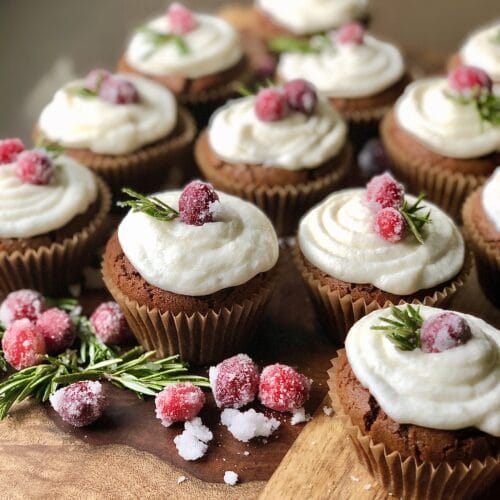 Ingredients
Topping
24

cranberries

raw

3/4

cup

sugar,

divided

½

cup

water
For the Cupcakes
1 ¾

cups

gluten-free flour

(I used Bob's Red Mill)

1

Tablespoon

unsweetened cocoa powder

½

teaspoon

ground allspice

¼

teaspoon

ground cloves

2

teaspoons

freshly ground ginger

1

teaspoon

baking soda

¼

teaspoon

salt

½

cup

molasses

½

cup

sugar

½

cup

vegetable oil

1

large egg

½

teaspoon

vanilla extract

½

cup

water
Frosting
1

stick butter,

softened

1 ½

cups

confectioner's sugar

1/4

cup

water

(more as needed for consistency)
Instructions
Bring 1/2 cup sugar, 1/2 cup of water, and cranberries to a simmer. Remove from heat and transfer to a bowl to cool for 1 hour. Place on a piece of parchment paper and sprinkle with additional 1/4 cup of sugar until coated. Allow to dry.

Preheat oven to 350F and line muffin tins. Combine flour, cocoa powder, allspice, cloves, salt, and baking soda in a medium bowl. Whisk together molasses, sugar, vegetable oil, egg and vanilla in a large bowl. Alternate whisking the flour mixture and water until just combined. Divide batter evenly between muffin cups. Bake for 25-30 minutes (until toothpick inserted comes out clean). Let cool for 5 minutes before transferring to a wire rack.

Whip butter, sugar, and water together in the base of a standard mixer until the consistency is smooth and thick. Place in the refrigerator for 10-20 minutes to firm slightly.  Top each cupcake once cooled. Decorate with rosemary and cranberries (optional).
Ginger Hultin,MS, RD, CSO
An award-winning, nationally recognized nutrition expert and media spokesperson.
Thanks for visiting! If you're like me: obsessed with eating, wine, going out and traveling, you're in the right place. Champagne Nutrition® LLC is a Registered Dietitian-run concierge virtual practice helping clients look and feel better. On this blog, you'll find cocktails, mocktails, and plant-based recipes that are easy to make quickly at home and pack for leftovers on your adventures.