Green smoothies are where it's at to add more veggies in a creative, delicious way. We aren't talking about just blending up some kale and spinach and somehow getting it down, let's make it taste good too! Just because it's green doesn't mean it has to even taste like veggies. I love using spinach and matcha to make this smoothie bright green and beautiful but also adding in healthy chia and sweet banana for that balance that will keep you full and energized for a long time. This green Banana Matcha Smoothie is so perfect for breakfast or beyond.
The benefit of this type of green smoothie lies partly in the matcha green tea powder. I absolutely love the flavor of matcha and it is packed with antioxidants plus a little boost of caffeine. If you're trying to cut back on coffee, this could be an option for you. I'm going to break this smoothie down for you so you'll know exactly what to do.
Matcha Facts
Matcha is a finely ground powder that comes from the same plant as green tea, but it is grown in a very unique way. The leaves are covered to block the sunlight allowing an increase in chlorophyll production and higher amino acid content, which gives the leaves a darker green color. 
Matcha leaves are rich in catechins, which act as natural antioxidants, even more so than green tea. These antioxidants help stabilize and reduce free radicals in the body, along with preventing cell damage and reducing the risk of chronic disease. Along with its antioxidant properties, matcha is especially high in epigallocatechin-3-gallate (EGCG), a catechin that has anti-cancer properties.
Since matcha is derived from the green tea plant, it also contains a small amount of caffeine. Adding matcha to smoothies provides a small caffeine boost perfect for the morning or a midday snack. Plus, it's ideal for those who are cutting back on coffee but still need a caffeine kick!
Matcha is such a great addition to this smoothie. Along with its many vitamins and minerals, it also contains health-boosting properties such as improving liver function, boosting brain function, and improving heart health. Plus, it is so easy to prepare and can be enjoyed in many different ways: matcha lattes, puddings, and this Banana Matcha Smoothie. 
Why Chia Seeds?
I love adding chia seeds to smoothies because they are super nutrient-rich. Did you know that chia seeds contain 10 grams of fiber in one ounce? Incredible. Double bonus – they also are a plant-based source of anti-inflammatory omega-3 fatty acids. They are loaded with antioxidants and have numerous health benefits. Plus, they are packed with fiber and protein, making them a perfect addition to smoothies. The fiber content helps maintain a healthy digestive system while the protein content helps make the smoothie more filling and increase fullness. Chia seeds provide so many nutrients and health benefits to smoothies and other recipes that they cannot be left out!
Making the Banana Matcha Smoothie
The Coconut Water
I have been super into adding a little bit of coconut water to my smoothies. Not only does it help blend up the veggies and greens in the smoothie, but it also provides additional hydration and electrolytes. This extra level of hydration helps to make this smoothie a perfect post-workout meal to rehydrate. Also, coconut water provides numerous health benefits, such as having antioxidant properties, supporting heart health, and reducing blood pressure.
The Veggies
The first time I made this, I just threw in some greens I had in the fridge. For me, that's often spinach which I like because it's soft and sweet and blends very well. Plus, spinach is packed with vitamins and minerals. If you love heartier greens like kale, feel free to use those, too. Smoothies are an excellent way to sneak in more veggies at breakfast or for a snack and get your fill of vitamins and minerals.
The Milk
The milk is the main base of this smoothie, and you can really go with your personal preference here. I'm a big fan of non-dairy milk options, such as almond, oat, or soy, but feel free to use dairy or non-dairy milk. If going with non-dairy milk, be cautious of the sugar content and added sweetness. A lot of non-dairy milks are either sweetened or packed with added sugars, so be aware of what kind you are choosing. This Banana Matcha Smoothie is already getting some natural sweetness from the fruit, so using a sweetened milk base is unnecessary and will overpower the smoothie.
The Sweetness
The sweetness comes from natural sources; in this case, frozen ripe bananas. I keep them in plastic so I can rip them in half and stick them in a smoothie whenever I need to. Frozen bananas are key to a perfect smoothie texture, providing a thick and creaming consistency. Additionally, adding a touch of vanilla will really round out the smoothie and help balance out the taste of the matcha.
My green smoothie recipe turns out frothy and delicious; a wonderful start to the day. I love this recipe because it is really flexible. Feel free to make it what you want it to be. If you need more sweet, use more bananas. You can also add honey or maple syrup. You could toss in other types of veggies or fruits but any way you make it, you'll be getting a lot of vitamins, minerals, and antioxidants in addition to lots of fiber and hydrating fluids.
If you're into green tea, I have a couple other recipes you may enjoy: my green tea frozen yogurt breakfast cups and my blueberry green tea smoothie. Enjoy!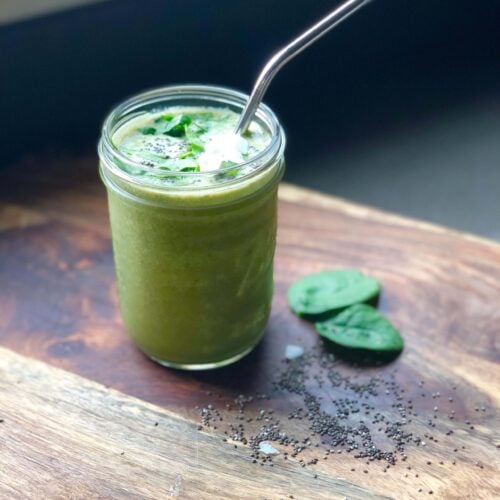 Banana Matcha Smoothie
A really delicious and simple green smoothie with delicious chia seeds for energy
Print
Pin
Rate
Ingredients
1/4

cup

baby spinach

2

tablespoon

unsweetened coconut water

1/2

large frozen banana

1

teaspoon

matcha green tea powder

1/2

teaspoon

pure vanilla extract

1

teaspoon

chia seeds

1 

cup

unsweetened milk of choice

(soy, almond, or oat)
Instructions
Add spinach and coconut water to blender and blend until spinach is pureed. Add remaining ingredients and blend until smooth. Add additional milk and/or ice if desired.
Nutrition
Serving:
10
oz
|
Calories:
170
kcal
|
Carbohydrates:
22
g
|
Protein:
9
g
|
Fat:
5.4
g
|
Saturated Fat:
0.7
g
|
Sodium:
105
mg
|
Fiber:
4.8
g
Ginger Hultin,MS, RD, CSO
An award-winning, nationally recognized nutrition expert and media spokesperson.
Thanks for visiting! If you're like me: obsessed with eating, wine, going out and traveling, you're in the right place. Champagne Nutrition® LLC is a Registered Dietitian-run concierge virtual practice helping clients look and feel better. On this blog, you'll find cocktails, mocktails, and plant-based recipes that are easy to make quickly at home and pack for leftovers on your adventures.