Hasselback Potatoes with Cheesy Vegan Sauce
If you need a simple, healthy, delicious side dish that also looks beautiful for your family or friends, this Hasselback Potatoes with Cheesy Vegan Sauce recipe is absolutely for you. My team and I reworked my potatoes au gratin recipe which was popular but not so pretty to this easy and impressive dish instead. These are quick to whip up, hands off for the baking, and are fun to serve and eat. We kept the vegan sauce from the original recipe because it's such a winner and you can use it in this and so many other recipes.
You may need a vegan recipe for so many reasons. Food allergies are one major reason that kids or adults in your life may need these kinds of adaptations. No dairy? No problem. Many people have issues with eggs. And others go vegan for environmental and/or animal rights. No matter why you're eating plant-based, there are a lot of options for you. This type of eating can actually be a lot easier than you may think. My guide on Mastering Vegan Baking is a place to start for better understanding substitutions you may need to make and it's actually a lot easier than you may think. Baking is probably the hardest with the replacements, but you'll be surprised how many options you DO have.
There are some very simple replacements when you're making recipe's vegan such as using vegan butter instead of dairy butter. That's the simplest swap that tastes exactly the same. For dairy, soy or oat milk (unsweetened and non-vanilla flavored) has a similar creaminess to dairy milk. These plant-based milks are fortified with calcium so they provide the nutrients you need for bone health. They also have the added benefit of some unique antioxidants that you won't find in dairy milk. Soy, especially, has a great protein content that is very similar to dairy milk. You need to be careful because almond, coconut, and rice hardly have any protein. And if you have questions about the safety of soy (these old myths need to die!), I've got a post about it here for you.
Making Hasselback Potatoes with Cheesy Vegan Sauce
Traditional potatoes au gratin rely on cream and butter. Potato dishes in general seem to as well. Mashed potatoes and baked potatoes are often loaded with butter and cream. It makes them taste delicious but there is absolutely another way and I want to show you how to make the most delicious cheesy vegan sauce today. It goes so well on these Hasselback potatoes but again, you can put it on a lot of dishes.
What you want to do is get 3 large Russet potatoes. One large one will serve 2-3 people and you can slice them up very easily. These also make great leftovers so this could be a really good meal prep day recipe as well. You slice the potatoes first before you bake them and then as they bake, they start to separate into these beautiful ridges you see in the picture. It's such an amazing recipe, honestly.
So, slice your potatoes with a very sharp knife and get them baking first. While that's happening, whip up the cheese sauce and prep any other foods you need to during that time. I'm such a fan of multi-tasking in the kitchen. I think that it really speeds the prep process. I like to look at all the things I want to cook, get all the ingredients out – I put them into 'stations' around the kitchen – and then decide what order I'll make them in. It's good to have different preparations. For example, while the potatoes are cooking in the oven, I'll use the stove to make the sauce and then once that's done, I could chop fresh veggies, whip up a salad or a dressing on the countertop.
For the sauce, I do use vegan butter. It's such a good product and it 'acts' exactly like real butter. Melt that first, in a saucepan, then add the garlic. Once that's deliciously fragrant and lightly brown, you add in a lot of herbs and spices – thyme, oregano, and rosemary. You could get creative and do some dried parsley or basil or marjoram as well. I just love using spices and I use a lot of them all the time. Previously in my cooking, I wasn't as into it and I noticed my spices getting really old in the cabinet or not being organized very well. Once I decided that I really wanted to focus on herbs and spices for flavor and anti-inflammatory benefits, I found a lot fo benefit in organizing them, cleaning them and filling them regularly. I'd love to know in the comments how you take care of your spices and keep them fresh and updated.
The final steps are to stir in both the nutritional yeast and broth. I might suggest actually using a whisk so you can get it nice and creamy. The sauce will thicken as it sets to if it's a little thin, that's ok. Set it aside and see how it does within 5-10 minutes. Once you're ready to go with the potatoes cooked through, pour the sauce over them so it soaks into the nooks. Save a little sauce so you can pour more over it before serving. Fresh parsley makes it look beautiful and gourmet.
If you're looking for other easy and healthy potato dishes, make sure to check out my Chickpea Stuffed Sweet Potatoes with Coconut and Kale, my Potato and Corn Chowder (also vegan!) or my sweet potato burritos.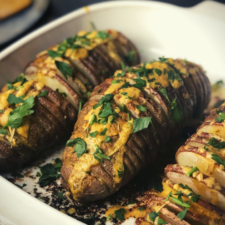 Hasselback Potatoes with Cheesy Vegan Sauce
This simple and healthy vegetarian-friendly recipe will quickly become one of your staples!
Print
Pin
Rate
Ingredients
3

medium sized Russet potatoes

1

Tablespoon

olive oil

1/2

teaspoon

freshly ground pepper

Salt to taste

1

clove

garlic

minced

1/2

cup

vegan butter

1/2

cups

vegetable broth

1/2

cup

nutritional yeast

1/2

teaspoon

dried thyme

1/2

teaspoon

dried oregano

1/2

teaspoon

dried rosemary

1

teaspoon

fresh parsley
Instructions
Preheat oven to 425 F. Grease an oven safe baking dish with cooking spray. Thinly slice potatoes, leaving the bottom intact. Place potatoes in baking dish and drizzle with olive oil, salt, and pepper. Bake for 30 minutes.

While the potatoes bake, melt vegan butter over low heat. Add garlic and cook until fragrant. Add thyme, oregano, and rosemary and stir until well incorporated into the mixture. Stir in the nutritional yeast and vegetable broth, whisking it until it's smooth. Set the mixture aside because it will thicken slightly as it cools.

Remove potatoes from oven and drizzle with sauce. Return to oven for 30-40 more minutes or until crispy. Top with remaining sauce and fresh parsley to serve.
Ginger Hultin,MS, RD, CSO
An award-winning, nationally recognized nutrition expert and media spokesperson.
Thanks for visiting! If you're like me: obsessed with eating, wine, going out and traveling, you're in the right place. Champagne Nutrition® LLC is a Registered Dietitian-run concierge virtual practice helping clients look and feel better. On this blog, you'll find cocktails, mocktails, and plant-based recipes that are easy to make quickly at home and pack for leftovers on your adventures.