Healthy Blackberry Oat Crisp
Blackberries hang heavy from their thorny vines here in the Pacific Northwest during the late summer months. They bop you on the head as you walk down the sidewalk, snag your shirt as they reach out from rockeries, and make hiking on forest trails a bit more complex as you gently pinch the vine to move it out of your way. If you don't live in Seattle like me, perhaps you have other types of local fruit growing that you can make into a dessert. And if it's the wrong time of year altogether, the great news is that this Healthy Blackberry Oat Crisp is so versatile that it can be made with frozen berries, too!
Classic crisps and crumbles are heavy on the saturated fat (butter) and sugar. When I was comparing recipes and assessing how I'd create my own Healthy Blackberry Oat Crisp, I was really shocked by the amount of added sugar. All berries contain a nice amount of added sweetness, naturally, so why are we dumping sugar all over them and covering their complex sweet-tart flavor? I cut the sugar more than in half and, after making this recipe several times now, I've never found it to be anything less than perfectly balanced.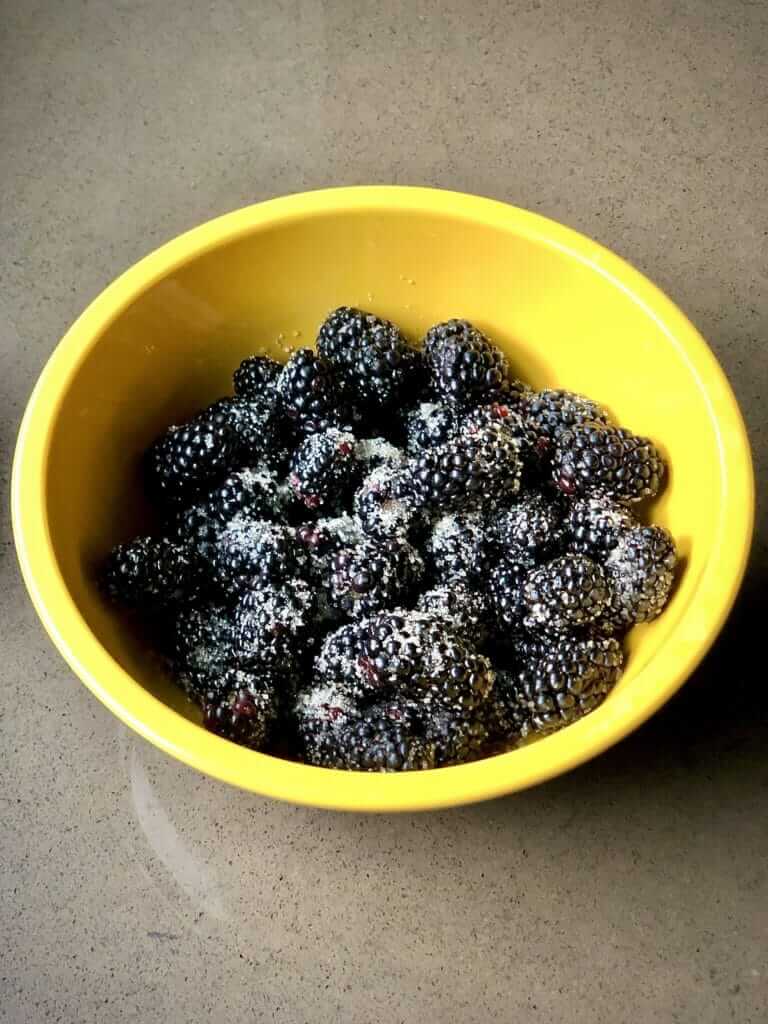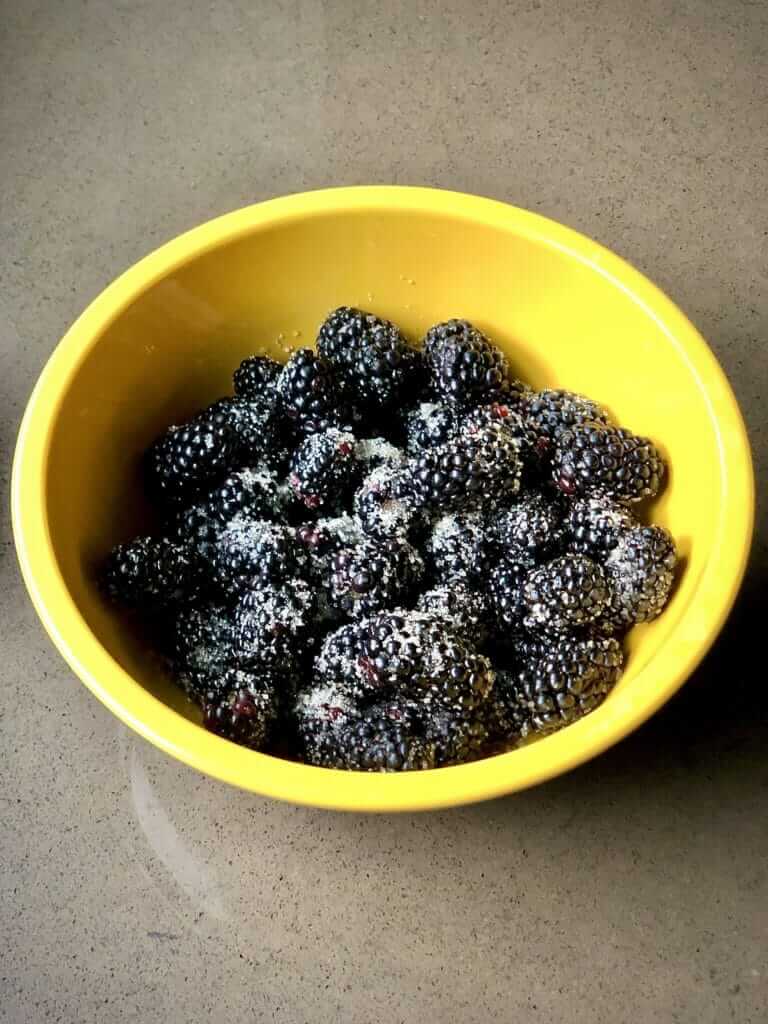 The Case for a Healthier Crisp
Cutting back butter and sugar in search of a healthier crisp or crumble is actually really easy. You'l be surprised that this healthier, lighter version still tastes amazing – sweet and buttery – just like it's supposed to. Of course, there's room for rich desserts, too, but I keep in mind that a lot of my nutrition clients have health goals they're trying to meet. And they deserve a treat, too – we all do!
All berries are packed with fiber, unique antioxidants (look at those dark colors!), vitamins and minerals. Blackberries have that gorgeous purple-blue hue and that indicates that they're really high in specific antioxidants that are good for the body. They help lower inflammation and calm irritation in the body that may be fueling health problems for you. I just wrote a book about inflammation, in fact – the Anti-Inflammatory Diet Meal Prep Book and a recipe like this Healthy Blackberry Oat Crisp fits in perfectly. 
This crisp is really focused on the fresh fruit as well as the oats with spices in it. It's very "crumbly" and so if you'd like, you can add a bit more butter or even some oil so that it sticks together more. All of my recipes are designed to be flexible to your needs and preferences so I'm breaking down all the different ways to create this right down below.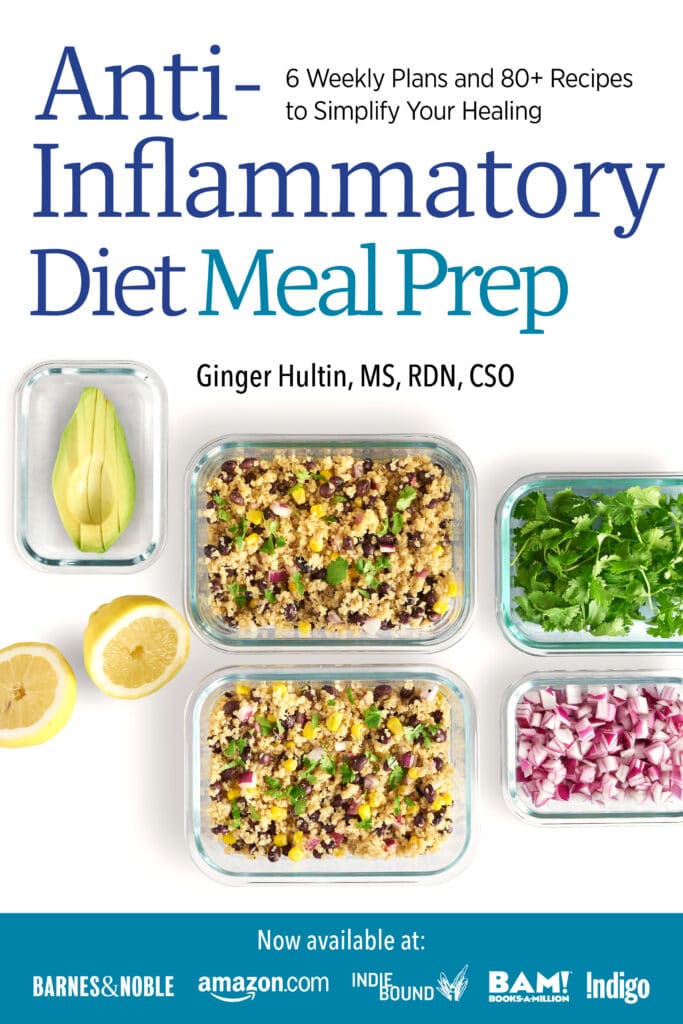 Making a Healthy Blackberry Oat Crisp
This is literally the easiest recipe around. You'll start by greasing the pan and I use coconut oil because of the awesome flavor that it adds as well as how incredible it is for greasing pans. If you've got coconut questions, I've got answers here in this blog post.
After that, you'll put your berries in a bowl and sprinkle them with a little sugar while you make the crumble. I just toss them to coat lightly. You can make the crumble in a separate bowl in like, 2 minutes and then just pop the berries in the prepared pan, top them evenly with the topping and you're ready to bake.
This Healthy Blackberry Oat Crisp would be a really good meal prep recipe because it's so quick to prepare and hands off. While it's baking for 40 minutes, you've got time to prepare other dishes and so it's perfect for multi-tasking. Best of all, it makes very little mess to clean up.
The Berries
Blackberries are ideal for the Healthy Blackberry Oat Crisp but you can really use any type of berry that you want. I like blackberries because of their sweet-tart taste and also their size. They are a bit more firm and so they have a nice texture when compared to raspberries. That being said, use raspberries if you have them – fresh are my favorite. Feel free to slice strawberries or cherries and use those. Blueberries work very well, too and I actually dump in some frozen if I need to bulk up my blackberry mixture in the Healthy Blackberry Oat Crisp. You really can't go wrong!
The Topping
You can so easily make this topping vegan by using vegan-'butter' substitute so that's a very easy thing to do for dietary preference or food allergy. You could mix it up by adding in chopped nuts for more texture and healthy fats. You can add or subtract the amount of spices. I went on the light side for this one because I find that many of my readers don't like things too "spicy" but when I make it on my own, I add a little extra of all the spices because they add such a nice complexity of flavor.
If you're gluten-free, make sure to get gluten-free labeled oats because though oats are naturally "gf", they're often contaminated by being processed in facilities that also process flour. You can easily use a gluten-free flour blend instead of regular flour like it calls for in the recipe. Going gf in this recipe wont' change the texture or flavor at all. If you're into gluten-free, you really need to try my chocolate gingerbread cupcakes and my vanilla champagne cupcakes.
I hope that you enjoy this recipe! It's so delicious and insanely easy. If you need other berry recipes, I've got so many up on the blog. Check out my Plum Berry Cobbler Granola, Rose poached strawberries, and my Wild Blueberry Matcha Green Tea smoothie.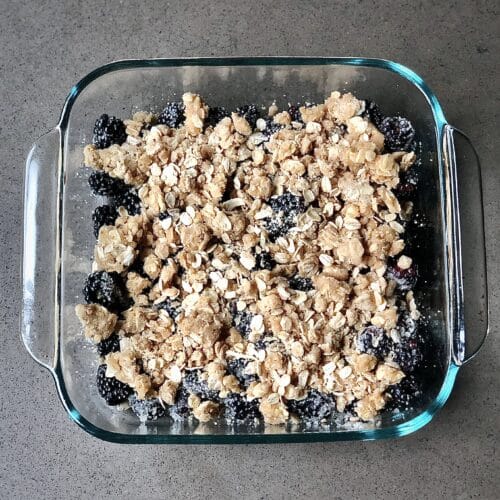 Ingredients
1

teaspoon

coconut oil

4

cups

fresh blackberries

frozen are ok; can sub other types of berries

1/4

cup

sugar

1/3

cup

flour

1/2

cup

rolled oats

2

tablespoons

brown sugar

1/4

cup

regular or vegan butter

softened

1/4

teaspoon

cinnamon

1/4

teaspoon

ground nutmeg

1/4

teaspoon

ground ginger

1/2

teaspoon

freshly grated lemon peel
Instructions
Preheat the oven to 350 degrees F. Grease an 8x8 baking dish with coconut oil.

Add the berries to a medium mixing bowl and sprinkle them with sugar.Gently fold to coat the berries and let them sit in the sugar while you prepare the oat mixture.

In another medium mixing bowl, combine the flour, oats, brown sugar, butter, cinnamon, nutmeg, ginger and lemon peel. The mixture will be crumbly.

Pour the berries into the prepared dish, scraping any additional sugar on top of the mixture. Spread the oat mixture evenly on top of the berries then bake the crisp for 35-40 minutes until its lightly browned and the berries are bubbling and soft. Set the crisp on a cooling rack and serve warm.
Ginger Hultin,MS, RD, CSO
An award-winning, nationally recognized nutrition expert and media spokesperson.
Thanks for visiting! If you're like me: obsessed with eating, wine, going out and traveling, you're in the right place. Champagne Nutrition® LLC is a Registered Dietitian-run concierge virtual practice helping clients look and feel better. On this blog, you'll find cocktails, mocktails, and plant-based recipes that are easy to make quickly at home and pack for leftovers on your adventures.