Healthy Pumpkin Pie Breakfast Bake
If you need a hands-off breakfast for absolutely any time from September through December, this Healthy Pumpkin Pie Breakfast Bake is it. Canned pumpkin plus all the pumpkin spices combine with a touch of sweet, high fiber apples and whole grain English muffins in this recipe. You can whip it up in 10 minutes and let it sit overnight so in the morning – especially on a special holiday perhaps?! – you have a delicious, familiar, pumpkin-spice breakfast that's also healthy ready to serve. What's not to love? You definitely need this recipe.
At my house, there's only 2 of us so I still make this kind of big make-ahead breakfast because it's incredible to have for leftovers throughout the week. Alternatively, if you had a larger group, this could be a really fun back-to-school, Halloween, Thanksgiving or Christmas breakfast. I stand firmly that we can enjoy pumpkin spice all the way through Christmas. All the way through! If you disagree, leave me a comment for sure. But the one thing I do know is that by the New Year, it's over and you have to wait many months until it's completely appropriate to celebrate pumpkin spice again.
I have a lot of pumpkin recipes for you. My favorite is my chocolate cake IN a pumpkin but I also have some off-season smoothies so you can use your canned pumpkin up at other times of the year. You definitely need this vegan pumpkin spice smoothie and this pumpkin protein smoothie. My pumpkin hummus is also super, extra good so you can make that whenever you want; no need to wait for October.

Why Pumpkin?
Pumpkin is an incredible food. It is such a rich, nutrient-dense ingredient that is perfect to add to recipes. It's full of vitamin A, an antioxidant that supports eye health along with decreasing the risk for cancers and other chronic diseases. Eating pumpkin can also help reduce inflammation and help reduce the amount of free radicals in your body. Pumpkins are packed with carotenoids, mainly beta-carotene, which are used to form vitamin A in the body. These carotenoids are what provide pumpkins with their deep, orange color that they are widely known for.
In addition to vitamin A, pumpkins are packed with vitamin C and B vitamins, along with lots of minerals. These vitamins have numerous health benefits, like helping boost your immune system and fighting against diseases. Pumpkins are also a great source of fiber. Not only is fiber helpful for maintaining a healthy digestive system, it can help keep you fuller for longer.
Why Meal Prep?
You know by now that I feel passionately about meal prep…I mean, I wrote a book about it and it actually just got put on a Food Network "Healthiest Cookbooks" list! Meal prepping makes your life easier – hands down. Planning ahead, making food in batches and knowing how to store it can be life-changing. Thinking about a casserole like this one for breakfast is exactly the type of meal prep I teach. Cook for 10 minutes, bake (hands off!) for an hour while you do other things and you have breakfast all week.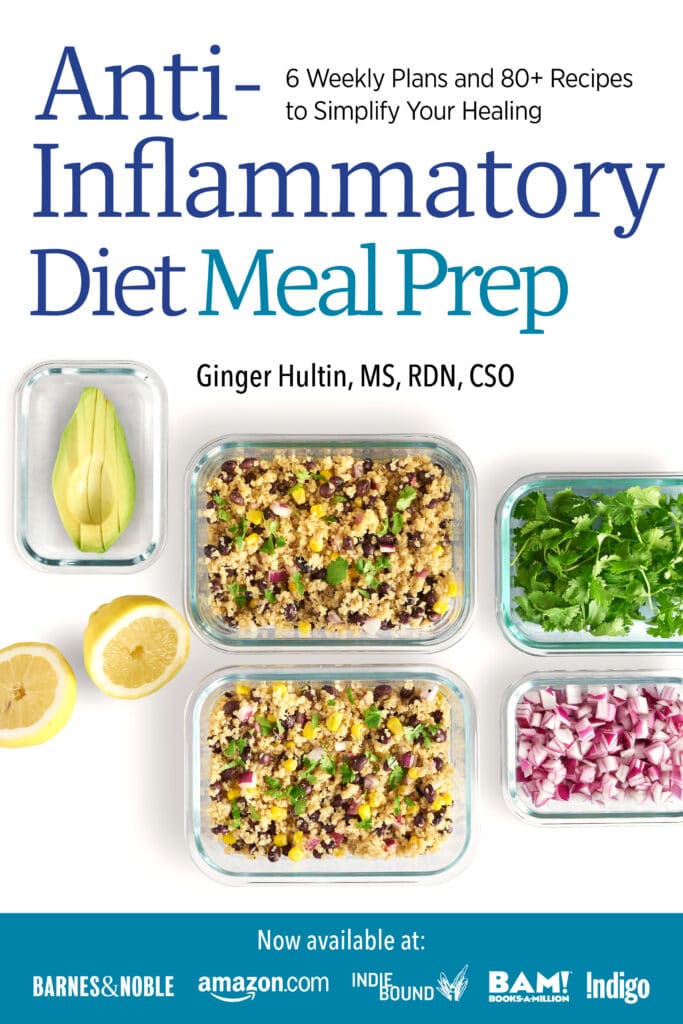 Why Breakfast?
In this age of intermittent fasting, I want to make a case for the first meal of the day. And I even have a post about the benefits of intermittent fasting. The thing is, I see it hurt many more people than it helps. Some of my clients end up skipping meals early in the day only to find themselves overeating later in the afternoon or evening, hunger hormones out of control and 'hangry' a lot of the time. When you start your day off with a dish like this Healthy Pumpkin Pie Breakfast Bake, you give your body fuel, you kick-start your digestion, you get nutrients and you calm down those stress and hunger hormones. I'm a fan but hey, it's not for everyone so if you want to discuss, reach out and we'll chat!
Making the Healthy Pumpkin Pie Breakfast Bake
This recipe is insanely easy to make. Get all the ingredients set out then whip it up, set it aside in the fridge overnight and then you have a fancy little breakfast in the morning. Once you get the English muffins baking (so they're not mushy in the casserole), you'll coat your chopped apples in cinnamon. I didn't choose to peel them because I didn't see a need to and there's flavor and fiber in the peel.
Once you have the English muffins nice and toasty, you'll toss them with the apples and cinnamon, too and pop them in the prepared pan. After that, whisk all the wet ingredients and the rest of the spices together and pour it over the English muffins and you're DONE. Keep it in the refrigerator for at least an hour but up to 12 hours – overnight is so convenient – and then you bake it for an hour when you're ready.
I really slashed the sugar in this recipe and boosted the spices so feel free to adjust. One thing I love about the maple syrup on top is that each person can adjust the sweetness to suit their taste. Enjoy this one and let me know when you try it!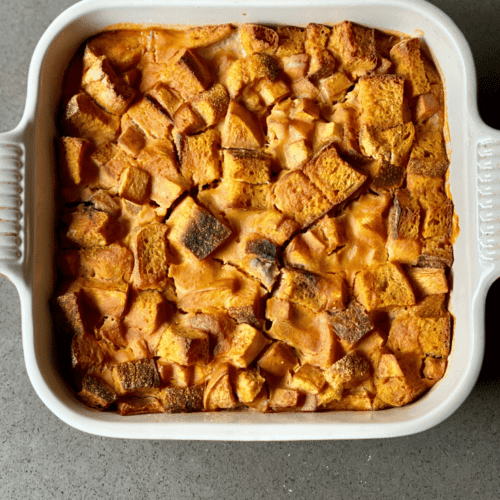 Healthy Pumpkin Pie Breakfast Bake
A super simple, pantry-staple meal prep breakfast you can enjoy all week or for a special brunch
Print
Pin
Rate
Ingredients
3

whole wheat English muffins, cut into 1-inch pieces

1

medium

apple

consider Honeycrisp or Pink Lady

1/2

teaspoon

ground cinnamon

2

eggs, beaten

1 1/2

cups

unsweetened oat or soy milk

1/2

15-oz can

pumpkin

save the rest for another recipe!

1

teaspoon

vanilla extract

2

tablespoons

brown sugar

1/2

teaspoon

salt

1/2

teaspoon

ground ginger

1/8

teaspoon

ground cloves

1/8

teaspoon

ground nutmeg

2

tablespoons

maple syrup
Instructions
Lightly coat an 8x8 baking pan with cooking oil.

Place the English muffin pieces on a rimmed baking sheet and bake for 8-10 minutes until they're lightly toasted and have started to brown.

While the muffins are baking, combine the apples and half the cinnamon in a mixing bowl. When the English muffins are done cooking, add them and toss the mixture to coat. Pour the mixture into the prepared baking dish.

In a medium-sized mixing bowl, whisk together the eggs, milk, pumpkin, vanilla, sugar, salt, ginger, cloves, and nutmeg. Pour it over the English muffin mixture and gently press any pieces of bread into the mixture so it's coated. Cover the dish with foil or plastic and refrigerate it for up to 12 hours, or overnight. Be sure to let it sit for at least 1 hour if you're baking it the same day you make it.

Preheat the oven to 350 degrees the bake the dish for 55-60 minutes at 350 degrees until the edges are slightly browned. Let it cool and set before serving; about 15 minutes.

Drizzle the bake with maple syrup before serving it. Add extra as needed/desired!
Ginger Hultin,MS, RD, CSO
An award-winning, nationally recognized nutrition expert and media spokesperson.
Thanks for visiting! If you're like me: obsessed with eating, wine, going out and traveling, you're in the right place. Champagne Nutrition® LLC is a Registered Dietitian-run concierge virtual practice helping clients look and feel better. On this blog, you'll find cocktails, mocktails, and plant-based recipes that are easy to make quickly at home and pack for leftovers on your adventures.