Healthier Creme Champagne Cocktail
If the name of my company, Champagne Nutrition, didn't give it a way, I am now…I LOVE champagne. I am always looking for new recipes and making odd combinations of ingredients to see how they mix with champagne. That is exactly how I came up with this recipe. I have combined yogurt, apple cider, frozen strawberries, and champagne of course for this delicious Healthier Creme Champagne Cocktail, perfect for all of your celebrating occasions.
My interns and I made this around the holidays but honestly, it is also a perfect spring cocktail. I can see it being served at a baby-shower (not for the mother to be!), a bridal shower, a birthday brunch or even at a wedding if it matches your colors. The secret ingredient here will surprise you and it's all about the probiotics. Any guesses?
 
Secret Ingredient
It's YOGURT. I used one of my favorite brands to make this cocktail creamy and delicious. It's sort of like a champagne smoothie in some ways. What's not to love? All you need is a blender, champagne , yogurt and some frozen fruit to whip up this simple, delicious beverage.
I'm so into champagne recipes and I wanted to share some other top favorites with you. I recently updated some real winners including my famous vegan champagne jello shots, my champagne bread, gluten-free champagne cupcakes, Hazelnut Coffee champagne drink and my Citrus Champagne Fizz. What recipes do you love making with champagne?
Have you ever tried adding yogurt to a cocktail? If you are thinking this sounds odd, I did too before I tried it, but the yogurt actually adds a nice frothy texture in a healthier way. I recommend using Siggi's yogurt in this recipe, but you could also use any Greek style. I often recommend Siggi's yogurt to my clients because it's high in protein, low in added sugar and they have really unique, subtle flavors that don't taste artificial. If you want my true recommendations, go with the peach and also the orange ginger – those are the best. For the purposes of this recipe, I suggest a berry or vanilla flavor.
I met Siggi himself at a nutrition conference a couple times and I sort of fan-girl him. He launched the product in his own apartment kitchen in New York and then moved on to selling it at farmers markets. He's just so entrepreneurial and has overcome so much. He's now in huge, national chains and I love that we have access to this healthful product. Siggi's philosophy for his Icelandic-style yogurt is: simple ingredients, not a lot of sugar. Dairy and non-dairy yogurts alike can be full of sugar – some with more grams than a Coke! All of siggi's yogurt contains more protein than sugar; even the flavored varieties.
Making the Healthier Creme Champagne Cocktail
I used the vanilla flavor siggis yogurt for my Healthier Creme Champagne Cocktail. The product adds cream to my creme because of it's thick consistency. Feel free to use any flavor you like but this one pairs well with the other flavors. Many champagnes actually have a slight vanilla or brioche flavor which pairs well with yogurt.
Blend in frozen strawberries because the add the gorgeous color, some nutritional benefits in the form of fiber, vitamins, minerals and antioxidants and the light flavor. I love using frozen fruit in my drinks because it blends up and makes everything frothy. You'll never need sugar in your drinks because . If you love the idea of this, I've also got a killer frose (frozen rose) you can make easily at home. Other types of berries are also an option. Raspberries would give it the same beautiful color but a slightly different taste. If you want to get crazy, you could do blueberries or even blackberries which are strangely delicious in drinks. I have a blackberry margarita recipe that I adore and make in the summer with fresh berries from the Pacific Northwest where I live.
When it comes to the sparkling, make sure to use a dry champagne rather than a sweet one. Look for "brut" or "extra brut" on the label rather than "dry" or "off dry". Right now, dry champagne is more popular so it should be easy to find. And listen, my friends, you can use a cheaper Prosecco or Cava instead of real champagne because real champagne is for drinking on its own. I'm not saying that a nicer option isn't worth the investment here but I'd suggest something in the $15-25 range. The $50+ is for drinking by itself. And just leave the <$10 stuff on the shelf. Sorry but it's not worth it. There are some incredible finds with wine and you can sometimes get away with a very affordable bottle but sparkling is a little different.
The tanginess of the yogurt is complimented by the light sweetness of the sparkling cider and frozen strawberries are the perfect addition to sparkling wine or champagne. I hope you get to make this recipe for your next event. I love offering to make drinks for a party because it can be a very festive thing to contribute that is also really easy for you and doesn't require a lot of prep or baking, etc. Stop by the store, pop this all in the blender and you look like an amazing host or guest when you show up with a gorgeous Healthier Creme Champagne Cocktail.
To Make it a Mocktail
Simply replace the champagne or sparkling wine with either sparkling apple cider or half-sparkling apple cider and half-sparkling water. You've got a perfect sans-alcohol treat! Enjoy-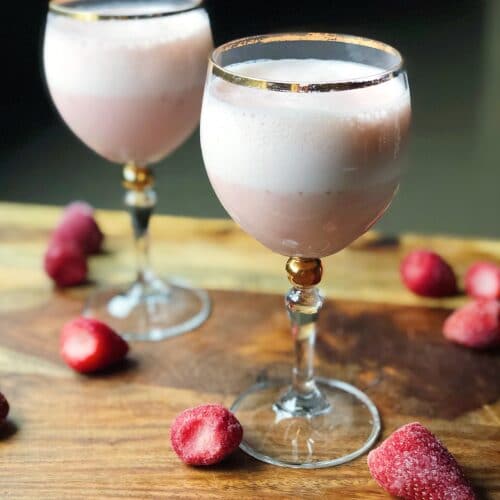 Ingredients
1/2

cup

vanilla siggis yogurt

5

frozen stawberries

6

oz

sparkling apple cider

8

oz

of champagne or sparkling wine,

dry variety/brut
Instructions
Combine yogurt, strawberries and apple cider in a blender and puree until completely smooth. Fill four champagne flutes 1/4 full with the creme mixture. Top slowly with champagne or sparkling wine, using caution not to overflow the glass. Continue to top until the glass is 3/4 full. Serve immediately. Beverage will be frothy.
Ginger Hultin,MS, RD, CSO
An award-winning, nationally recognized nutrition expert and media spokesperson.
Thanks for visiting! If you're like me: obsessed with eating, wine, going out and traveling, you're in the right place. Champagne Nutrition® LLC is a Registered Dietitian-run concierge virtual practice helping clients look and feel better. On this blog, you'll find cocktails, mocktails, and plant-based recipes that are easy to make quickly at home and pack for leftovers on your adventures.