Instant Pot Lentil Cauliflower Curry
How are you using your instant pot or slow-cooker these days? I'm so intrigued by Instant Pots. They look like digital crockpots and they work a bit like magic. You put the ingredients into the bowl of it, shut the top, and even a recipe like this Instant Pot Lentil Cauliflower Curry full of lentils and vegetables will cook in 5 minutes. That's right – the 'cook time' on this one is 5 minutes. I'm breaking down the how and the why in this post but all you really need to know is that instant pots are awesome and make your life easier. But don't worry, if you don't have one yet, you can adapt this recipe to your slow-cooker or crock-pot with no issues at all. It will just take a little longer.
I'm really excited about this recipe because it's naturally vegan, it's a fun way to use hearty veggies like cauliflower and carrots but you can also weave in pantry staples like tomato sauce, rice and lentils. Even a teen could make this so it is a great step for your family to move into cooking and meal prepping – whether you're trying to inspire young people to get involved or if perhaps you, yourself, aren't much of a cook and need an easy way to create healthy meals.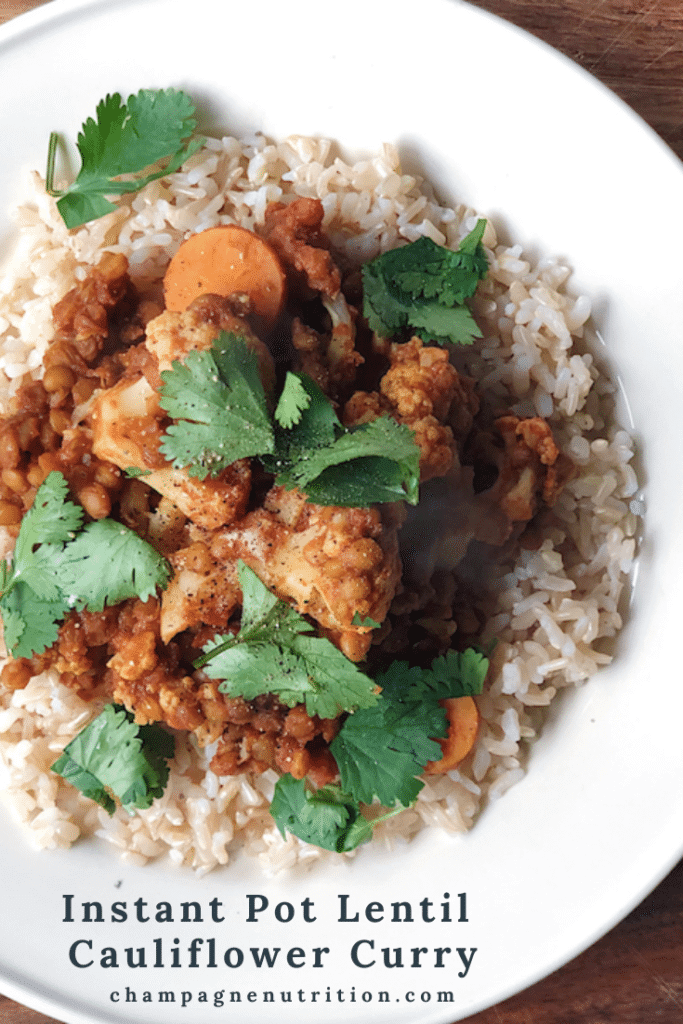 Why Instant Pot?
I'm a bit of a slow cooker snob. I used to feel like it wasn't an urban-girl piece of equipment to use. Also, I'm often gone from the house for 12+ hours per day so how am I going to run an 8-hour slow cooker? I use my slow cooker mostly to create recipes that I can keep an eye on at home and also to make some of my favorite recipes such as my Spiced Apple Cider Bourbon Punch. Another convenient use for a slow cooker is a work-from-home day. Assemble it in the morning and when you're done working, dinner is ready without having to do a lot of meal prep. With our busy family, working smarter land making recipes like this ahead of time is necessary if we're ever going to eat in.
Instant pots are great for cooking meals when you don't want to have a slow cooker running all day. I was really happy with the way this recipe turned out and could not believe it took only 15 minutes. A few things to know about instant pots (although I am still figuring out some of the tricks and features). Many recipes will list the cook time as just 5 minutes – yes it's true, my recipe here technically cooked in five minutes but it does take a little time for the instant pot to seal. So I'd say this recipe took more like 15 minutes.
If you haven't used an instant pot before – they are super cool. They are programmable – so you'll see options on the buttons such as "steam" or "slow cook" or "egg" and it's a 'multicooker' which means it cooks in a variety of ways, making your life easier as you're able to do more things with one tool. You can slow cook (so you really won't need that slow cooker anymore…), pressure cook – that's the speed setting that I use in this recipe, cook rice, steam foods, keep foods warm or even make yogurt.
When you use the high-heat, pressure cooking option like you will for the Instant Pot Lentil Cauliflower Curry, you'll be amazed at how quickly the food is done. What would take hours in other appliances are done in minutes in this one. It's very interesting that the longest part of the process is the "warm-up" which is when the pressure is building and the pot is sealing. The actual cooking part takes just minutes but then, the pot will have to lower the pressure and release some of the steam built up so that it's safe to open. They're so automated now that they're very safe an all of this is automated. They're nothing like the old-school pressure cookers of days gone by.
Making the Instant Pot Lentil Cauliflower Curry
Slow Cooker Lentil and Cauliflower Curry has savory flavors and tons of veggies for maximum fiber, vitamins, minerals and antioxidants. Lentils themselves are pretty incredible. They contain nutrients like iron, zinc, and B-vitamins in addition to being packed with protein and SERIOUS fiber as well. To put fiber in perspective, recommendations are 30-38 grams a day for men and 25 grams a day for women and a cup of lentils offers 16 grams. A dish like this is so perfect for long lasting energy through the typical afternoon slump.
To prepare this, you literally combine all the ingredients in your instant pot, set it and let is pressure cook. I included slow cooker instructions as well because I know that not everyone has an instant pot yet. You can't go wrong either way. Feel free to adapt, as always, and add or subtract veggies, herbs and spices to suit your taste.
I really hope you enjoy this simple Slow Cooker Lentil and Cauliflower Curry recipe!
If you're in search of other healthy summer recipes, check out my spicy vegan zucchini boats, salad skewers with peanut dressing, or spicy cauliflower stir fry with shrimp and peanuts!
What do you make in your instant pot or slow cooker?
Instant Pot Lentil Cauliflower Curry
Make this ahead for a savory dinner AND leftovers for your weekly meal prep
Print
Pin
Rate
Ingredients
1

yellow onion

diced

2

cloves

garlic

minced

1

Tablespoon

ginger

freshly grated

2

cups

brown lentils

rinsed

3

carrots

chopped

1

head cauliflower

chopped into bite size florets

3

Tablespoons

curry powder

1/2

teaspoon

freshly ground black pepper

1/2

teaspoon

sea salt

30

ounces

tomato sauce

canned

25

ounces

water

(shake it up in the used tomato sauce jar!)

2

cups

brown or white rice - try freezer variety

prepared by cooking or heating up (if frozen)

1/2

bunch cilantro

chopped roughly
Instructions
Instant Pot

Combine all ingredients except rice and cilantro into the base of the instant pot. Set to high pressure and cook for 5 minutes.

Slow Cooker

Place all ingredients except rice and cilantro into a 4-quart electric slow cooker; stir well and cook on low for 8-9 hours or until vegetables are tender.

Serve over brown rice and top with cilantro.
Ginger Hultin,MS, RD, CSO
An award-winning, nationally recognized nutrition expert and media spokesperson.
Thanks for visiting! If you're like me: obsessed with eating, wine, going out and traveling, you're in the right place. Champagne Nutrition® LLC is a Registered Dietitian-run concierge virtual practice helping clients look and feel better. On this blog, you'll find cocktails, mocktails, and plant-based recipes that are easy to make quickly at home and pack for leftovers on your adventures.