Sweet and Spicy Jalapeño Cranberry Chutney
I love any type of cranberry sauce…..except the "smooth" canned variety. So much of our taste preferences has to do with the Thanksgiving of our childhood. But once I learned how much sugar went into traditional cranberry sauce, I had to start making my own. Plus I love the consistency of the whole, burst berries rather than the smooth, gelled, strained variety. If you stop by Champagne Nutrition on occasion, you'll know that many of my recipes are spicy. I'm obsessed with all things spicy so I had to add some kick to my cranberry sauce this year to create Sweet and Spicy Jalapeño Cranberry Chutney. 
What's the difference between a cranberry sauce and cranberry chutney? Nothing really! Both are generic terms used to describe a condiment. Traditionally, chutneys are chunkier and offer a little spice, while sauces are smoother and are usually more processed to extend the shelf life (think ketchup, mustard or mayo). You'll often find them accompanying Indian cuisine which is one of my all-time favorites. Whether you call it a sauce or chutney, it's a staple on everyone's holiday table. Best of all, you can actually use this year-round if you can find cranberries. It could be a really nice unexpected seasoning on a meat or vegetable dish other times of the year. 
For this chutney recipe, I was reluctant to put the whole jalapeno in. A large jalapeno in addition to the chili powder could be more spice than some people prefer but once the flavors were all combined, the bold flavor of the cranberries balanced with sweet and tart welcomed the slight heat. Instead of the bright spiciness that a jalapeno can sometimes offer when in salsa or other fresh preparations, cooking it in with cranberries masks a bit of the bold heat and creates a more subtle flavor on the back of the palate. This dish pairs well with a big dinner like Thanksgiving or other holiday meals offering a tanginess and tart to an otherwise carb-stuffed meal.
If you love spiciness or unique flavor combos, this recipe is for you! It's really fun to put little spins on the classics so keep things fresh and new. I love to honor traditions with holidays and with food but I also love testing new things and moving us forward to creating new memories. Some people feel the same way I do while others push back against changing anything about tradition. I'd love to know in the comments which category you fit into personally! Also, while you're at it, tell me your favorite spin on cranberry sauce.
Making the Sweet and Spicy Jalapeño Cranberry Chutney
There's a perfect balance of sweet, tart and spice in this cranberry sauce, which comes together very quickly and is a cinch to make. Using applesauce and honey naturally sweetens the cranberries without masking their tart flavor and allows you to control the added sugar. Alleviate some of the stress associated with the holiday season by making this Sweet and Spicy Jalapeño Cranberry Chutney up to a week in advance. Meal prep is king so you can enjoy your holidays with less 'business'. I talk a lot about that, actually, on my blog because I hate to see my lovely clients sidelining their goals when they get busy due to the pressure and abundance of the fall and winter holiday seasons. I wrote a blog post all about it in fact so check that out here. 
The Cranberries 
When you first hear the word cranberry, what springs to mind? The jelly-like blob served at Thanksgiving dinner? Or perhaps the sugar-sweet dried variety found in trail mix? Fresh cranberries are used for this recipe and that's what makes it so great. Starting from scratch allows you to control the texture and sweetness of your cranberry sauce to fit your families exact preference. Cranberries are also incredibly nutrient-dense. These tart little berries are rich in vitamin C, antioxidants, and phytonutrients, as well as loaded with fiber. The vitamin C and phytonutrients found in the cranberries will provide a boost to your immune system and the antioxidants will help reduce inflammation. Can't find fresh cranberries? Fresh cranberries are usually found in the produce aisle but are not always stocked year round. Frozen cranberries can be used as a substitute if fresh are not available. 
Subtly Spicy
Jalapeno adds a subtle heat to this cranberry sauce, which leaves people thinking, "hmmm, somethings going on here?" but in a good way! This super spiced up sauce is a wonderful alternative to the everyday, run-of-the-mill cranberry sauce. Jalapeños contain capsaicin, a compound found in jalapeño and other spicy pepper varieties. Capsaicin is what causes eye and skin irritation when handling hot peppers and leaves you with a burning sensation. Is this sauce too hot to handle? Remember removing the pith and seeds will greatly cut back the heat. Cooking the jalapeno will also soften the heat factor. Wanna crank it up a notch? Try adding an additional jalapeno to the mix or a spicier variety of pepper, like a serrano or habanero. 
Love cranberries? So do I. Head over to the ChampagneNutrition blog to check out my other cranberry recipes, to fulfill your cranberry fix all year long.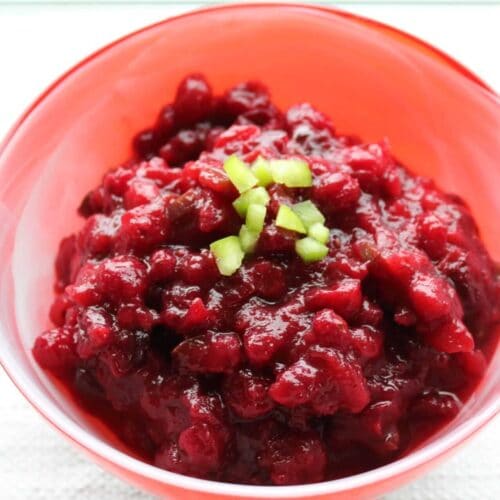 Ingredients
1/2

cup

unsweetened applesauce

1/2

cup

honey

1

Tablespoon

lemon juice

1/8

teaspoon

Kosher salt

12-

ounce

bag fresh cranberries

1

small jalapeño

diced with seeds and pith removed

1/2

teaspoon

ground cinnamon

1/2

teaspoon

allspice

1/4

teaspoon

nutmeg

1/4

teaspoon

chili powder
Instructions
Combine applesauce, honey, lemon juice, salt and 1/2 cup of water in a medium saucepan and heat while stirring to dissolve. Add cranberries and bring to a boil over medium heat then reduce to a simmer and add jalapeno, cinnamon, allspice, nutmeg, and chili powder. Simmer for 10-12 minutes or until most of the cranberries have burst and the sauce thickens. Cover while simmering to avoid cranberry juice spraying your kitchen. Remove from heat and serve warm or chilled.
Ginger Hultin,MS, RD, CSO
An award-winning, nationally recognized nutrition expert and media spokesperson.
Thanks for visiting! If you're like me: obsessed with eating, wine, going out and traveling, you're in the right place. Champagne Nutrition® LLC is a Registered Dietitian-run concierge virtual practice helping clients look and feel better. On this blog, you'll find cocktails, mocktails, and plant-based recipes that are easy to make quickly at home and pack for leftovers on your adventures.