Mushroom Fettuccine Alfredo
I need to know your absolute go-to flavor combo in the kitchen (make sure to tell me in the comments!) My two favorite flavors by far are lemon and black pepper – lucky for me they pair perfectly together! Creamy pasta dishes make for a great dinner party option, but I often find myself leaning towards lighter dressing options like olive oil and tomatoes. If you find yourself also wanting a healthier option, but are craving a creamy pasta dish, I have a recipe that is perfect for you. I created a lightened-up Mushroom Fettuccine Alfredo recipe that highlights a deliciously light lemon and black pepper flavor combination plus plenty of savory mushrooms and isn't loaded with cream and butter like traditional creamy pasta dishes can be.
Healthier Substitutions
Can you believe that this recipe doesn't have any butter in it at all? Instead, the creaminess you will experience in this dish comes from a combination of low-fat or plant-based milk, olive oil, and Parmesan cheese. The great thing about making healthier substitutions is that you can cut the amount of heavier ingredients and focus on the texture of the dish base. In this case the noodles shine through as the main feature. With my Mushroom Fettuccine Alfredo recipe, complex flavor combinations, like shallot and lemon, brighten up the flavor while keeping the dish lighter and healthier.
Relying on saturated fat and salt alone for flavor is easy; humans are designed to like that. With a little creativity, you are sure to cook up a healthier, crowd pleasing alternative.
As you adapt your classic recipes, start brainstorming how you can swap out excess fat and calories for fresh, light ingredients full of flavor. You may be surprised how simple swaps can brighten up a dish. Share with me in the comments if you find any delicious flavor combinations that work well for you.
Health Benefits of Black Pepper
I don't know of anyone that does not have black pepper on hand in their home kitchen. Sure, we reach for the black pepper shaker when a dish needs a little something extra, but we aren't necessarily thinking about the health benefits. Believe it or not, black pepper offers so many great benefits to not only the taste of your food, but your health as well.
Black pepper has antioxidants, which help fight off disease-causing free radicals in the body. Black pepper has been found to help lower inflammation. Black pepper, turmeric, and ginger can alleviate inflammation in the body when paired together. (For that, be sure to check out my Turmeric Golden Milk Tea recipe!)
Health Benefits of Mushrooms
Did you know that the same mushrooms that you put in your favorite dishes, like shiitake and maitake, have been used throughout history as medicine? Some of the same health benefits that are achieved through medicinal use of mushrooms can be accessed by adding edible mushrooms to your meals.
The most notable benefits you can expect from mushrooms are similar to black pepper: antioxidant and anti-inflammatory. An added benefit is the cancer-fighting properties that mushrooms offer. Incredibly, mushrooms have the ability to stimulate the immune system and have been found to stop the spread of tumor cells in some studies. I'm constantly amazed at the power of mushrooms and cook with them whenever I can.
Making the Mushroom Fettuccine Alfredo
What you are going to do to start making this recipe is prepare your fruit and vegetables and measure out your ingredients. This preparation will help make your cooking experience seamless and most enjoyable.
Once you are ready to go, you will prepare the fettuccine noodles by bringing four quarts of water to a boil in a large pot. While you are waiting for the water to boil, start preparing the sauce by heating the olive oil, lemon zest, shallots, and mushrooms in a large skillet over medium heat.
If you want to use a different pasta, you have options! Try spaghetti noodles or angel hair pasta. If you wanted, you could absolutely do a shorter pasta like a penne or rotini. Get creative with whole wheat vs bean vs lentil pastas for more fiber and protein.
Mushrooms are a great plant-based way to add a delicious, savory flavor to your dish. I like to use simple white mushrooms. You can even save time by buying them presliced for optimal meal prep. If you're not into mushrooms, consider swapping in chopped zucchini, peppers, or eggplant.
After the veggies, you'll season it with salt and add in the honey. If you avoid honey for any reason or don't have it on hand, you can absolutely use a little agave syrup instead.
Cook until the shallots and mushrooms become soft, which should take about five minutes. Whisk in your choice of milk or milk alternative and let simmer for about two minutes. Plant-based milks are a great alternative to traditional cow's milk for several reasons. Most plant-based milks pack added vitamins and minerals, so you are getting your nutrition either way.
While your sauce is simmering, your water should be ready to cook the pasta per the instructions on the package. Feel free to substitute here with gluten free pasta if that is your thing. I'm really into bean and lentil pasta these days because it's higher in protein and fiber.
Once your pasta is done cooking, reserve a half cup of the cooking liquid and drain the noodles. Add the lemon juice to the noodles and toss them well to combine.

Add the cheese and a fourth cup of the reserved cooking liquid to the skillet with the shallot-mushroom-lemon sauce. This is another great opportunity to substitute regular dairy cheese with something plant-based, if you are not a dairy person. There are a lot of good options on the market now.
Once your sauce is ready to go, you will want to add the cooked pasta in and toss it gently until it's well coated. If you are looking for a thinner consistency, go ahead and add more reserved pasta water to your liking.
To serve, divide the dish into four plates or shallow bowls. Rip up fresh basil from your garden and season generously with freshly ground black pepper. This beautiful presentation is bound to turn heads.
Dish Pairings
This Mushroom Fettuccine Alfredo recipe is sure to be a hit all year round and can be paired with a variety of dishes depending on the occasion.
Looking to add some extra protein to your meal? This recipe would be fabulous with shrimp or halibut.
Do you have greens and vegetables on hand? A crunchy green salad with a lemony vinaigrette is sure to please.
If you're a pasta person, I've got other recipes on the blog for you! Check out my:

Simple Edamame Pasta Salad
Easy Tomato Basil Pasta (made with bean pasta!)
Vegetarian Casserole with Penne Pasta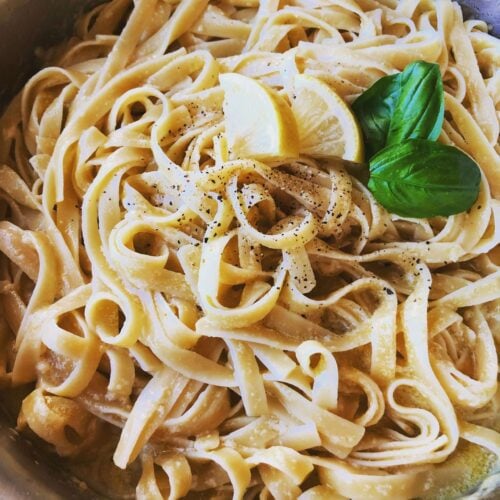 Mushroom Fettuccine Alfredo
This dish is lower in saturated fat (no butter!) and includes bright, fresh flavors and natural savory components like mushrooms and Parmesan cheese.
Print
Pin
Rate
Ingredients
4

quarts

water

1/2

cup

extra-virgin olive oil

1

large

lemon zested and juiced with seeds removed (divided)

1

medium

shallot, minced

about 1/3 cup

3/4

teaspoon

salt

1

teaspoon

honey

1

cup

unsweetened plain soy or oat milk or low-fat dairy milk

1

pound

dried fettuccine

3

ounces

grated Parmigiano-Reggiano cheese

about 3/4 cup

3/4

teaspoon

freshly ground black pepper

4

leaves

fresh basil
Instructions
Bring 4 quarts water to a boil in a large pot.

Heat the olive oil, lemon zest, shallots, and mushrooms in a large skillet over medium heat. Add the salt and honey and cook until the shallots are softened, about 5 minutes.

Whisk in the milk and let the sauce simmer for 2 minutes.

Cook the pasta in the boiling water as per the package instructions. Reserve a 1/2 cup of the cooking liquid and drain the noodles.

Add the lemon juice to the noodles, tossing them well to combine.

Add the cheese and 1/4 cup of the reserved cooking liquid to the skillet with the shallot-lemon sauce.

Add the cooked pasta and toss it gently until well coated. Add the remaining 1/4 cup of the reserved cooking liquid, if necessary, for consistency.

Divide the dish among 4 bowls and garnish each bowl generously with pepper and fresh basil.
Nutrition
Serving:
1.5
cups
|
Calories:
705
kcal
|
Carbohydrates:
77
g
|
Protein:
21
g
|
Fat:
35
g
|
Saturated Fat:
8
g
|
Cholesterol:
15
mg
|
Fiber:
5
g
Ginger Hultin,MS, RD, CSO
An award-winning, nationally recognized nutrition expert and media spokesperson.
Thanks for visiting! If you're like me: obsessed with eating, wine, going out and traveling, you're in the right place. Champagne Nutrition® LLC is a Registered Dietitian-run concierge virtual practice helping clients look and feel better. On this blog, you'll find cocktails, mocktails, and plant-based recipes that are easy to make quickly at home and pack for leftovers on your adventures.