Lower Sugar Strawberry Cream Popsicles
Growing up in Seattle, I remember the chilly, rainy days. 4th of July pouring rain. Camping with blue tarps because it was…pouring rain. Cool, cloudy days – if it ever reached 80 degrees+, everyone would be out celebrating. 30+ years later things have changed. It's regularly in the 80's, 90's, and even 100's (with a record breaking 112 degree day this year!) and we're in a massive drought, too. Summer in the Pacific Northwest now requires some of the strategies that I usually associated with other parts of the country. Part of that strategy is using the oven and stove yet and making sure to keep cooling recipes on hand. Enter my favorite new recipe of the season:Lower Sugar Strawberry Cream Popsicles. You don't need to buy popsicles any longer because you can make your own at home in minutes, you can make them exactly the way you like them and you can boost the nutrition in them, too.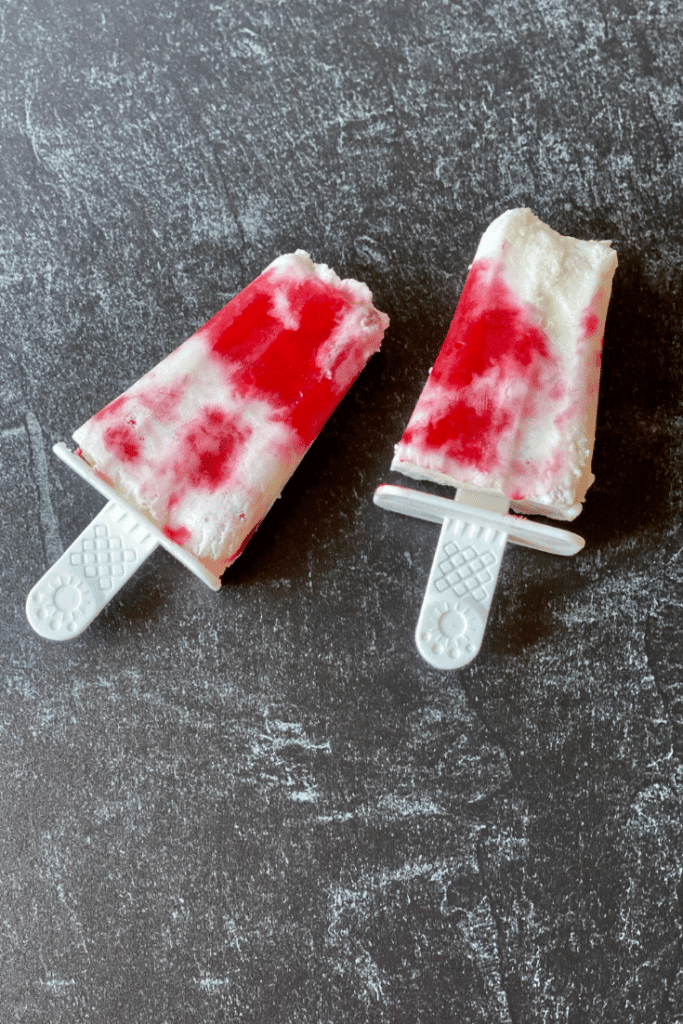 Why I Love Frozen Desserts
Year round, frozen desserts deserve a place in our sweets rotation. I love keeping frozen treats on-hand and even if you don't eat them frozen like theLower Sugar Strawberry Cream Popsicles, you can keep things in the freezer for ease. For example, I keep cookie dough frozen so that I can take off a piece at a time and make 1-2 cookies rather than an entire batch. A couple of my favorite frozen treats (aside from this new recipe!) are my green tea frozen yogurt cups and my banana split vegan ice cream.
Health Benefits of Strawberries
Strawberries are uniquely incredibly rich in vitamin C which is an important antioxidant for the body. It is a precursor to collagen so its good for the skin and wound healing and also plays a role in keeping a strong immune system. Because they're colored so brightly, that indicates the presence of special antioxidants only found in red fruits and veggies. These have anti-inflammatory and antioxidant effects.
Ice Cream vs Sorbet
I made this recipe with ice cream – a really lovely, rich vanilla bean variety but you've got lots of options here, too! Use plain vanilla, French vanilla, or vanilla bean. To cut the dairy complete, try a sorbet instead. I have a new article out that explains the difference here in All Recipes.
You could also get creative with other flavors if you wanted to. Consider a coconut cream, a strawberry on strawberry or even something creative like pistachio for fun flavor and color combinations. The sweetness in this recipe comes solely from the ice cream or sorbet so whichever you choose will serve as the flavor base for the Lower Sugar Strawberry Cream Popsicles.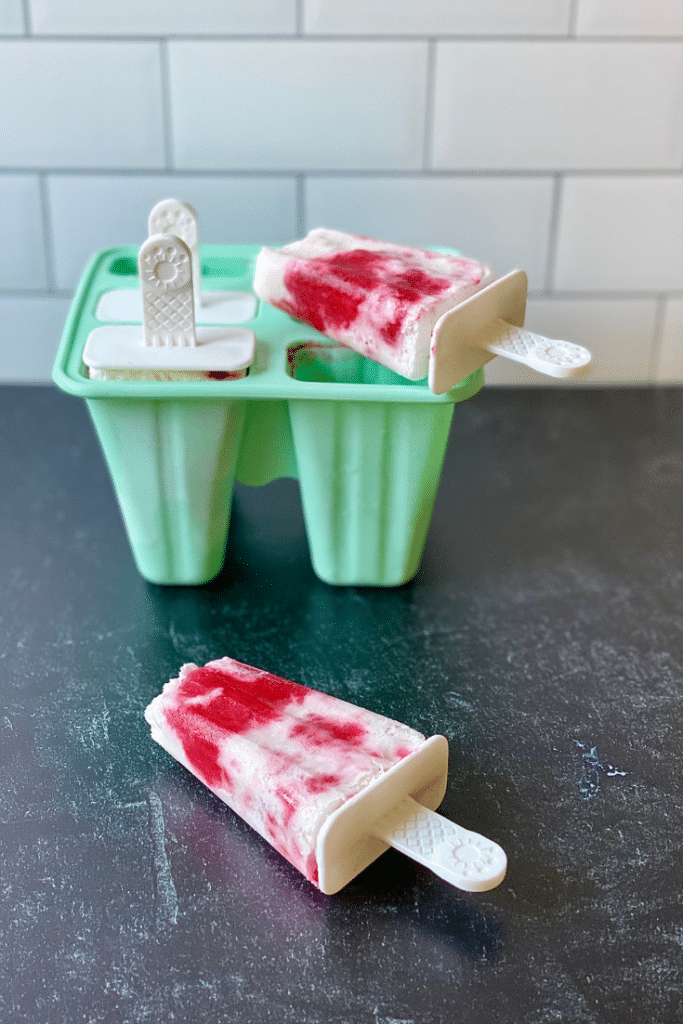 Making The Lower Sugar Strawberries and Cream Pops
These are seriously easy to make and you can mix them up with different types of cream filling that suits your dietary needs as well as different mix-ins for flavors and colors. These would be really fun to make red, white and blue for the 4th of July! I cut all the added sugar in this recipe because I like the idea of the tart berries shining through but if you want to, you can add a couple teaspoons of sugar or syrup to the compote mixture as you're making it. That will make it a little bit more sweet and a little bit less tart. The beauty of these Lower Sugar Strawberry Cream Popsicles is that you can make them your own.
The Strawberries
Though you can make these Lower Sugar Strawberry Cream Popsicles with any type of berries, I strongly suggest strawberries. They pair so well with the creamy texture of ice cream or sorbet and it's a perfect sweet/tart balance. Alternatively, you could add blueberries for a beautiful purple color and if you use blackberries or raspberries, I do suggest you consider adding a little extra sweetness since they're a touch more tart.
Whether you're growing your own strawberries, you get them at a local farmers market or you pick them up at the store, fresh adds a nice, vibrant flavor and they're easy to work with, prepping quickly. If you'd rather use frozen, that's fine, too. Frozen foods maintain their nutrition very well and are often more affordable, too.
The Ice Cream
There are a lot of options here for you – ice cream, sherbet, sorbet, or even frozen yogurt. If you're using a frozen yogurt or a regular yogurt that you've frozen, you may need to add a little more sugar to the berries (or the yogurt) as it may end up too tart. Yogurt has the added benefit of having gut healthy probiotics so that could be a really nice food to add for good digestion. 
The Molds 
I got these little molds online for a very affordable price. Look for 6 that come in a pack and that are silicone or flexible so you can easily push the popsicles out when they're done. These molds are worth the cost because you'll use them over and over, all summer long. 
You have to let me know if you try these Lower Sugar Strawberry Cream Popsicles!
Lower Sugar Strawberry Cream Popsicles
Healthy frozen pops are easy to whip up in minutes if you've got a mold and just 3 simple ingredients.
Print
Pin
Rate
Ingredients
1

pound

strawberries, hulled and quartered

*about 20 medium-sized berries

2

teaspoons

fresh lemon juice

1 1/2

cup

vanilla ice cream or sorbet
Instructions
Combine the strawberries and lemon juice in a medium saucepan and cook it over medium heat, stirring until the fruit has broken dow and is very soft, 8-10 minutes.

Transfer the fruit mixture to a mixing bowl and refrigerate it uncovered until it's completely cooled, about 30 minutes.

While the fruit is cooling, set the ice cream or sorbet out on the counter to soften for a few minutes (5-10) at room temperature. You want it to be soft and workable but not liquid.

Pour a tablespoon of fruit in the bottom of one of six, 3oz popsicle molds then add 2 tablespoons of softened ice cream or sorbet and alternate the fruit and ice cream in layers until they're full.

Insert the popsicle sticks and freeze them until they're solid, at least 6 hours, or up to 3 weeks.
Ginger Hultin,MS, RD, CSO
An award-winning, nationally recognized nutrition expert and media spokesperson.
Thanks for visiting! If you're like me: obsessed with eating, wine, going out and traveling, you're in the right place. Champagne Nutrition® LLC is a Registered Dietitian-run concierge virtual practice helping clients look and feel better. On this blog, you'll find cocktails, mocktails, and plant-based recipes that are easy to make quickly at home and pack for leftovers on your adventures.