If you've got a big party to go to, you're going to need a cocktail you can make in bulk. I usually think about a large pitcher or a blender. If you're working with ice and you've got to blend it up anyhow, my favorite thing to do is to make a big batch then grab the blender pitcher and walk around topping everyone off with their drink! But if I'm serving drinks, it's not going to be a thousand-calorie cocktail like a traditional Piña Colada. Instead, I made a lightened up version that includes a delicious, cinnamon component for this Piña Horchata Colada.
If you're unfamiliar with Piña Coladas, they're a pineapple-coconut rum drink. They remind me of Hawaii and they're so delicious. You'll blend pineapple juice and fruit with light rum (not dark) with some coconut cream and ice. Garnish it with a big old slice of pineapple and you've got a beverage for the pool or beach. That's the basic way to make it but like every cocktail, there are a lot of versions. Many of them may have a lot of added sugar or an amount of coconut cream that could exceed your saturated fat intake for the day. And that's ok sometimes! If you like Piña Coladas (lol that song…), then have one. And if you want to sip on them all afternoon, then I've got a lightened-up version for you here on the blog.
How to Change Your Cocktail
This picture is of me and a wonderful fellow registered dietitian, Erica Mouch, enjoying our Piña Horchata Coladas. It was so much fun making these, sharing them with everyone at the party were were at, and shooting pictures of this beautiful drink. You can get very creative with Coladas and frozen beverages of every kind as far as the garnish. Make sure to take the time to slice up some extra fruit or use some herbs or spices as a garnish so it feels extra special.
A lot of my clients have some pretty complex health issues. Just because you have health issues doesn't mean that you're not healthy, but some common themes that I work with people on is cutting back on saturated fat and added sugar in the diet to help control blood sugar levels or diabetes or lower cholesterol (especially that pesky LDL). For this reason, I use a lower fat "lite" coconut milk. You still get that delicious flavor but with much fewer grams of saturated fat. If these things aren't a concern for you then absolutely feel free to use full fat or a different kind of milk if that's your preference. You could add more sweetness to taste, as well. I've got a lot more details below for variations that suit your needs and taste.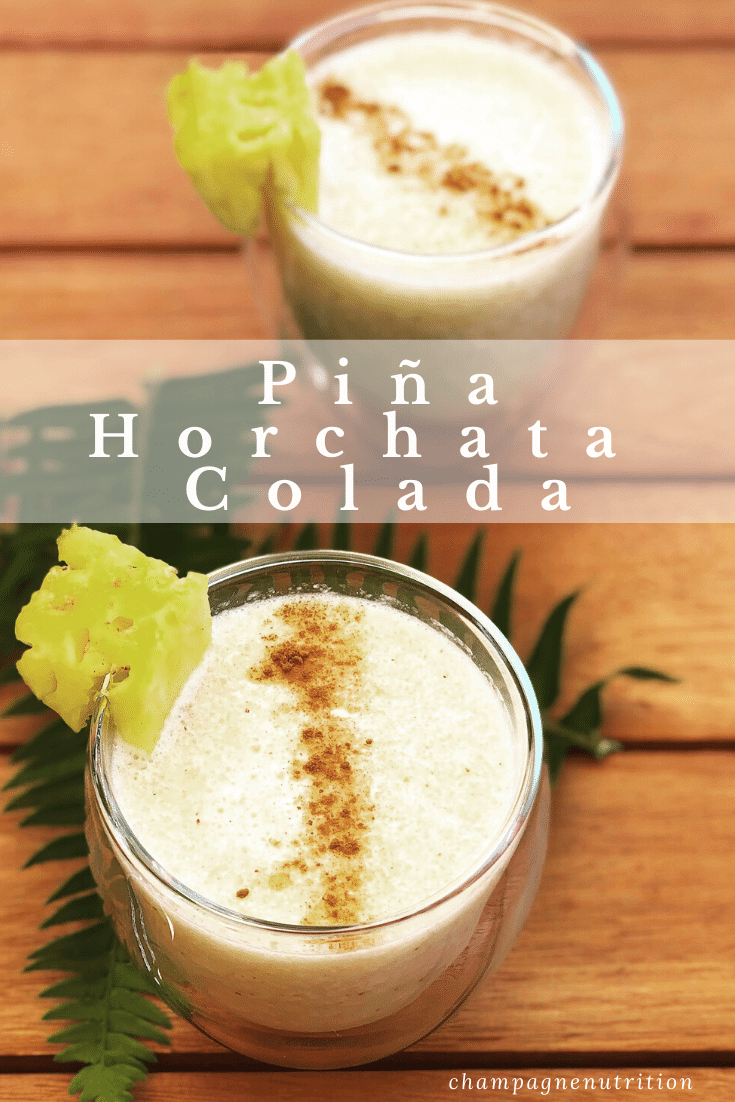 Making the Piña Horchata Colada
Horchata
This recipe is a little bit more complex than I usually make because there's multiple steps and an overnight soak. It still is very hands-off, actually, with no actual heat cooking involved. You will need a blender, however. What you do to make this horchata is blend the rice, dates, cinnamon sticks, vanilla, water, and milk in a blender then either keep it in the blender or transfer it to a bowl, cover it, and soak it overnight. Easy!
I recommended unsweetened soy or oat milk in this recipe. They're a little higher in fat content so they're creamy and have a really nice texture. You could use almond milk but it's a bit thinner with no real protein content. You could also use dairy milk – it's up to you!
If you don't have 12 hours, then you can soak it for more like 6-8 and it will still turn out fine. Once you're done soaking, then you'll blend it all up again and it will get much more incorporated. Strain it through a sieve to remove any large, woody chunks of cinnamon then rinse out your blender and pour it all back in. Again – so easy and no heat required.
Piña Horchata Colada
Once the horchata is done and in the blender, then you'll just add the rest of the ingredients, blend and serve. Toss in the pineapple (really make sure it's a very ripe pineapple or else it won't have the right amount of sweetness), the coconut milk, maple syrup, rum and ice. Blend it up, divide it into glasses and add those beautiful garnishes! This is such a crowd-pleaser.
You can add more or less maple syrup if you'd like. You can also use regular white or brown sugar (or a mix!). White rum really is the best in this Piña Horchata Colada I think but you could also use coconut rum like Malibu or dark rum if you prefer it.
I hope that you enjoy this pretty little cocktail! If you like the idea of a healthier cocktail and want some more ideas, you definitely need my healthier margarita and/or Citrus Kombucha Old Fashioned. If you love blended cocktails, check out my 3-ingredient frose and my frozen rumrita.
Piña Horchata Colada
A frosty beverage with an unexpected cinnamon twist that you can make in bulk
Print
Rate
Ingredients
3/4

cup

brown rice

2

large

Medjool dates

pitted

3

whole

cinnamon sticks

broken in thirds

1

teaspoon

vanilla extract

2

cups

water

2

cups

soy or oat milk

unsweetened

1/2

ripe pineapple, peeled, cored and chopped into bite-sized pieces

save slices of the other half for garnish

1

cup

lite coconut milk

1/4

cup

maple syrup

12

fluid ounces

white rum

8

cups

ice cubes

1

teaspoon

cinnamon
Instructions
Place the rice, dates, cinnamon sticks, vanilla extract, 2 cups of water, and 2 cups of non-dairy milk (use dairy if you like!) in a blender and pulse until the rice is chopped up and incorporated into the liquid (1-2 minutes). Place the mixture in a bowl or pitcher, cover and let it soak in the refrigerator overnight.

Blend the rice mixture in the blender again, pureeing it until it's smooth (1-2 minutes). Strain the mixture into a separate bowl with a fine mesh sieve to remove larger chunks of rice and the cinnamon sticks. Rinse the blender to remove any additional leftover debris then pour the mixture back in the blender and add the pineapple, coconut milk, maple syrup, rum and ice. Blend the mixture until it's smooth and frothy (about 30 seconds).

Pour into 8 rocks-glasses and garnish with slices of pineapple and a dash of cinnamon each.
Ginger Hultin,MS, RD, CSO
An award-winning, nationally recognized nutrition expert and media spokesperson.
Thanks for visiting! If you're like me: obsessed with eating, wine, going out and traveling, you're in the right place. Champagne Nutrition® LLC is a Registered Dietitian-run concierge virtual practice helping clients look and feel better. On this blog, you'll find cocktails, mocktails, and plant-based recipes that are easy to make quickly at home and pack for leftovers on your adventures.