Pomegranate Chia Pudding with Amaretto Aquafaba Whip
Butter. Cream. Chocolate. Buttermilk. Cream cheese…..desserts are amazing and an important part of the joy of eating but they're often really weighed down with saturated fat and a lot of added sugar. Don't get me wrong; there's always wiggle room in a balanced diet for a treat here and there but one of my greatest joys as a registered dietitian is creating those amazingly decadent and delicious foods that also support your health and wellness. Recipes like Pomegranate Chia Pudding with Amaretto Aquafaba Whip do just that…offer a flavorful, rich-tasting dessert but also leaves you feeling full and satisfied yet energetic after enjoying it.
I've found that people are completely intrigued by chia seed pudding. This isn't my first recipe, either – I have a really popular chocolate chia seed pudding, tropical mango chia parfait and a vanilla, almond, coconut variety already up on the blog. This healthier pudding is also included in my Anti-Inflammatory Diet Meal Prep book and that's where it's caught the most attention. Perfect for meal prepping ahead of time and perfect for calming and supporting the body, chia seeds are an incredible source of nutrition and fun in the kitchen, too.
Tiny, crunchy chia seeds become mucilaginous in liquid and so they take on a pudding consistency like tapioca or rice pudding. They're high in protein, packed with fiber, and contain health, anti-inflammatory omega-3 fats to help your heart, your brain and your skin.
Paired with bright, crunchy pomegranate arils, this is a really fun recipe to make around the holidays when desserts are super heavy and you're looking for something a little lighter but still very festive. Pomegranates contain antioxidants like vitamin C as well as potassium, folate and vitamin K in addition to a great fiber content.
I can't make a holiday recipe without having a little fun with booze, though…you know me. In an attempt to keep this recipe vegan and devoid of saturated fat, I created some festive whip out of aquafaba. That's right – the juice from a can of chickpeas. But don't worry, just like my famous black bean brownies, you'll never know the origin is beans. I added real amaretto for a kick of boozy sweetness. If you're not into that, feel free to substitute almond extract and you'll still get that delicious flavor minus the alcohol.
If you love the idea of lightening up holiday desserts and using vegan options like aquafaba, I have whole vegan baking article here for you to check out.
Pomegranate Chia Pudding with Amaretto Aquafaba Whip
I need to break down all the potential substitutions for you here and I also want to walk you through making this recipe. First things first, making the pudding. Whisk the chia seeds into the milk, cover the mixing bowl with plastic wrap and stick it in the refrigerator, leaving the whisk in it, because it's very important that you follow the instructions to whisk it after 30 minutes. The chia seeds at the bottom will be sticking together and you need to break them up and coat all the seeds. Whisk them once more after an additional 30 minutes and by then you'll really see it start to thicken. You'll be good to go after about 3-4 hours but alternatively, you can just leave this overnight and it will be ready to go in the morning.
Pomegranate Chia Pudding with Amaretto Aquafaba Whip Subs
Next up, the substitutions. Here are your many options:
the milk
the sweeteners
the flavors and whip
Milk
I chose to use soy milk because it's very neutral and has both a nice richness and good protein content. You can absolutely use dairy milk in this recipe. Because I try to keep this blog mostly vegan-friendly or supportive of those with food allergies, I often use non-dairy milks. My two go-to's for this would be coconut or oat. Both have a higher fat content so they have that creamy texture and they both – but especially soy – have that increased protein. Though chia seeds contain protein, you can bump it up a lot in this recipe with a higher protein milk. Almond or rice milk do not have protein or fat so they'll yield a thinner texture but you can absolutely use them if you want.
Sweeteners
I use maple syrup in this recipe because it's a nice, subtle flavor and it's vegan-friendly. Alternatively, you could use agave syrup or even just some regular sugar. I do like how easily a liquid product absorbs into this recipe, however, so that's my suggestion to you. If you want to, you could use honey but because it comes from bees, it's not considered vegan.
I try to keep my sweetener content low in these recipes so you could adjust it to be more or even less. That's up to you! I haven't tried it but I'm sure you could do monk fruit or stevia in this recipe as well. Let me know if you try that. If you use amaretto in the whip, that's sweet as well so you may want to experiment with reducing the sweetener in the parfait base. That's how I usually do it.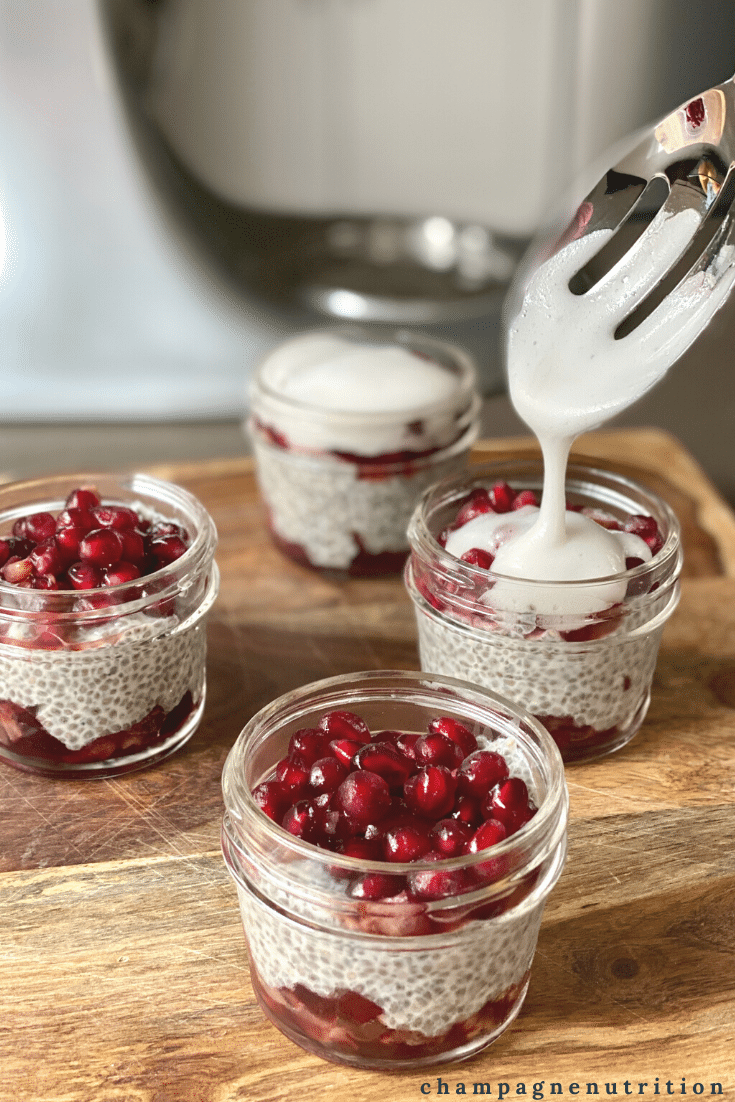 Fruit and Flavor
Instead of pomegranate arils, berries would be delicious and add different antioxidants. You could chop up nuts for more heart-healthy fat and more protein plus that added crunch. Try pistachios, almonds, hazelnuts or walnuts. Coconut flakes would be fun, too and would pair well with the other flavors. You can eliminate or reduce the amount of vanilla used. You could add cocoa to make it chocolatey. You could also add a dash of cinnamon, cardamom, or nutmeg for more depth of flavor.
There's actually no sugar at all in the pudding because the whip is so sweet. If you're not making the whip, consider adding a teaspoon of maple syrup or agave to the pudding itself.
Other Recipes 
I've got more for you! If you love the idea of this healthier dessert, try my vegan chocolate mousse or my vegan strawberry rhubarb cheesecake that is a complete winner.  You can see how I do chia in granola with my cranberry almond chia granola recipe. So many options! Please let me know if you try them. Enjoy!
Pomegranate Chia Pudding with Amaretto Aquafaba Whip
Vegan, delicious, slightly sweet and a little boozy if you use real amaretto!
Print
Pin
Rate
Ingredients
1/4

cup

chia seeds

1

cup

unsweetened soy milk

1

teaspoon

vanilla extract

1 1/2

cups

pomegranate arils
Amaretto Aquafaba Whip
1

15.5 oz can

chickpeas, liquid separated from the beans

1

teaspoon

cream of tartar

1/2

cup

powdered sugar

1

teaspoon

amaretto

non-alcohol substitution, 1/2 teaspoon almond extract
Instructions
Combine the chia seeds, soy milk, and vanilla in a small to medium mixing bowl with a whisk then cover it and set it in the refrigerator for 30 minutes. Stir it well as it starts to thicken then keep it covered in the refrigerator for at least 3 hours. Overnight works well, too.

When the chia pudding is firm, assemble the mini mason jars or small bowls by placing a layer (about 1-2 tablespoons) of pomegranate arils on the bottom of each then topping with about 1/4-1/3 cup of chia pudding then topping with another 2-3 tablespoons of arils.

Right before serving, prepare the whip by pudding the chickpea liquid in a large mixer and beating it for 5 minutes until it starts to froth. Add the cream of tartar and continue whipping for another 4-5 minutes until it really starts to thicken. Add the powdered sugar while whipping and when the peaks are stiff and it looks like whipped cream, add in the amaretto and whip it for another 1 minute.
Ginger Hultin,MS, RD, CSO
An award-winning, nationally recognized nutrition expert and media spokesperson.
Thanks for visiting! If you're like me: obsessed with eating, wine, going out and traveling, you're in the right place. Champagne Nutrition® LLC is a Registered Dietitian-run concierge virtual practice helping clients look and feel better. On this blog, you'll find cocktails, mocktails, and plant-based recipes that are easy to make quickly at home and pack for leftovers on your adventures.