Rosé Poached Berries with Honey and Vanilla
Looking for a dessert filled with antioxidants that also have great health benefits? I've got you covered. My Rosé Poached Berries with Honey and Vanilla is a beautiful, fresh-tasting, and healthy(ish) dessert that you can make any time of year. Definitely flag this one because I know it's going to become one of your staples. It's a really fun way to incorporate the hottest trend of rosé wine into a sweet treat. When you cook with wine, you get a really wonderful contrast of flavors and nice acid that elevates the entire dish. 
What makes Rosé Poached Berries with Honey and Vanilla a great dessert?
What I love about this recipe is that it's a perfect combination of sweet, tart, and healthy which is exciting and satisfying to the palate. It is very easy to make and since it uses just 2 cups of rosé, you'll have some left for sipping. The acidity of the wine adds a complexity here to the sweet berries and real vanilla beans make it seem even more decadent. While this is a wonderful dessert for adults, you may need to adapt it to kids because, though the poaching burns off the alcohol, sometimes they're not into the flavor of wine like adults are. 
If you DO need some kid-friendly recipes, definitely check out my vegan strawberry rhubarb mason jar cheesecakes, vegan lemon curd, or my vegan haystack cookies. 
Meal Prep Your Dessert
Don't spend extra time making dessert! Rather just make it while you're already in the kitchen putting dinner together. For ease of my evening, I put the liquid in this recipe on the burner while I was making dinner. Once the sauce is made, you simply add the berries and then set them aside to cool. This is a perfect hands-off dish that you can multitask. 
I served it over a dollop of Siggis yogurt for some protein and tartness and then put a scoop of very lightly sweetened whip cream on top. It's an amazing treat for the end of your meal for you and your loved ones. I like to serve my desserts in small little dishes that are beautiful and delicate. When you do that, I think guests tend to pay more attention and to treat it like what it is: something special. Also, it's an exclamation point to the end of your main course.
Dessert can be Healthy AND Delicious 
This dessert is balanced. It's loaded with minerals, vitamins, and antioxidants from honey and berries. Protein from the yogurt and fat from the whipped cream leaves you feeling satiated after eating; a perfect exclamation point to your meal. 
The Berries
You can use fresh or frozen berries for this recipe, whichever is most convenient for you. Berries are known for being low in calories, loaded with antioxidants, high in fiber which is good for your digestive health and helps you maintain your weight because it's so filling and satisfying. It has vitamins and minerals which are great for your skin – think vitamin C which is a precursor to collagen for elasticity. Antioxidants are substances that help prevent or slow down the damage to cells caused by free radicals. 
The Honey
Similar to berries, honey contains antioxidants and even a trace of some minerals such as calcium and magnesium. From ancient times up until now, honey has been known for its medicinal properties such as wound healing, constipation, and beating fatigue. It is used not only as a nutritional product but could also be described as an alternative treatment for clinical conditions in the natural medicine world.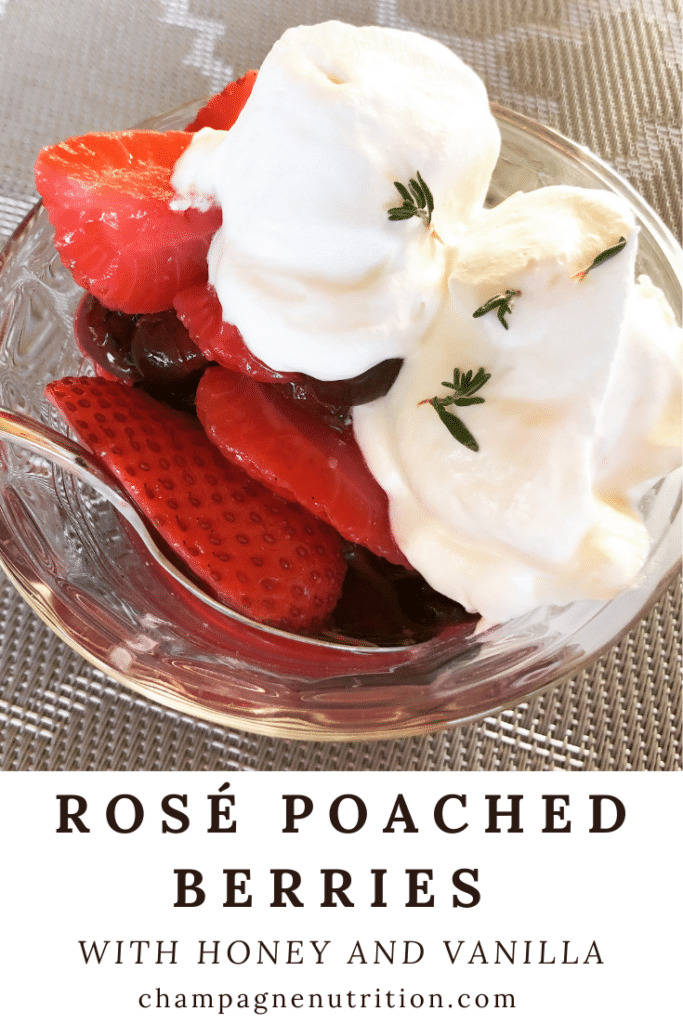 Making the Rosé Poached Berries with Honey and Vanilla
Before making this dessert, I made sure I had all the ingredients I needed. The way I cook, I love to lay everything out so it's ready to go. I got my blueberries and strawberries (frozen or fresh both work for this recipe), 2 cups of rosé, my honey, thyme, and vanilla bean pods. Vanilla bean pods can be expensive but they're worth it for the wonderful flavor in this recipe and a little goes a long way. 
I mixed the rosé, honey, and thyme into a medium saucepan and then let the solution cook on medium heat for 12-15 minutes. You want it to thicken up so it's pourable and like a syrup so keep an eye and don't let it burn or get too hot. During this process, the alcohol burns out of the wine so it leaves the flavor but not the booze.  
Once the solution is syrupy, slice the vanilla bean pods in half and scrape the seeds out, adding them and the pods into the wine mixture. This helps really infuse that robust flavor that you're looking for. Let this delicious mix sit for about 2 minutes to really allow the flavors to mingle. Let the mixture cool completely. You can prep this ahead of time and set it in the fridge for up to two days. Alternatively, you could use it after 1-2 hours. 
Before you're ready to serve the Rosé Poached Berries with Honey and Vanilla, be sure to remove the vanilla pod (that's not edible) and the actual thyme sprigs that are woody (the leaves are totally fine). I love serving this over yogurt (for a lighter dish) or ice cream. Vanilla flavor adds a nice contrast to the berry mixture.
Rosé Poached Summer Berries with Honey and Vanilla
Enjoy the robust flavors in this really simple, delicious dessert served over yogurt or ice cream.
Print
Pin
Rate
Ingredients
2

cups

dry rosé wine

2

tablespoons

honey

2

thyme sprigs

1/2

vanilla bean pod

1

pound

fresh strawberries, hulled and halved

1/2

cup

fresh blueberries
Instructions
Bring the rosé, honey and thyme to a light boil in a small/medium saucepan.

Reduce the heat to medium and cook until the solution is syrupy and reduced to about 1 cup. (12-15 minutes)

Split the vanilla pod in half lengthwise with a knife and scrape the seeds into the wine mixture. Add the pod as well.

Stir in the berries then reduce heat to low. Let it cook for 2 minutes so the flavors are incorporated.

Remove the pan from the heat and pour it into a bowl to cool completely. Remove the vanilla pod and thyme sprigs.

Serve over yogurt, ice cream, chia pudding or angel cake.
Ginger Hultin,MS, RD, CSO
An award-winning, nationally recognized nutrition expert and media spokesperson.
Thanks for visiting! If you're like me: obsessed with eating, wine, going out and traveling, you're in the right place. Champagne Nutrition® LLC is a Registered Dietitian-run concierge virtual practice helping clients look and feel better. On this blog, you'll find cocktails, mocktails, and plant-based recipes that are easy to make quickly at home and pack for leftovers on your adventures.