Dried Cherry, Pistachio and Almond Granola
Granola is one of those foods that has the potential to be a nutrient dense and healthy choice, but often is a secretly unhealthy food when bought pre-made in the store. If you read the label on a package, you'll notice a very high amount of calories, fat, and added sugar, but don't lose heart. My Dried Cherry, Pistachio and Almond Granola is the perfect alternative to store bought varieties. 
The great thing about this homemade granola is that it is packed with nutrients and flavor, has that crunchy texture you love, and is perfect for breakfast, snacks, or pre/post workouts. This is a quick and easy meal-prep food that will have you ready to tackle your week while staying properly fueled and nourished.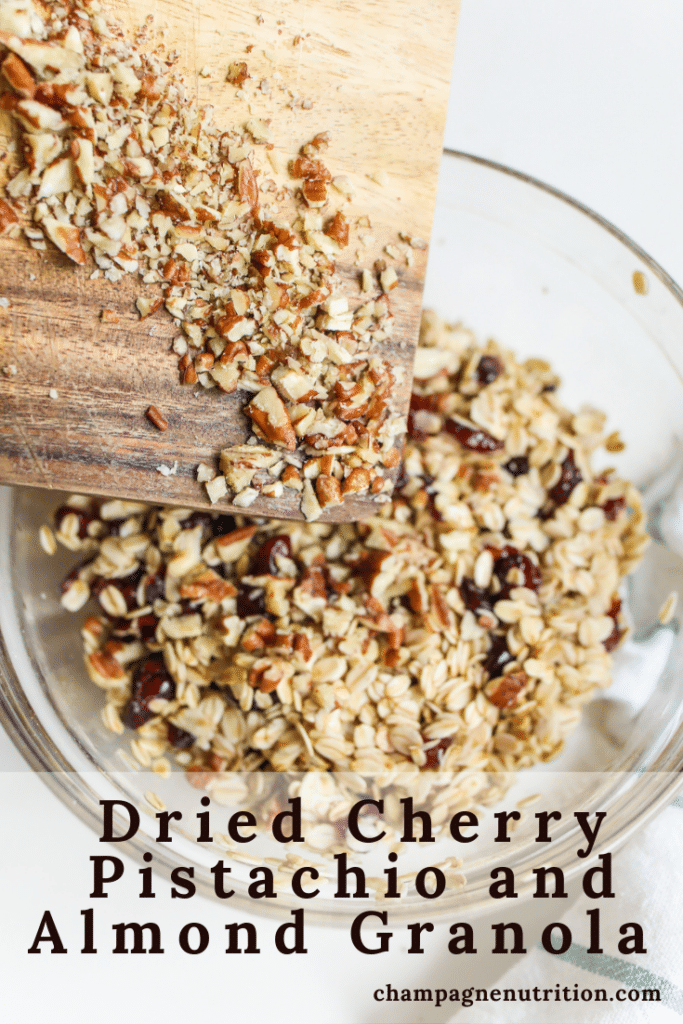 Health Benefits of Granola
Granola has a base of whole grain oats and includes delicious treats like nuts, seeds, and dried fruit. It requires some sort of binder in the form of fat (oil) and a sweetener (often maple syrup or honey). When you make your own, you have more control over the amount of fat and sugar added – and you get to pick your favorite combination of fruit, nuts, and other ingredients.
Oats are a nutrient dense, whole grain that are a good source of fiber and have adequate amounts of vitamin B6, iron, magnesium, zinc, and copper. Oats contain beta-glucan, a type of soluble fiber, which has been linked to reduced cholesterol levels, better blood sugar control and insulin response, and increased feelings of fullness.
Cherries contain fiber, vitamin C, and potassium. They are rich in antioxidants that help to reduce inflammation and help protect against chronic diseases, like heart disease, diabetes, and certain cancers. They offer just the right amount of tart to compliment the sweet and nutty flavor of this granola.
Pistachios are  packed with vitamin B6 which the body needs to turn food into energy. They also contain adequate amounts of protein, fiber, and contain other minerals like potassium. Some studies also indicate that pistachios may aid in lowering cholesterol and blood pressure when eaten regularly.
One of the best sources of vitamin E, almonds are also high in healthy monounsaturated fats, fiber, and other important nutrients like magnesium. The high magnesium content of almonds may help lower blood pressure levels. Did you know that almonds and cherries are technically related to each other and come from the same family? This is why their flavors pair so nicely together.
The trick when using maple syrup is to make sure you are using pure maple syrup rather than maple-flavored syrup that is loaded with refined sugar and high-fructose corn syrup. In contrast to table sugar, maple syrup contains minerals and antioxidants like zinc, manganese, and iron. Like all sugars, you still want to consume in moderation. The maple syrup in my Dried Cherry, Pistachio and Almond Granola, offers just the right amount of sweetness while not being overpowering.
Making Dried Cherry, Pistachio and Almond Granola
Making  your own granola literally takes about five minutes (plus cooking time) and you can easily modify the recipe based on the ingredients you have on hand. Once you pop it in the oven, use that time to prep other recipes for the week or chop up your fruits and veggies so they're ready to go. 
To start, preheat the oven to 350° F. Then combine the oats, nuts, coconut flakes, spices, maple syrup, oil, and unsweetened dry cherries in a big mixing bowl. 
If you're looking for ingredient swaps, you can substitute honey for maple syrup. This is a simple way to make the recipe vegan. 
The dried cherries can be swapped for your favorite dried fruit, such as raisins, apricots, or cranberries. I recommend finding dried fruit sweetened with apple juice rather than sugar or corn syrup. 
If you don't like almonds or pistachios, try using pecans, cashews, or walnuts instead. You could even get creative with hazelnuts or peanuts, or sesame, pumpkin, or sunflower seeds. You will have a slightly different flavor with each one, but any of these will still be delicious!
Once you're finished combining all the ingredients, bake in the oven for about 30 minutes and then let cool before indulging in this granola treat or save for later for a quick breakfast or snack on the go. This simple recipe is a fun one to make with children. Plus, the Dried Cherry, Pistachio, and Almond Granola is a great holiday or birthday gift for friends, family, or co-workers. Serve on top of chia pudding, a smoothie bowl, or your favorite yogurt. If you're looking for more recipes like this one, check out my ​​Cranberry Almond Energy Bars, Healthy Oatmeal Raisin Energy Bites, and Cherry Almond Energy Oat Balls.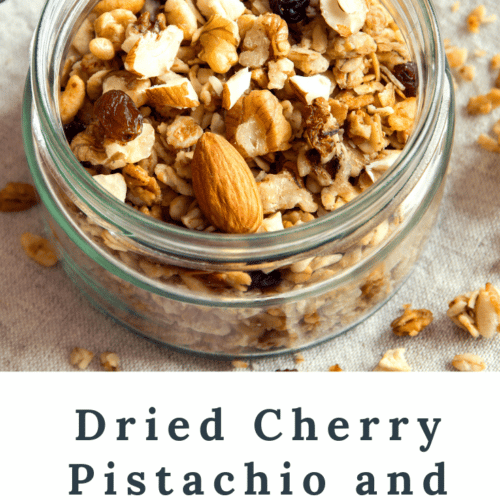 Dried Cherry, Pistachio and Almond Granola
You'll make this simple, hearty granola over and over because it's so easy to mix in a bowl and then simply bake on a sheet. You've got snack or breakfast set to go for the week!
Print
Pin
Rate
Ingredients
4

cups

old fashioned rolled oats

1

cup

slivered almonds

1

cup

shelled unsalted pistachios

1

cup

unsweetened shredded coconut flakes

1

teaspoon

ground cinnamon

1/2

teaspoon

ground cardamom

1

teaspoon

salt

3/4

cup

maple syrup (you can sub honey if desired)

1/2

cup

canola or sunflower oil

3/4

cup

unsweetened dried cherries

sub dried cranberries (raisins or chopped apricots if desired
Instructions
Position a rack in the center of the oven and heat the oven to 350° F.

Line a large rimmed baking sheet with parchment paper or a silicone liner.

In a small bowl, mix together the maple syrup and oil. Then fold into the dry mixture.

Spread the mixture onto the prepared baking sheet.

Bake for 15 minutes, stir, and then bake for an additional 15 minutes. Granola should be slightly browned but monitor it closely so it doesn't burn.

Cool granola for 15-20 minutes, then transfer to a large bowl and stir in the dried cherries and serve. Store leftovers in an airtight container for up to one month. It also freezes well.
Ginger Hultin,MS, RD, CSO
An award-winning, nationally recognized nutrition expert and media spokesperson.
Thanks for visiting! If you're like me: obsessed with eating, wine, going out and traveling, you're in the right place. Champagne Nutrition® LLC is a Registered Dietitian-run concierge virtual practice helping clients look and feel better. On this blog, you'll find cocktails, mocktails, and plant-based recipes that are easy to make quickly at home and pack for leftovers on your adventures.