5-Minute Classic Guacamole Recipe
Guacamole is one of those delicious and quick recipes that is great all year round. Whether you are looking for a fun snack for kids or an appetizer for a party, my 5-Minute Classic Guacamole Recipe is sure to be a crowd pleaser. It has just the right amount of added herbs and spiciness to have your taste buds rejoicing! I really love making this all year-round and it creates a perfect snack for your busy work day or for kids after school. 
Unlike other dips that are often high in saturated fat and calories, guacamole is a nutrient packed dip that is rich in healthy fats, especially monounsaturated fats (MUFAs). While this dip is often eaten with tortilla chips, my 5-Minute Classic Guacamole Recipe can also be served as a dip for an assortment of your favorite vegetables.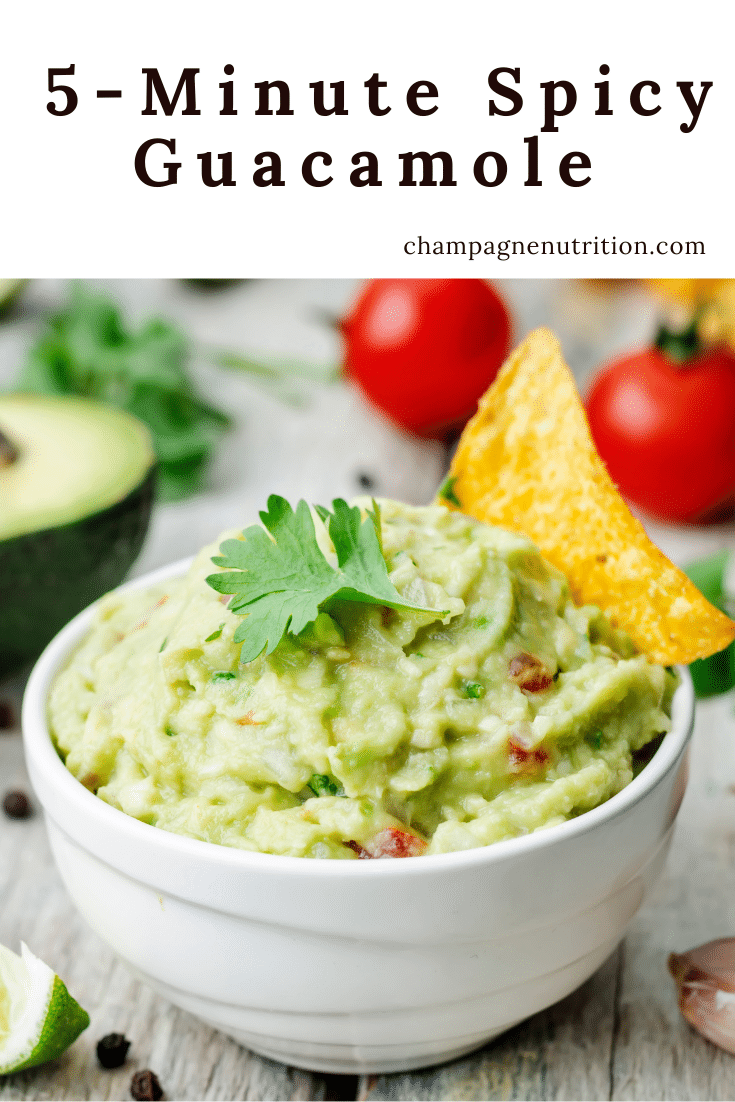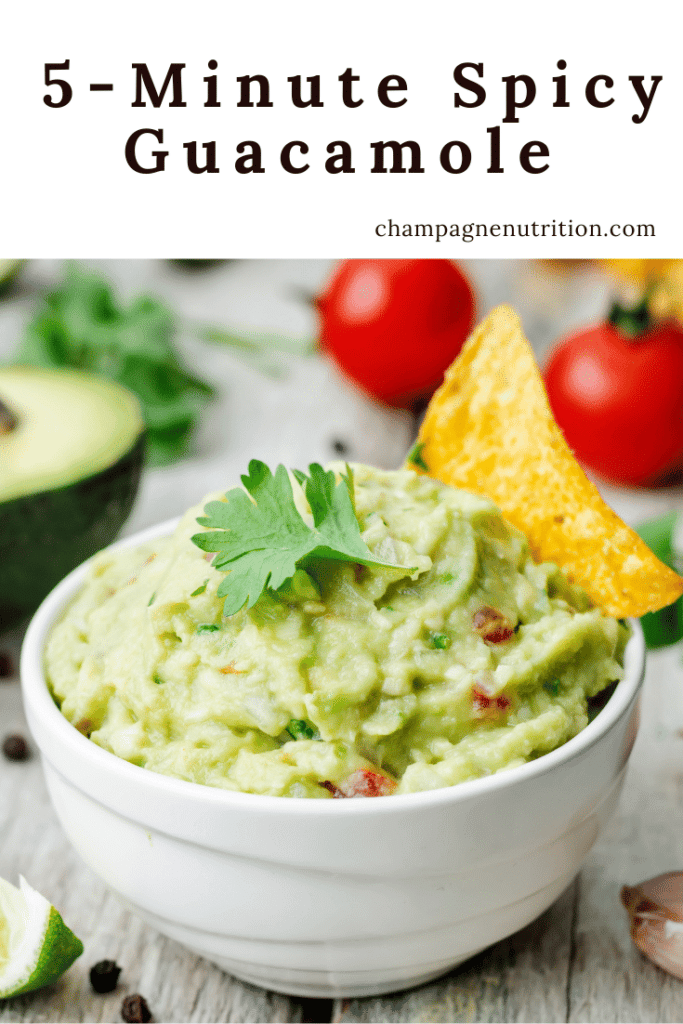 Health Benefits of Guacamole
Avocados are the core ingredient in guacamole and are often praised for their nutritional value. Along with avocados, tomatoes, cilantro, garlic, and lime offer delicious flavor components and nutritional properties.
Avocados are a nutrient dense fruit that have an impressive nutrient profile. They are high in heart healthy fats, particularly monounsaturated fatty acids (MUFAs). They are also very high in potassium which can help reduce blood pressure. Avocados are also loaded with fiber as well as other vitamins like vitamin K, vitamin C, and vitamin B6. Many research studies show that eating avocados regularly along with a plant-based diet can help reduce cholesterol and reduce blood triglycerides levels. Avocados are also high in antioxidants like lutein and zeaxanthin that support eye health. Because of the high fat content in avocados, they have a rich and creamy texture that pairs well with many ingredients, like my Simple Spicy Guacamole. 
Tomatoes are a good source of various vitamins and minerals like vitamin C, vitamin K, and potassium. They contain the antioxidant lycopene which has been linked to heart health as well as protection against certain types of cancers. Plus, their bright, red color contrasts nicely with the green of the avocado in this recipe.
Fresh cilantro, also known as coriander leaves in other parts of the world, is rich in several antioxidants like terpinene, quercetin, and tocopherols. These compounds help support the immune system, fight inflammation, and may have anticancer properties. Some studies show that the oil extracted from the cilantro plant may help with digestive symptoms like bloating. 
Garlic brings so much flavor to dishes and my guacamole is no different. Not only does it have an amazing depth of flavor, it also has health benefits. Garlic contains antioxidants that help protect the body from disease. High doses of garlic have also been shown to help reduce total cholesterol levels in the body and improve hypertension (high blood pressure). 
Limes are a citrus fruit that are rich in vitamin C which helps support a healthy immune system, is necessary in wound healing, and aids in the absorption of iron. Because of the tart flavor of limes, they are often used in cooking rather than being eaten on their own.  
Making the Classic Guacamole Recipe
One of the best parts about this recipe is that it can be made in 5 minutes! To start, slice the avocados in half, remove the pit and then add the avocado to a large bowl. Next, you are going to pour the lime juice over the avocado and add the salt, pepper, and cumin. To combine the ingredients, use a masher or a fork, mash the avocados to combine the ingredients. Continue mashing until you have the perfect "dipping" consistency. Fold in the tomato, garlic, jalapeno pepper, and garlic then you are ready to serve your 5-Minute Classic Guacamole Recipe. 
Easy Swaps
If you aren't into spicy, you can omit the jalapeno pepper or reduce to half of the original quantity called for. For some people, cilantro can have a soap-like flavor which research indicates is probably due to genetics that have to do with olfactory-receptor genes. If you're one of those people, you can omit the cilantro and still enjoy my 5-minute Spicy Guacamole.
Serving and Storing
When an avocado is exposed to oxygen or air, the flesh of the avocado goes through a chemical process called oxidation, which results in the avocado or in our case guacamole turning brown. While brown guacamole is not the most appealing, it's completely safe to eat for up to three days if it has been stored in the refrigerator. With that being said, I suggest enjoying my 5-minute Spicy Guacamole shortly after preparing so you can enjoy the delicious flavor and beautiful appearance.
If you are going to store the guacamole for a couple days, here is what I recommend. In a container, pat the guacamole down so it creates a flat surface. Then, pour a very thin layer of water over the guacamole. This helps create a barrier between the guacamole and the air. Using plastic wrap, cover the guacamole making sure the plastic wrap is flat in order to prevent air from entering. Store in the fridge until you are ready to eat. Before eating, remove the liquid from the top, stir the guacamole, and enjoy!
Need More Dip Ideas?
Don't forget to make my Easy Vegan Herb Dip, Kalamata Olive and Basil Tapenade, or my No-Bake Spinach, Artichoke Herb Dip
5-Minute Classic Guacamole Recipe
Make a simple, healthy guacamole in minutes with this quick, classic recipe full of healthy fat and fiber.
Print
Pin
Rate
Ingredients
3

ripe avocados removed from skin and pit

1

lime, juiced

1/2

teaspoon

salt

1

teaspoon

freshly ground black pepper

3/4

teaspoon

cumin

1

large ripe tomato, diced with seeds removed

1

clove

garlic, minced

1/4

cup

chopped fresh cilantro

1

serrano or jalapeno pepper, diced
Instructions
In a large bowl pour lime juice over avocado slices and toss to coat.

Use a masher or fork to combine salt, pepper, and cumin into avocado and lime mixture.

Mash the avocados completely to the perfect "dipping" consistency.

Fold in tomatoes, cilantro, serrano/jalapeno and garlic. Serve with chips or veggies.
Nutrition
Serving:
0.5
cup
|
Calories:
124
kcal
|
Carbohydrates:
7
g
|
Protein:
1.5
g
|
Fat:
11
g
Ginger Hultin,MS, RD, CSO
An award-winning, nationally recognized nutrition expert and media spokesperson.
Thanks for visiting! If you're like me: obsessed with eating, wine, going out and traveling, you're in the right place. Champagne Nutrition® LLC is a Registered Dietitian-run concierge virtual practice helping clients look and feel better. On this blog, you'll find cocktails, mocktails, and plant-based recipes that are easy to make quickly at home and pack for leftovers on your adventures.