What kind of soup do you have in your recipe rotation? If you feel a bit overwhelmed by all the options out there and you want to know what's healthiest for you, I've got the answer and it's this Simple Vegetable Soup. Naturally vegan (and no, you absolutely don't have to be vegan, vegetarian or even plant-based to make this recipe!), this is easy to make, versatile so you can add or swap ingredients and makes incredible leftovers. You'll forever have a balanced lunch or dinner to grab if you make this soup for meal prep in your week. I'm breaking down all the possibilities below.
Why Soup?
Simple vegetables soup is a really fun recipe to prepare so that you can multitask in the kitchen. While the soup is cooking (follow my step-by-step prep below); you can bake another recipe in the oven, throw together a salad or chop up some fruit and veggies to create easy-to-grab snacks for the week.
Soup like this is very filling because of the high water and fiber content. It's packed with vitamins, minerals and antioxidants to optimize health. Many of these veggies have direct links to eye health, anti-cancer benefits, and cardiovascular, heart-healthy outcomes. If you want to lower your blood pressure or cholesterol, this soup is for you. If you want to support healthy blood sugars and have a balanced meal that won't spike your levels too much at a given time, this is for you.
Once you make this soup, let it cool then portion it into individual containers so you can grab them for the week. They'll last in the refrigerator for 5-6 days. Alternatively, you can package it in an airtight container and store it in the freezer for up to 2 months. When you want to use it, let it defrost in the refrigerator overnight then heat it up on the stove again. Easy! Healthy!
Making Simple Vegetable Soup
You're going to spend a little time on the prep here. First, gather all your veggies. This is such an amazing way to use the vegetables you get in a "CSA" box (those veggie delivery boxes you can order from the farm – I highly recommend!), from the farmer's market or from your regular old grocery store – it's all the same and there's no right answer. I do always suggest supporting our local farmers so if you get the chance to have that experience in your town or city, it's such a great thing to do to support the community.
I suggest chopping everything first. I like to get out a series of small bowls and combine items I'm going to cook together so when I'm ready to cook, it's so easy. Get that onion diced and garlic minced and set it aside together – covered with plastic wrap if needed for the strong odor. Next, chop up the carrots, tomatoes, potatoes, zucchini and squash. You can put those all in a big bowl together because you'll add them together.
At this point, I'd suggest getting the onion and garlic cooking. When that's happening, you can alternate stirring the pot as they cook and prepping the corn and rinsing the beans. If you have time, chop the herbs and set them aside. If not, add all the other veggies to the pot with the broth to get that cooking and then you'll have time to do any final chopping or prep for the soup.
Simple Swaps
The possibilities are really endless here. For example, you can remove any veggies you don't like or add in some that you have on hand. Consider adding in some fresh green peas, peppers, green beans or mushrooms. You could add some spinach at the end for more greens. They'll wilt down to make a delicious addition.
If you want to use a meat-based broth instead of veggie, go for it. You could swap any other type of bean in for the white beans; consider black beans or chickpeas. Finally, feel free to add in more herbs and spices. I suggest fresh dill if you have it. Fresh thyme would also be wonderful. You can add or subtract the amount of black pepper (I just love this flavor so I always use a lot). And finally, some crushed red pepper flakes would be really delicious as a final seasoning if you enjoy a spicy kick.
If you like the idea of this soup, make sure to check out my other plant-based soups on the blog: Lemongrass Coconut Soup, Vegan Corn Chowder and even my favorite 3-Bean Chili,
As always, sign up for my newsletter to stay in touch and if you make this recipe,
please leave a comment and rate it, too.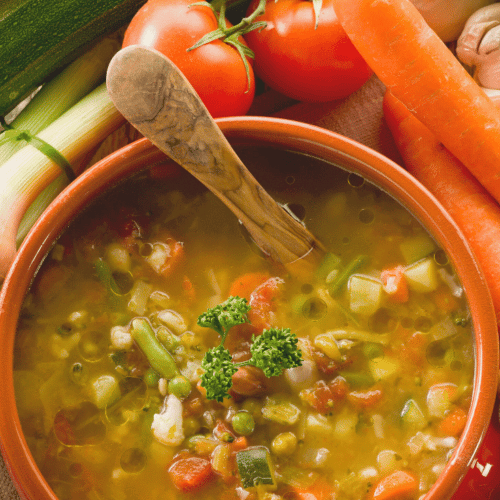 Simple Vegetable Soup
Most of this recipe is prep time! Minimize kitchen heat by making a large pot then freezing the leftovers to use the rest of the week. The flavors mingle with time - enjoy the fresh summer taste of herbs, spices and veggies.
Print
Pin
Rate
Ingredients
2

tablespoons

olive oil

1

medium onion

(peeled and diced)

2

cloves

garlic

minced

1

teaspoon

salt

2

large carrots

(peeled and chopped into small rounds)

4

medium tomatoes

(peeled and diced)

2

medium potatoes

(peeled and diced)

1

medium zucchini

(peeled and diced)

1

medium yellow summer squash

(peeled and diced)

2

quarts

vegetable broth

2

ears fresh corn

(kernels removed)

1

15 oz can

cannellini beans

(drained and rinsed)

1/8

cup

fresh basil leaves

(chopped)

1/4

cup

fresh parsley leaves

(chopped)

2

teaspoons

freshly squeezed lemon juice

1

teaspoon

fresh lemon zest

1

teaspoon

freshly ground black pepper
Instructions
Heat the olive oil in large stockpot over medium-low heat. Once warm, add the onion, garlic, salt stirring often until translucent or 4-5 minutes. Add the carrots, tomatoes, potatoes, zucchini and squash; cook for 5-6 more minutes, stirring occasionally.

Add the stock, increase the heat to high, and bring to a simmer. Once simmering, add the corn kernels and beans. Reduce the heat to low, cover, and cook until the vegetables are fork tender, approximately 20 minutes. Remove from heat and add the basil, parsley, lemon juice, zest, and pepper. Season to taste with additional salt if needed.
Ginger Hultin,MS, RD, CSO
An award-winning, nationally recognized nutrition expert and media spokesperson.
Thanks for visiting! If you're like me: obsessed with eating, wine, going out and traveling, you're in the right place. Champagne Nutrition® LLC is a Registered Dietitian-run concierge virtual practice helping clients look and feel better. On this blog, you'll find cocktails, mocktails, and plant-based recipes that are easy to make quickly at home and pack for leftovers on your adventures.