Single Serving Vegan Hot Chocolate
Though you can drink hot chocolate any time of year, your cravings are probably going to start right around late October and continue on through the end of February. Hot chocolate it right up there at the level of pumpkin spice lattes as far as comfort drinks go but you know me – dietitian – I want to have a delicious AND healthy option that I can whip up quickly at home. This Single Serving Vegan Hot Chocolate is definitely the answer.
You'll notice on my recipes that I don't list the nutritional value. I can provide it to you if you ever need it, but the way that I work with people is typically to steer them away from carefully counting and tracking so that eating is more intuitive, fun and less stressful. However, it's sometimes helpful for context to understand how many calories, how much saturated fat and how much added sugar are in certain products. There are guidelines specifically for saturated fat and added sugar so it's always eye-opening to know that you can easily blow through those in just one snack or drink in a day sometimes.
This is actually the case for hot chocolate. It seems harmless – and listen, absolutely everyone has wiggle room for a treat here and there so no guilt! But if this is your go-to daily or even several times a week, it could be keeping you from your health goals. Perhaps the added sugar is causing your A1c (a lab related to blood sugar) to creep up or the saturated fat is causing high cholesterol levels. Those outcomes are very real and I work with my clients to better understand how their diets affect health markers all the time. If you have questions about this kind of thing in your life or in your labs, please make sure to reach out.
If you ordered a 16 ounce hot chocolate made from whole milk, you'd be looking at nearly 400 calories, 10 grams of saturated fat, and 38 grams of sugar. Of course, you could alter that and lighten it up by skipping the whipped cream, asking for less flavoring syrup, choosing a lower fat milk, or a smaller size. Or you could make your own at home very easily.
The Single Serving Vegan Hot Chocolate
Why Single Serving?
The fun thing here is that you can easily double or quadruple this recipe, depending on the servings you need but I made it for one because sometimes you just need a little treat, snack or dessert for yourself. All you do is pop the ingredients into a saucepan and heat it. Done. This Single Serving Vegan Hot Chocolate is a 5-minute recipe for one.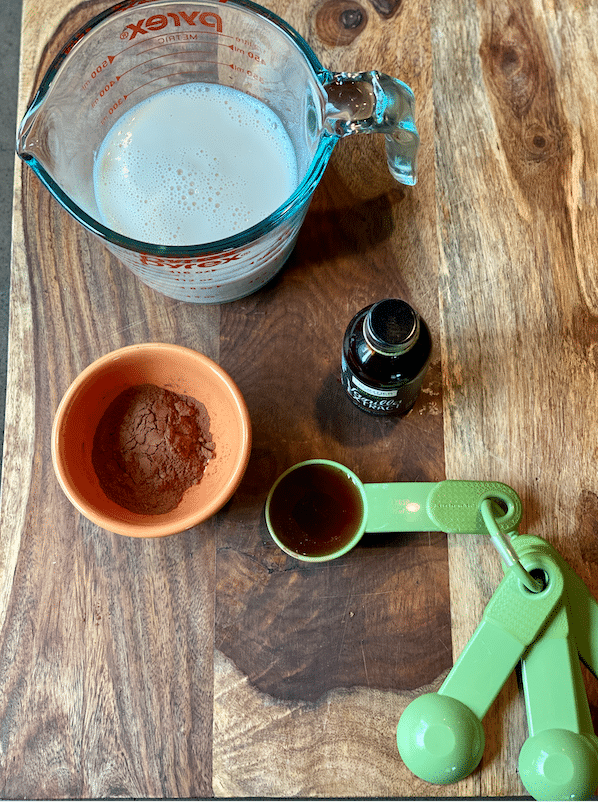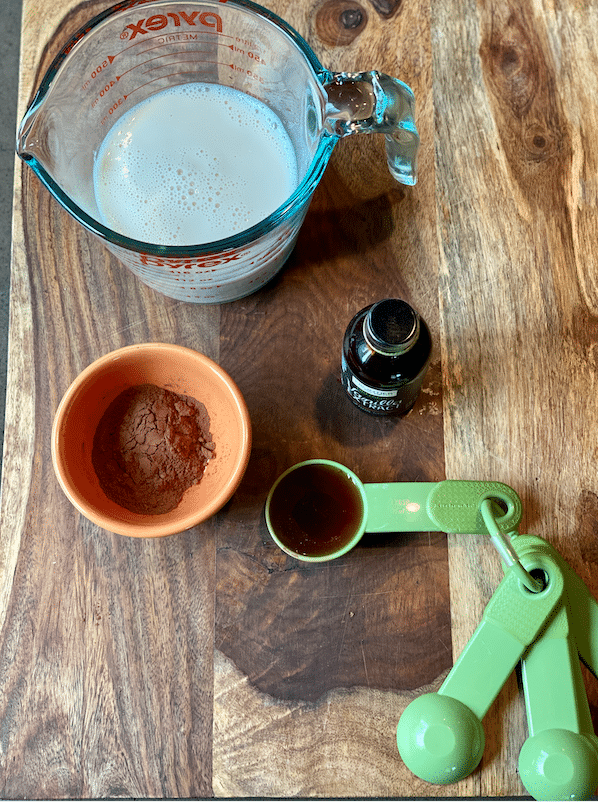 Why Vegan?
People look for vegan options for a variety of reasons. First, there's strong evidence that vegan (and other plant-based diets) are health-promoting. Blog post here! Second, a lot of people choose plant-based and/or vegan products out of concern for animal welfare and the environment. Blog post here! Finally, people that aren't necessarily vegan need certain aspects of the diet. Dairy is one of the top common allergens so having alternatives is key.
Why Soy Milk?
No, soy isn't bad for you. Evidence in this post here. The research clearly shows that it's beneficial for heart health, bone health and has anti-cancer properties. It's safe for men, women, and children. It's safe for those with cancer or in recovery. I work with soy milk very often because it has a similar nutritional profile to dairy milk as far as calories, protein and fat unlike other plant-based milks like almond, coconut and rice which have little to no protein. Why are we concerned about protein? I've got a post about it here for you but in short, it's a building block for the body and it plays a key role in our immune system function.
If you prefer using dairy or another type of plant-based milk, absolutely go ahead. I do suggest choosing an unsweetened variety so that you're not getting excess added sugars in the recipe.
Why Maple syrup?
There are a lot of ways to sweeten a drink like hot cocoa and in my personal opinion, it's often done in excess. I saw some recipes calling for a 1/4 cup of sugar and that's just way too much. The way that I work with salt and sugar in my recipes is to use as little as possible – often too little – and then taste as I move up from there. I also lean heavily on other flavors to help boost the taste of the food or drink so that I can more easily reduce the sugar or salt. In this case, I was trying to keep the sugar content low so I am relying somewhat on the cocoa but I also added vanilla so it's got complexity of flavor without only relying on 'sweet'.
One reason to use a liquid sweetener like maple syrup over sugar is because, sometimes regular sugar doesn't fully incorporate and it ends up sinking to the bottom, making the last few sips of your drink extra sugary-sweet. Maple syrup is a vegan-friendly way to get that even sweetness with as little syrup as possible in the most natural way possible. Let me know what you think and if this works for you!
If you need more warm drink ideas, you really need to try my turmeric ginger golden milk tea as well!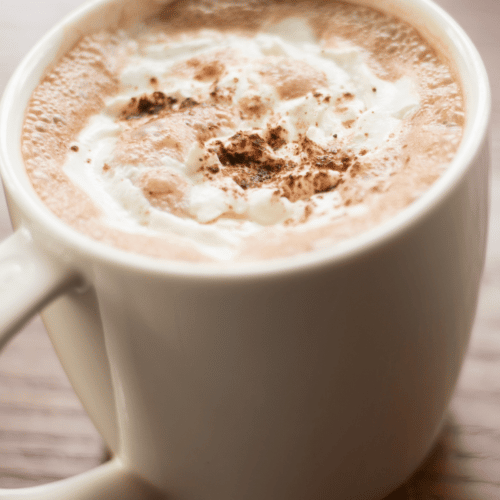 Single Serving Vegan Hot Chocolate
A simple, single serving plant-based hot chocolate is so easy to whip up in minutes!
Print
Pin
Rate
Ingredients
1 1/2

cups

unsweetened soy or oat milk

1 1/2

tablespoons

unsweetened cocoa powder

1

tablespoon

maple syrup

1/2

teaspoon

vanilla extract
Instructions
Add the milk to a saucepan and warm over medium heat until it starts to steam.

Add the cocoa, syrup, vanilla, and a small pinch of salt and whisk to combine, heating the ingredients through completely, bringing the mixture to your personal desired temperature.

Enjoy plain or served with plant-based whip or marshmallows.
Ginger Hultin,MS, RD, CSO
An award-winning, nationally recognized nutrition expert and media spokesperson.
Thanks for visiting! If you're like me: obsessed with eating, wine, going out and traveling, you're in the right place. Champagne Nutrition® LLC is a Registered Dietitian-run concierge virtual practice helping clients look and feel better. On this blog, you'll find cocktails, mocktails, and plant-based recipes that are easy to make quickly at home and pack for leftovers on your adventures.