How Your Social Life Could Affect Your Health
Have you ever heard of the term "social jet lag"? Once I tell you what it is, I think you'll relate. There's some really interesting research on how your social life could affect your health so let me give you a common scenario. Do you get up early for work, often staying up later than you want to during the week for more work or after-work activities? Do you ever find yourself going out on Friday and Saturday for parties or events yet trying to "catch up" with sleep on Sunday isn't enough? Many of us find ourselves dragging into work on Monday – but social jet lag may be part of the reason for that sluggish start to the week. Read on to learn more about social jet lag and how it could be affecting your health and wellbeing. 
I'm a dietitian who works integratively with my clients so I address sleep as it relates to energy, weight, hormone balance and general health. Even just helping someone start tracking their sleep and bring more awareness to habits can bring a powerful awareness. I use my Fitbit for that, actually – a helpful article about that lives right here. 
Like yours, my weeks are super busy. I get up early for the gym and I usually have events going on several nights per week. In the Pacific Northwest, summers stay light until past 9pm so getting to bed at an appropriate time is a challenge for about half the year. 
There are a few articles written on the topic of how your social life could affect your health – this one last April by the Guardian states: "The great acceleration has nudged our bodies out of sync with the day/night cycle – and the result is what experts call social jet lag. We live at "work o'clock", wrenching ourselves back to normal on weekends." The obvious explanation of how to feel more stable and steady throughout the week is to keep a normal schedule all the time – easier said than done. Since we're not going to stop working long hours or going out with our friends on the weekend anytime soon, perhaps we can make this schedule easier on our bodies. If you know how to tackle travel jet lag, these same techniques can help you with social jet lag.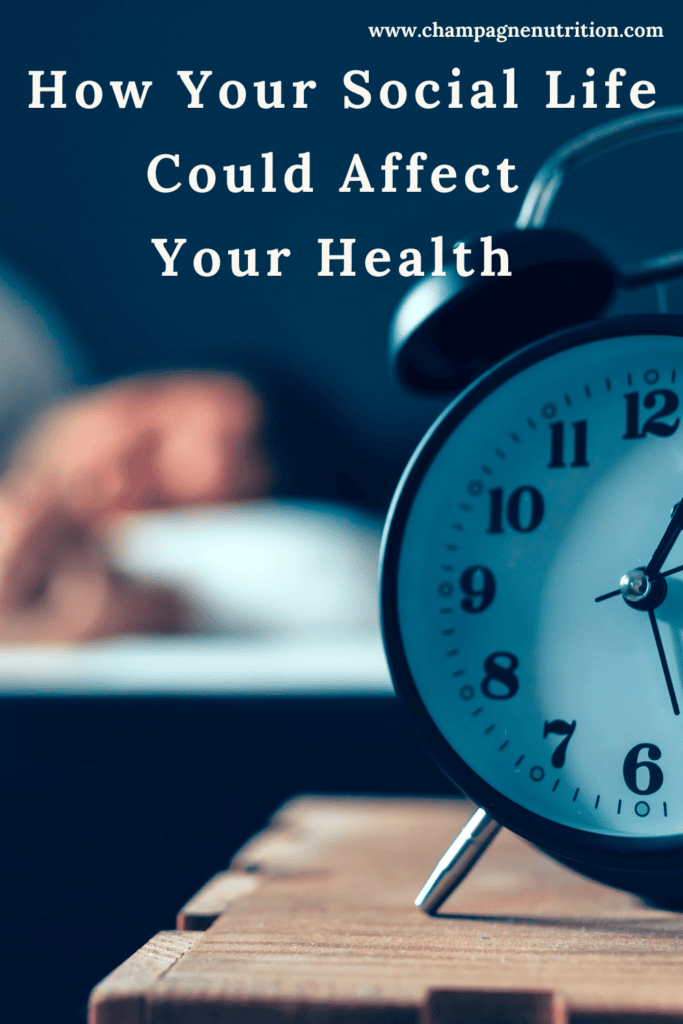 How to Correct Social Jet Lag
It's easy to forget to drink water when you're working hard during the weekdays or rushing between events on the weekends. However, 50-70% of the body is made of water. So you can imagine that water intake affects every cell's function in the body; a lack of it creates a hard time for us on a cellular level ensuring our essential systems are intact (yea: blood circulation, metabolism, and the elimination of toxins). Staying hydrated is a great way to actually help your body work better. If you likely forget to drink water all the time, set a timer on your phone; your body will appreciate it!
Get exposure to natural light during the day 
You might know that sunlight can help the body to synthesize vitamin D, which is very important for bone health. Studies also show that sunlight is also helpful for mental health, particularly symptoms of sadness, depression, and anxiety. One of the potential mechanisms is that by exposure to UVB rays, human skin can produce beta-endorphins, which are hormones that ease the pain and increase feelings of joy. Take a break outside or even spend some time sitting near a window. When all else fails, get a light box for your desk.
Include physical activity into your schedule 
Besides sunlight, physical activity is a way to get your body more endorphins so it can better adjust to time differences related to social engagements. Not only that, it can improve your metabolism (like, it's the only thing that does that). Your body works more effectively when you commit to a regular physical activity. If you need to know where to get started, set up your time at the gym for the week on a Sunday. Sketch it out in your calendar.  Literally 5-10 minutes of moderate movement can boost endorphins and make you feel better. Even a walk can get you where you need to go.
Caution with caffeine and alcohol. 
For a lot of people, including me, coffee and tea can be amazing for that morning perk before work, family, or social events. But with social engagements and a busy lifestyle can come caffeine dependence or…bigger problem – using alcohol to compensate for the stress and to feel relaxed. More challenging, it appears in almost every joyful meeting and celebration. Both caffeine and alcohol can further negatively affect your sleep and that's part of the root causes of how social life could affect your health in the first place! If this is becoming an issue for you and further disrupting your schedule, start by setting a limitation goals, such as no more than 1-2 servings of alcohol per day or only 1-2 cups of coffee/tea per day. Try it and see if your sleep improves.
Change your schedule slightly.
If mobile device time is totally zapping your energy, sleep – and even causing social jetlag – tuning in and turning them off  is an easy fix. Commit to less screen time 30 minutes earlier in the evening or call it quits an hour earlier than usual on the weekend. Enjoy your me-time and slow down before going to bed with conversation, a book, tea…even meditation. We all deserve time for ourselves and we all can make time for those around us. Small changes can help your body quite a bit without drastically altering your schedule. 
If you love this type of information – a holistic approach to your health – make sure to check these similar articles out: Lowering inflammation for your health, weight loss from a dietitian's perspective, and intermittent fasting.
Any tips I'm missing that have helped you understand how your social life could affect your health and overcome it?
Ginger Hultin,MS, RD, CSO
An award-winning, nationally recognized nutrition expert and media spokesperson.
Thanks for visiting! If you're like me: obsessed with eating, wine, going out and traveling, you're in the right place. Champagne Nutrition® LLC is a Registered Dietitian-run concierge virtual practice helping clients look and feel better. On this blog, you'll find cocktails, mocktails, and plant-based recipes that are easy to make quickly at home and pack for leftovers on your adventures.