Spicy Blackberry Citrus Margarita
I've made thousands of margaritas in my life. Probably tens of thousands. In my "previous career", I managed a bar and I bartended, too. We were incredibly busy – like, line out the door, bouncers, all of that – from open to close, every single day. I made margarita mix by the bucket and I made them from scratch, muddling limes in each and every one and hand-shaking them all. There was no mix bought. We used real citrus juice, sugar and high quality tequila. It inspired in me a true appreciation of quality margaritas for life.
If you know me,  you know that I believe in high quality margaritas. I don't mess with store-bought syrups or mixes because it's so easy – and much healthier – to make your own. I live up here in the Pacific Northwest and we're really lucky to have access to fresh berries during the summer. Blueberries, raspberries, and blackberries grow wild, even on the side of the road so you can grab some on a walk and enjoy them on your way. People who are serious pickers will head into secret spots in the woods with ladders, gloves and buckets, harvesting pounds of these sweet berries for jams and pies. I combined the best of both worlds here in this simple Spicy Blackberry Citrus Margarita served up. And don't worry; if you don't have access to fresh berries, frozen work perfectly well!
In my previous piece, A Healthier Margarita, I explain why store-bought regular or "skinny" margarita mix isn't something you want to consume because it's full of additives and preservatives. You're better off using fresh juice and whole-food ingredients. That is one of my most popular posts and it even got picked up by the Seattle Times in this piece about how confusing alcohol research is. This is one of my areas of expertise and passion; helping my clients understand the research and choose what's gong to be best for them if they choose to drink alcohol.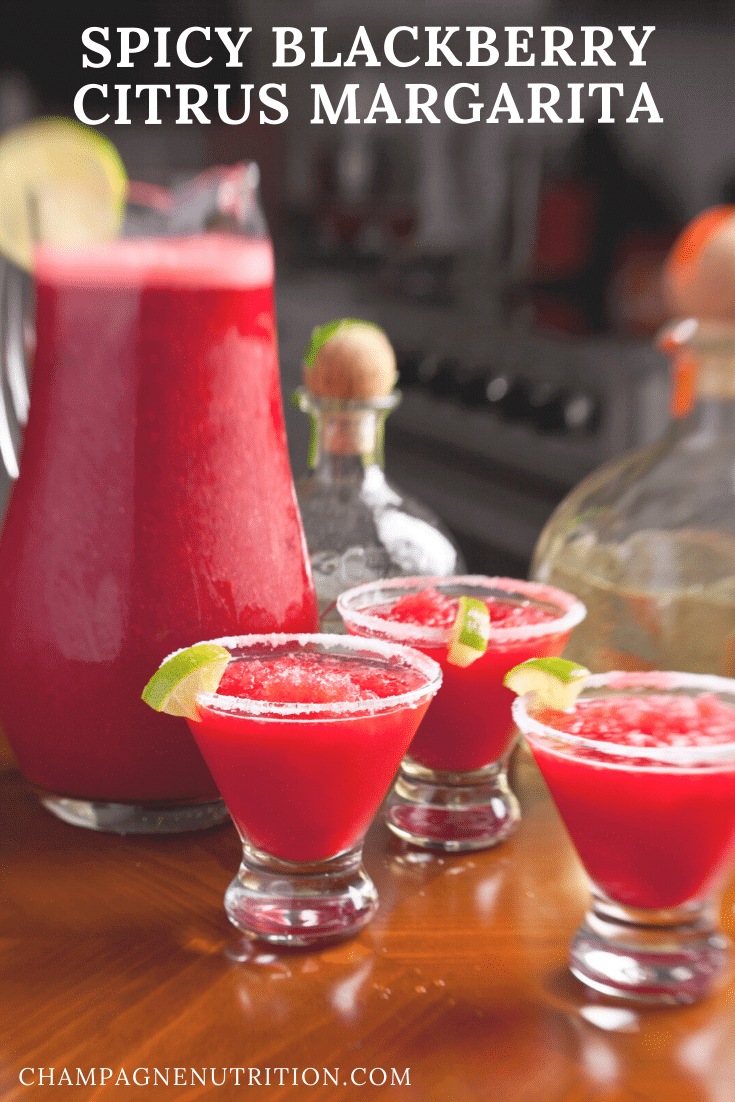 All about the Spicy Blackberry Citrus Margarita
I take a lot of pride in my margaritas and I frequent establishments who also create an excellent margarita product. For this one, I wanted to combine some unique flavors and so I made is with mezcal to achieve a subtle, smoky flavor but if you prefer, you can use regular silver tequila instead. I honestly don't like the 'gold' stuff and I do think that even for margaritas and other mixed drinks that it pays off to invest in a little bit of a higher quality and again, something sort of neutral like a silver is my preference.
In this recipe , the pepper soaks into the liquor to add a spiciness that you can taste through the tart fruit juices. I absolutely love a spicy margarita but you're not always in the mood for them so you can absolutely forego that step if you want to cut back on that flavor. If you want to kick up a notch, you can also muddle the pepper into the ice and if you want to get really crazy, make it a habanero!
Fresh or frozen, blackberries blend in with fresh lime and orange juice – no sugar or syrup needed. Of course blackberries can be a little tart. That is one reason I love the really big ripe, fresh ones. But that's not always available. What if you're craving a Spicy Blackberry Citrus Margarita in the winter?! Frozen berries (and fruits and veggies) really hold their nutrients well, sometimes even better than fresh, and so anything frozen is absolutely fair game. If you wanted to mix it up, you could even make this recipe with frozen peaches, strawberries, raspberries or blueberries. If it's a little too tart, use a little agave syrup to brighten it up. You can start with a very small amount, like a teaspoon, and work up from there. You'll be surprised at how little you can use.
I chose to strain this rita into a martini glass; served "up" but you can also serve it over ice "on the rocks". You could blend it as well, if that's your taste but I often find that creates a more watered down beverage. If you serve it up or on the rocks, you really let the natural flavors shine through.
The final question is: to salt or not to salt? If you need more info on salt -a really confusing subject, I just recently updated a post here about it, but I like to take a wedge of lime, rub it on the rim of the glass so it't wet, then dip the rim into a plate-full of Kosher salt so it has those big flakes. Feel free to do a "half-salt" variety where you just dip half the rim!
However you enjoy your beverage, I hope you get a chance to try this Spicy Blackberry Citrus Margarita!
And if you need a couple more healthy drink ideas, make sure to try my Gin Ginger Beet Cocktail with Thyme and Sparkling Plum Basil Cocktail both of which also use fresh summer produce you may have growing in your garden.
Instructions
Place tequila and chili in a small bowl so that chil is immersed. Let sit 1 hour. Strain mixture through a fine-mesh sieve over a cup and discard solids. In a blender, pulse blackberries, orange juice, lime juice and gave nectar until smooth. Strain mixture into a pitcher and discard solids. Add tequila and stir to combine. Fill 4 rocks glasses or mason jars with ice cubes then divide mixture evenly OR to make your drink look like this one, simply pour the mixture into a prepared martini glass and serve. Garnish with additional blackberries and a chili and top with ½ ounce each orange liqueur.
Notes
Adapted from http://www.cookinglight.com/recipes/blackberry-orange-margarita
Ginger Hultin,MS, RD, CSO
An award-winning, nationally recognized nutrition expert and media spokesperson.
Thanks for visiting! If you're like me: obsessed with eating, wine, going out and traveling, you're in the right place. Champagne Nutrition® LLC is a Registered Dietitian-run concierge virtual practice helping clients look and feel better. On this blog, you'll find cocktails, mocktails, and plant-based recipes that are easy to make quickly at home and pack for leftovers on your adventures.