Spicy Vegetable Stir-Fry with Peanuts
I am always on the hunt for delicious, easy weeknight dinner recipes that don't require hours of prep work and can be enjoyed throughout the whole week. Stir frys have been my favorite lately and they are SO fun to experiment with. Sometimes I add noodles, make different sauces and experiment with a variety of colorful veggies. Sometimes they turn out well and other times….not so much. Recently I have been loving a sweet and spicy stir fry loaded with glazed veggies, crunchy garnishes, and a nice balance of carbohydrate, protein and healthy fat. One of my favorite things about this Spicy Vegetable Stir-Fry with Peanuts is the addition of fragrant fresh ginger and garlic. Assembled piece by piece then combined at the end, it is a relatively simple recipe and good to have in your repertoire for easy weeknight dinners.
Cauliflower Health Benefits
Cauliflower is a popular food trend right now for good reason. A member of the cruciferous veggie family, cauliflower is packed with numerous vitamins such as  B-vitamins, specifically vitamin B6, vitamin C and vitamin K. It is also an excellent source of numerous minerals such as magnesium, phosphorus, manganese, and potassium. Cauliflower is packed with fiber which helps feed the good bacteria in your gut, which in turn helps to reduce inflammation and promote digestive health. 
Cauliflower is also rich in antioxidants, specifically sulfur-containing compounds called glucosinolates and isothiocyanates.These compounds are unique to this family of veggies (think broccoli, kale, cabbage, brussels sprouts) that have ties to cardiovascular, digestive, immune, inflammatory, and detoxification system support. With my background in oncology nutrition, I always recommend my patients increase intake of this family of veggies because of some of the great research available on their benefit. I especially tell my breast cancer folks to be sure to eat these veggies daily. Don't let the white color of cauliflower fool you; it is packed with antioxidants. So versatile, this is a great veggie to include several times a week in the diet.
Cauliflower is favorite among so many people because of the numerous ways you can enjoy it. Not only is it great to add to stir-fry but it can also be used as a substitute for traditional recipe ingredients. Cauliflower pizza crust and cauliflower rice are popular substitutes for carbohydrate-rich foods like pizza dough or rice. Cauliflower can also be used as a great vegan option for a buffalo chicken recipe or a chicken curry recipe. It is such a versatile veggie that it should definitely become a staple in your weekly meals!
Making the Spicy Vegetable Stir-Fry with Peanuts
The Rice
I like to start cooking the rice before beginning any other step because it takes the longest to cook and it requires no work once it's boiling so it's a great task to multitask with. I like to cook my rice on the stovetop but feel free to cook your rice whatever way you prefer to. I chose to use brown rice for this stir-fry but white rice would also work perfectly. To cook the rice on the stovetop, I add 1 cup of rice and 1.5 cups of water to a pot and bring it to boil. Once it is boiling I cover the pot and let cook for 40-50 minutes until the water is fully absorbed. When the rice is finished cooking, I remove the pot from the heat, keep the pot covered and let sit for at least 10 minutes.
The Cauliflower
While the rice is cooking, I start preparing the vegetables. I cut the cauliflower into bit-sized florets and toss them in a large mixing bowl with grapeseed oil, salt, and pepper. Grapeseed oil has been one of my favorite items lately because it is a good source of polyunsaturated fatty acids, vitamin E, and has a high smoke point, making it great for stir-fry. Once the cauliflower is mixed together, I preheat the broiler, spread the cauliflower on a baking sheet, and broil for about 10 minutes. This allows the cauliflower to soften a bit and get a nice, charred flavor. Set the cauliflower aside once they are finished broiling.
The Protein
What I love most about this Spicy Vegetable Stir-Fry with Peanuts is that it is so versatile when it comes to adding a protein source. You can stick with just veggies or add some additional protein like tofu, chicken shrimp, etc. When I'm adding protein, I like to toss it with some oil in a large skillet and saute until cooked through. I then remove the protein from the skillet and set aside.
Putting in Together
I then heat the remaining teaspoon of grapeseed oil in a large skillet to toss the peanuts in with a little salt and pepper for about 1 minute. Once the peanuts are lightly toasted, I take them off the heat with a slotted spoon and set aside on a paper towel.
I then add the peas, bell peppers, garlic, and ginger to the pan and cook over medium heat, stirring occasionally under tender, about 1-3 minutes. I then add in the chili sauce, soy sauce, cauliflower, and protein of choice and continue cooking until the vegetables are glazed, about 2 minutes. I then served the stir-fry over a bed of rice and top with the toasted peanuts and some fresh cilantro.
If you need some other simple stir-fry or Asian-inspired recipes, check out my Tofu Zoodle Stir-Fry with Peanut Sauce and Spicy Vegetarian Mango Curry. What are some of your favorite ingredients to whip up on busy evenings?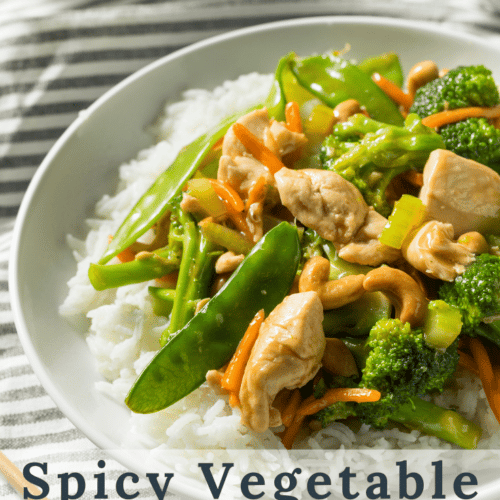 Ingredients
1

cup

brown rice

1

small

head cauliflower cut into bite-sized florets

3

Tablespoon

grapeseed oil

(divided)

1/2

teaspoon

salt

(divided)

1/2

teaspoon

freshly ground black pepper

(divided)

1/2

cup

shelled peanuts

8

oz

protein of choice (tofu, shrimp, chicken, etc.)

1

cup

snap peas, trimmed and cut in half

1

green bell pepper, chopped

2

Tablespoons

freshly grated ginger

1

clove

garlic, minced

1/3

cup

sweet Thai chili sauce

2

teaspoons

low-sodium soy sauce or tamari

1/4

cup

fresh cilantro, roughly chopped
Instructions
Add the rice to 1.5 cups of water in a medium sized saucepan, bring to a boil then cover and cook for 40-50 minutes until water is absorbed. When finished cooking, remove from heat, remain covered and let rest for at least 10 minutes.

While the rice is cooking, toss the cauliflower in 2 Tablespoons grapeseed oil with 1/4 teaspoon salt and 1/4 teaspoon pepper in a large mixing bowl. Preheat the broiler, spread cauliflower on a rimmed baking sheet then broil on high for about 10 minutes, until cauliflower is soft and lightly charred. Set aside when finished broiling.

Heat the remaining 1 Tablespoon oil in a large skillet and toast the peanuts about 1 minute until lightly brown. Remove them with a slotted spoon and place on a paper towel. Sprinkle them with remaining salt and pepper.

To the peanut pan, add your protein and cook for 3-6 minutes, until it's nearly cooked through. Add the peas, bell pepper, ginger and garlic to the pan. Cook over medium heat, stirring occasionally until tender 1-3 minutes. Add the chili sauce, soy sauce, and cauliflower and continue to cook until vegetables and protein are glazed, about 2 minutes. Check the temperature on your protein if needed and ensure that it's cooked through. Serve the stir-fry over rice garnished with the peanuts and cilantro.
Ginger Hultin,MS, RD, CSO
An award-winning, nationally recognized nutrition expert and media spokesperson.
Thanks for visiting! If you're like me: obsessed with eating, wine, going out and traveling, you're in the right place. Champagne Nutrition® LLC is a Registered Dietitian-run concierge virtual practice helping clients look and feel better. On this blog, you'll find cocktails, mocktails, and plant-based recipes that are easy to make quickly at home and pack for leftovers on your adventures.