There's no better combination of flavors that rich, creamy avocado and bright, sweet tart mango. This Avocado Mango Salad is a really fun dish because it's so versatile. You can chop the mango or use a mandolin to create beautiful ribbons and you can enjoy it on it's own or serve it over greens. This is a recipe that you'll make again and again.
This salad takes only five minutes to make. It contains just a few ingredients and is perfect as a quick breakfast, snack, or dessert if you need a sweet treat. Because of the salt and the peppers, it's got some unexpected flavor so a small portion is very satisfying. This is how it's healthy and how to put it together:
Ingredient FAQs
Health Benefits of Mangos
Mangos are a good source of antioxidants, like vitamins A and C. They contain nutrients that are known to support the skin (vitamin C is a precursor to collagen) and the eyes (vitamin A is critical for sight). If you take into consideration the B6 and folate content in mangos – B vitamins for energy and cellular support – as well as all the fiber, you really have a nutrient dense package.
One thing I love about mangos is that they are super sweet and delicious. If you're craving sugar or something sweet after dinner, slice up a mango to make my Avocado Mango Salad instead of having ice cream or a cookie. Your fiber intake will be much higher and you'll greatly reduce your fat and calorie intake. I love mangos – I eat them dried and freshly sliced all the time. Choose one that's slightly less than very ripe in order to slice it into ribbons without getting mushy.
Health Benefits of Avocados
Packed with vitamins and minerals, avocados are a great addition to a dish when you are looking to boost the nutrient content. Avocados are high in B vitamins along with vitamins C, K, and E, folate, and potassium. They are also rich in antioxidants (like lutein and zeaxanthin) and they help to increase the absorption of antioxidants in other foods. These antioxidants may help protect the body from cancer causing compounds that may be circulating in the body.
Unlike most fruit, avocados are a great source of healthy fats providing about 15 grams of healthy fat per serving. These healthy fats are monounsaturated fatty acids, which are great for heart health. The fat in avocados can also help the body absorb certain vitamins that need fat for absorption (vitamins A, D, E, and K). Another awesome benefit that avocados offer is the high fiber content with 7 grams per serving. One study found that people who eat avocados tend to be healthier than those who do not.
Making the Avocado Mango Salad
This is a quick and easy recipe that is sure to please. What you are going to do to start making it is peel your mangos and peel and pit your avocado. If the avocado is not peeling well or is tough to cut, it may not be ready to eat. Opt for an avocado that has a little give when you put light pressure on it with your fingers. Here is a guide to help you determine if your avocado is ready to go.
You are going to want to chop up your pepper in a fine dice and measure out your ingredients to make sure preparation goes smoothly.
Next up, pull out your mandolin slicer and run the mangos through so that they are cut into thin ribbons. Check out the recipe faqs below for other options as well. You can run the avocado through the mandolin or slice that by hand. If slicing by hand, place the avocado flat side down on a cutting board and slice lengthwise.
After you have finished slicing up your fruit, grab a mixing bowl and get ready to put the Avocado Mango Salad together. Place the mangos, avocados, and peppers in the mixing bowl. Add the lime juice, salt, and sugar. Be sure to toss gently with your hands since the avocados are tender and may lose shape if you are too aggressive with the mixing. Serve immediately and enjoy.
Recipe FAQs
Avocados come in hundreds of varieties, though you are likely to only see a few types at the grocery store. Despite their differences, avocados are all similar in terms of nutrition. The difference, however, lies in their taste. Black avocados tend to have a rich, nutty flavor while green avocados tend to be more mild in flavor and instead taste more watery.
If you're wondering "what is a mandolin and how do I use it?," you've come to the right place. A mandolin is an amazing kitchen tool that is used to slice fruits and vegetables more quickly and easily than slicing with a knife. Mandolins are also great for getting the same thickness for each slice.
If you don't have a mandolin slicer on hand, not to worry! This is a choose-your-own-adventure type of recipe. Meaning that you do not have to cut the mango into ribbons to enjoy this delicious dish. This is a great opportunity to play around with your knife skills and cut the mango and avocado into chunks instead. Have fun with this recipe and let me know in the comments how you cut up your fruit.

Add greens, if that's your thing. Another way to customize this Avocado Mango Salad is to add greens. I love the taste of arugula in a salad with fruit. Spinach is another green that would do great in this salad. Play around with the greens you have on hand and let me know what you come up with.
If you need other healthy, delicious fruit recipes, be sure to check out my:
Apricot Chickpea Vegetarian Stew
Tropical Mango Chia Pudding Parfait
Melon Infused Water
Cherry Clafoutis with Orange Liqueur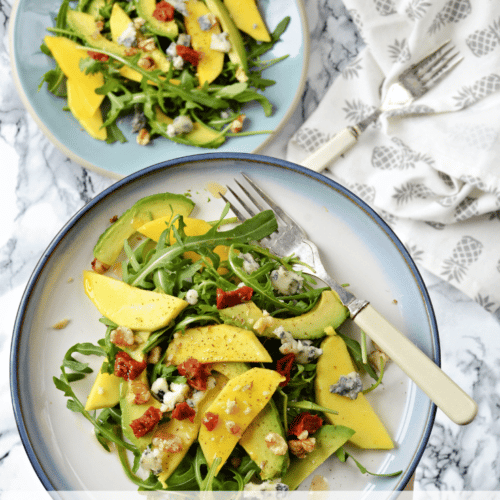 Avocado Mango Salad
Combine beautiful colors and delicious textures with mango and avocado in this simple salad.
Print
Pin
Rate
Ingredients
2

large

medium-ripe mangoes, peeled

3

tablespoons

fresh lime juice

1

serrano or jalapeno pepper, diced

1/8

teaspoon

salt

1/2

teaspoon

brown sugar
Instructions
Mandolin the mangos so they are cut into thin ribbons. Alternatively, chop them into chunks.

Slice the avocado into thin slices. Alternatively, chop them into chunks.

Place the mangos and avocados in a mixing bowl and add the lime juice and peppers.

Add the salt and sugar and toss gently with your hands. Serve immediately.
Nutrition
Serving:
0.5
cup
|
Calories:
200
kcal
|
Carbohydrates:
26
g
|
Protein:
3
g
|
Fat:
8
g
|
Saturated Fat:
1
g
|
Cholesterol:
0
mg
|
Fiber:
7
g
Ginger Hultin,MS, RD, CSO
An award-winning, nationally recognized nutrition expert and media spokesperson.
Thanks for visiting! If you're like me: obsessed with eating, wine, going out and traveling, you're in the right place. Champagne Nutrition® LLC is a Registered Dietitian-run concierge virtual practice helping clients look and feel better. On this blog, you'll find cocktails, mocktails, and plant-based recipes that are easy to make quickly at home and pack for leftovers on your adventures.