Spicy Vegetarian Mango Curry
Need a simple, spicy, dinner go-to? I'm confident this will be added to your weekly meal rotation once you try it. This easy Spicy Vegetarian Mango Curry is delicious AND is packed with nutrients. The different colorful veggies and spices offer so many vitamins, minerals and antioxidants. Nothing better than a meal that is both super flavorful and also really healthy for you. 
As a vegetarian dietitian, I often talk with people about the benefits of incorporating more plant-based proteins into your diet. Tofu is a great option but many people may not know how to prepare it so that it tastes good. Tofu can be SO delicious if cooked properly. 
On its own, tofu is bland, but it takes on whatever flavor you prepare. Adding tofu to a very flavorful dish like this curry is a great way to try incorporating more tofu into your diet. The mango and delicious peanut sauce creates a wonderfully flavored dish that pairs perfectly with the tofu. I like all my dishes spicy, but you can certainly adjust the level of spice to your preference when preparing this recipe. If you have soy safety questions, I've got an entire blog post about it here for you.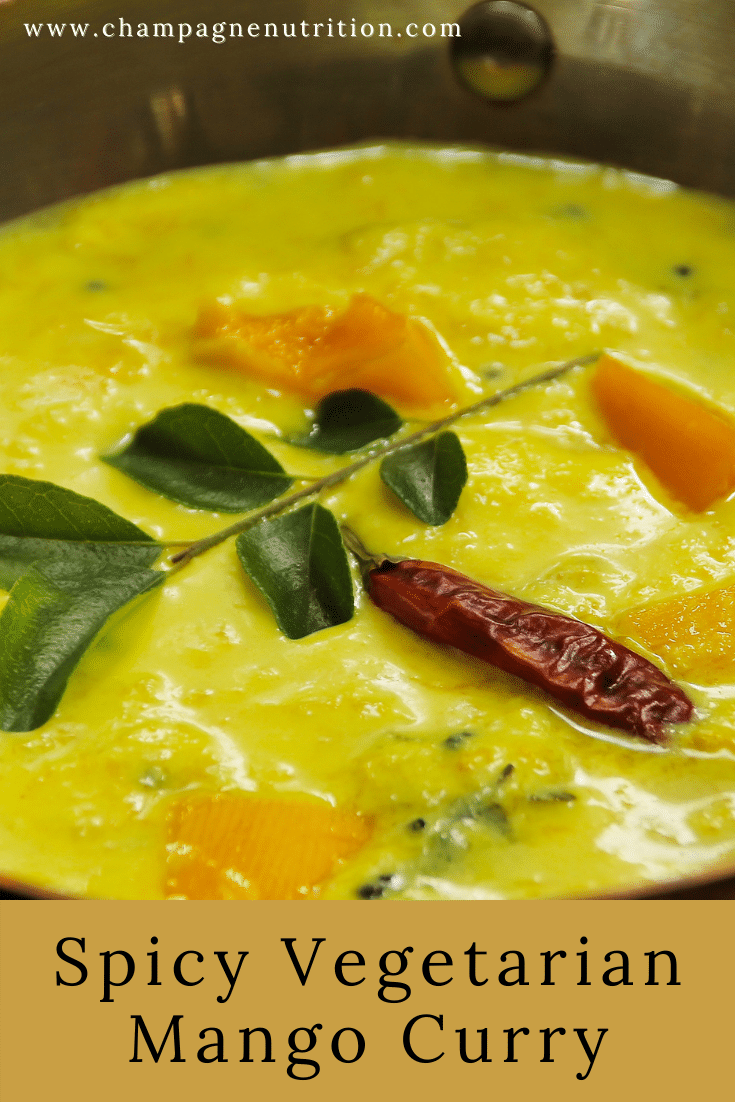 Health Benefits of Spicy Vegetarian Mango Curry
There are so many healthful ingredients in this recipe. Here's a breakdown of some of the benefits in Spicy Vegetarian Mango Curry:
Tofu
There is a lot of controversy surrounding tofu and soy foods. This is unfortunate as tofu is a very healthful food to include in your diet. Tofu is an excellent source of plant-based protein. It contains all 9 essential amino acids as well as many different minerals. 
There are different types of tofu and the nutrition will vary slightly depending on the kind you use. Tofu comes in different levels of firmness. It goes from silken (the softest kind) to super firm. The more firm the tofu, the higher the protein content will be. This recipe calls for extra-firm (and super firm can be used as well). One half cup of extra-firm tofu has about 15g of protein.
Tofu is also high in a lot of minerals, including calcium, iron, zinc, and selenium. These minerals are important for bone health, for supporting the immune system, and for maintaining healthy red blood cells. Tofu is also high in isoflavones which may be protective against heart disease, hormone-dependent cancers, and cognitive decline.   
Carrots
Carrots are highly nutritious. Carrots are a great source of fiber, vitamin K, and beta-carotene, that your body converts to vitamin A. Half a cup of diced carrots contains 450% of your vitamin A needs for the day. 
Vitamin A is an antioxidant that supports eyesight and the immune system. It has also been shown to reduce cancer risk (in food form, not supplement form). Carrots come in many colors besides the traditional orange, including red and purple. These colorful carrots also contain another antioxidant known as lycopene, which may decrease your risk of cancer and heart disease.       
Onions and Garlic
Onions and garlic have many health benefits and contain important nutrients and antioxidants. They belong to the Allium plant family, which also includes leeks and chives. Onions are an excellent source of biotin and a powerful antioxidant called quercetin. Garlic contains an antioxidant known as allicin. Including alliums in the diet regularly has been shown to decrease cancer risk, especially colorectal, stomach cancers, and lung cancers. They have also been shown to help with cholesterol and blood pressure.   
Cabbage
Cabbage belongs to the cruciferous family and is an extremely nutritious veggie to add into your diet. Only ½ cup of raw cabbage contains ⅓ of your vitamin C needs for the day. It is also a good source of vitamin A and vitamin K. Vitamin K is very important for bone health and proper blood clotting. Cabbage is full of antioxidants and a high intake of cruciferous vegetables has been associated with a decreased cancer risk.    
Bell Pepper
Bell peppers are an excellent source of two powerful antioxidants, vitamin A and C. They contain more vitamin C than citrus, with 1 bell pepper providing 200% of vitamin C needs for the day. One bell pepper also contains 150% of vitamin A needs for the day. In addition they are high in a lot of B-vitamins that are important for energy levels, especially vitamin B6.
Peanuts
The peanuts in this recipe provide a second source of plant-based protein. Not only does ½ cup of peanut butter provide 14g of protein, but peanuts and peanut butter are also high in minerals including copper, zinc, manganese, and magnesium. Peanut butter is a great source of vitamin E, an important antioxidant that proteins our cells and DNA from damage. It is also high in all the b-vitamins, especially Niacin (B3).  
Coconut Oil
Used in moderation, coconut oil is a great addition to the diet. This is the perfect dish to use a high-heat oil like coconut. Coconut oil offers a light flavor that compliments the dish and is safer for high-heat cooking than many other oils. A lot of oils cannot handle high temperatures, making oils like coconut oil a good choice for these types of dishes.
Putting it All Together
The first step in making the Spicy Vegetarian Mango Curry is to cook the tofu so it has a nice crispy texture. Heat the coconut oil in a large pan and add in the tofu. Cook the tofu on each side until it becomes nice and crispy on all sides. The drizzle with soy sauce or tamari to add a little bit of umami flavor. Once the tofu is crispy, remove from the heat and set aside.
The peanut sauce is the flavor base for the curry and comes together in a snap. Using a whisk, mix the lime juice, peanut butter, maple syrup, and salt together in a small bowl. Add water little by little until a pourable consistency is reached. 
The next step is to saute the vegetables. In the same pot used to cook the tofu, head another tablespoon of coconut oil and then add the carrots, onion, and garlic. Cook the vegetables until the onions are translucent, about 5 minutes. 
Now it's time to add the spices that make this curry so flavorful. I like to use turmeric, cumin, ginger, cinnamon, and red pepper flakes. The red pepper flakes can be adjusted to make the spice level to your preference. They can be omitted completely to make a mild curry or be increased to make it more spicy. Stir in the spices and cook for an additional 2 minutes until they are fragrant and infused into the oil. 
Reduce the head to medium and cook the remaining vegetables, bell pepper and cabbage. Cook these vegetables for about 5 to 7 minutes, until the bell pepper is tender and the cabbage has cooked down.
The final step is to add in the mango cubes, the crispy tofu, roasted peanuts until everything is heated through. Fold lightly to combine all of the ingredients together. Your meal is now ready! Divide evenly and garnish with fresh cilantro.
Let me know what you think of this recipe AND, always, if you have your own tips and tricks for making weeknights a little more simple and enjoyable. Check out my other simple, savory curry and veggie recipes for more ideas: Slow Cooker Lentil and Cauliflower Curry, Spicy Cauliflower Stir-Fry with Shrimp and Peanuts,or Tofu Zoodle Stir-Fry with Peanut Sauce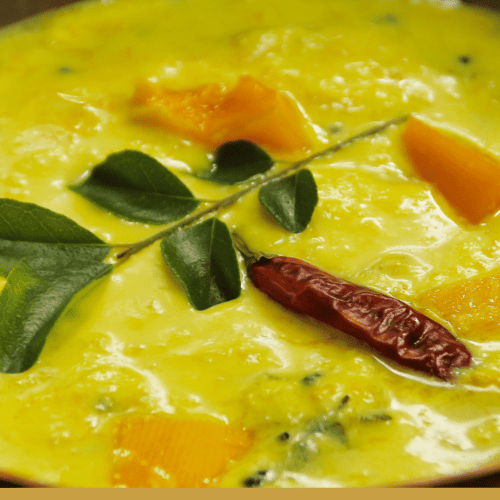 Spicy Vegetarian Mango Curry
A beautiful, savory and sweet vegetarian curry to whip up on a busy evening
Print
Pin
Rate
Ingredients
2

Tablespoons

coconut oil

(divided)

1

package extra-firm tofu cut into 1-inch rectangles

1

Tablespoon

low-sodium tamari or soy sauce

1

lime

(juiced)

1/2

cup

unsalted chunky peanut butter

1

Tablespoons

maple syrup

1/2

teaspoon

salt

1

cup

warm water

2

carrots, diced

1/2

yellow onion, diced

3

cloves

garlic, minced

1

Tablespoon

ground turmeric

1

teaspoon

ground cumin

1

teaspoon

ground ginger

1/2

teaspoon

ground cinnamon

1/2

teaspoon

red pepper flakes

1

green bell pepper, diced

1/2

small green cabbage, roughly chopped

1

large mango, diced

1/2

cup

roasted unsalted peanuts

1/4

cup

roughly chopped fresh cilantro
Instructions
Heat 1 Tablespoon coconut oil in a large saute pan over medium-high heat. Add the tofu and cook for 4 minutes per side, until slightly crispy. Drizzle the tofu with tamari or soy sauce and cook for 1 minute longer and then remove from heat and set aside.

Mix lime juice, peanut butter, maple syrup and salt together in a small bowl with a whisk. Add in 1 cup of water, 1 tablespoon at a time, to make a pourable sauce. Feel free to add more water until desired consistency is reached.

Using the pan you used to make the tofu, heat 1 Tablespoon of coconut oil then add carrots, onion, and garlic and saute for 5 minutes until onions are translucent.

Add turmeric, cumin, ginger, cinnamon and red pepper flakes and saute for 2 additional minutes.

Reduce heat to medium and add sauce, bell pepper, and cabbage. Cook for 5-7 minutes until bell pepper has softened .Add mango cubes, tofu, and peanuts and heat through, folding lightly to combine ingredients. Divide evenly and garnish with fresh cilantro.
Notes
Adapted from CleanEating.com "Make Ahead Dinner" Mango Peanut Curry
Ginger Hultin,MS, RD, CSO
An award-winning, nationally recognized nutrition expert and media spokesperson.
Thanks for visiting! If you're like me: obsessed with eating, wine, going out and traveling, you're in the right place. Champagne Nutrition® LLC is a Registered Dietitian-run concierge virtual practice helping clients look and feel better. On this blog, you'll find cocktails, mocktails, and plant-based recipes that are easy to make quickly at home and pack for leftovers on your adventures.