Lemon Olive Oil Tequila Cake
If you are in the mood for the taste of a classic margarita but also want to cozy up with some comfort food, this recipe is for you. Perfect for any time of the year, this Lemon Olive Oil Tequila Cake has an unexpected ingredient: tequila. The tequila in this recipe is not cooked off, so use caution if you or the folks you're serving can't have any alcohol. Otherwise, it's completely fair game to enjoy a slice of this dense, delicious cake for a little bit of decadence and zest. With it's bright, citrus flavors, this tequila cake is sure to be a crowd pleaser.
I've been intrigued by olive oil ever since I visited an olive farm in Mallorca (here's the post on that trip if you're interested) and the idea of adding this savory ingredient to a cake had me clamoring to make it. Once you realize the importance of picking out the best olive oil and the care that's put into the 'good stuff', it adds so much more mindfulness and meaning to savoring it in any recipe. Many cakes I think are too sweet and so I like to tone it down a little by adding in some more complex flavors like olive oil. I also generally cut the sugar in most recipes because I love that balance. And best of all – depending on your taste – there's no thick frosting to be had here, just a delicious glaze  with nice, refreshing flavors that you don't always find in a dessert.
History of the Bundt Pan
Though you may not think of a cake pan as a "tool", it is in fact a tool. Whenever I think of Bundt, I think of that scene in My Big Fat Greek Wedding where the Greek mother couldn't pronounce Bundt and it was so cute. Then she put a potted plant in the middle of it for decoration. 
The Bundt pan was developed relatively recently in history. In the 1950's, the owner of Minnesota's Nordic Ware company devised this wonderful tool and its popularity soared in the 1960's. Today, an estimated 70 million households have a Bundt pan. Let me know in the comments if you still cook with a Bundt pan!
More Kitchen Tools
Another tool that I love in the kitchen is my citrus squeezer. Before this, I had one of those wooden juicer hand-held sticks. While this was fun to use, you end up picking out all the seeds as you mash the thing as hard as you can. This squeezer is much simpler, cleaner, and faster.
To make the glaze of the Lemon Olive Oil Tequila Cake, you need to do some serious lime juicing so having a tool like this makes it easier to accomplish. A day hardly goes by without using this favorite (and simple!) kitchen tool. 
Finally, to make this cake, I used my Kitchen-aid mixer – what a joyful machine. I use it at least once a week and if you enjoy baking, I highly recommend you invest in one for yourself. You can make so many things in these wonderful machines. From cakes to mashed potatoes, it does it all.
Making Lemon Olive Oil Tequila Cake
This cake is easy to make, especially if you have the tools I mentioned above. Preheat your oven and prepare your Bundt cake pan with butter and flour. Mix your dry ingredients together in one bowl and in another, beat the sugar and butter. If you prefer non-dairy butter, that's a really easy substitution that you are welcome to make. Once the sugar and butter are blended and fluffy in texture, beat in the eggs one at a time. 
Next, you will want to slowly add the flour mixture to the wet mixture. Continue to stir slowly while you add these two mixtures together. Add ½ the lemon juice to batter and mix to combine. Choose your lemon size based on the amount of citrus you want as you'll be using them both in your cake and your glaze. I love how lemon tastes, so I used 2 very large ones.
You are now ready to transfer your batter to the prepared Bundt cake pan and place it in the oven to bake. 
Once you have baked the cake, you'll set it out on a cooling rack and paint it with olive oil so it soaks into the top a bit. This adds a bit of moisture and a savory note. While your cake is cooling, prepare the glaze. You can't put the glaze on the cake while the cake is hot because it will get too 'melty,' so wait until it's cooled then pour it on. Note that it may drip – in a really beautiful way – so putting it on a cake platter first would add a nice touch to the presentation.
More Recipes
If you need other dessert ideas, I have more options here on the blog. Be sure to check out my other healthy(ish) recipes:
Vegan Gem Thumbprint Cookies
Fresh Lemon Honey Tapioca Pudding
Vegan Strawberry Rhubarb Mini Mason Jar Cheesecake
If you're into alcohol in cakes, check out my:
Chocolate Cake with Red Wine Frosting
Cucumber Gin Gimlet Cake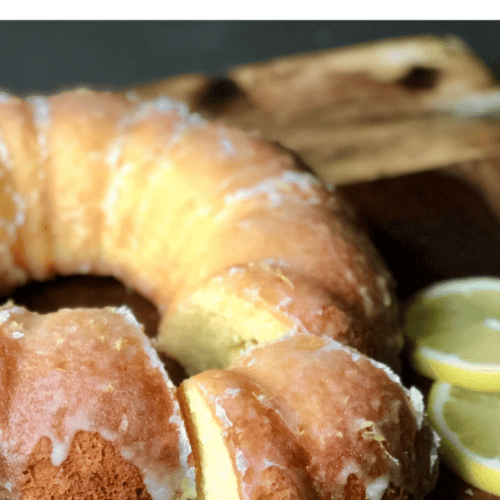 Lemon Olive Oil Tequila Cake
This moist cake has that subtle margarita flavor but with the complexity of savory olive oil and bright lemon. Don't forget the tequila glaze!
Print
Pin
Rate
Ingredients
2

sticks

unsalted butter, softened *extra for greasing the pan

2

cups

all-purpose flour

1/2

teaspoon

baking powder

1 1/4

cups

sugar

3

eggs

2

medium

lemons, zested and juiced

divided

1

tablespoon

extra virgin olive oil

1 1/3

cups

powdered sugar/confectioners sugar

1/4

cup

tequila
Instructions
Preheat the oven to 350 degrees F. Prepare a 9 ½ inch Bundt cake pan with butter and dust lightly with flour.

In a medium bowl, combine the flour and baking powder.

In a large mixing bowl or standard mixer, beat the butter and sugar together. Once blended and fluffy in texture, beat in the eggs one at a time.

Slowly add the flour mixture to the wet mixture while continuously stirring. Add ½ the lemon juice to batter and mix to combine.

Pour the batter into the prepared pan and bake for 25 minutes.

Rotate the pan in the oven and bake for another 30 minutes ,until a toothpick inserted in the middle comes out clean.

Remove from the oven and transfer to a wire rack. Pierce the top all over with a toothpick then brush the top evenly with olive oil.

Cool the cake while you prepare the glaze.
Tequila Glaze
In a mixing bowl, combine the powdered sugar, remaining lemon juice, lemon zest, and tequila and whisk until smooth. Transfer the cake to a serving platter and drizzle the top evenly with the tequila glaze.
Nutrition
Serving:
1
slice
|
Calories:
463
kcal
|
Carbohydrates:
61
g
|
Protein:
5
g
|
Fat:
22
g
|
Saturated Fat:
12
g
|
Cholesterol:
105
mg
|
Fiber:
1
g
|
Sugar:
41
g
Ginger Hultin,MS, RD, CSO
An award-winning, nationally recognized nutrition expert and media spokesperson.
Thanks for visiting! If you're like me: obsessed with eating, wine, going out and traveling, you're in the right place. Champagne Nutrition® LLC is a Registered Dietitian-run concierge virtual practice helping clients look and feel better. On this blog, you'll find cocktails, mocktails, and plant-based recipes that are easy to make quickly at home and pack for leftovers on your adventures.