A woman at the party said, "I didn't try the punch because these kinds of drinks are always too sweet". I poured her a glass and told her to try it anyway (since she was interested and as she sipped the Turmeric Vodka Cocktail, her face lit up and she said "that's so delicious and refreshing and not too sweet at all!". Dietitian recipes for the win!!
You all know how I feel about sickly sweet, packaged beverages. I'm adamantly against pre-made margarita mix and I developed a healthier margarita recipe for you a couple years ago; it's still one of my most popular posts. I love using natural ingredients in my cocktails and turmeric is a really fun one to use because of it's health benefits and because of it's gorgeous color. I use lemonade in this recipe but there are so many other natural flavors that help get us both nutrition and that great taste in recipe. If you're in an area that grows blackberries like here in the Pacific Northwest, you could forage to recreate this Spicy Blackberry Citrus Margarita. It's got such a beautiful color of its own. Having healthy cocktail recipes on hand is one of my dietitian tips for client success. I love helping people find a way to imbibe in a healthier way when I can, if it's important to them.
I recently went to a party and the host asked me to bring one of my favorite healthy cocktails that would serve a group. Whether you're throwing a party at your house, hosting a birthday, or attending a community event, a pitcher of cocktails can make hosting much easier and happier for you so you're not playing the bartender the entire night. At the party I was going to, I needed a drink that could serve 50 people. I needed it to be flavorful, healthy and interesting to a large amount of different preferences.. Enter my Turmeric Vodka Cocktail made with freshly brewed turmeric tea.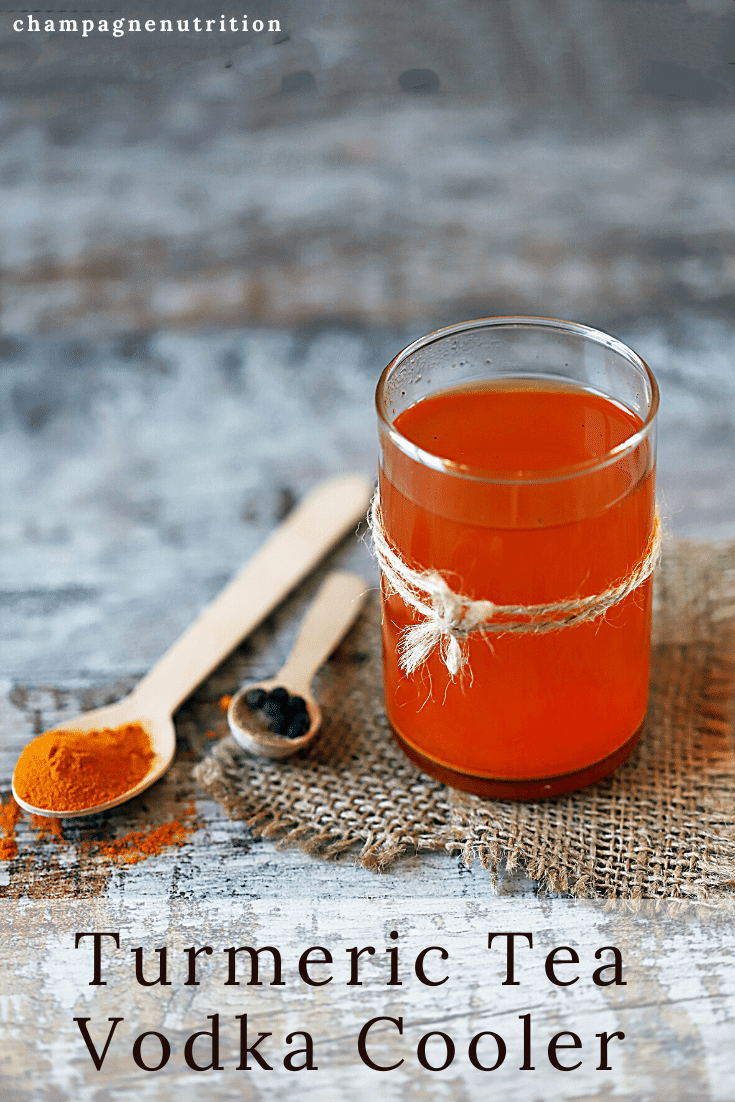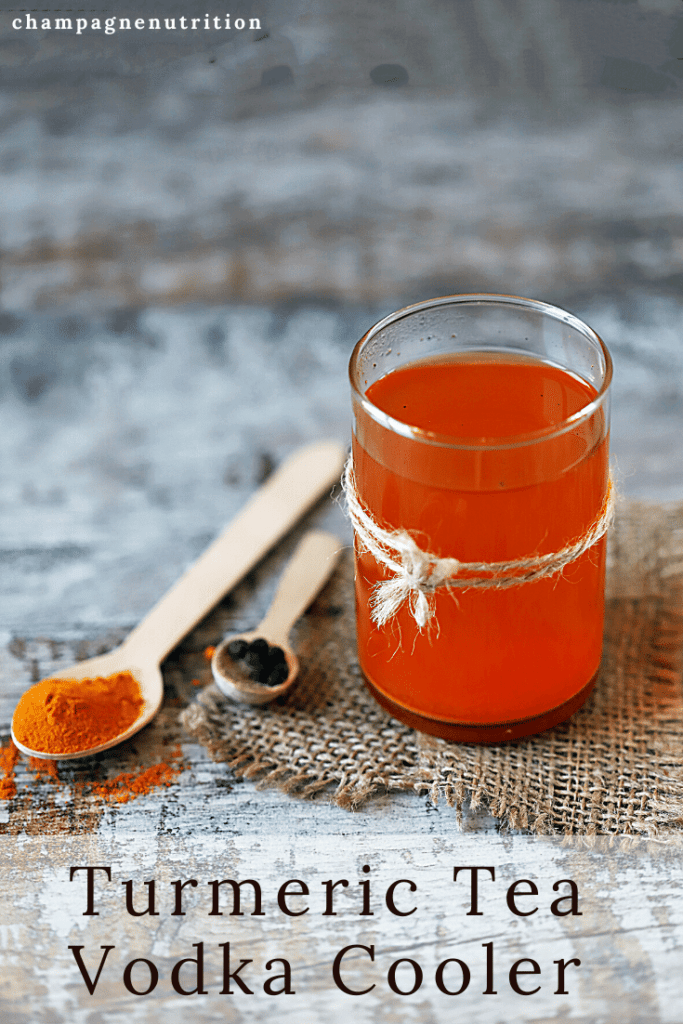 Health Benefits of Turmeric
Turmeric is an orange root commonly used in Indian cuisine that is known for its anti-inflammatory properties. I like using it in cooking but I'm also quite familiar with it as a supplement. When dosed at therapeutic levels, the active form of turmeric, curcumin, can make a big difference for people suffering from inflammation. I've used it with patients undergoing cancer treatment and I've seen some success using it in autoimmune diseases, too. The only negative I can see is that it does thin the blood so if you're at risk for undergoing surgery or other bleeding issues, you should use caution. Other than that, I've seen it bring out of range labs back to normal and help people really feel better. What a win from such a natural food! It also makes for a beautiful, soothing tea, the base of my Turmeric Tea Vodka Cooler.
If you're interested in learning more about curcumin or turmeric, I write about it a lot. Here's an interesting piece about brain-boosting supplements or "nootropics" in Today's Dietitian Magazine and here's a piece about increasing absorption of certain nutrients (black pepper increases the absorption of curcumin!). Turmeric is always on that list.
Making the Turmeric Vodka Cocktail
Any cocktail needs a base and that's turmeric tea for this drink.It's a gorgeous color, has all the health benefits I listed above, and it's very versatile to make both cocktails and mocktails out of. Plus, when people realize that you made a cocktail with tea, they'll be so impressed and surprised.
Vodka is my liquor of choice because it goes so well in so many types of drinks. It's a very neutral flavor of alcohol unlike rum or gin which have very distinct tastes. It goes so perfectly in this recipe.
I added some natural lemonade because of the complementary color and because a cocktail does need a touch of sweetness. Lemon is a wonderful addition to turmeric. An alternative would be to use some lemon juice and honey for sweetness. If you're vegan, then of course you can use maple syrup or agave instead for your sweetener.
The most time-consuming part is brewing the tea and letting it cool. If you pour alcohol into boiling water, it will evaporate and create a non-alcoholic beverage. That's why you cook with alcohol for the flavor like in a vodka sauce or white wine in risotto, because you keep the flavor but you don't have the booze. That's not what you want in a cocktail. Instead, you'll be chilling the tea down before pouring it over ice in a large pitcher.
Finally, I'm a fan of store-bought lemonade. There are some really great, organic and lower sugar varieties out there. I definitely want a product based on real lemon juice – not an artificial colored or flavored one. Make sure to read labels and if you want to get creative, choose a mango-lemonade variety for that added color.
It would definitely be possible to make this cocktail in smaller batches including for "one". A tea bag is brewed in 8 ounces of tea and a cocktail contains 2 ounces of liquor so I'd use those ratios as the base and then add a splash of lemonade for sweetness and serve over ice.
Enjoy!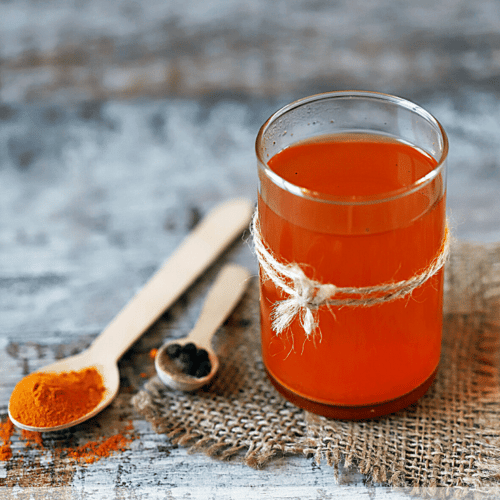 Ingredients
6

turmeric tea bags

its fine if they're turmeric ginger or any other combination you'd like

48

fluid ounces

boiling water

3

cups

ice cubes

25

fluid ounces

vodka

equivalent one standard sized bottle

16

fluid ounces

lemonade

I like Newman's Own or Santa Cruz brands that come in the glass bottles
Instructions
Place the tea bags in a large glass pitcher. Pour in the boiling water and then place the pitcher in the refrigerator to steep and cool for 30 minutes or so.

Fill a large glass pitcher or punch bowl about 1/2 way with ice cubes. Pitcher should hold about two gallons. Pour in the cooled tea then add the vodka and lemonade. Stir it well with a long spoon then set it out to serve in 4-ounce glasses. Guests can add ice to their cup, then serve the punch from the pitcher.
Ginger Hultin,MS, RD, CSO
An award-winning, nationally recognized nutrition expert and media spokesperson.
Thanks for visiting! If you're like me: obsessed with eating, wine, going out and traveling, you're in the right place. Champagne Nutrition® LLC is a Registered Dietitian-run concierge virtual practice helping clients look and feel better. On this blog, you'll find cocktails, mocktails, and plant-based recipes that are easy to make quickly at home and pack for leftovers on your adventures.