Vegetarian Anti-Inflammatory Diet 101
There is so much buzz around plant-based eating these days and for good reason. A plant-based diet offers tons of health benefits especially for people struggling with chronic health conditions like diabetes, heart disease, and cancer. Keeping health in mind when following a vegetarian diet can be confusing and to be honest, a bit overwhelming. The internet is packed full of information about all types of eating styles and diet plans, but it can be hard to sift through what is accurate and helpful, and what just simply, isn't. Do you have to be vegan? How do you meet your protein needs? This is exactly why my team and I made a simple, guided, "this is how you do vegetarian anti-inflammatory diet 101". I'm excited to tell you about it! 
Creating healthier habits can change the way you feel and I find it's easiest to approach plant-based eating with a plan. Creating meal plans, grocery lists, and being equipped with the right information can drive your success along your plant-based journey.
As an integrative and clinical dietitian, my job is to sort through the information and help my clients through their health concerns with an evidence-based and personalized approach. Some of my clients are struggling with complex health conditions like cancer, digestive issues, or autoimmune conditions where inflammation can be a big problem. My approach to nutrition care is unique, personalized, and results driven. One thing I focus on with most of my clients is transitioning to a more vegetarian style of eating because it's anti-inflammatory in nature and offers some great health benefits. Not all of our clients are plant-based but it's clear that most people do need to be eating more plants in their diet….so we're making it easy for you with the new e-book!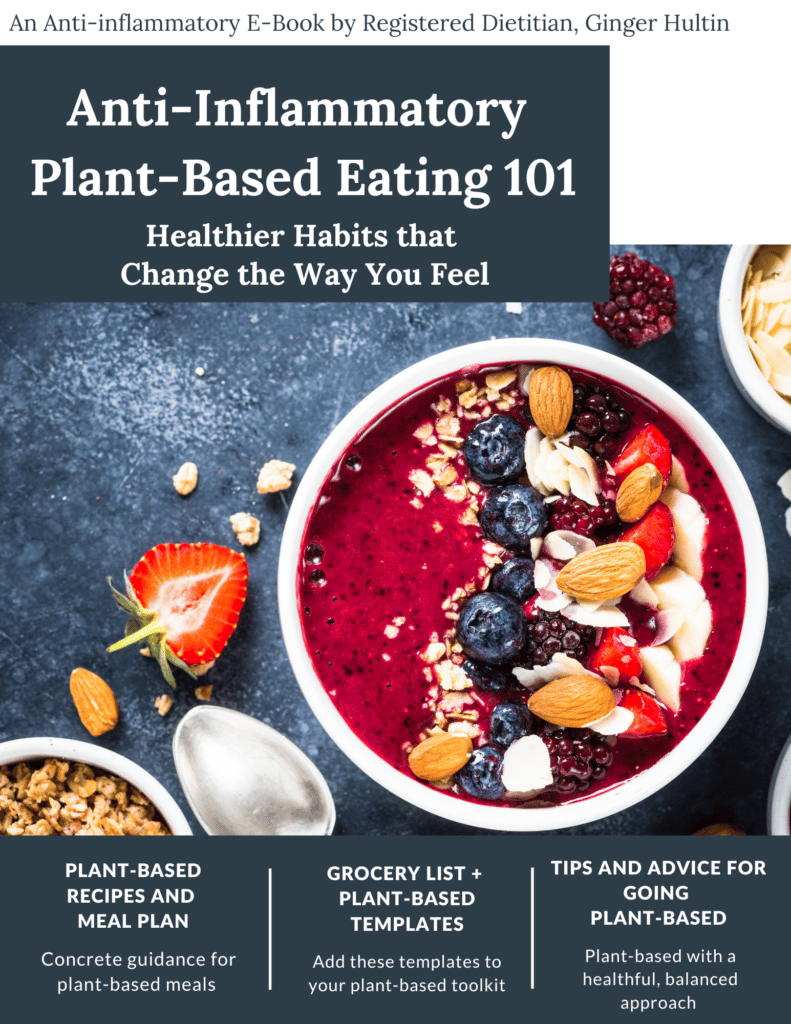 Vegetarian Anti-Inflammatory Diet – Resources for You
After releasing my two books: Anti-Inflammatory Diet Meal Prep and How to Eat to Beat Disease Cookbook  in 2020 and 2021 I was inspired to create a meal prep ebook: Meal Prep for Weight Loss 101. This was my first ebook which launched earlier this year and ever since I've been receiving repeated requests for practical tips and applications for plant-based eating. I think the 101 concept is really supportive for making these big changes simple, easy, and accessible. 
I knew had to come out with something focused solely on plant-based eating. What better way to fulfill your requests than to create an e-book packed full of ready to use vegetarian recipes and tips and tricks for going more plant-based? 
Be sure to check out my newest ebook Anti-Inflammatory Plant-Based Eating 101 which just launched!
What's Inside the Anti-Inflammatory Plant-Based Diet 101 E-book?
You'll get:
Plant-based essentials 101

An overview of plant-based approaches and evidence-based ways they can help

Your how-to guide for meeting nutrient needs on a plant-based diet

Tips and tricks for stocking your pantry and eating out on a plant-based diet

Your guide to eating plant-based on a budget

2 meal plans with a full week's worth of recipes (breakfast, lunch, dinner and snacks)

Meal plans are based on original recipes and include shopping lists

Nutritionals on every recipe for guidance on nutrients

Recipe adaptation suggestions for gluten-free, vegan, sodium reduction, and flavor preferences 
If You Would Like More Information About the Benefits of Plant-Based Eating for Your Health…
I've got you covered! I talk about this topic a lot on my blog as well as in the media. Here are some recent links you might find interesting and helpful in better understanding the 'buzz' around plant-based:
As a long time advocate for eating more plants and less meat, I love helping people break down and understand the science. From the studies that I track and new research coming out to the recipes I create for you that are simple (and delicious), getting more plants in your diet is a favorite topic for me.
I'm Excited You're Here! Next Steps
As my team and I continue to work hard to support you and your health goals, we invite your feedback. We love hearing from you and always take your requests to heart. Your opinion matters to us and helps us while we continue to create resources that are useful to you. Be sure to post a comment down below to let us know what questions remain about healthy eating, plant-based diets, or how to lower inflammation through better nutrition.
Wherever you are in your health and nutrition journey, take that extra step to caring for yourself and grab your copy of my newest ebook Anti-Inflammatory Plant-Based Eating 101. I know that it will make healthy eating (that's more fiber, less saturated fat, more antioxidants, and more nutrients) simple and easy for you and your family. And as always, please let me know your thoughts and how it works for you. We love feedback!
Ginger Hultin,MS, RD, CSO
An award-winning, nationally recognized nutrition expert and media spokesperson.
Thanks for visiting! If you're like me: obsessed with eating, wine, going out and traveling, you're in the right place. Champagne Nutrition® LLC is a Registered Dietitian-run concierge virtual practice helping clients look and feel better. On this blog, you'll find cocktails, mocktails, and plant-based recipes that are easy to make quickly at home and pack for leftovers on your adventures.