You may be wondering how to get your kids to enjoy healthy foods – especially how to increase their vegetable intake. What seems to work time and time again is to include your kids while cooking. When a child has played some role in the preparation of a certain food, they are more likely to give it a try. Simple but healthful recipes that they can help make like these Baked Veggie Bites are a great place to start. This recipe is the reason I love veggies today! It is important to remember that they may not like a food right away – what is important is to continue to have that exposure. Offer choices and don't force anything. P.S. If you're an adult trying to like more healthy foods – this will work for you too!
Some of us were lucky enough to be brought into the kitchen with our parents or relatives and this can help develop lifelong skills and passion for cooking and nutrition. I still have many fond memories cooking with my mom in elementary school – and I even still have my very first cookbook!
If you have kids – or nieces, nephews, neighbors or God-kids – pull them into the kitchen and make it fun as they learn about food with you. Even little kids can prep, stir, and explore. Have them get their hands dirty as you weave in little lessons about how to measure correctly, read recipes, and combine flavors. This will inspire curiosity about new foods and encourage them to try the new healthy foods they helped prepare.
About the Baked Veggie Bites 
Veggie bites are super simple: chopped veggies dipped in egg and flour then baked. I increased the amount of veggies from the original recipe to 4 cups now instead of 2 because you can never have enough veggies. I believe this recipe is one of the reasons that I love broccoli and cauliflower so much now as an adult. You can use any kind of veggies that you like – if you hate crucifers, don't use them. Zucchini, bell peppers, mushrooms or even eggplant would be fun here, too. 
I added more egg and included black pepper into the flour mixture. I also coated the pan with coconut oil to reduce the amount of butter needed in the recipe and to add a complexity of flavor. These Baked Veggie Bites turned out amazingly and are a perfect recipe for kids or adults alike.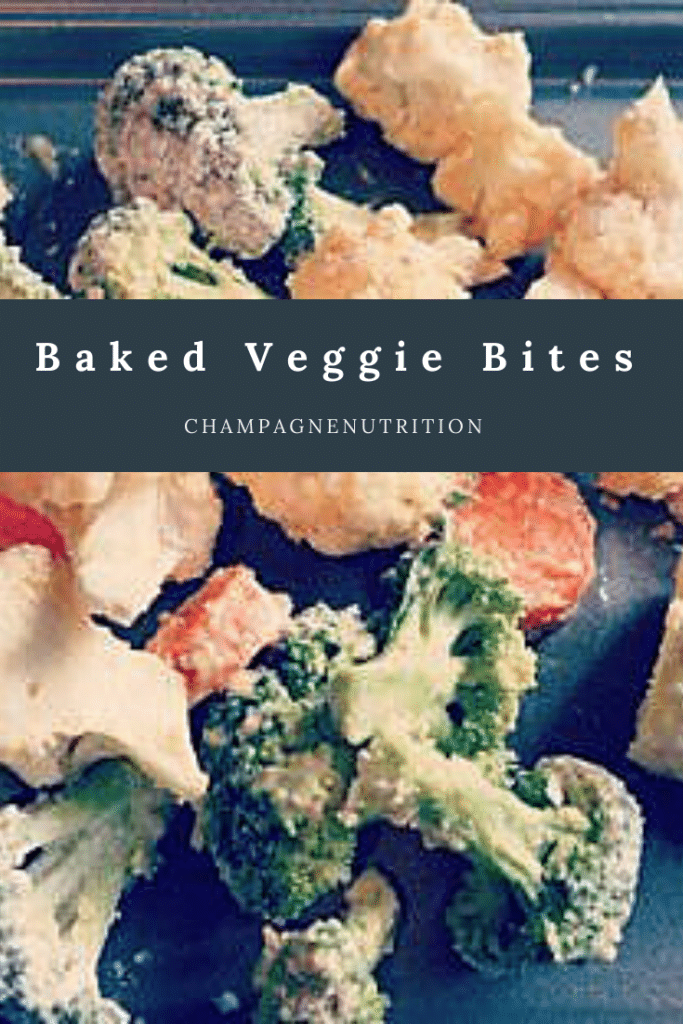 Health Benefits of Eating More Veggies 
This recipe is a great way to increase vegetable intake. It is important to find ways to enjoy vegetables instead of trying to force them down when you don't like them. Cruciferous vegetables are especially good for us – these include things like cabbage, cauliflower, broccoli, Brussels Sprouts, bok choy, radishes, arugula, and many more. Cruciferous vegetables are high in a compound known as 'glucosinolates' which have protective effects against certain cancers.    
Vegetables in general are so healthful for us because they are very nutrient dense – meaning they are very high in nutrients but low in calories. They are high in vitamin C, K, and A, potassium, and B-vitamins. Including foods high in fiber like vegetables in the diet reduce the risk of many chronic illnesses including heart disease and types 2 diabetes.
Putting it all Together
To begin making these veggie bites preheat the oven to 450 degrees F. You then want to coat a rectangular baking sheet with 1 tablespoon of coconut oil. You can use parchment paper instead if that is what you prefer.
Coat the Veggies
The next step is to make the coating for the veggies which is a very easy two-step process. The first step is to crack the eggs into a shallow bowl and add in about two tablespoons of water. Beat the eggs and the water with a fork until well combined. In a separate shallow bowl, mix the flour, salt and black pepper until well combined. The veggies are now ready to be coated!
Working in batches of about 5-6 vegetables, dip them into the egg mixture, then remove them and roll them into the flour mixture to coat. Place them on the baking sheet and repeat until all of the vegetables have been coated. 
Season and Bake
Finally melt the butter or non-dairy butter and drizzle it over the vegetable pieces. Bake the veggie bites, uncovered, for 12-14 minutes, turning over once. When done, the veggies will be tender and the coating will be light and golden brown. Enjoy!  
Substitutions 
New products like Just Egg have made it easier than ever to replace eggs in recipes if you are allergic or follow a vegan diet. Just Egg can be used just the same as you would use the egg yolk, but you do not need to add water or beat it if using it in this recipe. However, Just Egg may not be available to you in your area – an alternative would be to make a similar homemade version from mung beans, the primary ingredient in Just Egg. An egg-like batter can be made from mung beans, following this recipe here: Mung Bean Egg.
I hope that you enjoy these Veggie Bites!
If you need more simple recipe ideas that help get in more veggies, try my easy chickpea endive boats or simple spicy guac.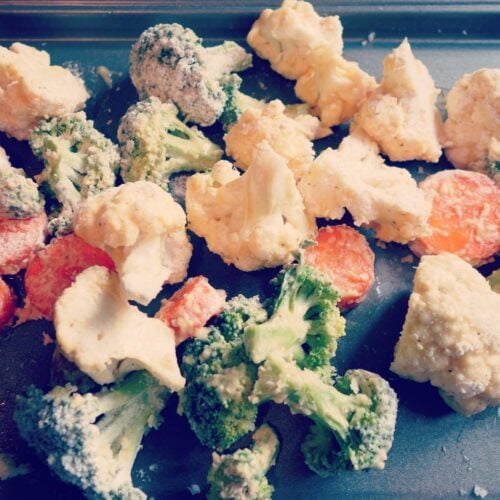 Ingredients
1

Tablespoon

coconut oil

3

eggs

6

teaspoons

water

3/4

cup

all-purpose flour

1/2

teaspoon

salt

1/4

teaspoon

ground pepper

4

cups

broccoli florets, cauli-florets, and 1/4-inch carrot slices (or other veggies you enjoy: 1/2-inch zucchini slices, 1/2-inch strips green or red bell pepper)

1/4

cup

butter or non-dairy butter

(melted)
Instructions
Lightly coat rectangular baking sheet with coconut oil.

Beat the eggs and water with a fork in shallow bowl. Mix the flour, salt, and pepper in separate shallow dish.

Dip 5-6 vegetable pieces into egg mixture, then remove them and roll them immediately in the flour mixture to coat. Place them in the prepared pan and repeat with the remaining vegetables.

Drizzle melted butter over the veggie pieces then bake uncovered 12-15 minutes, turning once, until vegetables are tender and coating is light golden brown.
Ginger Hultin,MS, RD, CSO
An award-winning, nationally recognized nutrition expert and media spokesperson.
Thanks for visiting! If you're like me: obsessed with eating, wine, going out and traveling, you're in the right place. Champagne Nutrition® LLC is a Registered Dietitian-run concierge virtual practice helping clients look and feel better. On this blog, you'll find cocktails, mocktails, and plant-based recipes that are easy to make quickly at home and pack for leftovers on your adventures.