Citrus Kombucha Old Fashioned
Let's face it – the kombucha craze is still among us. If you live on the West Coast like me, you may have noticed this fizzy probiotic fermented tea popping up all over the place. Since I am all about balance, I thought: why not incorporate this delicious drink into a cocktail? I have been wanting to revamp the traditional old fashioned for quite some time now, and couldn't think of a better way to do that than to combine it with kombucha to make a beautiful citrus kombucha old fashioned. 
Since an old fashioned is such a classic, I didn't want to change it too much. This drink contains citrus ginger kombucha and fresh squeezed orange juice, eliminating all added sugar, so it's not only better for you, but it is also packed with more flavor. I have a lot of friends who are not huge old fashioned fans, but go crazy for this cocktail. It's my go-to for get-togethers with friends because it's such a crowd pleaser.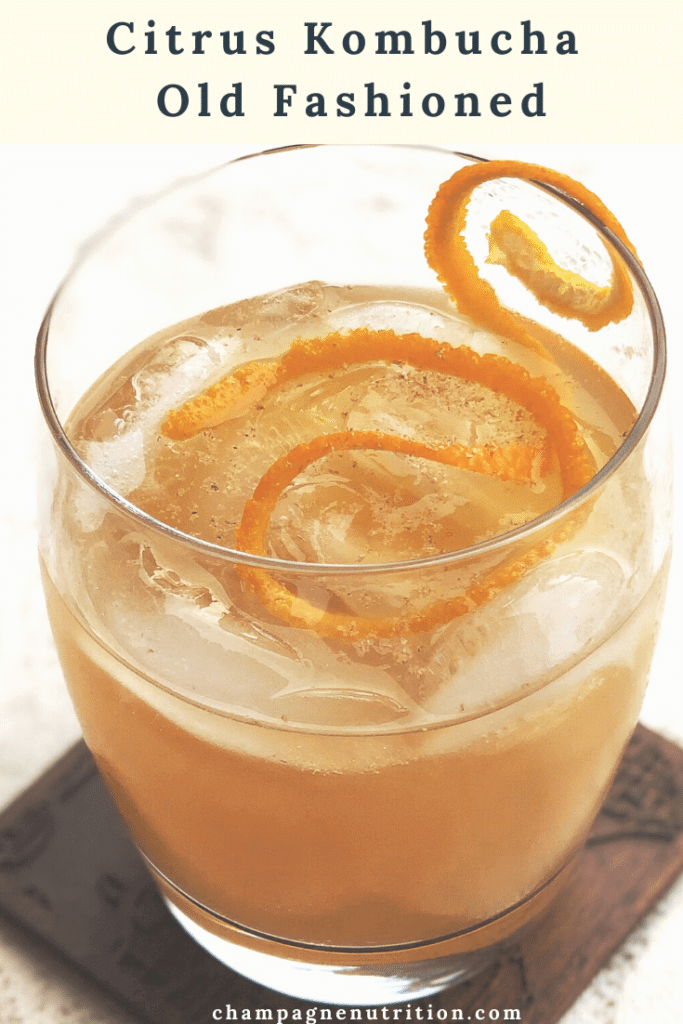 The Old Fashioned 
The Old Fashioned cocktail is one of the most classic cocktails of all-time. Back in 1806, it was said to be the first recipe that appeared next to the word "cocktail" on print. So In the 1880s when people would ask for it at the bar, they would refer to it as the "Old Fashioned," which is how it got its name. This intense cocktail is made with bourbon or rye whiskey and requires a sugar cube, bitters, a citrus twist (orange or lemon) and a cocktail cherry and is traditionally served over a large ice cube. The best I've ever had is in Wisconsin, where they are exceptionally popular. You can make it "sweet" (lemon-lime soda is added), "sour" (sour mix is added) or my personal favorite, "press" (seltzer and 7-up are added). 
Although this drink is delicious just how it is, the added sugar in it has several downsides. First off, it can make you very drunk very quickly and it can also cause a nasty hangover (nobody wants that). There is also some evidence that suggests drinking sweet alcoholic drinks can give you the munchies (I chat about that here in CNN.com). For all these reasons, I created a lightened up Citrus Kombucha Old Fashioned. No added sugar – no sugar cube at all in fact. The sweetness comes from a little bit of fresh orange juice and the natural sweetness of kombucha.
Why Kombucha? 
Over the past several years, kombucha has gained some serious popularity, but this drink has actually been around for over 2,000 years. It was originally used for its healing properties, but today people drink it for all sorts of reasons. If you're unfamiliar with it, it's a fermented sweet tea that is typically made with black or green tea. Generally, when making kombucha, a double fermentation process takes place, meaning this product can take up to 5 weeks to fully ferment. This causes carbon dioxide to be released, creating carbonation (which is why it is bubbly). A majority of the sugar in the tea is consumed by the yeast and bacteria while fermenting, which is why this beverage is relatively low in sugar. Fun fact – the fermentation processes also produce alcohol, but most kombuchas are considered non-alcoholic because they contain less than 0.5% of alochol. 
The crazy processes that go into making kombucha gives this drink its unique properties – it's packed full of live probiotics, healthy acids and antioxidants. This refreshing, bubbly, fermented health drink pairs deliciously lots of different alcohols, including bourbon, making it a perfect combo. My Citrus Kombucha Old Fashioned is packed with good-for-you nutrients, so after drinking 1 or 2 of these you won't regret it (especially the next morning). 
Making the Citrus Kombucha Old Fashioned 
When making this cocktail, I decided to go with bourbon, but rye whiskey or brandy (the Wisconsin way) would work well too. I just used some bourbon I had on hand, but if you are needing to go out and buy some, I suggest trying to buy it locally (support your local businesses!). 
For the kombucha, I used a citrus ginger flavor because I thought that would work really well with the rest of the ingredients. There are endless amounts of kombucha flavors, many of which would work great in this recipe. 
I use freshly squeezed orange juice in this recipe, which sounds time consuming, but it's actually very simple and kind of fun to do. All you have to do is wash and cut some oranges in half and squeeze the juice out of them into a cup or bowl. If you prefer it without pulp, squeeze the juice over a mesh strainer. The best part is you only need a tablespoon for this recipe, so if you squeeze several oranges, you can store the extra juice in the fridge and use it for another recipe, like my Strawberry Orange Turmeric Immunity CBD Tonic or my Carrot Ginger Tumeric Mimosa. 
Once you have your bourbon, kombucha and orange juice ready, all you have to do is add them to a metal shaker over ice and shake several times to combine. If you don't have a metal shaker on hand, try using a reusable water bottle.  
As I have said before, a traditional Old Fashioned is usually served with one large ice cube. A lot of people think it's just for show, but there is actually another reason why it's preferred over a handful of normal-sized ice cubes. A larger ice cube has more surface area, meaning it will melt slower, which prevents your delicious drink from getting watered down. I just used normal-sized ice because that's what I have, but if you have a large ice cube tray, you should give it a try and tell me if it made a big difference for you! Pour the chilled mixture into a glass over your ice (whether large or small) and garnish with an orange peel and a dash of cinnamon. 
Creating the spiral orange peel garnish can be tricky, but with some practice, it's easy to get the hang of it. With a canelle or paringpairing knife, cut into the orange peel (don't dig too deep – you don't want much white pith), roll the orange around in your hand, in a smooth even motion, continuing to cut the peel as you go. Once your strip of peel has reached a good length (or once it naturally cuts off) you can stop. To give it that fancy spiral shape, roll the cut peel into a spiral and squeeze – drop in ice water right after for a tighter spiral. 
If you like the idea of a kombucha cocktail, I have others! This Strawberry Basil Kombucha cocktail is a great one as is my Ginger Beet Cocktail with Thyme. 
Do you enjoy kombucha cocktails? Let me know in the comments!
Citrus Kombucha Old Fashioned
This gorgeous Old Fashioned just got a little healthier
Print
Pin
Rate
Ingredients
1/2

cup

citrus ginger kombucha

1

tablespoon

freshly squeezed orange juice

2

fluid ounces

bourbon

1

large

ice cube

or 3-4 regular-sized ice cubes

1

2-inch long

orange peel strip

for garnish

dash

cinnamon
Instructions
Add kombucha, orange juice, and bourbon to a metal shaker over ice.

Shake hard several times to combine.

Strain into a highball glass over your large ice cube or regular ice cubes and garnish with orange peel and a dash of cinnamon.
Ginger Hultin,MS, RD, CSO
An award-winning, nationally recognized nutrition expert and media spokesperson.
Thanks for visiting! If you're like me: obsessed with eating, wine, going out and traveling, you're in the right place. Champagne Nutrition® LLC is a Registered Dietitian-run concierge virtual practice helping clients look and feel better. On this blog, you'll find cocktails, mocktails, and plant-based recipes that are easy to make quickly at home and pack for leftovers on your adventures.