Walnuts…such a wonderful, healthy, delicious food and even more so if you add rich coconut and decadent vanilla for a sweet treat like my Coconut Vanilla Walnuts recipe. I can't wait to tell you about it because I love adding nuts to just about any savory or sweet recipe I can. Some of my go-tos are adding them to salads, mixing them with dried fruit to make homemade trail mix, or mixing them into my favorite baked goods. Not only are they packed with healthy fats and vitamins and minerals, they add such a nice crunch to any recipe. 
Walnuts are such a perfect snack to munch on while getting cozy by the fireplace or while watching a movie if the weather isn't the best outside. Today, I'm going to be sharing my Coconut Vanilla Walnut recipe with you because it's got the perfect balance of cunch, savory, and sweetness.
These candied nuts are my absolute favorite snack to enjoy during the colder months. I feel like we are constantly surrounded by heavy, sugary snacks that I like to enjoy these because they provide a touch of sweetness without being too overly sweet. Adding a touch of vanilla and some coconut flakes provides these crunchy snacks with just the right amount of sweetness to satisfy your sweet tooth.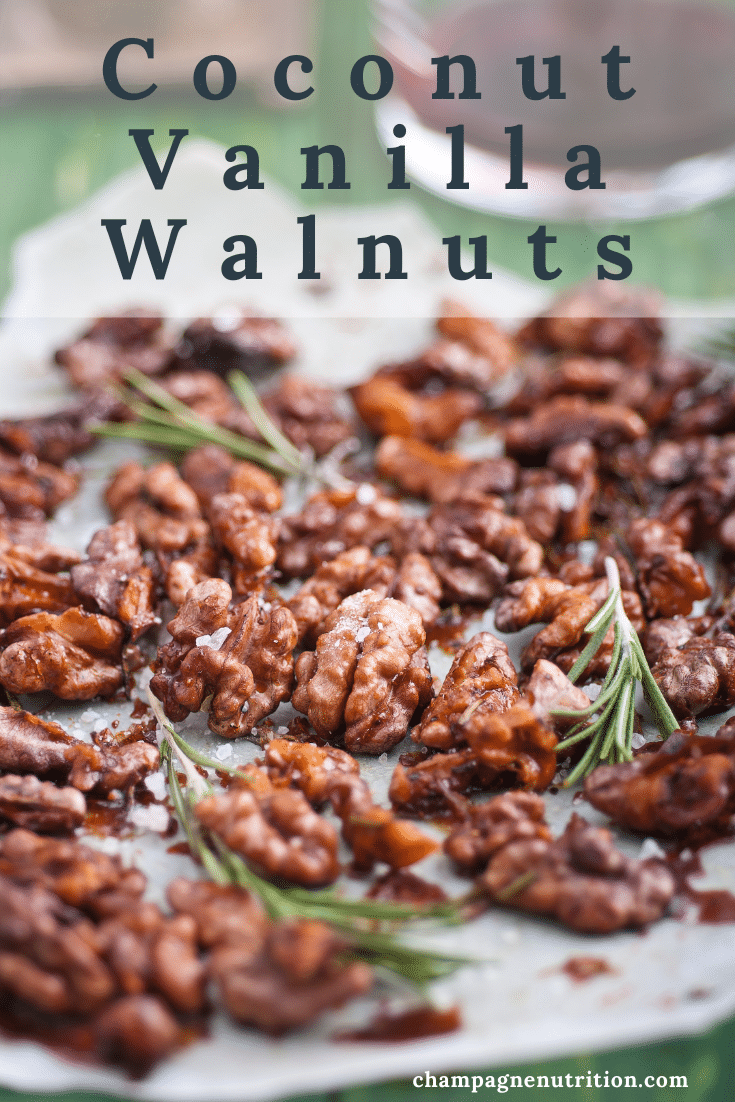 The Health Benefits of Walnuts
Walnuts are so incredibly delicious! They are a powerhouse, providing not only an amazing flavor but so many health benefits as well. Walnuts are rich in antioxidants which can help reduce free radicals in the body. They also help reduce inflammation in the body, which is so beneficial since inflammation can lead, ultimately, to so many other diseases such as type 2 diabetes, heart disease, or abnormal digestive function. Walnuts' antioxidant activity has also been seen to lower damage of LDL cholesterol. LDL cholesterol is typically characterized as "bad cholesterol" due to its nature to increase risk of heart disease. Increasing your intake of walnuts, among other things, can help decrease LDL cholesterol levels and prevent further development of atherosclerosis (blockage of the blood vessels) and other heart diseases.
Additionally, walnuts are packed with omega-3 fatty acids. These fatty acids are essential fatty acids, meaning that we must get them from our diet since our body doesn't naturally produce them. Omega-3 fatty acids are polyunsaturated fats, which is one of the healthy fats that we want to ensure we are getting enough of. Omega-3 fatty acids provide numerous benefits to help decrease one's risk for heart disease, such as reducing triglyceride levels, reducing blood pressure, increasing HDL/good cholesterol levels, preventing plaque build-up in the arteries, and reducing inflammation.
Walnuts are such an amazing addition to any dish. I love adding mine on top of a salad to add some crunch, making homemade granola or trail mix, or just enjoying them by themselves. These Coconut Vanilla Walnuts are the perfect way to enjoy them because they add just the perfect amount of natural sweetness without masking the natural walnut flavor.
Why Coconut?
I love incorporating coconut flakes into so many different recipes to provide additional flavor, natural sweetness, and some crunch to the dish. Not only are they super versatile but they also provide a lot of health benefits. Coconut is packed with numerous minerals such as copper, iron, selenium, manganese, phosphorus, and many more. Additionally, coconut provides mostly fat, specifically in the form of MCTs (medium-chain triglycerides). MCTs are unique fats because they can be absorbed directly into the bloodstream without the help of bile. This allows rapid use of them for energy. Coconut also provides natural sweetness without having a high sugar content. If you love coconut as much as I do, you should try my Coconut Champagne Bread, my Cocoa Coconut Chia Pudding, and my Easiest Blueberry Coconut Oatmeal Bake.
Making the Coconut Vanilla Walnuts
The Nuts
In these Coconut Vanilla Walnuts, I love to start by roasting the walnuts for 5 to 7 minutes in the oven. Roasting nuts improves their taste, aroma, and allows for an even crunchier texture. Just be careful that you do not burn the nuts while roasting them. While this recipe does call for walnuts, any nut really would work for this recipe. So if walnuts aren't your favorite, feel free to substitute them with almonds or pecans or whatever you prefer. Just be aware that different nuts may need to be roasted in the oven for longer in order to reach perfection.
The Sweetness
What I love about this recipe is that it isn't overly sweet like typically candied nuts are. Candied nuts are often made of melted white sugar but for the holidays, there are other options. I prefer to coat them in maple syrup to provide a nice, natural sweetness instead. Maple syrup adds a more complex flavor; purchase 100% pure, organic maple syrup when you can. The Grades of maple syrup indicate the richness of color, but not the quality. I like to heat the maple syrup on the stove to allow for easier coating when I add in the walnuts. I also add a touch of vanilla extract when I heat up the maple syrup for a nice flavor. These Coconut Vanilla Walnuts are a perfect combination of savory and sweet and the absolute perfect snack!
The Coconut
I like to add the coconut flakes at the very end, after the walnuts have been roasted, so that they keep their natural texture and crunch. I fold them into the maple syrup mixture at the end. Adding coconut flakes provides a nice touch of sweetness to the walnuts and makes them so delicious. If you aren't a huge fan of coconut, no worries! Since we add them into the maple syrup mixture right at the end, it is super easy to just leave them out entirely. While they definitely tie the whole recipe together, they can also be replaced with something you prefer.
If you are looking for the perfect snack to satisfy your sweet tooth this season, these Coconut Vanilla Walnuts are the way to go! Comment below if you try them out.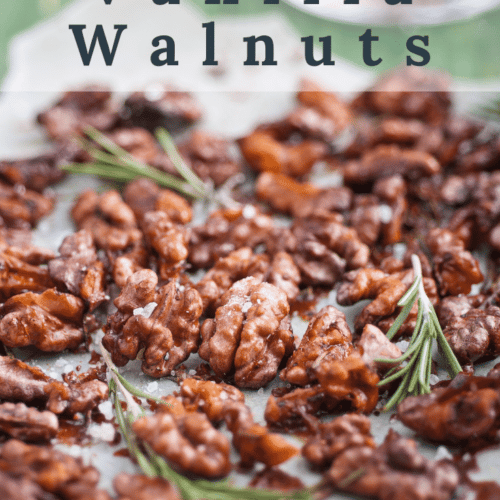 Ingredients
2

cups

walnut halves

1/2

cup

maple syrup

1

teaspoon

pure vanilla extract

1/4

teaspoon

coarse salt flakes

1/2

cup

unsweetened finely shredded coconut flakes
Instructions
Preheat the oven to 350°F. Spread the walnuts on a baking sheet lined with parchment paper or a silicone liner in a single layer then bake for 5 minutes, toasting for 1 or 2 more minutes if needed but be sure not to burn. Remove them from the oven and let them cool.

In a medium saucepan, heat the maple syrup until it's warm. Add the vanilla extract, salt and toasted walnuts, quickly stirring and coating each piece with the syrup mixture. When walnuts are evenly coated, pour in the coconut flakes and fold them gently to coat the walnuts.

Place the walnuts back on the parchment lined baking sheet using two forks to separate them from each other, working quickly to prevent walnuts from sticking excessively together. Cool completely before serving, about 20 minutes.
Ginger Hultin,MS, RD, CSO
An award-winning, nationally recognized nutrition expert and media spokesperson.
Thanks for visiting! If you're like me: obsessed with eating, wine, going out and traveling, you're in the right place. Champagne Nutrition® LLC is a Registered Dietitian-run concierge virtual practice helping clients look and feel better. On this blog, you'll find cocktails, mocktails, and plant-based recipes that are easy to make quickly at home and pack for leftovers on your adventures.