Easy Grapefruit Vinaigrette Dressing
If you've ever felt frustrated at the grocery store, looking at the sea of dressings and reading labels only to find a lot of added processed oil and sugar, this post is for you! My clients tell me that they go through 'seasons' with salads. In the summer, they're all about the greens and in the colder months, they're looking for something more hearty. This Easy Grapefruit Vinaigrette Dressing is actually the best of both worlds because it's light for spring and summer greens but grapefruit is actually a winter fruit and perfect to dress salads with heartier ingredients.
I'm chatting all things 'dressing' today and I hope it will inspire you to to make your own as part of your weekly meal prep. There's lots of variations and tips down below with the recipe. If you try this one, be sure to leave me a message and let me know what you think.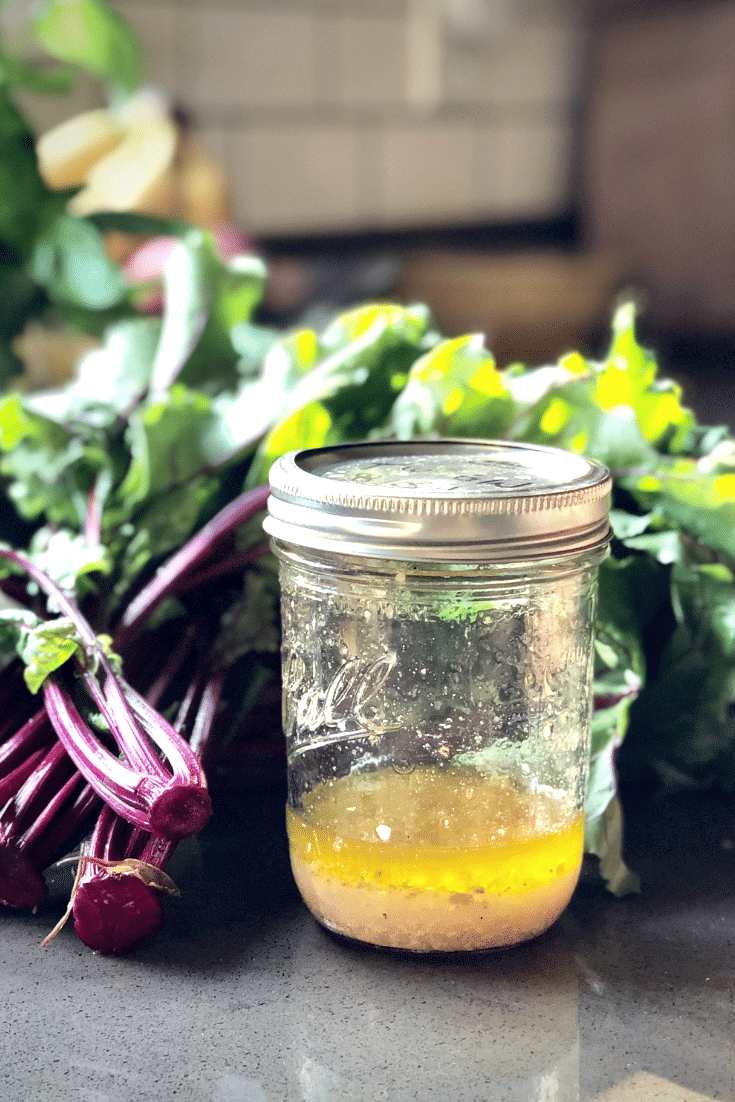 I found this really fun dressing recipe in a book that I adore, Your Astrological Cookbook by Catherine Urban and I tweaked it just a bit for my own dinner party. Her recipe, Beet Grapefruit Salad, is excellent because it takes a dressing very similar to my Easy Grapefruit Vinaigrette Dressing and dresses a beautiful, colorful salad that includes a bed of beet greens paired with 3 roasted beets and the sections of 2 grapefruits. If you only eat grapefruit for breakfast in the morning, you definitely need to try it this way, in a salad. The way Urban serves her grapefruit dressing is a suggestion that I have for you; it's delicious and the book is super fun.
What I love about using beet greens as salad greens is that first of all, it uses the entire vegetable. No waste! I have a whole blog post about how to reduce your dietary "foodprint" here so please be sure to check it out so you really understand what an impact what you do, personally, in your home kitchen, really has. Luckily, this food trend – reducing waste – is becoming more popular. It's here in the Grapefruit Vinaigrette Dressing if you zest and juice and use the segments of the grapefruit you put in the salad. It's here in my friend Liz's carrot top pesto and here in my friend Sarah's Koszyk's 27 Dietitian-Approved Recipes to Reduce Food Waste. Bonus: in that post, you get my One Glass Sangria recipe because it uses that leftover wine and citrus you've got lying around. Never waste good wine!
If you need more ways to use this dressing, put it on a simple bed of greens like the picture below – arugula or spinach would be ideal, or a mixture of lettuce with watercress added for that herbal bite. Creamy avocado pairs well with a dish like that or you could add some toasted chopped nuts for texture. Alternatively, put it on a hearty chickpea salad with red onion and cucumber. You could also use it on a cold noodle salad that needs a bright, citrus flavor. Consider adding a protein like shrimp or scallops because the Easy Grapefruit Vinaigrette Dressing would really complement that.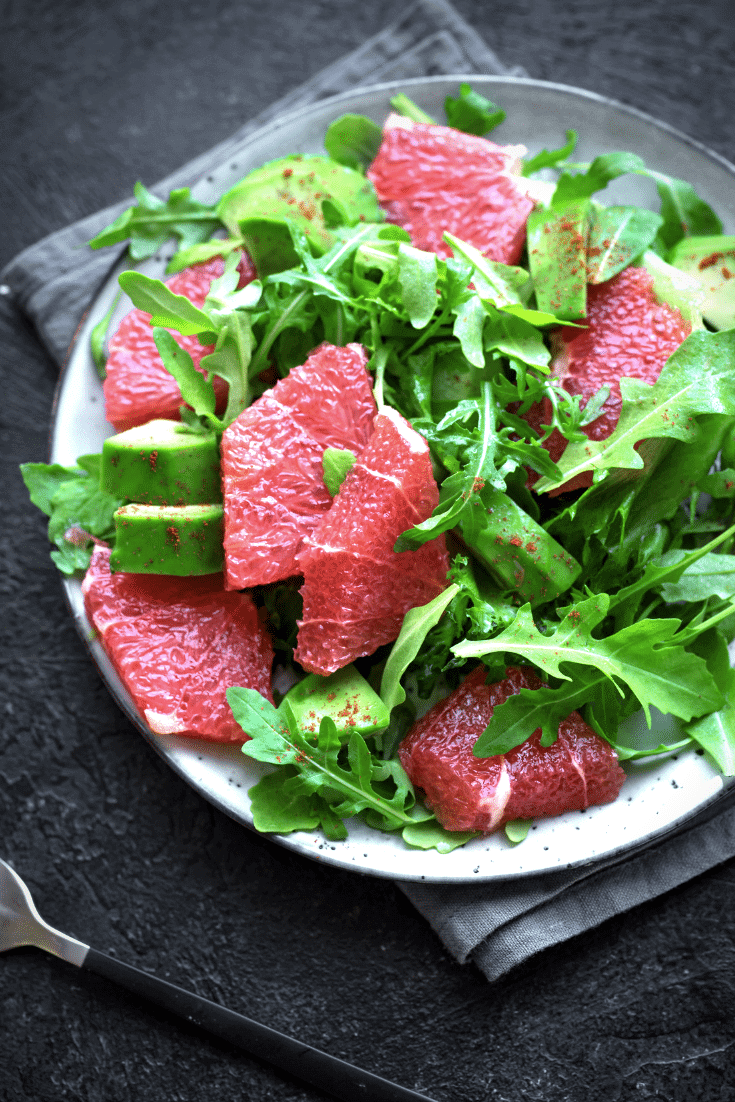 Making the Easy Grapefruit Vinaigrette Dressing
This dressing takes just a minute to make but I wanted to offer you a lot of different options and suggestions for how to put it together. Even if you don't have all the right ingredients, you can always make a version of this and that's what I set out to do with all my blog posts; offer you options that work for your life and preferences.
The shallot
What I love about this recipe is how the shallot is grated. It really gets incorporated and blends into the dressing very well that way. Alternatively, you could dice it very finely. If you don't have a shallot for the base, you could use some yellow onion (like 2 tablespoons) or some chopped green onion instead. You definitely want that oniony flavor in this recipe but you also need balance so it's not overwhelming.
The vinegar
Feel free to use white wine vinegar or sherry vinegar. You also could use champagne vinegar, which is a nice addition or rice vinegar if you want a bit of a different type of flavor. Vinegar balances nicely with the olive oil and it's held together by the emulsifier here in the recipe, the mustard. I highly recommend Dijon over any other type; it has the best flavor and balance.
The olive oil
Olive oil matters a lot. I actually have an entire blog post about it here from when I went to an olive farm in Mallorca, Spain. Use an organic, cold-pressed, extra-virgin option if at all possible. I buy my olive oil in small quantities in dark bottles and keep them away from light and heat as much as possible in the kitchen. When you're using olive oil in a recipe like this, the flavor should actually come through and it matters a lot to the way the dressing tastes.
The grapefruit
Ideally for this recipe, you'd have a big, beautiful pink grapefruit that's sweet. There's no honey or sugar in the recipe so the sweetness really comes from the fruit on it's own. And it needs to carry the sweetness pretty far to balance out the vinegar and the onion. Get a ripe option that's in season if you can and make sure to taste it first before using it in the dressing. If the grapefruit isn't a viable option for you, consider using an orange instead for a different flavor. If you need to use lemon, then you'll need to balance that tart flavor out by adding in some honey or agave.
Other Salad-Inspired Recipes
If this sounds good to you, you should also try my vegan lemon vinaigrette; similar yet different!
This vanilla-honey dressing on the celeriac apple salad is incredible and perfect for the fall and winter.
And my tofu cranberry protein bowl has a really light, simple dressing. This is a go-to for my work days.
Easy Grapefruit Vinaigrette Dressing
A simple, citrus dressing perfect any time of year
Print
Pin
Rate
Ingredients
1

medium shallot, grated

1/4

cup

red wine vinegar

3

tablespoons

olive oil

1

medium grapefruit, zested and juiced with seeds removed

1 1/2

teaspoons

Dijon mustard

1/4

teaspoon

salt

1/8

teaspoon

freshly ground pepper
Instructions
Whisk together all ingredients in a small mixing bowl, or combine them in a mason jar with a lid and shake the ingredients together. Dressing will keep in the refrigerator for up to 6 days.
Ginger Hultin,MS, RD, CSO
An award-winning, nationally recognized nutrition expert and media spokesperson.
Thanks for visiting! If you're like me: obsessed with eating, wine, going out and traveling, you're in the right place. Champagne Nutrition® LLC is a Registered Dietitian-run concierge virtual practice helping clients look and feel better. On this blog, you'll find cocktails, mocktails, and plant-based recipes that are easy to make quickly at home and pack for leftovers on your adventures.