Fresh Citrus Champagne Fizz
I'm just obsessed with champagne cocktails. I can't stop making them. My favorite thing to explore is how to enhance the natural flavors of champagne and that includes bright citrus notes. Some people don't love champagne or sparkling wine on its own so mixing it into a cocktail can be the perfect little boost for you to enjoy a celebratory beverage. Before I became a registered dietitian, I bartended here in Seattle for years at a very busy, popular bar. I made a lot (LOT) of mimosas and mimosa spin-offs and other sparkling drinks. This is a really fun one that I thought you may want to serve at your next party.
Picking the 'Champagne'
The base of this cocktail is sparkling wine or champagne. When it comes to the sparkling, make sure to use a dry champagne rather than a sweet one. Look for "brut" or "extra brut" on the label rather than "dry" or "off dry". Right now, dry champagne is more popular so it should be easy to find. And listen, my friends, you can use a cheaper Prosecco or Cava instead of real champagne because real champagne is for drinking on its own. I'm not saying that a nicer option isn't worth the investment here but I'd suggest something in the $15-25 range. The $50+ is for drinking by itself. And just leave the <$10 stuff on the shelf. Sorry but it's not worth it. There are some incredible finds with wine and you can sometimes get away with a very affordable bottle but sparkling is a little different.
I used a Cremant from the Burgundy region of France for this recipe instead of Champagne. In order to be called Champagne, it hs to come specifically from the Champagne region of France but there are other wonderful sparkling wines from other areas. This dry Cremant has a crisp, bright flavor that pairs well with these citrus flavors.
I feel like, when you open a bottle, you may as well make cocktails with the whole thing so this Fresh Citrus Champagne Fizz recipe uses an entire 750ml bottle. That serves about 5 people so definitely make this for a party or plan a night for a smaller group where a couple people may have more than 1 beverage. It's cool, though, because the national guidelines are 1 drink per day for women and 2 for men so that may work out perfectly. Do you know why the guidelines are that way? It's because men and women actually metabolize alcohol differently. Men have more of the active enzyme that helps rid the body of alcohol in their stomach so they're processing it more quickly. Women will experience more of the alcohol moving into their bloodstream and around the body. Men naturally have more of that active enzyme in their livers, too, so they may be less affected. There are a LOT of other factors to consider, though. If you ever have questions about alcohol and health, make sure to hit me up and we'll talk.
Making the Fresh Citrus Champagne Fizz
Once you've got your sparkling picked out, you're ready to quickly prep the rest of the ingredients. The part that adds sweetness and little extra kick is the limoncello. I have such a soft spot for this liqueur. Admittedly, it's not my favorite but it's come up in some pretty epic travel adventures and so, for me, it is very nostalgic. Limoncello is a classic Italian lemon-flavored liqueur made from lemon zest and consumed throughout Italy but produced mostly in the South, especially in the region around the Gulf of Naples, the Sorrentine Peninsula and the coast of Amalfi, and islands of Procida, Ischia, and Capri. It is used as both a welcoming beverage or an after dinner treat. Often served ice-cold, this beverage is the perfect traditional ending to a lunch or dinner. The recipe is simple and consists of lemons (often the rinds), sugar and alcohol. Of course, it is a very sweet liqueur so a little goes a long way and is balanced in this recipe with naturally sweet and tart grapefruit juice. I highly suggest using fresh if at all possible as it really brightens up the drink.
It reminds me of being a teen in Italy, experiencing alcohol (at those volumes) for the first time. Living in Italy for the summer, limoncello was everywhere, served after meals as a digestive, and since it's lightly sweet and lemony, it was accessible to me at the very beginning of developing my palate and taste. (Know that on this blog, any alcoholic beverage is intended for those 21+ please!). Limoncello was also served at a beautiful Italian restaurant I went to in Brooklyn, New York a couple years back. It is just such a nice addition to the evening when the owner brings it out to enjoy with his guests. And finally, I enjoyed some in Lebanon more recently, again, at the end of a dinner filled with Arabic music and dancing – I just think of it as such a celebratory drink that brings people together.
The actual citrus part is very important and I think that ruby red grapefruit gives this such a nice, tangy kick and also infuses some fun little pulp pieces into the drink. This indicates that it's super fresh and made with natural ingredients. I love how grapefruit juice balances the sweetness and flavor of the limoncello. I don't like adding white sugar or syrup to my recipes. It's not needed in this Fresh Citrus Champagne Fizz. Instead, all you ned is fresh grapefruit juice, a twist for garnish and a splash of Limoncello liqueur for sweetness.
Let's talk about the twist! This is actually really easy without any special equipment. Before you do anything else with your citrus (cut it, juice it, etc), use a tool to make a twist if you have it or otherwise, do what I do and use your vegetable peeler. Just use the top of it and go slowly, working your way around the fruit so get those long, thin twists. Sometimes I tie mine in knots if they're strong enough or I try to make them twisty. These ones in the picture were a little 'straight' for my liking but hey, no one's perfect.
Let me know if you try this one! Enjoy-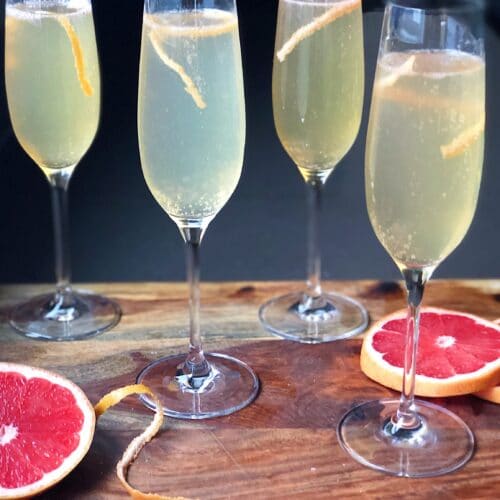 Fresh Citrus Champagne Fizz
A gorgeous, 3 ingredient cocktail you can whip up in minutes
Print
Pin
Rate
Ingredients
1

bottle/750ml chilled dry champagne

Prosecco or Cava

2.5

ounces

Limoncello

chilled

1

ruby red grapefruit

juiced
Instructions
In a champagne glass, place 5 ounces of champagne or sparkling wine. Add 0.5 ounces Limoncello and a teaspoon of grapefruit juice. Garnish with a grapefruit twist and serve cold.
Ginger Hultin,MS, RD, CSO
An award-winning, nationally recognized nutrition expert and media spokesperson.
Thanks for visiting! If you're like me: obsessed with eating, wine, going out and traveling, you're in the right place. Champagne Nutrition® LLC is a Registered Dietitian-run concierge virtual practice helping clients look and feel better. On this blog, you'll find cocktails, mocktails, and plant-based recipes that are easy to make quickly at home and pack for leftovers on your adventures.