Pineapple Cucumber Mint Infused Water
If you've read my recent blog post for a Pomegranate Ginger Mocktail, you'll know I'm on a mission to include more drinks that have all the interest and flavor of a classic cocktail but have skipped the alcohol. I think this is important for all the people who need or choose to skip alcohol in their drinks for any number of reasons (check out my blog post for that list!). 
This Pineapple Cucumber Mint Infused Water has a more subtle flavor than my Pomegranate Ginger Mocktail, but it makes for a perfect flavored beverage to sip on at your next party if you're skipping the alcohol or just needing a water-based beverage to hydrate between alcoholic drinks. Plus, this infused water recipe makes a great basic template for whatever variation of flavor you most prefer for your own infused water concoction. These infused water drinks are one of my favorite ways to make it easier to stay hydrated when you don't like the taste of plain water. Check out my blog post on How To Drink Water When You Don't Like It for more simple tips for jazzing up your beverages. 
This Pineapple Cucumber Mint Infused Water combines acidic and sweet pineapple, cooling cucumber, and bright mint to keep you refreshed and hydrated all day!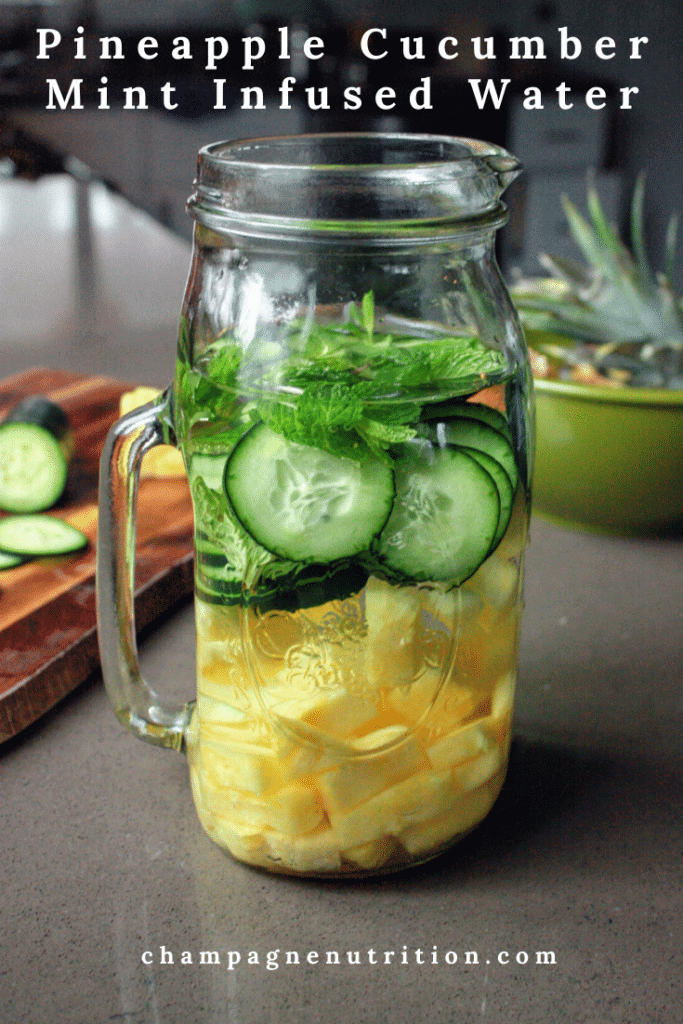 Cutting a fresh pineapple
For anyone not living in the tropics, it might be a little intimidating to peel and cut a fresh pineapple–I know it was for me! Luckily, my intern Linden grew up in Hawaii and was able to walk me through how to break down a fresh pineapple to make her favorite infused water flavor combo. And trust me, it was totally worth it for the intense and fresh pineapple flavor it infused into the water. Here are Linden's tips I followed for breaking down our fresh pineapple to use in this recipe:
Start with buying a ripe pineapple – look for a nice golden yellow color on the lower half of the pineapple, a nice firmness when you squeeze it (without feeling totally hard), and a pronounced pineapple scent when you sniff the base of the pineapple. If your pineapple smells overripe, has a lot of brown on the outside, and feels soft and mushy, then it's probably overripe and you'd be better off picking a different pineapple. 
Once you get your fruit home, grab a nice big knife, cut off the top of the pineapple with the leaves, and then the base.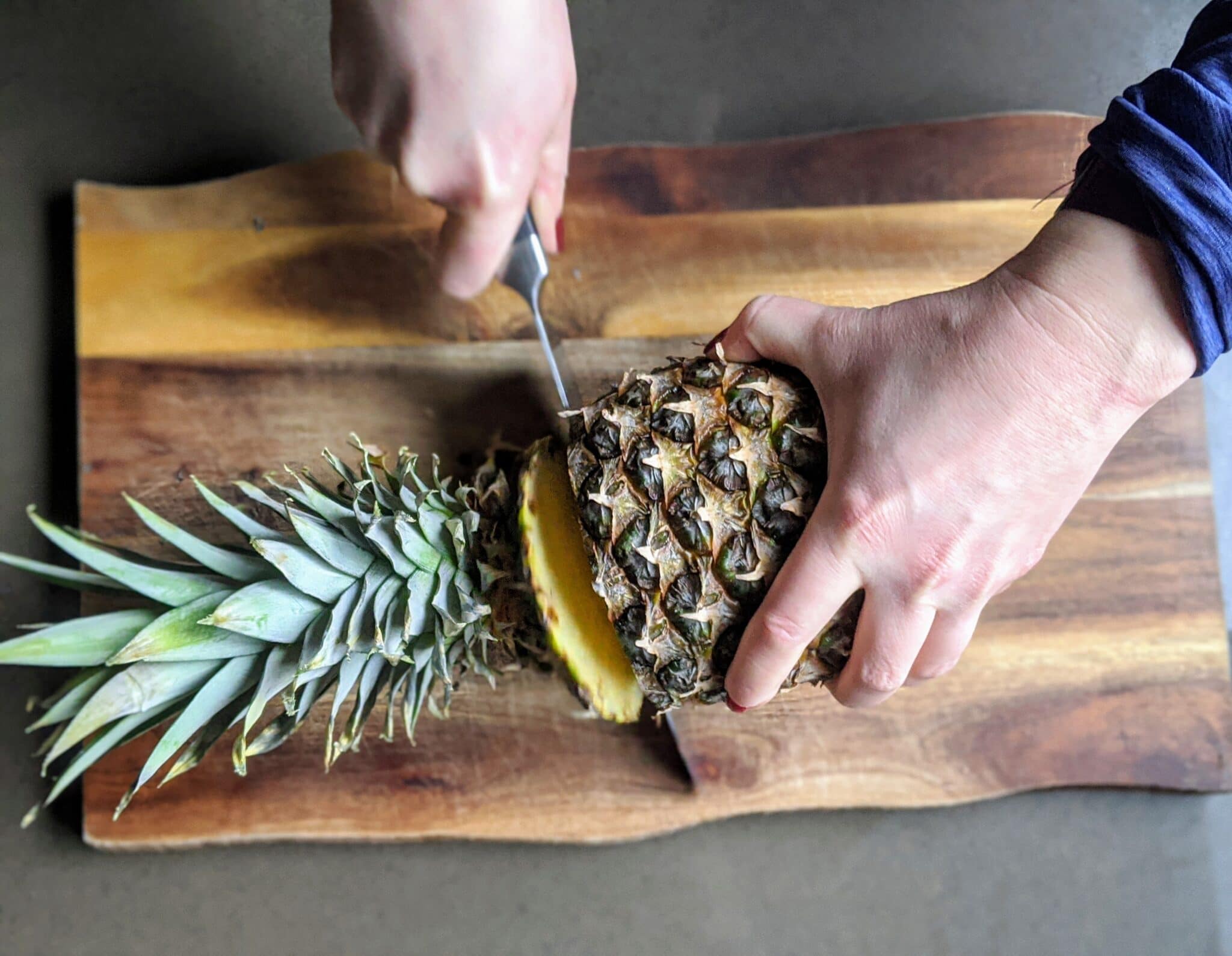 Put your pineapple on your cutting board on one of the two flat sides and use your knife to cut off the outer skin in small vertical strips. Get as close to the skin as possible without leaving too much of the brown "eyes". You should end up with a mostly yellow pineapple without much or any of the brown "eyes" leftover. 
In the middle of your pineapple is a tough, fibrous core – the final step is to cut the sweet fleshy fruit off of the fibrous core. Put your knife just to the edge of that fibrous core (there will be a visible ring) and slide down to free that sweet, sweet pineapple fruit.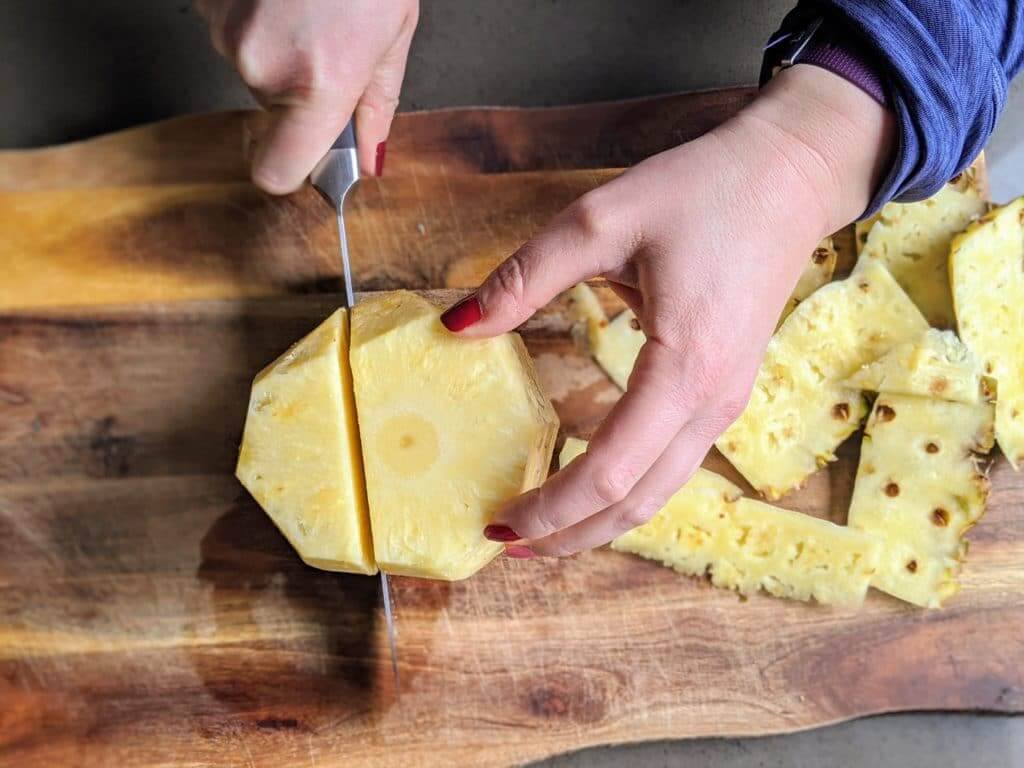 Do that for the remaining sides of the pineapple and discard the leftover core. Cut up your pineapple wedges into whatever shape you please! I like medium cubes for this recipe to best infuse their flavor into the water. If all else fails or you can't find a fresh pineapple, frozen pineapple will work fine.
Making the Pineapple Cucumber Mint Infused Water
This recipe is super simple once you have your pineapple peeled. Essentially, you just cube up your pineapple, thinly slice your cucumber, and toss in your mint sprigs. Tada, you're done! If you want to make this more complicated, you can rip up your mint leaves to bring extra mint flavor to the party, but it's not necessary. 
What I love about this recipe is the combination of three awesome ingredients into one refreshing drink. Mint is rich with aromatic oils and antioxidants to help protect your body from oxidative stress. Mint can also help with digestion, relieving some indigestion and IBS symptoms. 
Cucumbers are also full of antioxidants, and have some micronutrients that will infuse into the water along with their flavor. While cucumbers are the most impressive when you eat them in their whole form (to get all the fiber and water in the vegetable), using it in infused water will still impart some of its benefits and flavors. 
Pineapple is an impressive source of vitamin C, providing 131% of the RDI in just a cup of the fruit (see my blog post for 7 Surprising High Vitamin C Foods For Your Cold for other high vitamin C foods to include). Pineapple also has bromelain, an enzyme that breaks down proteins, which can help with digestion. Because it breaks down protein, the bromelain in pineapple is great at tenderizing meat, so use your extra pineapple chunks for a marinade for your next meat dish. If you don't eat meat, use that extra pineapple to make my Sheet Pan Teriyaki Tofu with Pineapple and Veggies. Some studies have even shown the pineapple fights cancer, reduces inflammation, and boosts the immune system. What an impressive fruit to add to your drinks and meals!
This drink can be made by combining all the chopped up fruit and the mint springs into a big pitcher that you top off with water. If you don't have enough room for one giant pitcher in your fridge, you can also make this by splitting the produce between two or three big mason jars (like these quart sized jars) so they can lay sideways or be split up between shelves in your fridge. 
After infusing away for a few hours or a day, these waters can be drunk as-is, or served over ice for an extra chilly beverage. I like putting a few pieces of the pineapple, cucumber, and mint into my glass or clear bottle along with the infused water to bring some of the brightness and color to each serving as I sip away. 
If you decide you're not a huge fan of any of these ingredients, you can always swap them for another fruit, vegetable, or herb. Other combinations can include citrus fruits, berries, other tropical fruits, and all sorts of herbs and spices to kick it up a notch and increase the antioxidant and phytonutrient content of your infused water!
Let me know how you enjoy this Pineapple Cucumber Mint Infused Water.
Ginger Hultin,MS, RD, CSO
An award-winning, nationally recognized nutrition expert and media spokesperson.
Thanks for visiting! If you're like me: obsessed with eating, wine, going out and traveling, you're in the right place. Champagne Nutrition® LLC is a Registered Dietitian-run concierge virtual practice helping clients look and feel better. On this blog, you'll find cocktails, mocktails, and plant-based recipes that are easy to make quickly at home and pack for leftovers on your adventures.