Salt and Pepper Pumpkin Seeds
Halloween is one of my favorite holidays aside from Thanksgiving and New Years. Every year I pick out my costume and get ready for pumpkin carving. I've also been known to have some pretty fun pumpkin carving parties at my house where I serve my famous apple cider bourbon punch and we all go to town creating creative pumpkin sculptures. I live up here in the Pacific Northwest so fall is very beautiful, crisp, and very festive.
This year, I saved the seeds from my pumpkin and I needed a simple, easy way to bake them so that I could still be with my guests. It's so fun to make a recipe like this the night-of so that people can enjoy the snack. If you want to take it to the next level, you can have some containers ready to go so you can send salt and pepper pumpkin seeds home with folks. The best thing about this recipe is that it's a simple base for you to build on. Add in other fun ingredients that make the flavor pop! I've got ideas for you down below and also a descriptor of exactly how to make these.
Martha Stewart said, a few years back, that "pumpkin spice-everything is for basic bitches only". Anthony Bourdain at one point also declared pumpkin-spice a food trend he was totally over. But I disagree – though pumpkin spice lattes and other pumpkin spice holiday treats are often too sugary and perhaps played out, pumpkin flavor lives on in my house. This year I'm carving and baking my own sugar pumpkin to use in recipes rather than using canned which is fun. And if you want to make your own pumpkin spice, combine 3 tablespoons ground cinnamon, 2 teaspoons ground ginger, 2 teaspoons ground nutmeg, 1 ½ teaspoons ground allspice and 1 ½ teaspoons ground cloves. I like to freshly grind my nutmeg. Especially if it's on top of a glass of eggnog. Take that Martha! Don't feel bad, dear readers, if you enjoy some pumpkin spice now and then.

Health Benefits of Pumpkin Seeds
These little squash seeds are packed with a variety of nutrients in addition to protein and healthy fats. They are particularly rich in zinc and I actual recommend any of my clients who test low in this important mineral increase their consumption of pumpkin seeds and I've seen people increase their blood levels through this practice. Many people don't like taking zinc supplements because of taste changes or stomach upset so getting zinc through food sources can be preferable. Zinc is found in a layer right below the seed husk so go ahead and eat the entire thing to get the most nutrition. Zinc is something that vegetarians and vegans need to pay special attention to so if you're a plant-based person, snacking on pumpkin seeds can be supportive of your health.
Pumpkin seeds are packed with Vitamin E, manganese and phosphorus as well. They've got antioxidants in them like all seeds. For all these reasons, they make incredible snacks. Package some up once you've made them to take to work or school and enjoy all week. They'd make a great pre or post workout snack as well.
Making Salt and Pepper Pumpkin Seeds
The hard part here is carving the pumpkin. The easy part is making Salt and Pepper Pumpkin Seeds. You should actually carve your pumpkin in a way that keeps collecting the seeds easy. You'll need a big bowl. First, cut a circle around the top of the stem. Carefully remove it and slice off the "goo" there is there are any seeds to be had in that part. Put it in your bowl. After that, take a large metal spoon and start scraping the inside of the pumpkin so that you're loosening all of the insides where the seeds are. Once you get some that has fallen to the bottom of the pumpkin, scoop it out with the spoon or even your hands and place it in the bowl. Do that until all the insides are completely scrapped out and the pumpkin is hollow.
Before you start carving, take some time to hand-pick your seeds from the goo in the bowl. Grab another smaller bowl and just dive into your pumpkin goo. Your fingers are the very best way to loosen the slippery seeds from the fruit strands. Pluck them out and run your hands down the strings to loosen the seeds. Once you've got most of them, put them in a strainer and again, use your hands to wash them of all the pumpkin gunk. They may still be a little sticky but that's ok if they're relatively clean.
Now you can season them according to the salt and pepper pumpkin seeds recipe. I kept it basic on purpose. Melted butter, salt and pepper with a little sprinkle of chili powder if you like it is all you need. Pop them in a prepared pan into the low-heat oven and let them go for about 30 minutes. Sprinkle with additional salt and pepper if you want to. You could also add some red pepper flakes, paprika, or even some garlic or onion powder. Yum!
See my simple Salt and Pepper Pumpkin Seeds recipe below or try one of my favorite smoothies: Ginger Pumpkin Breakfast Smoothie or my ever popular Peanut Butter Pumpkin Spice Smoothie. I've also got a super simple Pumpkin-Spice Homemade Waffle up on the blog, too.  What's your favorite pumpkin recipe?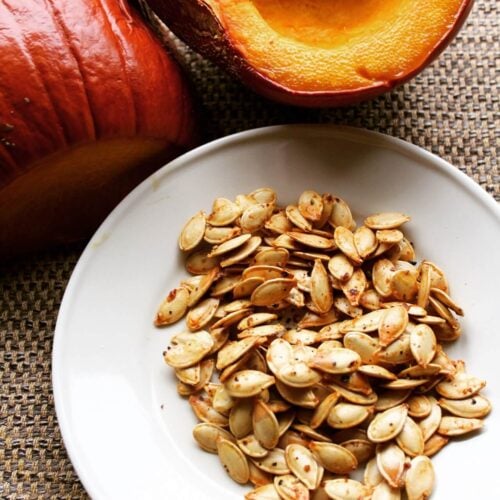 Salt and Pepper Pumpkin Seeds
Simple preparation makes this a holiday favorite!
Print
Pin
Rate
Ingredients
1-2

cups

fresh pumpkin seeds

(rinsed)

1-2

teaspoons

dairy or vegan butter

(melted)

1/8

teaspoon

salt

1/2

teaspoon

freshly ground pepper

1/4

teaspoon

chili powder
Instructions
Preheat the oven to 300 degrees F.

In a medium mixing bowl, combine the seeds, melted butter/butter substitute, sea salt and pepper and chili powder.

Spread the seed mixture on a parchment lined baking pan and cook for 20-30 minutes, stirring occasionally until toasty brown but not to burn the seeds! Remove from oven and serve warm.
Notes
Also makes a wonderful snack - pack leftovers in baggies and take with you go-to.
Ginger Hultin,MS, RD, CSO
An award-winning, nationally recognized nutrition expert and media spokesperson.
Thanks for visiting! If you're like me: obsessed with eating, wine, going out and traveling, you're in the right place. Champagne Nutrition® LLC is a Registered Dietitian-run concierge virtual practice helping clients look and feel better. On this blog, you'll find cocktails, mocktails, and plant-based recipes that are easy to make quickly at home and pack for leftovers on your adventures.