Simple Edamame Pasta Salad
Let's keep it simple with a delicious, easy pasta salad that's healthy and makes amazing leftovers for your busy weeks. Meal prep is the name of the game and when you combine a hearty whole wheat or high protein bean pasta with antioxidant-packed edamame and a simple dressing, you're creating a perfect balance. I've got the best Simple Edamame Pasta Salad around that you can take to any gathering, pack for work lunches or take on a picnic. This is one that your kids will enjoy if they're into basic noodles like so many of them are. The benefit here is that this isn't drenched in butter and cheese…but those flavors are definitely there just in an updated way.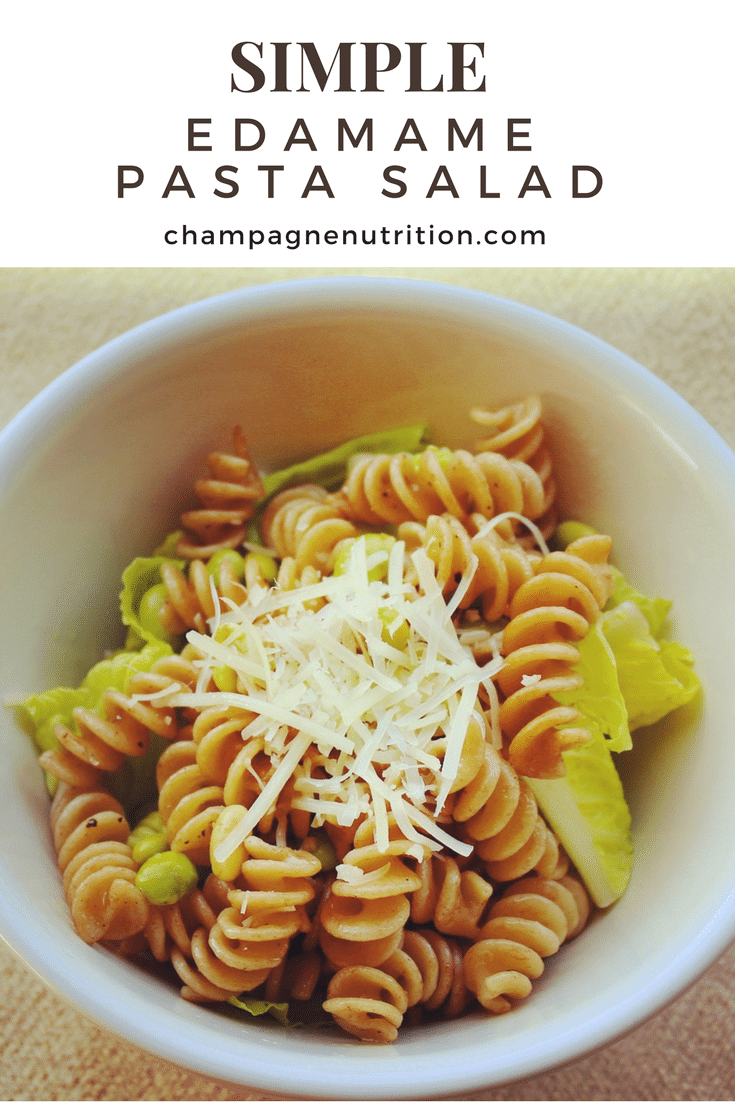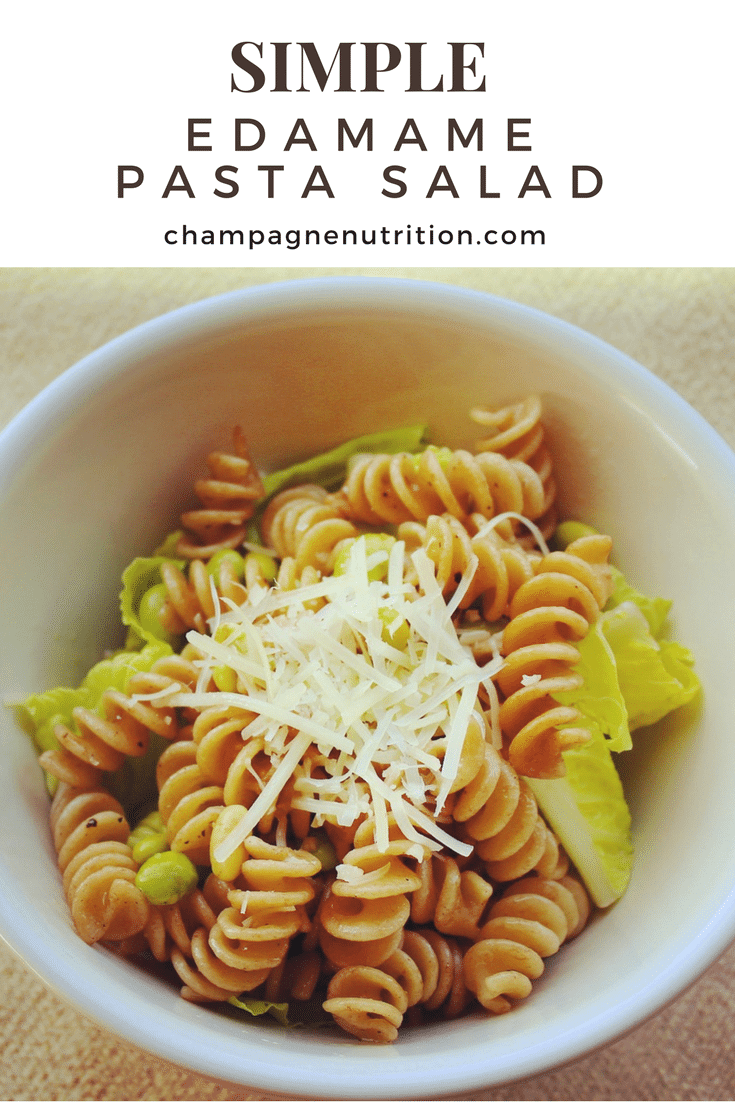 This Simple Edamame Pasta Salad is a complete meal and a salad that will keep you full for a long time. Whole wheat pasta has a good amount of fiber and a nuttier, chewier texture than regular white pasta that I personally prefer. The pasta and edamame part is tossed in a light, versatile dressing and served over spring greens to maximize the green leafy veggies you should be getting daily. I want to break down all the options of how to make this recipe your own because it can be made in many ways based on your preferences.
The Edamame 
Edamame is an amazing food that is sometimes underrated. These soybeans are rich in fiber, protein, vitamins, minerals and antioxidants. They are versatile to cook with and taste delicious in Simple Edamame Pasta Salad and beyond. Having worked in an oncology center for years and hearing so much misinformation and confusion on the subject of soy in the diet, I really want to discuss it here with you. Please be sure to check out my post about the safety of soy for men but it's also very safe (and beneficial) for women and children as well!
Soy (and many other other plant foods) contains "plant-estrogen" aka "phytoestrogen" which people fear mimics human estrogen and can stimulate cancer growth…or dominate a male's testosterone levels which would promote the spontaneous development of the dreaded man-boob (not a term I personally choose to use but one I am asked about often). This is the foundation of the fear but I'm here to break the research down for you so you can finally have your question answered.
The macro and micronutrient composition of soy is truly remarkable; the protein quality of soy is nearly identical to that of meat, it is low in carbohydrates and therefore suitable for diabetics, and it contains both omega 3 and omega 6 essential fatty acids. Soy has been directly linked to cardiovascular health including assisting to lower LDL cholesterol and blood pressure, reduce arterial stiffness, and promote vasodilation. In addition the consumption of soy products may reduce rates of cardiovascular events, like heart attacks.
As if heart health is not convincing enough, the consumption of soy has also been demonstrated to be protective against cancer, including prostate cancer. There is some evidence that the isoflavones in soy may inhibit metastasis, the development of secondary malignant growths.
Making the Simple Edamame Pasta Salad
Let's keep it super simple here. First, choose a pasta that's either whole wheat or bean-based. You'll be surprised at how delicious these options are plus they're much higher in both protein and fiber than regular pasta.
When you boil the noodles, just add the edamame at the end for a 2-in-1 step that makes multitasking in the kitchen even easier. If you don't care for edamame or have a soy allergy, green peas are a great substitution.
The Dressing
In my new book, Anti-Inflammatory Diet Meal Prep, I discuss meal prepping in depth including step-by-step instructions on how exactly to make it happen.  Part of that success will come from doing one task while another one is underway. While the pasta and edamame is cooking, simply whip up this dressing. If you've ever felt frustrated at the grocery store, looking at the sea of dressings and reading labels only to find a lot of added processed oil and sugar, this post is for you. I actually make dressing weekly and keep it in the fridge. It's an easy, affordable way to boost your intake of greens in a healthy way.
Lemon and olive oil are the base here but you have a lot of vinegar options. Try subbing in white wine, champagne or even apple cider vinegar instead of the sherry. You'll get slightly different flavors but you'll maintain that nice acidity.
This dressing is really simple but you could spice it up by adding your favorite herbs. I highly suggest sprinkling in some fresh parsley or cilantro. You could also add some oregano, thyme, basil or even mint. If you love spice, sprinkle on some crushed red pepper flakes or cayenne pepper.
I hope you enjoy my Simple Edamame Pasta Salad and if you need some more whole-foods based, simple, delicious soy recipes, I've got you here:
Tofu Zoodle Stir-Fry with Peanut Sauce

Sheet Pan Teriyaki Tofu with Pineapple and Veggies
Tofu Fresh Rolls with Spicy Noodles
Simple Edamame Pasta Salad
The easiest, healthy recipe that you can make in minutes for a balanced vegetarian lunch
Print
Pin
Rate
Ingredients
10

ounces

whole wheat rotini pasta

12

ounce

bag frozen shelled edamame

1/2

lemon, juiced

6

Tablespoons

extra-virgin olive oil

2

Tablespoons

sherry vinegar

1

teaspoon

sea salt

1/2

teaspoon

freshly ground black pepper

6

ounces

chopped romaine hearts or spinach

1/4

cup

freshly grated Parmesan (if desired - leave off for a vegan or non-dairy recipe)
Instructions
Cook pasta in a large pot of boiling water according to package instructions. Add edamame during the last 4 minutes of cooking then drain and set aside to cool in a large mixing bowl.

In a separate mixing bowl, whisk together lemon juice, olive oil, vinegar, salt and pepper until combined.

In a large mixing bowl, dress the pasta and edamame with the vinaigrette. Serve over fresh romaine in salad bowls and garnish with Parmesan if desired.
Ginger Hultin,MS, RD, CSO
An award-winning, nationally recognized nutrition expert and media spokesperson.
Thanks for visiting! If you're like me: obsessed with eating, wine, going out and traveling, you're in the right place. Champagne Nutrition® LLC is a Registered Dietitian-run concierge virtual practice helping clients look and feel better. On this blog, you'll find cocktails, mocktails, and plant-based recipes that are easy to make quickly at home and pack for leftovers on your adventures.