Maple Spiced Roasted Carrots
Let's be honest…we need more veggies around the fall holidays. And not 'candied' ones smothered in marshmallows. Honest, simple, veggies. That's why I created the most comforting, delicious dish for your next party or holiday dinner: Maple Spiced Roasted Carrots. These are veggies you'll very much look forward to enjoying so let me show you how to do that. 
My intern and I were making these together this week and we kept eating them and saying, 'yummmm – these are amazing'. Something about how the flavors blend together make this dish just….awesome.
What you've got here is lots of cinnamon blended with bright lemon juice, rich maple syrup, fresh garlic and cumin which make this side dish perfect for a fall evening. And if any of that sounds overwhelming, don't worry. It's just a little bit of each spice so they're not overly spicy, garlicky or sweet. The flavors balance really well and create a wonderful smelling home as well.
Roasted carrots could easily accompany a big meal like Thanksgiving or just your everyday busy evening. You can also meal prep these and take them for delicious, healthy leftovers. I brought my spiced roasted carrots to work and made my co-workers jealous. This dish takes just minutes to whip up with minimal ingredients and prep. All you do is slide slice the carrots, throw them in a pan (on parchment paper so no clean-up!) and then blend mix the remaining ingredients in a bowl, drizzle and bake. It's quite hands-off.
Fresh vs Cooked Veggies
I get a lot of questions about whether fresh or cooked veggies are more healthful and if nutrients get 'boiled out' if you cook them too much. Some nutrients are destroyed by heat, time/air or exposure to water (vitamin C and some B vitamins in particular) but, like everything in nutrition, it's not that simple. Carrots are a great example here, actually. They do contain vitamin C and some B-vitamins (biotin and B-6). Let's say you buy old carrots. Then you keep them in your fridge for a couple weeks. Then you boil them for a long time. Then you bake them at a high heat for a long time. You might not have much biotin, B-6 or vitamin C left, it's true.
However, if we keep going with that example of those poor over-cooked carrots, there's still hope. Some vitamins are enhanced by cooking! Take beta-carotene, for example, which converts to Vitamin A in the body and is known for aiding in eyesight and acting as a powerful antioxidant. It is a fat-soluble vitamin so the heat and the healthy olive oil in this recipe may enhance absorption. Further, even if there are no vitamins left at all, you still get the fiber from veggies. What I tell my clients is: mix it up. Eat some raw and some cooked veggies. Don't worry about it all too much. The body knows what to do.
Maple Spiced Roasted Carrots
Let's discuss this recipe, though! The most confusing part is probably how to cut the carrots. Honestly, it doesn't matter very much so you can generally do it however you want. What we did is to take  We took a medium-sized carrot, sliced it in half the "long-way", and then cut those pieces in half in the middle so they're again, making very large matchsticks. This way they'll cook evenly and they will just require a couple bites to eat a spear. and they're easier to eat this way. If the carrots are thin enough, you could even cook them whole.
After that, you'll place the carrots in a parchment lined dish to save on sticking to the pan and also make clean-up a lot easier. You'll grab a small bowl and whip up the sauce. Honestly, this sauce could be used for any veggies that you want but it's particularly good on carrots and other root veggies. I need to try it on , think sweet potatoes, turnips, or sunchokes.
Garnish and Flavor 
I just squeezed 1/2 a large lemon to get about a tablespoon of juice. I used maple syrup though you could also use agave or honey if you wanted. Add in the cinnamon and cumin, then toss in the minced garlic. Personally, I'm into those garlic presses. Chopping it myself, I don't get a fine enough mince and some of the other tools like the ones you mash back and forth make too big a mess for me.
Add salt and pepper to your own taste but personally I liked adding just 1/2 a teaspoon and then topping it with another little sprinkle of some beautiful flakey sea salt. This is the thing, veggies need salt! They just do. So do soups. And I don't worry about it too much (unless you're on a salt-restricted diet). If you're eating a generally unprocessed diet, you're also getting a lot of potassium from all your fruits and veggies which helps balance out your sodium intake. Fresh foods are naturally low in salt; like, none. Our ancient ancestors would have had to try really, really hard to get it. And now we have too much because it's so easy to get and we add it plentifully to our food.
There's one more garnish you should know about with this dish that I didn't add to this Maple Spiced Roasted Carrots dish: parsley. Flat leaf parsley could add a beautiful green pop of color if you had some on hand. It also adds new vitamins, minerals and antioxidants in addition to a light, grassy flavor. Feel free to toss on some fresh parsley or even some chopped nuts to add more depth and texture to this fall dish. Though I created it with Thanksgiving in mind, you can absolutely make these any time of year. They're amazing!
If you love the idea of Maple Spiced Roasted Carrots, be sure to try some of my other side-dishes like my farro risotto with butternut squash and sage, my simple pumpkin hummus, and my maple-spiced cranberry sauce. You'll notice that all of my recipes are vegetarian or vegan, they use natural sweeteners like maple syrup and honey and they celebrate the flavor of the natural ingredients. I use lots of herbs and spices, year-round, and my recipes are always quick and easy to make, too. Life is busy! Cooking should be easy and fun. Enjoy!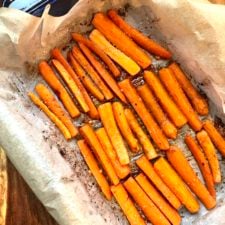 Spiced Roasted Carrots
There's one word for these carrots: cozy! They are so light, flavorful, healthy and delicious.
Print
Pin
Rate
Ingredients
4

large carrots

(peeled and cut into large matchsticks)

2

Tablespoons

extra-virgin olive oil

1

Tablespoon

freshly squeezed lemon juice

2

teaspoons

maple syrup

1/2

teaspoon

ground cinnamon

1

clove

garlic

(minced)

1/2

teaspoon

ground cumin

1/2

teaspoon

freshly ground black pepper

1/2

teaspoon

salt

(extra for garnish at the end)
Instructions
Preheat the oven to 425°F and line a large roasting pan with parchment paper. Peel and quarter carrots into long matchsticks and place in pan.

Combine the oil, lemon juice, maple syrup, cinnamon, garlic, cumin, pepper and salt in a small bowl and mix well. Pour over carrots and toss to coat. Bake for 30-35 minutes, flipping carrots after 10 minutes, until the carrots start to brown slightly.
Ginger Hultin,MS, RD, CSO
An award-winning, nationally recognized nutrition expert and media spokesperson.
Thanks for visiting! If you're like me: obsessed with eating, wine, going out and traveling, you're in the right place. Champagne Nutrition® LLC is a Registered Dietitian-run concierge virtual practice helping clients look and feel better. On this blog, you'll find cocktails, mocktails, and plant-based recipes that are easy to make quickly at home and pack for leftovers on your adventures.