Spicy Radish Pico de Gallo
I am such a huge fan of fresh salsa and love experimenting with different flavor combinations. While the standard tomato, onion, cilantro combination is a classic, adding new ingredients will help make this dish more creative and unique. This Spicy Radish Pico de Gallo, featuring crunchy cucumbers and radishes, offers a slightly different flavor that compliments tacos or other savory Mexican-style dishes with its zesty spiciness. Plus, it is packed with so many amazing nutrients, including vitamins, minerals, antioxidants, and fiber, that it is a must to include in your weekly meal prep. Plus, it is super simple to make and is a light and healthy snack to enjoy any day of the week!
Radishes are such an underrated vegetable and I love finding new ways to enjoy them and incorporate them into my meals. Did you know that they spiciness indicates special antioxidants that could even have anti-cancer benefits? This Spicy Radish Pico de Gallo is packed with so many amazing nutrients and health benefits. Plus, it can be enjoyed in so many different ways!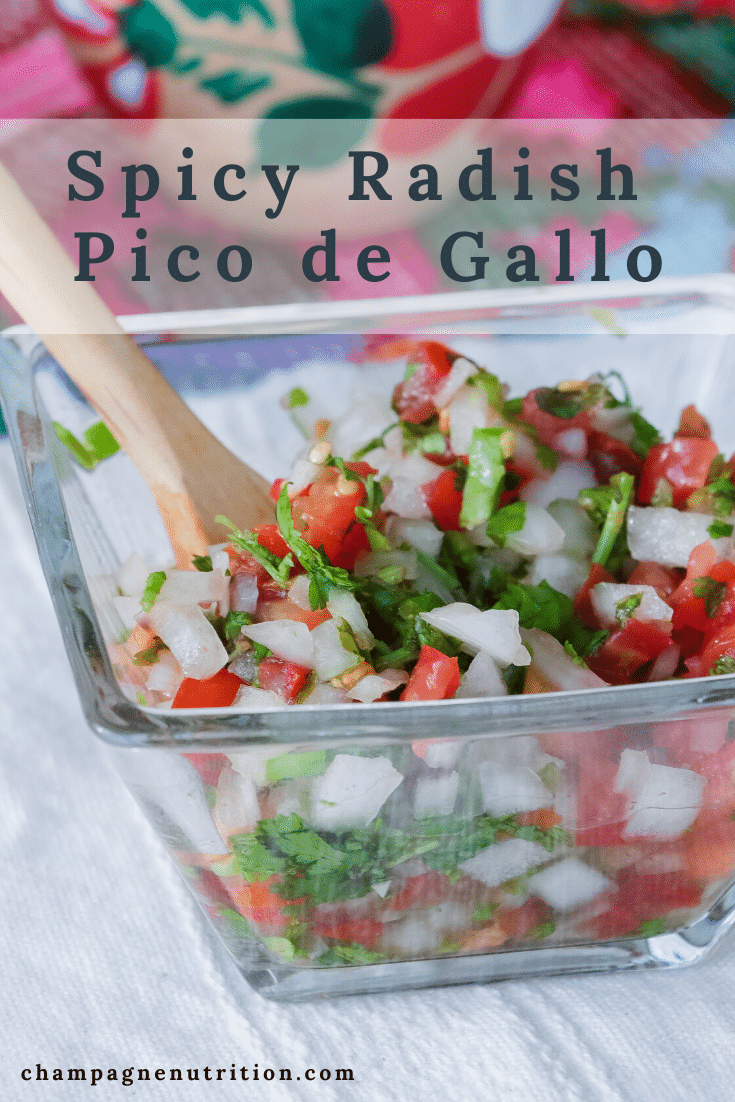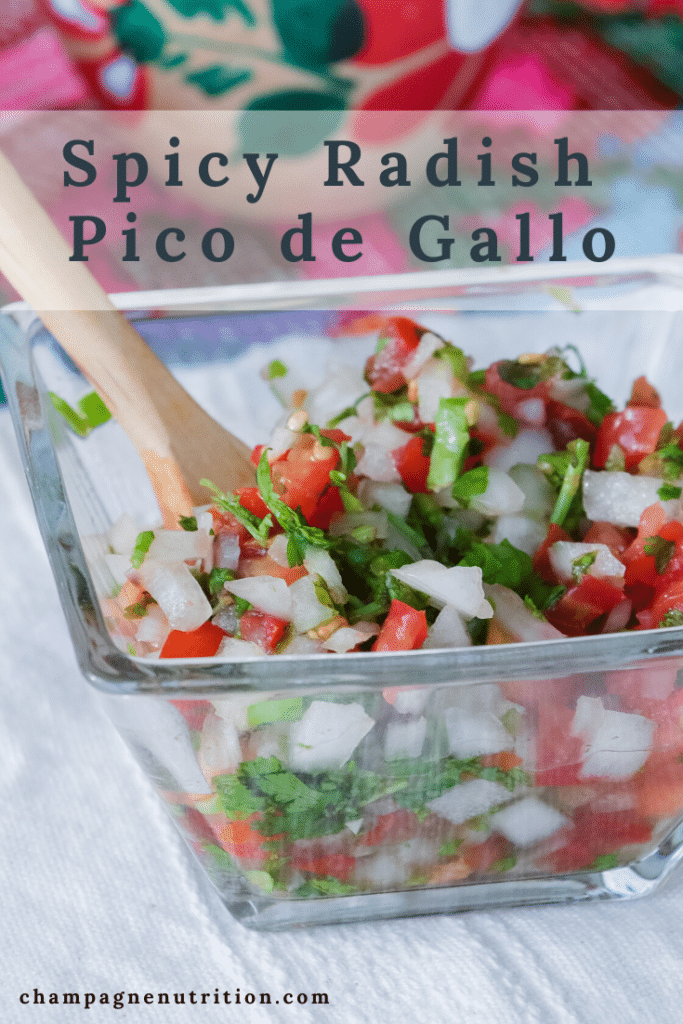 Why Radishes?
Radishes are root vegetables that are close relatives of broccoli, turnips, and cabbage. They come in many different shapes and colors, the most popular of which are red, white, purple, or black radishes. Most radishes have a peppery taste, although some may be sweet, and the lighter-colored radishes tend to have a milder taste.
Radishes are packed with numerous vitamins and minerals, and they specifically are a great source of vitamin C. Vitamin C has antioxidant properties that can help reduce the amount of free radicals present in the body. It can also help to prevent cell damage and plays a key role in collagen production, which helps maintain healthy skin and blood vessels. Additionally, since they are members of the cruciferous vegetable family, they may even have anticancer properties, since they are broken down into isothiocyanate which help remove cancer-forming substances from the body and help prevent tumor development.
Radishes are also packed with fiber to help aid in a healthy digestive system. Fiber is essential to incorporate into your diet because it helps reduce constipation and helps move food through the digestive tract. Additionally, it helps maintain a healthy blood sugar and helps lower cholesterol. 
Beside this delicious Spicy Radish Pico de Gallo, radishes are so versatile and can be incorporated into so many different dishes that you may not think of. They are a perfect salad topping, thin slices can be added to sandwiches, add radishes to your homemade hummus, grate and add to your favorite slaw, or even pickle them like you would a cucumber. Radish greens are also so amazing and flavorful that you shouldn't throw them away! Instead, keep them and add them to a salad or saute with a bit of olive oil.
Cucumber Health Benefits
Cucumbers are SO beneficial to your health! A lot of people stray away from cucumbers because they find them bland but they have so many benefits that you should work on incorporating them into your diet. Cucumbers are loaded with numerous vitamins and minerals and have a super high water content. The high water content makes them super hydrating, which helps promote better metabolism and help regulate numerous body systems and processes. Additionally, cucumbers are rich in antioxidants, helping to reduce cell damage and inflammation. Cucumbers can also help aid in regulating blood sugar and preventing some complications of diabetes. If you are looking for some more fun, unique ways to enjoy cucumbers, check out my cucumber gin gimlet cake or this pineapple cucumber mint infused water.
Making the Spicy Radish Pico de Gallo
Gather the Ingredients
To begin, I gather all the ingredients together in a mise en place ("everything in its place"). For this Spicy Radish Pico de Gallo, I gather together olive oil, lime juice and zest, kosher salt, cumin, ground black pepper, jalapeno pepper, mint leaves, radishes, and cucumbers. I finely chop the jalapeno pepper (feel free to use a serrano pepper for a little less heat), chop the mint leaves, thinly slice the radishes, and chop the cucumber. I like to use traditional red radishes for this recipe but feel free to use whatever type of radishes you prefer.
Mint isn't a typical herb added to salsas but I love incorporating into this recipe! The addition of mint brings a nice freshness to this Spicy Radish Pico de Gallo to help balance out all of the heat and spices. Plus, mint leaves are packed with numerous nutrients, including antioxidants, and can help aid in indigestion and other digestive issues such as bloating and Irritable Bowel Syndrome (IBS).
Putting it all together
In a small bowl, I whisk together the olive oil, lime juice and zest, cumin, salt, and pepper. In a separate bowl, I combine the remaining ingredients. Once the mixture is combined, I pour the dressing over the vegetable mixture and toss to combine. I place the mixture in the fridge to chill for about 30 minutes to let the flavors mingle together. I recommend enjoying this Spicy Radish Pico de Gallo with some homemade tortilla chips or adding to some tacos!
Looking for more unique ways to enjoy veggies? Check out my healthy vegetarian sheet pan nachos or this post with 30 creative ways to enjoy vegetables.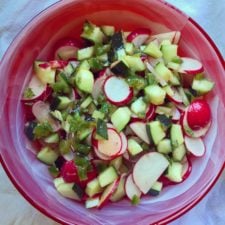 Ingredients
2

tablespoons

olive oil

2

small

limes, zested and juiced

1/2

teaspoon

salt

1/2

teaspoon

cumin

1/4

teaspoon

freshly ground black pepper

1

jalapeno pepper, chopped finely

(use a serrano if you want less spice))

2

sprigs

mint leaves, chopped

2

cups

red radishes, thinly sliced

1

medium

cucumber, chopped
Instructions
Whisk the olive oil, lime juice and zest, salt, cumin and pepper in a small bowl.

In a medium mixing bowl, combine the remaining ingredients then pour your dressing over the mixture and toss to coat.

Cover and chill for 30 minutes to allow flavors to mingle.
Ginger Hultin,MS, RD, CSO
An award-winning, nationally recognized nutrition expert and media spokesperson.
Thanks for visiting! If you're like me: obsessed with eating, wine, going out and traveling, you're in the right place. Champagne Nutrition® LLC is a Registered Dietitian-run concierge virtual practice helping clients look and feel better. On this blog, you'll find cocktails, mocktails, and plant-based recipes that are easy to make quickly at home and pack for leftovers on your adventures.