Vegan Lavender London Fog Tea
Have you heard of a London Fog beverage before? It was on a menu at a local coffee shop here in Seattle the other day and I realized that I probably wouldn't order it because of all the simple syrup in it for fear that it would be too sweet. So I decided to make my own because it sounded amazing. Seattle reminds me of London, actually, or rather the weather there. And kind of the vibe. Both cities are perfect places to grab a hot cup of tea or coffee when you're walking around in the drizzle. Grab this Vegan Lavender London Fog Tea as you head out the door into a chilly morning. 
About London Fog
London fog is a popular tea-based latte that originated in Canada. It is made with Earl Grey tea, a splash of vanilla, and steamed milk. The "fog" is created by frothing the milk and pouring it over the tea, creating a decadent drink for a cozy winter morning. It's so, so foggy here in Seattle and so that aspect of the drink really speaks to me. I don't have a fancy frother, actually, so I do the best I can by shaking up my non-dairy milk really hard and giving it a little whisk. 
If you like the idea of this beverage, I've got a couple others for you, too. I've got a lovely Turmeric Ginger Golden Milk Tea and a Blueberry Green Tea smoothie as well. Let me know if you check them out.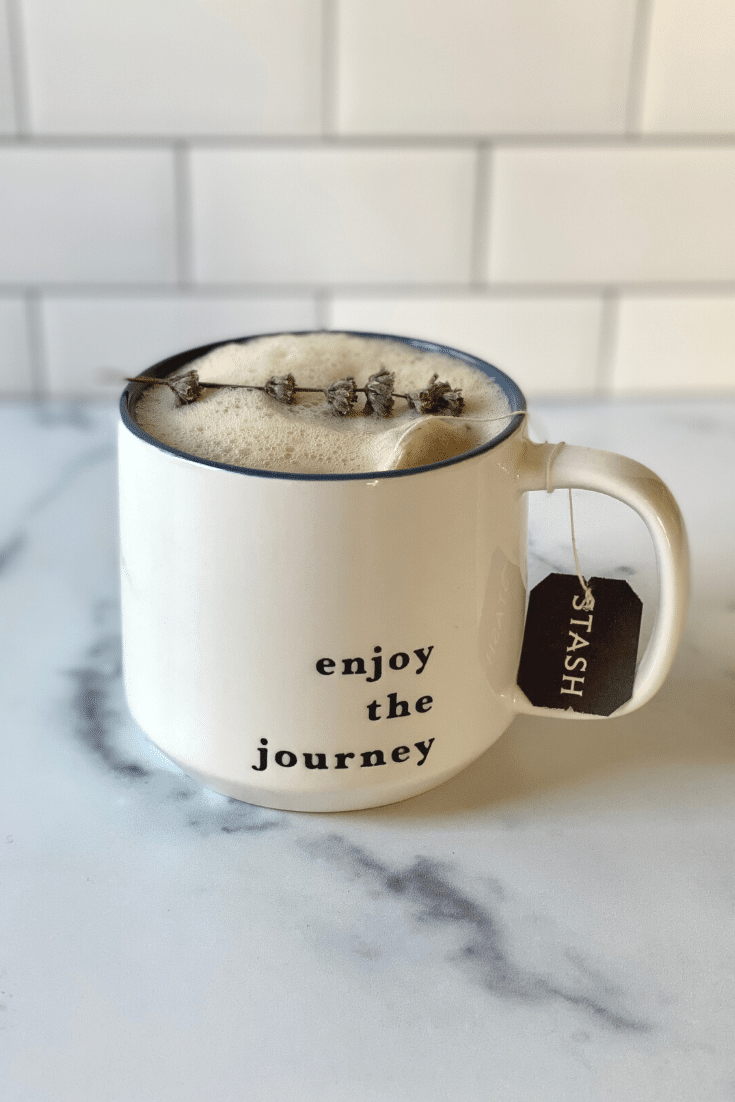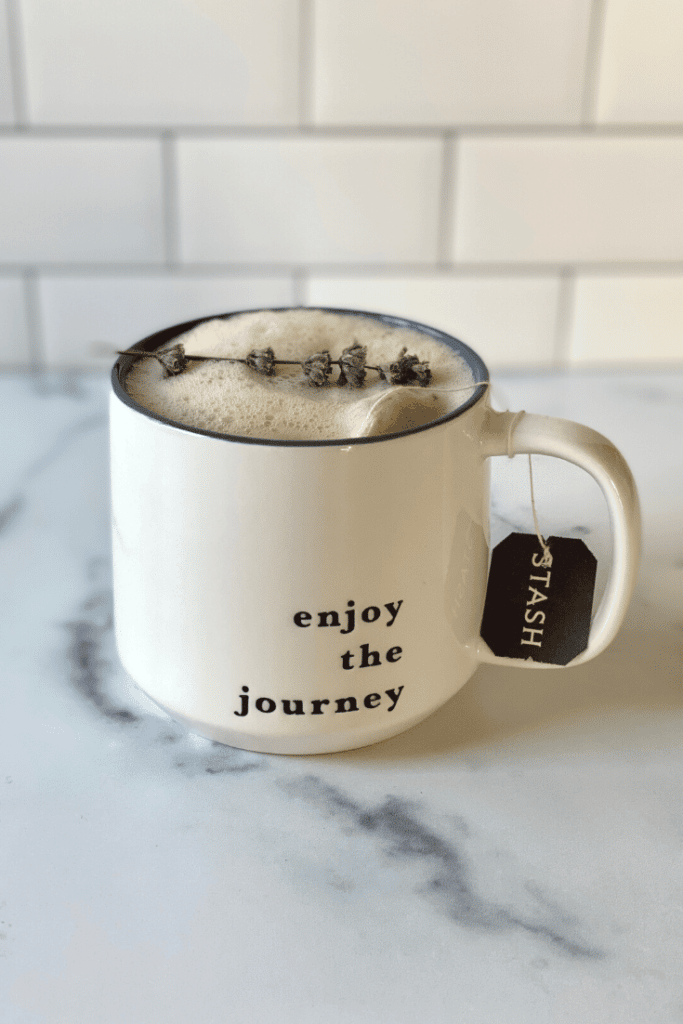 Health Benefit of a London Fog Tea
"Is this drink healthy" is a complex question. Just like with other aspects of nutrition…it depends. What kind of milk do you use? How much and what kind of syrup? What are your health goals and nutritional needs? I like this Vegan Lavender London Fog Tea because it is perfect for people who are vegan or have a dairy allergy, it's lighter in sugar than other recipes for this beverage and it's packed with anti-inflammatory, health-promoting ingredients like the tea and the lavender.
Earl Grey Tea
Early Grey is a flavored tea made of black tea and oil made from the rind of a bergamot orange. This combination gives Earl Grey tea its unique aroma and taste. Black teas have been shown to have many health benefits. They have natural blood pressure and cholesterol lowering effects and can reduce the risk of heart disease. Black teas are also high in polyphenols that have antioxidant and anti-inflammatory effects. Drinking tea also helps to lower the stress hormone cortisol, helping you to feel relaxed.  
Black tea has a touch of caffeine so this isn't a natural fit for bedtime though it is a relaxing drink. It could also be a bit stimulating. If you want to, get a decaffeinated version or simply stick with enjoying this before noon each day.
Benefits of Lavender 
Lavender has calming properties on the nervous system and can help to soothe anxiety and help to promote relaxation. Lavender is also effective for aiding with sleep. Being an herb, lavender also has antioxidant and anti-inflammatory properties.  However, you can't actually just pick lavender out of the garden and use it like you can some other herbs; it's best to use actual 'culinary' lavender. It's got a sweeter, more floral flavor so that even using a little goes a long way.  
Making the Vegan Lavender London Fog Tea
Steeping the tea
The first step in making your own London Fog is making the Earl Grey tea. Start by bringing 3/4  cup of water to a boil in a small saucepan on the stove top. Remove the boiling water from the heat and add 1 Earl Grey tea bag into the pot. Then add in ½ teaspoon of dried lavender.
The lavender is optional but adds a nice complexity of flavor. I had a very challenging time finding culinary lavender in the grocery store so you may need to order it online or seek out a specialty store. If you don't have any, you can absolutely still make this recipe.
Cover the mug to keep the heat in and steep it for 5-8 minutes. If using an electric kettle to boil the water, simple steep the Earl Grey directly in a mug.
Make the foam
Use a frother like this Milk Frother to create the foam. You can also froth milk using a french press or a simple whisk. If you do not have any of the tools to froth the milk, simply heat up the milk on the stove top. It won't create the foam but will still work well. Pour the milk into the mug, and spoon the froth on top. 
I love using soy or oat milk rather than coconut, rice or almond as a dairy replacement. They both have higher protein and fat so the nutritional profile is more similar to milk. They may not froth quite as well but they taste amazing. If you want to use regular dairy milk, be my guest!
Sweetener and Flavoring
Finally, add your mix your sweetener and vanilla extract. Give it a little stir and you're done! I love using agave and I like to start with just the 1/2 teaspoon for a touch of sweet and then add more if I want. At a coffee shop, you'll often have pumps on pumps on pumps of syrup so controlling the amount by making my own is one of my pro-tips for sure.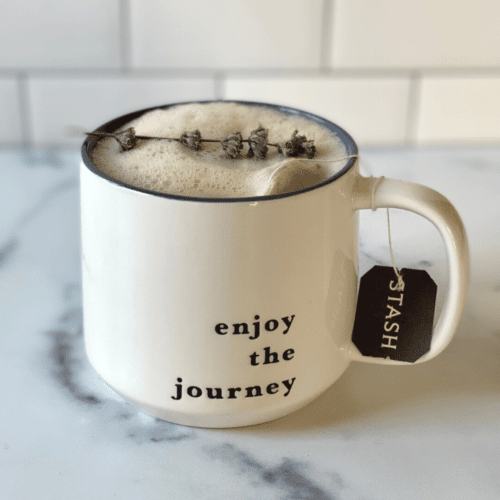 Vegan Lavender London Fog Tea
You don't need lavender syrup for this London Fog...you can make your own relaxing, vegan, cup of tea that's just very lightly sweet and offers a hint of fresh lavender.
Print
Pin
Rate
Ingredients
3/4

cup

water

1

Earl Grey tea bag

1/2

teaspoon

dried culinary lavender

1

teaspoon

agave syrup or maple syrup

1/2

teaspoon

vanilla extract

2/3

cup

unsweetened soy or oat milk
Instructions
Bring 3/4 cup of water to a boil then pour it into a large mug. Remove it from the heat and add your Earl Grey tea bag and ½ teaspoon dried lavender. Cover it and steep for 6-8 minutes.

Heat 1/2 cup soy or oat milk in your microwave or on the stove (or with a frother), then pour into the mug with the tea. Keep the bag in for as long as you want for a stronger flavor; or remove it.

Add in your syrup (try 1/2 the teaspoon first and see if it's enough - if not, then add the rest) and vanilla, stirring to combine. Enjoy!
Ginger Hultin,MS, RD, CSO
An award-winning, nationally recognized nutrition expert and media spokesperson.
Thanks for visiting! If you're like me: obsessed with eating, wine, going out and traveling, you're in the right place. Champagne Nutrition® LLC is a Registered Dietitian-run concierge virtual practice helping clients look and feel better. On this blog, you'll find cocktails, mocktails, and plant-based recipes that are easy to make quickly at home and pack for leftovers on your adventures.